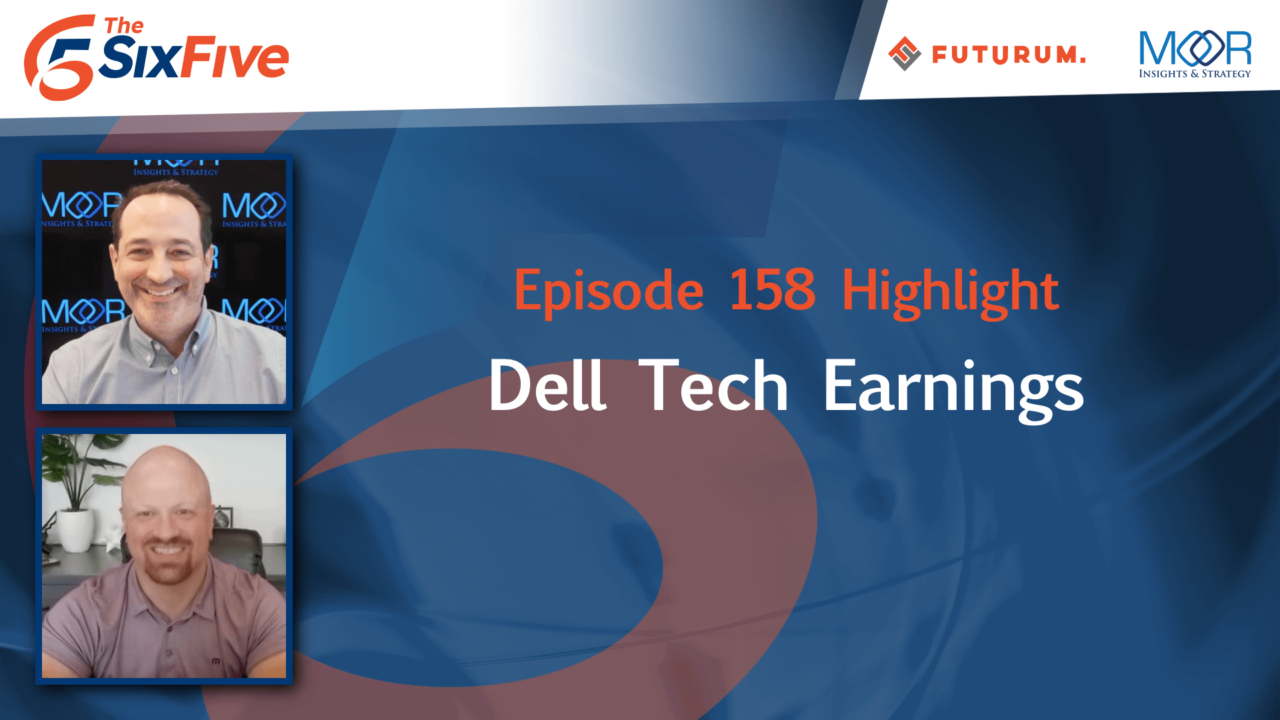 The Six Five team discusses Dell Tech's latest earnings.
If you are interested in watching the full episode you can check it out here.
Disclaimer: The Six Five Webcast is for information and entertainment purposes only. Over the course of this webcast, we may talk about companies that are publicly traded and we may even reference that fact and their equity share price, but please do not take anything that we say as a recommendation about what you should do with your investment dollars. We are not investment advisors and we ask that you do not treat us as such.
Transcript:
Pat Moorhead: Dell had a really good quarter. When I went to look at the optics, it's somewhat of a similar story to Lenovo where if you looked at revenue being down 11%, you're like, "Oh my gosh, a train wreck."
What you have to do is you have to pull apart the different businesses. That's really the only way to look at it. ISG, which is data center and edge, up 7% with record profitability, record storage revenue of $5 billion, up 10%. Daniel, that is hard to do in a – Dell has the world's largest storage business. Flat out. To go up that much is hard. Also, when you look at where Dell's sweet spot is, which is I would say high performance up to even the giant systems with Isilon, a little bit less of the low-end storage, that's really, really hard. Servers and networking were up 5%. Again, not as high as the percentages as we have seen from some other companies out there. But still, it's up there. If you look at again, storage growth, fourth consecutive quarter of revenue growth – which, I was a little concerned maybe three or four quarters.
But, it seems like Dell particularly, this is where I think they're making their play, is in the re-architected mid-range of it. If ISG was so great, what happened overall? It's all about PCs. Whether it's Canalys or IDC, the market's down between 30 and 40% on a unit basis, and so declined the PC business at Dell, that was down 23%. There were still some high points. Just like we saw with Lenovo that kept share, you had Dell gaining 140 basis points of commercial PC unit market share. It is crazy. It seems like every quarter we're talking about share gains that Dell's having across commercial. I attribute that to a good strategy. I also attribute that to making the right trade-offs as it relates to its product. But, also a sales motion in the small business that they've run effectively where they can be a solution provider all the way from PCs to small business server.
Overall, top line number's not great. You had to peel back the onion on the quarter to get to the high points. I don't see any of the challenges here as being self-inflicted, at all. It was all about the market. Final thing I want to say is, I want to give a tip of the hat to retiring CFO Tom Sweet. I spent a lot of time with Tom Sweet over the past decade. I think he came in right around the EMC time frame. What I appreciated, I think most about him, if I ever said something he didn't agree with, he would say it. It wasn't even sugar-coated. I love that economy of speech. I love just getting right to the point and Tom did some great stuff. "We're going to go private. We're going to buy a company. We're going to go public again. We're going to get our debt from junk status to AAA." He was a big architect behind that.
Daniel Newman: You covered a lot of ground. I want to also say I had regular quarterly meetings with Tom, and appreciated the work he did very much and looking very much forward to working with the incoming CFO, as well. Always enjoyed my conversation with him very much. The overall performance of the business we knew was going to be bifurcated. We knew PCs were down. We knew infrastructure should be robust. We got really what we expected. You look at the overall market condition, Dell's PC business really held up against the backdrop of the overall market. I think it was down, was it 11%? I'm trying to pull the right number. No sorry. 23%. What was the overall 2016?
Pat Moorhead: The overall revenue was down 11%.
Daniel Newman: No, I mean the market down for PCs this quarter, wasn't it around 16?
Pat Moorhead: IDC said 28%. I believe Canalys had a higher number.
Daniel Newman: Okay, so I'm all over the place. Let me start that over again. PC market down 28. CSG down 23. It means the company performed better than the actual overall market condition. Pat, I am exhausted of talking on the PC market. That market did extraordinarily well for a period of time. Anybody that sees it as anything other than pull forward of purchasing is misunderstanding. We are going to have to have some innovation, some disruption, whether that's on device AI, whether that's new formats and form factors and screens, whether that's lighter, whether that's connectivity, whether that is going to be all-day battery life. There will be things that will drive the next wave of significant purchasing. The PC is much more resilient than anybody ever wants to give it credit for. I don't care how big our phones get, people want to work on PCs. Dell, this is a goal. This is a goal for every company in this space.
As long as Dell is outperforming the overall market size and shape, I think they're doing a good job executing. The company always really does do a good job executing. I'm glad that the company is diversified with ISG. I'm glad the company has its play. I continue to push the recurring revenue. It's going to be interesting under new leadership, in the CFO, if they're going to get more aggressive on talking recurring revenue. And specifically Apex. You heard us talk about HPE and GreenLake. Dell's business is so much larger, though, I think there's a concern as a percentage of the overall revenue, if they start saying like, "Hey we're at a billion in recurrent," and people go, "That's 1%, that's not very much." But, it is important to say, "Hey, we're getting traction with hybrid cloud, multi-cloud, data services, protection, backup, security, devices of service."
How they're going to be able to continue to explain that is going to be something I'm going to be looking at very closely. But Pat, kudos, record infrastructure revenue up 12%. Strength in servers. Strength in networking. Strength in storage. They're gaining, by the way Pat, they're also gaining commercial PC market unit shares. Even despite the down, they are doing well in certain spaces. Where do they sit? With Dell, they've had the same slide for a long time. The storage leadership and then the server PC, they literally have two slides in their deck that talk about all the spots that the company is number one. I would read them all off, but honestly if we don't have time, we're going to run out of time on the show. The point is the company's well-positioned. The company's diversified. The company's had consistent leadership. The company is struggling with short-term revenue growth because the PC market is in a difficult spot.
But having said that, the pivot to software, the pivot to security, the pivot to infrastructure as a service, multi-cloud are all in their wheelhouse. I'm pretty confident long-term the company's valuation will hang in there. By the way, they never value, much like HPE, very high so as that recurring revenue valuation as a PE, never very high. I think as the company continues to be able to roll out more of the subscription services, like HPE, they should be beneficiaries. When the PC comes back they will be certain beneficiaries.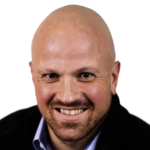 Daniel Newman is the Chief Analyst of Futurum Research and the CEO of The Futurum Group. Living his life at the intersection of people and technology, Daniel works with the world's largest technology brands exploring Digital Transformation and how it is influencing the enterprise. Read Full Bio