Dell spins off VMware – What Will This Mean?
Dell spins off VMware – What Will This Mean?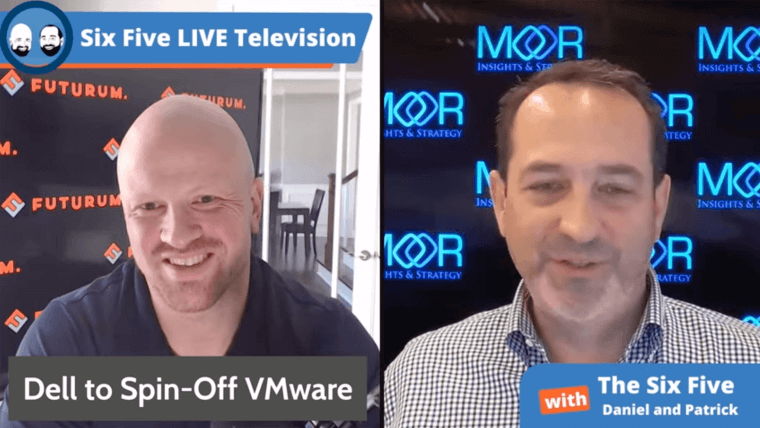 The Six Five team discusses the bigger wall street story of the week: Dell spinning off VMware. What will this mean for the tech giant?
Watch the clip:
If you are interested in watching the full episode you can check it out here.
Disclaimer: The Six Five Insiders Webcast is for information and entertainment purposes only. Over the course of this podcast, we may talk about companies that are publicly traded and we may even reference that fact and their equity share price, but please do not take anything that we say as a recommendation about what you should do with your investment dollars. We are not investment advisors and we do not ask that you treat us as such.
Transcript:
Patrick Moorhead: I would say let's move on to Dell spinning off VMware.
This was definitely one of the bigger Wall Street stories out there, but I'm going to just net this out. I've got an article on Forbes and you've got something on Futurum, but essentially for customers and channel partners, there isn't going to be any changes for at least five years. Dell will still be the preferred platform and go-to-market partner for VMware and VMware will continue to be the solutions and software and likely hybrid cloud platform for Dell Tech.
What it does do is it does provide a lot of benefits to shareholders. It's funny, Daniel, I know you spend a lot more time looking at stocks than I do, but essentially when you looked at the valuation overall, Dell Tech, that had 81% of VMware, it almost made the value of Dell Tech on its own close to zero, which was completely bizarre. What investors weren't comfortable with was the governance and ownership structure related to Silver Lake and Michael Dell.
Essentially by splitting these companies up, it 'unlocks' the value as we hear on CNBC every morning, where governance and ownership structure is straight up, it's clearer, and at least from my math and looking at the tea leaves, we could see a near doubling of Dell Tech stocks when you look at TTM EBITDA versus their competitors. I think the key is, who are the competitors on the comps? Right? It just shows the lunacy of valuation.
The other thing that I like too about this is Dell should, based on the payment that they get off the special dividend, be able to pay down enough debt to get their investment grade debt, as opposed to where they are today, which is non-investment grade debt. Dare I say junk.
Daniel Newman: Yeah. Well, they're sitting in a B+ and they want to cross into that A grade and this does definitely help pay down a big chunk of debt. Look, from the minute this 13D was filed I could have told you this deal was going to happen. There's a number of reasons why, but if you look, first of all, Michael Dell is an extremely crafty dealmaker. He knows how to make deals happen that don't even look possible. The EMC deal was a great example of that nobody really saw how he would do it. He did it. Turned it into something really, really good.
The VMware deal was another similar deal, followed suit, complex. Of course, the two companies really did run very autonomous from one another. Pat Gelsinger had a lot of autonomy. He did things the way he wanted to do things. Built the company, grew it pretty regularly at 10%. Michael wanted it that way. It created distance. He was able to keep building the relationships with other OEMs, with other companies building around VMware with the cloud providers and no conflict of interest.
When you spin these two things off, I don't see a whole lot of downside. The companies have agreed to strategically align going forward. The co-marketing and co-go-to-market that the two companies have had will continue. There isn't a lot of lost revenue for either side, but what is gained in terms of unlocking the value from that cap structure was so good. First of all, the big shareholders, including Michael, will do very well from this deal.
The company improves its debt structure situation. VMware now can grow, the stock and grow more. It's not held back by any sort of perceptions of its relationship in the holdings of Dell. Then Dell concurrently has been undervalued for a long time. I mean, you saw instantly it was like a 10+ percent jump that it got from this. The winning goes all around. I don't really see where there's much loss.
VMware is going to need to settle its CEO. It's going to need to settle on Zane, if they're going to keep him in the position or going to appoint someone else, which is what I think will end up happening. As of now, Pat, this was a good deal. It's a winning deal for everyone. Nothing changes for most of the customers, but overall I think both companies can grow more and it unlocked value for the street. I think that's where we leave it.
Patrick Moorhead: Yeah. I'd love to see a Sanjay Poonen get the nod on this, for sure. I think he's demonstrated a lot of great stuff and it looks like the board is taking their good old time on this one.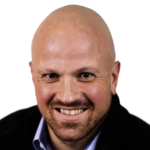 Daniel Newman is the Principal Analyst of Futurum Research and the CEO of Broadsuite Media Group. Living his life at the intersection of people and technology, Daniel works with the world's largest technology brands exploring Digital Transformation and how it is influencing the enterprise. Read Full Bio