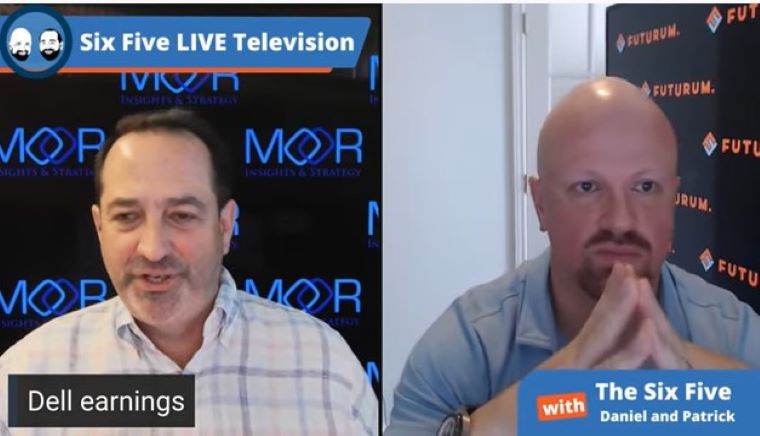 The Six Five team dives into the latest Dell Earnings.
If you are interested in watching the full episode you can check it out here.
Disclaimer: The Six Five Webcast is for information and entertainment purposes only. Over the course of this webcast, we may talk about companies that are publicly traded and we may even reference that fact and their equity share price, but please do not take anything that we say as a recommendation about what you should do with your investment dollars. We are not investment advisors and we do not ask that you treat us as such.
Transcript:
Daniel Newman: Dell had its earnings, I'm sure, good. But the market's been a little tough. What do you think, Pat? What does your tweet, then more important, your intuition say about Dell's quarter?
Patrick Moorhead: So the quarter was great. It was the forecast that pulled the stock down 7 to 8%, and I think it's hovering off 8.96% with the combination of the actual guide and the numbers, but also some of the commentary from the senior leadership team. So I'm going to hit the high points. It's just record revenue, not only overall in the company, but records with PCs and also in their infrastructure business. First time bringing out APEX, which had an ARR of over $1 billion. And by the way, not to be confused with recurring revenue number, which was $5 billion, which is, I would say, APEX-like business that is managed services, but not under the APEX moniker or not sold under the APEX moniker.
But I'm just going to go straight to the guide, because I think that's really what is driving the market right now. So the guide, PCs declining in the high teens, infrastructure growing in the low teens, and a headwind of about 5% of foreign exchange. So that was the big piece. Now, long term, none of this matters, because if I look at Dell's strategy, which is to consolidate certain areas that are, let's say, a little bit less strategic, and then lean into things like APEX carrier and telco models, which by the way, the company had a nice rundown of wins that it had, I see nothing necessarily changing.
I see PC growth rates getting back to pre-COVID once we've kind of driven, ground through this uncomfortable spot, because quite frankly, the equipment back in the office is terrible, and none of that is being accounted for in some of the growth rates. The market numbers from a revenue standpoint, and even notebook numbers, have been driven down by Chromebooks which, quite frankly, consumers rejected and companies exchanged the Chromebooks they bought out for PCs. But those purchases will continue for the office into the future, and I think Dell is very well-positioned to be competitive in those markets.
Daniel Newman: Whoo! Good job.
Patrick Moorhead: Man, I left a lot though, buddy. I left so much for the quarter.
Daniel Newman: There's a ton here in terms of the numbers. I like that you kind of zoomed out and went macro. Dell's a hundred-billion-dollar-revenue company. There's no five-minute segment that's ever going to hit it all. We've had the chance to talk to some of the executives, listened to the story. The company is doing a lot of things right, whether it's pushing things forward with the investments into repurchasing, whether it's adding a div.
They understand where they sit as a company. They are a growth value company. They're growing, but they know they also kind of have deep value. Pat, here's the thing. We thought PCs this quarter were going to be absolutely a disaster. There was no way not to feel that way based upon some of the early readouts from the chip companies.
Patrick Moorhead: Yeah. Intel was down 25%. Yeah. That was a big number.
Daniel Newman: And when you see… Look, I mean, we have backlog to work with in terms of, Dell had some backlog and commercial numbers to push out, but a record revenue in the PC business, which is pretty darn impressive, given the fact that what we keep hearing is, the consumer is in huge trouble, PCs have hit the wall, and there's going to be a huge decline.
Now, what I think the guide said is, this may be coming yet, to some extent. There may be some of that slowdown, but it didn't happen yet. Fine. I think Dell managed it really well, has been absolutely a beast throughout this entire pandemic of managing its supply chain and keeping the growth coming.
ISG seems to be picking up. I used this weighted thing. Throughout the whole pandemic, CSG was up here, really strong, and ISG kind of lagged a little bit. Of course, the VMware spin had a lot of people concerned. But over the last few quarters, you've seen kind of a parity now, and now ISG is about to have its day. I think as we see more return to work, you're going to see more investment in the data center. I think in the end, you're going to see that business start to pick up some slack.
I love seeing APEX broken out. I've been talking to their CFO, Tom Sweet, and other leadership team for a while and I said, "Look, I know in a hundred billion, a billion's not a lot, but people need to see what's going on here." I don't think it was my recommendation, but I'd like to see it out there now because now we have a benchmark. And Pat, you and I have been waiting a long time. We need a benchmark. What is ARR and what is APEX? That's going to be a big opportunity. It's going to be super competitive because they're not only competing with HPE and Cisco and Lenovo, but they're also competing with AWS and Microsoft, Google, Oracle.
But I think Dell has a good symbiotic relationship with a lot of those hyperscalers as well, and that will be an opportunity as we see on-prem and public cloud building a… Is it multi, Pat? Is it hybrid? I don't know. We're not going to do that right now. We don't have time. Anyways, I'll leave it at this. The resetting of the guides is important. I think being a little conservative is a Michael Dell special. He's not the type that's going to beat his chest and overplay his hand. He's being conservative. He's going to reset the market. They'll take their lumps this quarter.
And if they're right with their guide, they'll keep on growing. They'll get back to growth and they'll make the market happy, but it's going to be over a longer tail. We're going to have probably two to six quarters with some interesting economics coming into play, especially on CSG. Still like Dell. I like where they're heading. But like I said, it's the byproduct of where we are in the market.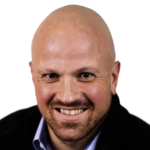 Daniel Newman is the Principal Analyst of Futurum Research and the CEO of Broadsuite Media Group. Living his life at the intersection of people and technology, Daniel works with the world's largest technology brands exploring Digital Transformation and how it is influencing the enterprise. Read Full Bio