Cisco Throws Hat into Private 5G Network Realm
Cisco Throws Hat into Private 5G Network Realm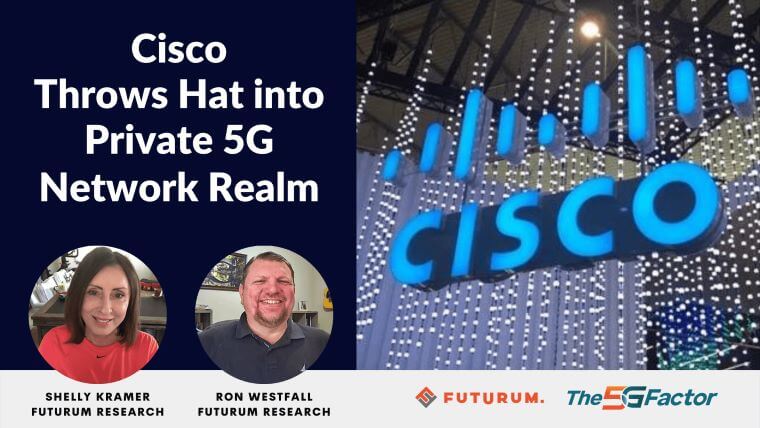 In this vignette from The 5G Factor, a production of the Futurum Tech Webcast and our series devoted to all things 5G, I'm joined by my colleague and fellow analyst Shelly Kramer for a conversation about Cisco's entry into the private 5G network market aimed primarily at enterprises. Cisco is preparing to showcase the new offering at the upcoming Mobile World Congress 2022 event in Barcelona, Spain.
Our conversation accentuated:
In targeting the private 5G network market, Cisco must contend with a host of competitors, including major 5G networking suppliers such as Ericsson and Nokia, established mobile operators such as AT&T and Verizon, hyperscalers like Amazon Web Services and Google Cloud, as well as independent players like Betacom.
Cisco is stressing that its offering is aimed at enterprises and working with mobile operators eyeing enterprise business, including the option to resell the solution under a white label arrangement.
Through selling the new solution on a consumption-based as-a-service model, Cisco enables enterprises to pay for private 5G services according to their actual demand and gain more confidence in using the new Cisco offering.
Shelly and I view the new offering as further validating the private 5G networking opportunity, especially since Cisco has the extensive business relations and channel influence to spur broader enterprise interest in private 5G. Through its entry Cisco can help energize private 5G network uptake and bolster market growth prospects. Cisco now needs to use the Mobile World Congress 2022 show to potentially provide more details on the mid-band spectrum it plans to use for its private 5G network portfolio and we look forward to meeting with the Cisco team in Barcelona to learn more.
You can watch the video vignette of our conversation here:
Watch the entire episode here:
Or stream the audio of the entire episode here:
If you're watching the 5G space, be sure and subscribe to our YouTube channel to catch the show, or find the podcast in your favorite streaming channel and subscribe. You won't be disappointed!
Don't Miss An Episode – Subscribe Below:
Disclaimer: The Futurum Tech Webcast is for information and entertainment purposes only. Over the course of this webcast, we may talk about companies that are publicly traded and we may even reference that fact and their equity share price, but please do not take anything that we say as a recommendation about what you should do with your investment dollars. We are not investment advisors and we do not ask that you treat us as such.
Transcript:
Shelly Kramer: So with that, we're going to move on and we're going to talk about Cisco and Cisco's entree into the private 5G market. And again, we touched on this earlier, we talk a lot about private 5G here, and it's a crowded market, but Cisco is diving in. Private networks are not new. We've seen companies like AT&T, Verizon, Amazon, Ericsson, and others doing some really cool stuff with private G networks.
Cisco says that what they're doing won't compete with Telco's private 5G. Ron, talk with us a little bit more about what you know about that.
Ron Westfall: Well, I think you're hitting the nail on the head, Shelly. The fact is that Cisco's entering a already crowded 5G private network market, and so that begs the question, why? Well, it's very, I think, straightforward. The fact is that Cisco has a huge enterprise presence and huge influence across the enterprise realm, and so this is something that's well suited for them to address. And I'm certainly looking forward to hearing more details about this initiative at Mobile World Congress, where they are going to, again, showcase what their 5G private network offering is about.
And so, one key aspect is, hopefully, more details on the mid-band spectrum that they will be supporting in terms of this offering. And as we know, many organizations are using mid-band CBRS spectrum in order to initiate and also use 5G private networking, as well as 4G and 5G private networking capabilities. And so, this is, I think, something that Cisco will, obviously, address, and so this is something that we'll have to wait for more detail on.
And I think it's going to be interesting because with this crowded mix, yes, you have Ericsson and Nokia, who are high-pedigree 5G equipment suppliers competing in this space. Certainly, the Verizons and other major operators are already targeting the space, AT&T, naturally, and likewise, the major cloud players. You have, obviously, Amazon and Google. And so now, the operators and the cloud players are kind of eyeing each other down, like, okay, who's going to be the first one to put that proverbial knife in the back-
Shelly Kramer: Right, we're-
Ron Westfall: … when it comes to these market-
Shelly Kramer: We're going to-
Ron Westfall: … opportunities? And-
Shelly Kramer: We're going to duke it out.
Ron Westfall: Right, and then, there are the startups like Betacom. And so, I think Cisco can actually make a difference here because with all the attention that's been paid to the space, it hasn't really been overwhelming, in terms of market expansion. We're seeing some of the initial growth projections not quite panning out. And I don't think Cisco by itself is going to cause a massive uptick, but I think it can move the needle because, again, what we are talking about, the fact that it is such a major player in the enterprise space, I think this will help adoption across more enterprises, in terms of using 5G private networking that wasn't quite there before because it was, for example, maybe a startup that was making the offering, or they aren't quite sure about using a cloud provider for 5G private networking, et cetera.
And I think one thing that Cisco was keen on emphasizing is the fact that their offering can be used by a mobile operator. This is not a direct competition offering at all. And so, we could anticipate a fair amount, I believe, of service providers, quite simply, white labeling the Cisco offering and making their own brand. And so, I think this will actually help rekindle more interest in 5G private networking, which is there. It's definitely there. It's just, how aggressive will this market advance over the next couple of years plus is now… There's more hedging, and I think this will help dampen some of that hedging because of Cisco's entry into this market.
Shelly Kramer: Absolutely, and as you mentioned early on, they have the enterprise customer base, they have the trust of the enterprise customer base. There's a lot to be said for partnering with that, depending on the initiatives you're trying to roll out, so it'll be interesting. We will, of course, look for more information from Cisco on that front and keep our eyes on what's happening there, for sure.
Ron Westfall: I agree, and I think one more thing I want to add is that it will be a consumption-based model, pay-as-you-go as a service, and I think that will also help. They're not going to be locked into some two-year contract, like with the initial mobile phones or any smartphone offerings and things like that. I think this will definitely entice the enterprises to definitely investigate more because they're not going to be in a lock-in contract to get their private network up and running.
Shelly Kramer: Yeah. No, and I think that that's really an important point, Ron, that you mentioned. I think that people are… not only enterprises, but organizations of all size are really realizing that when you're looking at adopting some kind of technology solution or any kind of solution, it's like, can I avoid vendor lock-in, because the digital landscape changes so quickly, needs change so quickly, consumption-based models are so attractive. And really, situations where you can enter into a relationship with a vendor and you know you're not going to get locked in, I think that that gives a lot of peace of mind.
So I think that's important, regardless of what you're selling, to think about how you can craft your offering in such a way that it is consumption-based and it's something that doesn't tie a customer in on a long-term basis. I just don't think that's good business, really. I mean, it is good business for the brand, but it's not good business for customers, and I think customers are getting savvy enough that they're saying, "We don't want that."
Ron Westfall: Yeah. Well, you're saying that across many market segments. It's not just telecommunications, but for-
Shelly Kramer: Across the board.
Ron Westfall: … different car service and so forth. Yeah, there's just, I think, more of that flexibility, and I think this is a difference-maker, in terms of speeding up adoption rates. Right on.
Shelly Kramer: I agree, I agree.