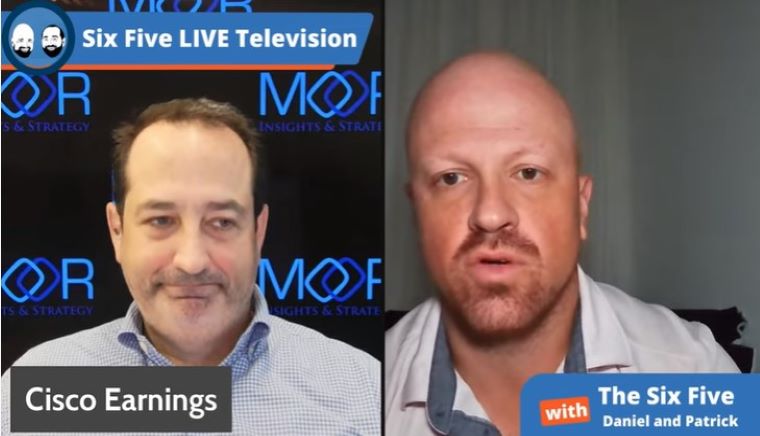 The Six Five team discusses the latest Cisco earnings.
Watch the clip here:
If you are interested in watching the full episode you can check it out here.
Disclaimer: The Six Five Webcast is for information and entertainment purposes only. Over the course of this webcast, we may talk about companies that are publicly traded and we may even reference that fact and their equity share price, but please do not take anything that we say as a recommendation about what you should do with your investment dollars. We are not investment advisors and we do not ask that you treat us as such.
Transcript:
Patrick Moorhead: Cisco had some very surprising earnings, Daniel, didn't they?
Daniel Newman: Yeah. Pat, I'll give you the twofold. While a lot of companies had massive steady period throughout the pandemic. And that's because, as I mentioned this is a company that's shifting to more ARR, shifting to more software. Some of its business units are finding new vehicles for revenue growth and creation. So they've been growing more on that steady single digit percent, but after what was a rougher quarter one quarter back and you and I had a really good segment kind of talking through why that happened and we can certainly link everybody back to that.
This quarter was much better. Chuck Robbins reset guidance. And the company was basically able to deliver a very on par year over year result in terms of overall growth, but it had a very good beat they had promised to the market. After he reset the guidance a quarter ago, they beat on earnings, they beat on revenue. And that's what the market was looking for in the market popped in response to that.
Now, Pat, beyond that, some of the areas that I think in Cisco we've really got to pay attention to is, where does that revenue come from? Two things I've been really focused on is one, are they growing ARR because everybody wants to see is that happening? And they were able to show that they were making progress there, 8% growth in ARR. Product ARR jumping 13% in the quarter. On a year over year basis, their business, Pat, the biggest growth area, security. So you look across the business portfolio and it generated about a billion dollars in the fourth quarter, but it was 20% growth.
Now, you look across the rest of the portfolio, the biggest revenue contributor, almost 50% of its revenue comes from its networking business. That was flat year over year. It's internet for the future, which is its Silicon optics and its massive infrastructure business actually dropped about 10% and it's collaboration was only up 2. They saw some growth in applications, which we're going to hear more and more about with what they're doing with observability percent. But across the board, like I said, it was kind of a flat in the broader scheme of how they performed, but it was a nice growth, a nice beat versus what the market had expected. And if you were reading the press clippings heading into Cisco's earnings a few days ahead between supply chains, between some of the various sort of negativity about the market, I think people thought they were going to miss. I really do think this is part of the reason why the stock responded so positively. I think the market thought they were going to miss.
In other areas, Pat, I would say a little bit of growth on subscription, a little bit of strength in their recurring revenue, but I don't know, I think it's really interesting. Maybe you could talk more about this so I don't take all this steam, but hitting revenue was good. Beating earnings was good. Seeing the ARR jumping 8% is good. I think people would love to see that grow faster, given the size of Cisco, but the interesting part is the security business. That was a really good growth number. And I'm wondering how much that's a secular trend in your mind, because my opinion is, we've seen it with Microsoft as well, that number's been surprisingly big and some of the incumbent players have been really succeeding by leaning into security. And I think that could be an area for Cisco that could really help them offset some of the aging of other parts of the portfolio because the observability is going to take more time. Security could be a winner for them. What do you think?
Patrick Moorhead: So they had a great quarter, but they just completely blew away, I think, what people were thinking. I think a lot of people were thinking that this huge backlog, which by the way, Cisco really doesn't talk a whole lot about backlog until some of their revenue numbers were a little bit light, so people didn't necessarily buy in or give them any credit for that. There's also some rumors of kind of double ordering, right? Which says, hey this backlog isn't real. And then there was a fear that this backlog, because of some of the fears over the future of the global economy could make people hold off. But no, they totally showed the naysayers that they were wrong, even though they hit their internal or their external forecasts, they beat the straight on the top and the bottom, meaning that there were essentially discounting that backlog.
The big news is that enterprises are still buying, right? And that's exactly what they do. And, and while enterprises might be buying, if I look at Juniper and if I look at Arista, enterprise isn't growing as quickly as let's say, high performance trading or the hyperscalers. And as you saw, the number for the service providers that Cisco talked about was down 10%, essentially, which they call the internet of the future. But no, I'm really excited about security, too. And it seems to be a little bit lumpy. So I don't know if that was just a huge deal coming through. There is definitely a challenge in terms of the complexity that comes with security, because security isn't just one thing. There's about a hundred sub segments of security.
But if you're attempting to go with best of breed and then cobble it together, you end up being two or three revisions behind best of breed anyway. So this is why companies like Cisco and even Microsoft are seeing such big numbers out there. I need to do a little bit more research on the lumpiness of this Daniel, but overall, the numbers speak for themselves and they had a decent guide as well. So congratulations to Cisco.
Daniel Newman: Yeah, it was a good call out. Just a quick boomerang, but the guide was solid, single digit but growth. And, the growth that they expect to actually accelerate throughout the year, which again, everybody has to keep in mind what was being expected coming into this. And I think a lot of people expected doom. I think Chuck and the team outperformed. And I think it was a big positive on the macro, but it was also a big positive on Cisco's operation.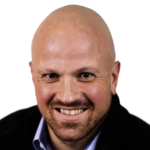 Daniel Newman is the Principal Analyst of Futurum Research and the CEO of Broadsuite Media Group. Living his life at the intersection of people and technology, Daniel works with the world's largest technology brands exploring Digital Transformation and how it is influencing the enterprise. Read Full Bio