Cisco Announces Their Intent to Acquire Socio
Cisco Announces Their Intent to Acquire Socio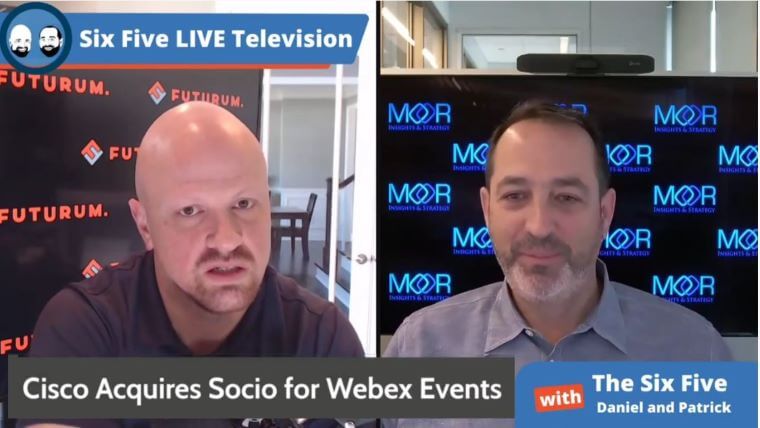 The Six Five team discusses yet another acquisition from Cisco, this time it's Socio. This one is aimed to help improve Webex Events.
Check out the clip below:
If you are interested in watching the full episode you can check it out here.
Disclaimer: The Six Five Webcast is for information and entertainment purposes only. Over the course of this podcast, we may talk about companies that are publicly traded and we may even reference that fact and their equity share price, but please do not take anything that we say as a recommendation about what you should do with your investment dollars. We are not investment advisors and we do not ask that you treat us as such.
Transcript:
Patrick Moorhead: So Cisco, who seems to acquire a company every two weeks, and that's a good thing, and if you look at historically, has done a really good job at acquiring companies and keeping their founders. And Cisco acquired Socio to… I hope I said that correctly, Socio, Socio… to improve WebEx events.
Daniel Newman: Hey, we're going to get briefed today. So we'll double, triple, quadruple check whether or not we just said that right. Not a name, not a household name. Cisco, it has this really solid reputation of acquiring these pieces. They're not necessarily companies that are everyday vernacular. They're not always really large or kind of well-known, but they are important pieces to the puzzle.
So WebEx has quietly had a really great year, for obvious reasons, right? I mean, as sad as everything that happened in 2020 with the pandemic was, it really did accelerate digital transformation. And it did scale rapidly collaboration platforms, Zoom, Microsoft Teams and WebEx Teams was the one that got less public credit but was actually a very big foundational technology that kept a lot of companies humming. You and I do WebEx calls every day with some of our clients.
And so Socio though is more about the event side. So as we go back to travel, Pat… And by the way, you and I are going to be traveling next week, huh, to do something. That's crazy. We're going to be a recording a really interesting interview for a really big event that you'll hear more about really soon.
But the challenge is WebEx events has always been a somewhat limited platform. And the company, you're seeing more and more these full scale events that are being delivered, whether it was Think. We talked about last week's Dell Tech World, they're all being delivered online.
And I think what's going to happen, Pat, going forward is we're going to see these hybrid events where people are going to be able to still attend the event completely remote, but expect to have that good experience. And companies need to be able to build and operate on a robust platform that can give that full event experience, whether you're there, whether you're using the platform while you're there, or whether you are completely remote from the event. And WebEx events just didn't meet that in its current state.
So Socio is basically designed to give Cisco some of the capabilities it needs to be able to give a full inclusive experience in-person and to virtual attendees for any kind of event, any sized event, in any format. And this is something that the company does. It's a robust stack. It's a full stack that Cisco is going to be able to layer in and basically incorporate into its WebEx events platform to enable monetization and greater growth and scale of that part of the WebEx platform. Most of us think about it as a meeting platform or maybe even a webinar platform, but now we got to get to the point where we have full large-scale events.
So it was a nice little piece for the arsenal, kind of like Slido adding that live integration of interaction in real time. Well, this is going to be a big piece to incorporate, to make WebEx events a full-scale event platform for the post-pandemic playbook.
Patrick Moorhead: Great analysis, Daniel. And to me, this is just yet another reinforcement that Cisco is all in, right? Cisco has a lot of different irons in the fire. They're still the leader in data center, networking. They have strength at the edge networking. They are the second largest security company to Microsoft. They have a ton of as a service offerings, and they do even offer full scale compute. And they were one of the first companies to go multicloud in their announcement with Google and Anthos.
So I think people were wondering, "Hey, how serious is Cisco about this, about the collaboration space?" Because when Cisco got into the, quote unquote, video market, it was driving network traffic, which meant you had to have better networking in your infrastructure. And that drove networking, which was their core business, even inside the data center.
So now with how good these compression techniques are, H.265, VPX, it doesn't drive traffic. In fact, we can do it over our home internet right now, literally real time with no latency. So them adding to this reinforces to me that they're all in, should make their customers and potential customers feel good about them wanting to literally go toe to toe with people like Google and Microsoft.
You know, they still have to integrate with Google and Microsoft and Slack, but they're all in. And that's great to see.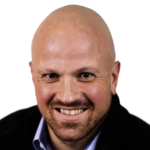 Daniel Newman is the Principal Analyst of Futurum Research and the CEO of Broadsuite Media Group. Living his life at the intersection of people and technology, Daniel works with the world's largest technology brands exploring Digital Transformation and how it is influencing the enterprise. Read Full Bio