Broadcom Earnings & VMware
Broadcom Earnings & VMware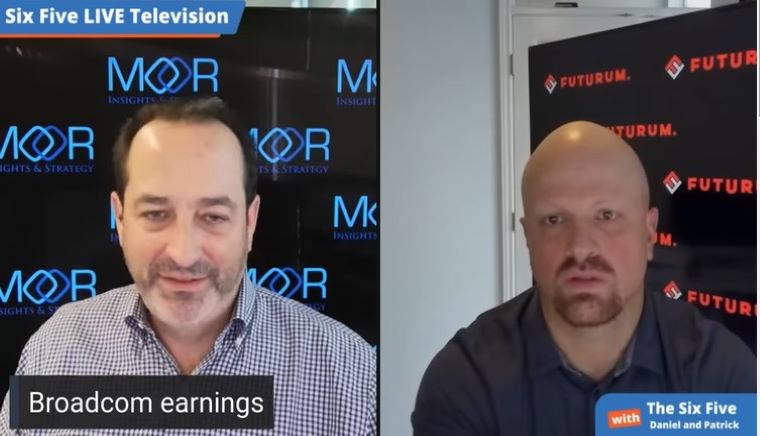 The Six Five team discusses Broadcom earnings & VMware.
If you are interested in watching the full episode you can check it out here.
Disclaimer: The Six Five Webcast is for information and entertainment purposes only. Over the course of this webcast, we may talk about companies that are publicly traded and we may even reference that fact and their equity share price, but please do not take anything that we say as a recommendation about what you should do with your investment dollars. We are not investment advisors and we do not ask that you treat us as such.
Transcript:.
Patrick Moorhead: Broadcom earnings. Dan, man, this company is just an absolute machine in the amount of goodness that it brings to the table in terms of earnings. They pretty much knocked it out of the park. They met on top line, and I don't know why some publications said that they beat it. It was 8.93 on an 8.9 expectation, but they beat on profits, $10.45 versus $10.29. Then they paid a $4.60 cent dividend. Think about that. Then they did a much-
Daniel Newman: Like $800 a share.
Patrick Moorhead: They did a better than expected Q1. I am unaware of anybody, but I think maybe Lattice, that did a heavy-duty guide into the future. Now, the company is 79% semiconductors and 21% in software across CA, Brocade and their security offerings. Semiconductors grew an astonishing 26%. We've seen Intel, we've seen AMD, we've seen just a multitude of companies come out there. That's astonishing growth.
Why is that? Well, first of all, they are a supplier to Apple in terms of RF and Wi-Fi and Bluetooth, even though that might be a little bit at risk given the chaos in Apple's factories in North China. But it's because they're heavy duty into hyperscalers and data centers. It appears, and we saw this with HPE, we saw this with Dell, and we're seeing this with IBM, the enterprise continues to load up for some, it's clearing out the backlogs. For others, there's going to be continued demand. So for instance, with HPE, Antonio talked about we cleared a lot of backlog, but guess what? Our size of our backlog is basically the same. That just means there's net new orders that are coming in.
It appears, because the company did point out hyperscalers, that the hyperscalers are in another consuming mode. What they do is they buy for about three quarters and they trail it off for two. You're asking, why is that? All the SaaS stuff is going down. Well, guess what? They're also the backbone for all consumer services. While the consumer hardware market is in the toilet, I don't see any lack of demand in consumer services on online, whether it be Gmail for consumers, any flavor of TikTok that's out there, that's all riding on the back in a giant data center. VMware deal looks like it's on track without any expected surprises. I think Broadcom CEO Hock Tan is doing an exceptional job communicating to the customers, the channel and the ecosystem partners. Hock hasn't communicated a lot historically, and you can be a lot more insular when you're just doing semiconductors. But customers brought up issues and he's been on planes, trains, and automobiles-
Daniel Newman: To Austin, right?
Patrick Moorhead: He did. He came to Austin and we had a nice breakfast together and had a wonderful discussion. He's a very direct guy. He's very honest. I love the conversation. So I think that they could have done a little bit earlier, but hats off to them for really stepping it up. I don't think there's a week that goes that there's not a blog from Hock Tan.
Daniel Newman: Or you about Hock Tan. Have you checked out Pat's Forbes column? Because if you haven't, you should, he's had some really good insights there. It's our job sometimes to take a position. The market, the popular sentiment among industry analysts has been one-sided on this particular topic. I know we're talking about earnings, but I just want to be very specific, when it comes to the VMware deal, the industry side has been incredibly jaded about the potential that Broadcom has.
I think you and I are outsiders a little bit, but we see it differently and we see the fact that there's been some real success with CA. There's been some growth in Symantec. You've got a business that knows how to operate, knows how to be efficient, knows how to put off cash. I tweeted after the earnings came out yesterday. I said, part of the reason I feel optimistic about VMware is this is a company that knows how to perform in any market, meaning good market, bad market, and knows how to perform.
Is he shrewd in his business decisions? Yes. Are most great companies run by people that are pretty shrewd in their business decisions? Yes. Is a business's purpose to be profitable? Yes. If your business isn't designed to make a profit, then you're doing something wrong. If your business doesn't figure out how to run better during different economic cycles, then you're not leading the company the way you should. These are things that Hock is very good at. This is why, the way, the investor community love Hock Tan and love Broadcom.
On the industry side though, we tend to be a little more ephemeral about things. It's a little more about the touchy-feely. Well, to his credit, the touchy-feely here has been the most touchy-feely I've ever seen from Hock in terms of, let me tell you what I'm thinking about. Let me tell you about what we're doing about pricing. Let me tell you what we're going to do about innovation. So, while you're certainly entitled out there to your opinion that the company is going to run VMware into the ground or is going to screw up the market for it, I would actually argue VMware was already in a bit of a stagnant path and it actually has a chance right now to use this moment as an opportunity to reverse course, regain momentum, and really take advantage of this multi-cloud era.
Now again, is it different than the company's current DNA? Sure. Does it mean a company can't change? No. I think that's what you and I are both really saying is that it seems to us based upon what we're hearing from CEO Hock Tan, what we're hearing from the leaders of their software groups that we work with, like Red Hat Group and Mainframe, who have been there, who have been other places, love the company by the way, that this is moving in the right direction. So I say keep your eyes on this company, but while that deal is being closed, clearly the growth and infrastructure, the demand for enterprise, is very robust. The only thing that maybe left a question mark was they didn't give full year guidance due to some lacking visibility, something they typically do. Going forward, I think they will. All right, onward Patrick. Broadcom, good quarter. Wow, that was a lot, buddy.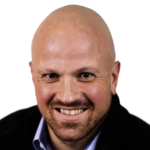 Daniel Newman is the Chief Analyst of Futurum Research and the CEO of The Futurum Group. Living his life at the intersection of people and technology, Daniel works with the world's largest technology brands exploring Digital Transformation and how it is influencing the enterprise. Read Full Bio