Azure Goes Arm with Ampere
Azure Goes Arm with Ampere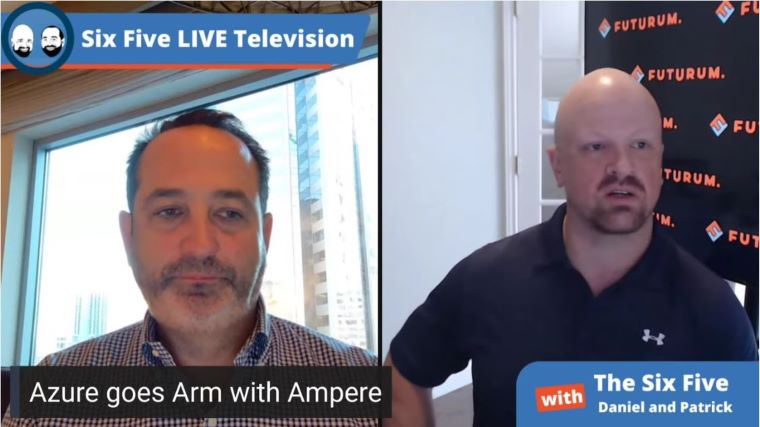 The Six Five team talks about Microsoft Azure and what's happening with Ampere.
Watch the clip here:
If you are interested in watching the full episode you can check it out here.
Disclaimer: The Six Five Webcast is for information and entertainment purposes only. Over the course of this webcast, we may talk about companies that are publicly traded and we may even reference that fact and their equity share price, but please do not take anything that we say as a recommendation about what you should do with your investment dollars. We are not investment advisors and we do not ask that you treat us as such.
Transcript:
Daniel Newman: Speaking of this space forever, here we go Pat, over the last year we've spent a lot of time talking about AWS, homegrown, what their plan is. And we've been saying, "What's Azure going to do? What's Azure going to do?" And now, Azure's starting to talk about what their plans are, with an announcement this week.
Patrick Moorhead: Yeah. So, let me give you a little bit of a backdrop here. So, for about 20 years, people have been saying that compute is commoditized, but the industry keeps proving everybody wrong, right? And that's because in the last 20 years the industry has taken different approaches. It used to be that only merchant silicon vendors were available for data centers and that was Intel, right? That was the standard. And, AMD got up to, I think, 20% at its maximum market share back when I was at the company. And then, it went down to 1%, and now it's up around 15%. But, along the way, over the last 10 years, the ability to create your own SOC with a combination of ARM IP, ARM ecosystem IP, and the tools from companies like Synopsis and Cadence combined with the ability to take those designs into a TSMC have really transformed the industry.
You look at Apple with its M1. You look at AWS with Graviton, Graviton2, Inferentia, Trainium, and what I referred to before with Nitro, and you can see that with all these things happening and the desire to de-commoditize compute, we are here with Azure. And, Azure announced that it was going ARM with some of its instances with a company called Ampere, by the way, the other requirement out there in the cloud was that they really wanted one processor for one instance. Okay? As opposed to using hyper threading, because what the hyperscalers tell me is that the quality of service is more consistent. And there were stuff on merchant chips that people just didn't want, right? That came with Intel and AMD.
So, it's been five years since Azure made its big announcement with Qualcomm and Cavium. But, challenge was Qualcomm got out of the business when it was under attack by regulators, Broadcom and Apple wasn't paying their bills. And, Cavium was acquired by Marvell. And Marvell did an analysis of the market and just said, "Listen, we can't compete in this general purpose market. But what we can compete with is more of a directed application specific type processor." And they decided to leverage off the shelf ARM cores and take into TSMC 5 nanometer.
So, it took a while, but Azure is here. Now, if I look at the economics, right, between Azure and AWS, right? AWS is designing its own microprocessors, Azure is buying its microprocessors. So, AWS will have higher R&D, but Azure will likely have a higher bomb cost, because essentially, all AWS is paying for is the Silicon at TSMC. So, hard for me now to say which is better, building or buying, financially. But, overall I think with this, puts the exclamation point on is the two largest IAAS providers. And, I think some people would call Oracle the third have gone ARN. And, going ARM means you're not going Intel or AMD.
All these companies are going Intel, AMD, and ARM, but it does signify, I would say, a strategic open arms hug on ARN, because you can't just say, "Support ARM." You need your operating systems, you need your development tools, you need push button capability to move an instance from an Intel instance to an Ampere instance, very similar to what AWS is doing with their Graviton challenge, which by the way was announced at Six Five Summit 2021. Thank you Dave Brown and AWS. But, this is a marathon and not a sprint. So, I'm not going to get into the performance claims. By the way, Microsoft and Ampere claimed up to 50% better price performance than comparable x86 Azure VMs for scale out workloads. Wasn't asterisked, wasn't footnoted. I was a little disappointed and I have to call them out on that.
Daniel Newman: Yeah, I like that you do that. That's a Moorhead special. In my way, I appreciate that. No, I think there's a couple of sub themes here. I think your point is that, these companies are going to be arbiter of choice. And they're going to allow customers to pick which compute they want to run their workloads on. They're going to have all of them, they're going to do it for compute, they're going to do it for GPU. And they're going to build integrations that allow companies… Because the thing is, nobody's going to have a 100% of the market in anything, looking, not networking, not in storage.
So, they're going to always be building integration. And so, Microsoft is no different, but there's another sub plot here at Pat, is that these companies are increasingly raising their hand and saying, "We can give better performance for lower cost if you use our compute." And, it started with obviously AWS, but Alibaba is doing this overseas too. You've got Microsoft now coming into market. Oracle is heading down this path as well. And by the way, it's smart. It raises another challenge for Intel and AMD, but something both companies are going to have to figure out how to address, because ARM is growing in popularity. Companies are figuring out how to "build for and on ARM." And, companies that are building around more modernized and native cloud apps, your Snowflakes, your S/4s, your next generation Oracle. This is easier to do. It's easier to run on these newer types of architectures.
And so, what's probably protected some of the legacy compute has been all the legacy technical debt that a lot of these companies have. They have old database technology, old ERP technology. And, it's not easy to refactor it for these new type of compute offerings, but as that changes, and it will change, that's going to make ARM more and more competitive, which Pat takes me back, by the way, to a comment about the 22% of the market. Now again, one thing I will keep saying, and I think it bears repeating Pat, is that, the overall demand for compute is also growing. So, while sometimes you hear about market share in a disruption, if you can keep a chunk of market share and the market is significantly larger, you can actually still grow revenue while conceding market share. So, everybody that's like, that this is a binary thing, or all or nothing, the amount of compute that's going to be required to run an enterprise to run anything is going to keep growing.
And so, all of these companies have plenty of opportunity, but it's an arms race, and semiconductors are at the core. And, oh, I didn't even think about that. God, I'm on fire today. ARM is going to have a bigger and bigger impact now that the NVIDIA deal's in the rear view. And Pat, by the way, I know NVIDIA only started with its big Grace hopper, and it's big HPC CPUs on ARM, but do you really think they're not going to come down? Do you really think there's not going to be more and more ARM and general purpose stuff that's going to come out of NVIDIA over the next few years? I think that's probably in the works as well.
So, again, I love competition. I think it just gives us things to talk about, it gives something to focus on. And by the way, when there's great competition amongst a number of great companies, you know who wins? Consumers, the enterprises, the businesses, because they're going to win because of choice. So, good for a Microsoft. They've got a way to go here, but I think at least it seems that they've picked a path, and they're coming out, and now we can get on with it.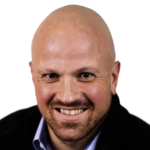 Daniel Newman is the Principal Analyst of Futurum Research and the CEO of Broadsuite Media Group. Living his life at the intersection of people and technology, Daniel works with the world's largest technology brands exploring Digital Transformation and how it is influencing the enterprise. Read Full Bio