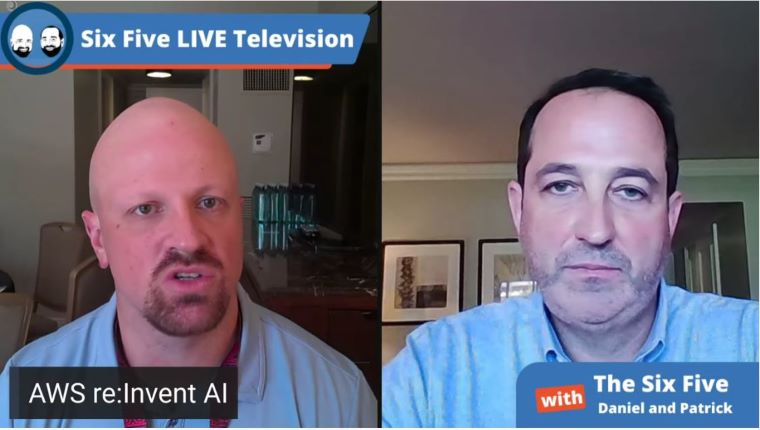 The Six Five team discusses AWS re:Invent AI.
Watch the clip here:
If you are interested in watching the full episode you can check it out here.
Disclaimer: The Six Five Webcast is for information and entertainment purposes only. Over the course of this webcast, we may talk about companies that are publicly traded and we may even reference that fact and their equity share price, but please do not take anything that we say as a recommendation about what you should do with your investment dollars. We are not investment advisors and we do not ask that you treat us as such.
Transcript:
Daniel Newman: We've got a couple segments here. AWS reinvent warrants, more than one segment, so much going on Pat, and of course even doing two segments, we're fairly going to scratch the surface. You and I did an awesome pod with Dave Brown, the VP over at AWS and I'll let you kind of handle that one, but I'm going to start off here also talking about a IML because while we weren't there for the keynote, there was a ton of announcements made and I'll put a link in the show notes. But I wrote a research note looking at what I call the six new reasons to adopt and use SageMaker. So one of the big things that I thought came out of this event was the company being much more compelling in terms of its SageMaker offering that they have. What's called the studio notebook for greater collaboration across design, new machine learning compiler, making training more efficient, automatic compute, instant selection.
But just kind of a quick rundown, because I, I don't want to do the news necessarily, but I just kind of want to talk about what's going on. First of all, thematically, I think AWS recognizes the importance to make AWS much more available, democratizing it so that more people beyond your higher profile data scientists are able to benefit from AI and ML. For instance, one of the first big announcements was what they call Amazon SageMaker Canvas no code ML predictions. Basically again, democratizing, expanding access, giving business analysts, people in finance or marketing, operations, human resources, a visual interface that allows them to develop accurate ML predictions.
You've got what it's called, SageMaker Ground Truth, it's a managed data labeling service. They have their new studio, Universal Notebooks. This was a big one, and that's basically a complete integrated development environment for ML, it's a single environment. You can do data engineering, analytics, machine learning. So this will be very helpful for enabling, built in development environments for things like writing, monitoring, debugging.
So that's another one. Then of course there was a handful of others. They had a SageMaker Training Compiler, SageMaker Inference Recommender, and then a serverless inference for ML models. There's a lot, and I'm not going to run down all the news, like I said, you can read the piece. But the theme for me was all about the fact that Amazon and AWS understands the need to be able to bring a larger swath of its user base, especially that business community, those people in those roles, into its ML services with SageMaker, and that was really a big part of what was being delivered here. Thematically, with these capabilities, I think they're going to create more inroads, and like I said, I think AWS has always had a very compelling offer, but they're going to continue to push.
Pat, we always talk about that here in the show, innovation pushes competition, competition pushes innovation. It's a big circle, but what they're doing here is going to push Azure, it's going to push Google Cloud, Oracle, Red Hat, IBM, HPE, even Alibaba, all of them are going to have to keep going and keep developing because essentially, SageMaker now continues to grow and with everything AWS is doing, over $16 billion in revenue a quarter, still keeping 30 plus percent growth, and some of their IL numbers are very impressive, 100 billion predictions a month, a million labeling tasks per day, and the company of course, as you've seen or heard has got a really significant customer list with everyone from, we talked about the BMW to the NFL using a SageMaker service to train ML models.
So a good set of announcements, very encouraging for the company. Again, AWS Reinvent was a really strong event. Pat, the only thing I wish was that you and I could have maybe spent a little more time there because, God one day just was not enough.
Patrick Moorhead: No, it really wasn't, and I'm hoping that between Qualcomm and AWS next year they want to have overlapping conferences, because if I look back, I mean, this is Qualcomm's most important conference and this is AWS's most important conference, and it'd be great to holistically jump in to both.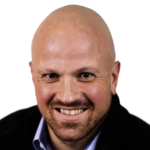 Daniel Newman is the Principal Analyst of Futurum Research and the CEO of Broadsuite Media Group. Living his life at the intersection of people and technology, Daniel works with the world's largest technology brands exploring Digital Transformation and how it is influencing the enterprise. Read Full Bio