AWS Quarter Performance Results
AWS Quarter Performance Results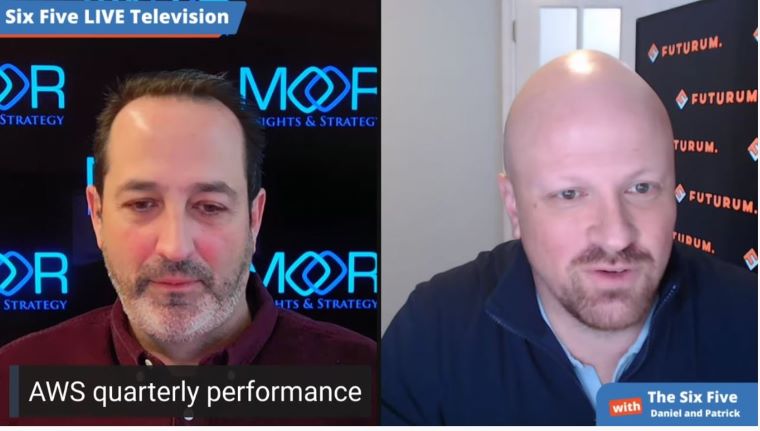 The Six Five team discusses the quarterly performance results from AWS.
Watch the clip here:
If you are interested in watching the full episode you can check it out here.
Disclaimer: The Six Five Webcast is for information and entertainment purposes only. Over the course of this webcast, we may talk about companies that are publicly traded and we may even reference that fact and their equity share price, but please do not take anything that we say as a recommendation about what you should do with your investment dollars. We are not investment advisors and we do not ask that you treat us as such.
Transcript:
Daniel Newman: But AWS, I'm telling you, I don't know how they do it. I'm being totally sincere. You and I have talked about this quarter after quarter after quarter, the law of large numbers, the average growth is going to get harder. It's going to get harder, because now they're a $10 billion company, remember, now it's a $12 billion company, or quarter, $12 billion a quarter, now it's 14 … Pat, I think we did the metrics. Am I right or wrong that AWS now in total revenue, I think it's surpassed IBM. Just AWS.
Patrick Moorhead: Yeah, they just, if you annualize their quarterly revenue they just nipped IBM in the bud, and if you compare quarter-on-quarter, they did.
Daniel Newman: Yeah. So that's not a knock, that's just to give perspective to the magnitude of AWS within the overall Amazon. So you got a business that's still growing 40%. Like I said, they started … Remember, Pat for a while they fell into the high 20s and low 30s and were going, "Okay, we're going to start to see this pullback, we're going to see it in the mid-20s, it's going to slip into the 20s." And I would say that the forces that are here for AWS is A, the diversification of their product portfolio. It started with storage, storage networking, storage networking compute, all the core infrastructure. But they've gone up and down the stack, from services to PaaS.
They haven't overly tapped into software yet, which is still pretty nascent, and a huge opportunity for the company if they decide to go down that route. But hybrid cloud with outposts, a very diverse set of services for AI and ML, Braket for quantum, which I'm guessing isn't a huge revenue source yet, but it's going to be down the line, they're playing in that space right now. Edge and IoT, Snowball and everything that's going on there is a big business.
So from edge to cloud, from public to hybrid, AWS has a very comprehensive service. And of course they never really say, "Hey, we're into multi-cloud," but they have with ECS and EKS built solutions for people that want to be able to do that with their own open-source and development capabilities using AWS to do that as well.
And then finally, Pat, they've built a pretty healthy, profitable business on home-grown chips. They've got some really compelling, including the stuff they're doing with Graviton, they launched the Graviton Challenge at our Six Five event, which I like to throw that out there every once in a while. And who knows, maybe they'll launch another Graviton Challenge at the Six Five Summit in June. Throwing that out there if anyone at AWS is listening.
All right, but you know, Pat, I'll leave it there and leave a little bit for you, but it's a diverse company playing up and down the stack, its growth continues to impress. And by the way, kind of the opposite of the Alphabet thing. It is the profit giant for Amazon, and while Amazon's core ecommerce and other businesses actually doing create a whole lot of op inc, AWS is an absolute margin monster.
Patrick Moorhead: Yeah, I mean, I'll just flash this up there and hopefully you can see that AWS generated 152% of Amazon's operating income. And you might ask, "Well gosh, how could that possibly happen?" Well, it's because international operations lost 1.6 billion, and North America lost 206 million. That's exactly how that happens. It's an absolute cash machine. And the cool part is the increased revenue, 40%, but the increased op inc, 48%. That must mean there are some fixed expenses that don't increase with the amount of business they do, like people, which is an incredible thing.
The diversity of what you can get from Amazon is incredible, and it's truly ironic that their value proposition when they first started was simplicity, right? If you wanted a virtualized workload, you could get one. Okay, one size of a virtual machine. And then IT was like, "Hahaha, I need multitudes of it." But they did it for scale.
And then once they got to a point of scale, they then offered every flavor of compute, storage, and networking that nay human, I think, would need, and then they kept adding more, right? And I like to consider what AWS does on EC2 compute as decommoditizing computing. This was this notion amongst other hyperscalers that compute was commoditized. And I'm a big believer, I spent 20 years in product marketing and product management that you don't become commoditized, you allow yourself to be commoditized. And what AWS did is they, Daniel, as you said, started creating their own silicon on the compute side, and then … Well, first actually on their networking offload, they did that for eight years before they built their own compute engine. They have an inference chip, and they have a training chip that's in customer test right now. So I think they keep moving that forward.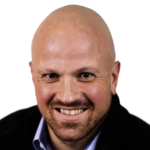 Daniel Newman is the Principal Analyst of Futurum Research and the CEO of Broadsuite Media Group. Living his life at the intersection of people and technology, Daniel works with the world's largest technology brands exploring Digital Transformation and how it is influencing the enterprise. Read Full Bio