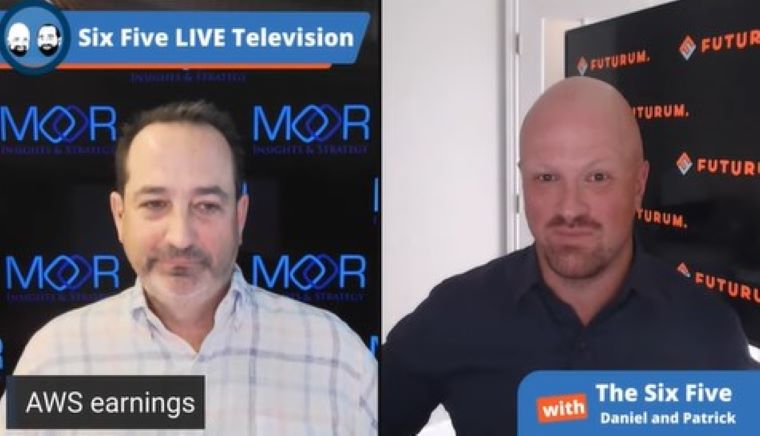 It's The Six Five team's favorite time of the quarter: Earnings Palooza! Hosts Daniel Newman and Patrick Moorhead discuss AWS's latest earnings report.
Watch the clip here:
If you are interested in watching the full episode you can check it out here.
10Disclaimer: The Six Five Webcast is for information and entertainment purposes only. Over the course of this webcast, we may talk about companies that are publicly traded and we may even reference that fact and their equity share price, but please do not take anything that we say as a recommendation about what you should do with your investment dollars. We are not investment advisors and we do not ask that you treat us as such.
Transcript:
Daniel Newman: So Amazon, and I'm going to talk just really quickly about big Amazon and then I think we spend most of our time on AWS here. But big Amazon saw a very positive reaction, very positive reaction in the street because after Walmart's results, I think everybody thought the business for Amazon might be in trouble. And I think what happened was is everybody stopped going to Walmart and they just started buying stuff at Amazon.
Now, again, remember, this is not even inclusive of the recent Prime Days which were huge record numbers, which should make the next quarter particularly interesting. But Amazon beat on revenue and then showed a loss. But I got to be very clear, the loss is 100% related to its investment in Rivian. That has proven so far to be an important partnership for the company's sustainability ambitions, but a pretty unhelpful one in terms of the company's recent earnings as they've had to write billions down over the last few quarters as Rivian lost so much value from the time in which Amazon invested.
The only other thing I'm going to talk about with Amazon, big A Amazon is- we just talked about advertising. So I did want to point out that while Meta and Snap and some of those others did have bad quarters, Amazon's revenue beat on the advertising. And they're not breaking it out, it's an 8.76 billion-with a B -business for Amazon. I don't think most people even think about the fact that Amazon has an ad business.
I mean, it's not only become a business, it's become a big one and it's near 20% growth this quarter. So the company is seeing some really strong acceleration there. So I'll quickly lean into the AWS number and then I'll let you kind of take it because there's not a massive amount to talk about here. But AWS grew 33%. It beat the expectations, albeit it was a slower growth.
And again, it kind of in the trend line of what I said about Azure and what we said about Google, is yes, there maybe is a little bit of slowing in terms of spend on cloud but the law of large number here, Pat, Amazon Web Services is a 19.7 billion a quarter business. It is almost an $80 billion run rate at this point. This company has done nothing but grow.
The products, the services, the platform, everything is expanding and it's still early day for cloud, especially at the enterprise level, we think maybe about 10% of enterprise workloads and maybe about 25 to 30% of all workloads. So yes, it's becoming I'd say a four plus horse race on public cloud right now. And hybrid has certainly been a winner.
And I think to some extent, AWS has had to acquiesce a little bit to the fact that multi-cloud is a real thing, but it still has such a strong position. It has such a large, would that be something like 39% of that IAS or something right now? Don't quote me on that but I think I read that. That's what the estimated AWS market share is what I think I read this week.
Huge market share there, continued product and service distribution, and really, really strong growth amidst the period of time when a lot of kind of the fear mongering cohort was trying to say that cloud was about to get squashed. If it is, it wasn't this quarter.
Patrick Moorhead: Well said, Daniel very well said. No, I'm thinking about which nooks and crannies I can dive into. No, I feel like this is just a rinse and repeat for AWS. I'm a lot less focused on the rest of the company on earnings than you are, but AWS is a profit master. I mean, they delivered $5.7 billion in OP Bank. And by the way, the rest of the company lost 2.3 billion in OP Inc.
So literally there's a… doing my math, an 8 billion difference there. And it's funny I can't help, but the thing is, I wonder if that's going to be more fodder to have the company broken up. I mean can't all the retailers out there basically now show the last two years of earnings that are clear that Amazon retail and media loses money and AWS enables it to profit up and maybe price below cost or something like that. I wonder how long this can go on.
And the AWS at an $80 billion annual run rate is just staggering. I mean, AWS on its own is one of the largest tech companies in existence in terms of revenue. And I wonder what the value of an AWS would be and a separated retail and media arm would be. I mean, I don't do a lot of speculation, but it still just blows my mind. AWS had a tremendous amount of product introductions.
In fact, they introduced 200 products and services over the last 90 days. That is absolutely mind boggling to me. They also closed a bunch of big deals. I mean, they closed a deal with Delta Air Lines, with Riot Games, BT, AKA, British Telecommunications, investment banking firm Jefferies. So they're just on the move. I think from a horizontal and vertical cloud point of view, it is slowly becoming a two horse race between AWS and Azure.
I mean, if you look at just the sheer size of these two companies, it is becoming that. I think there does need to be a strong third player. Strong and healthy markets have three people in a market. So I'd like to see Oracle, Google, right? Maybe even Alibaba. Actually, I don't see them getting enough traction in Western Europe and North America. I doubt that they could be number three. But anyways, great stuff. I'm kind of rattling off and going off in different directions, but love it or hate it.
Daniel Newman: Speculation's fun. And you did bring up some really good points. I actually kind of think the reason you can't break Amazon up is because the company wouldn't actually be able to function without AWS. It's almost been well set up that way.
Patrick Moorhead: How do you feel if you're one of the AWS folks and it's like you got to lower your costs? It's like I brought 5 billion to the table and you lost 2 billion. Why would I do that again?
Daniel Newman: Because revenue growth. Because people need their food and stuff delivered to their houses in one day because we can't wait. We can't wait eight hours Pat. I need it in four, I need it in four.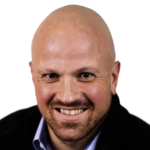 Daniel Newman is the Principal Analyst of Futurum Research and the CEO of Broadsuite Media Group. Living his life at the intersection of people and technology, Daniel works with the world's largest technology brands exploring Digital Transformation and how it is influencing the enterprise. Read Full Bio