AT&T and DISH Walk Away with Lion's Share of Andromeda Auction Spectrum Licenses
AT&T and DISH Walk Away with Lion's Share of Andromeda Auction Spectrum Licenses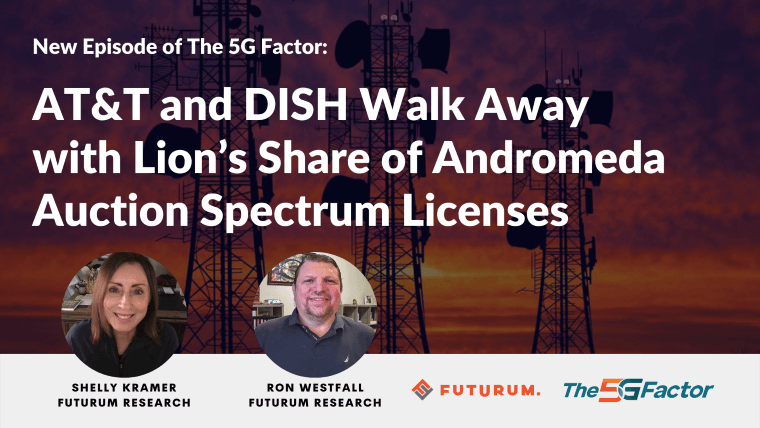 For this vignette of a recent episode of The 5G Factor, part of the Futurum Tech Webcast series, analysts Ron Westfall and Shelly Kramer examined the recent FCC Auction 110, also dubbed the Andromeda auction by Light Reading. The auction yielded $22 billion in victorious bids for 100MHz of mid-band spectrum between 3.45 GHz and 3.55 GHz. Key results included AT&T agreeing to spend around $9 billion and DISH agreeing to spend $7.3 billion.
Their conversation spotlighted:
AT&T walked away with 1,624 new licenses and DISH won 1,232 licenses further validating the key role mid-band spectrum will play in advancing mobile operator 5G plans.
T-Mobile spent $3 billion on 199 new licenses while Verizon took a pass on the auction, taking a tactical breather after spending over $50 billion on licenses in the FCC's C-band spectrum auction of 2021.
Of interest, the auction was the third largest conducted by the FCC trailing only 2021's $81 billion C-band auction and 2015's $45 billion AWS-3 auction.
Ron and Shelly view the auction's large haul as confirming the mobile operators highly value mid-band spectrum, such as 3.45 GHz to 3.55 GHz as it provides a goldilocks-like spectrum balance, through the combination of throughput speed with coverage range that can enables 5G to really hit its optimal capabilities.
Watch the video vignette here:
Or listen here:
If you're watching the 5G space, be sure and subscribe to our YouTube channel to catch the show, or find the podcast in your favorite streaming channel and subscribe. You won't be disappointed!
Don't Miss An Episode – Subscribe Below:
Disclaimer: The Futurum Tech Webcast is for information and entertainment purposes only. Over the course of this webcast, we may talk about companies that are publicly traded and we may even reference that fact and their equity share price, but please do not take anything that we say as a recommendation about what you should do with your investment dollars. We are not investment advisors and we do not ask that you treat us as such.
Transcript:
Shelly Kramer: So with that, I'm going to segue to our final topic of today, and that is all about AT&T and Dish and the Andromeda auction. Ron, I'm going to let you bring us home on that one.
Ron Westfall: Well, thank you, yes, speaking of C-band spectrum, which has been very important and certainly was a key factor in the FAA controversy. Recently, the FCC conducted a C-band auction and I think a little background is helpful. It was the third largest one in the FCC history. It was only behind last year's massive C-band auction of $81 billion for Verizon, spent a good fortune to secure C-band assets, and then 2015's AWS-3 auction which came in at $45 billion. So this auction netted $22 billion and in it AT&T spent $9 billion too, in essence scoop up 1,624 licenses followed by Dish with $7.3 billion spent on 1,232 licenses, and then T-Mobile with $2.9 billion spent in order to secure 199 licenses. So that's an impressive haul for these three players to gain these valuable C-band assets at this stage of the 5G competitive race. What I actually think important to note here is that Verizon did not partake that even, looked to pad their existing C-band assets after their major spend on last year's C-band spectrum auction.
So I think this is definitely worth noting that why is C-band so valued by the operators. Fundamentally, it kind of provides a goldilocks, provides the combination of throughput speed with coverage that enables 5G to really hit its optimal capabilities and that is the 3.45 to 3.55 gigahertz range. So I think this is definitely something to definitely follow that is how spectrum is being allocated, how the major players are capitalizing on it.
I think one other takeaway is that when T-Mobile added those licenses and enabled them to remind the market that the Andromeda Auction 110 allowed them to add an average of 21 megahertz of mid-band to their existing spectrum portfolio. So that actually reaches to 184 million people, so that's a pretty sizeable number to improve your targeting on. As a result, their overall 5G network can reach 310 million people, which allows them to start that twice as much as what AT&T can do today and five times as much as Verizon can do today. Although, as you noted with the speed test, those numbers will change as AT&T and Verizon bring on more of their C-band assets to market and make it commercialized and so forth. But definitely, we're going to keep an eye on all the spectrum races and definitely the options and so forth and how it's definitely impacting the ability of the major mobile operators to feed the demand out there to make a big impact across all society and not just for specific mobile applications and so forth.
So this is good news overall for the whole industry, but certainly good news for AT&T, Dish and T-Mobile from my perspective.
Shelly Kramer: Absolutely, absolutely.