Apple Leverages Qualcomm for Satellite SOS
Apple Leverages Qualcomm for Satellite SOS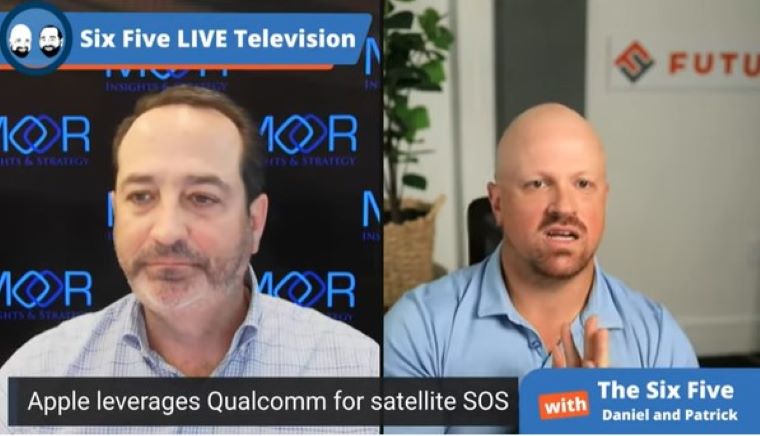 The Six Five team takes a look at how Apple leverages Qualcomm for satellite SOS.

If you are interested in watching the full episode you can check it out here.
Disclaimer: The Six Five Webcast is for information and entertainment purposes only. Over the course of this webcast, we may talk about companies that are publicly traded and we may even reference that fact and their equity share price, but please do not take anything that we say as a recommendation about what you should do with your investment dollars. We are not investment advisors and we do not ask that you treat us as such.
Transcript:
Daniel Newman: All right, let's talk a little bit more about Apple. I mentioned the satellites thing. You and I kind of teased this out a little bit last week because there's been a bunch of news related to this. I think T-Mobile had some news. Bottom line is our devices are now going to have new ways to connect to basically like our cars with OnStar, but now it's going to be on our phone, Pat. And so Apple's leveraging Qualcomm.
Patrick Moorhead: Yeah, so the day before the announcement, I did a tweet storm showing the correlation. Well, I said two things. I said first off, I think this is going to be Globalstar is going to be the satellite provider, and also that it's going to be the X 65 modem that's going to be the key driver of this satellite capability. And essentially, it ended up being true. Apple talked about some proprietary type of chips that they're using. We reached out to the company, actually OnShore yesterday, didn't get any answers on exactly what that was. But what we do know is that it's using the X 65 Qualcomm modem that leverages the N 53 band. And then I did a little bit more digging, and it was interesting. Globalstar, the satellite company was a joint venture between Qualcomm and Loral back in 1991. In 1999, were you in third grade then?
Daniel Newman: That's the year I graduated high school.
Patrick Moorhead: There we go. And then in '99, Qualcomm actually had a phone that they introduced that you could talk and do a little bit of data on Global Star. And it used a CDMA technology that Qualcomm invented. And here we go. Qualcomm CEO Steve Mollenkopf actually was a contributor to the Global Star project. In 2015, Qualcomm funded the OneWeb constellation, which was essentially the back haul for data across satellites. And if we go to 2021, Global Star announced that Qualcomm was supporting its N 53 band and that's 2.48 gigahertz, 2.495 gigahertz, which pretty much made an easy linkage. So the day after, sorry, the day of launch, right, Global Star's stock went up 25%. And then in their eight K they said Apple was this mystery investor, which I also called the day before. So interesting stuff. Apple didn't talk about Qualcomm. Apple didn't give any credit to Global Star or Qualcomm. But we now know based on all of this evidence that the technology behind this SOS feature is Qualcomm and Global Star, which Qualcomm created, helped create. Like Apple just can't get away from Qualcomm.
Daniel Newman: Entire history of existence. Is Apple ever given credit to another company for its contributions to building products for Apple?
Patrick Moorhead: I'm thinking. I'm thinking only ISVs, that's it.
Daniel Newman: Okay. So in the app side of things, there's a little bit of credit being given, but it's just not in the company's DNA. It's just not. Even, most of its acquisitions, they die the minute they show up on Apple's doorstep. I think maybe the most popular I can remember in current history is maybe Beats by Dre was a brand at one time that Apple has kept a brand to some extent. But I think almost universally, and of course its technology partners tend to never get much credit unless they're being sued for doing something wrong because God forbid the margin erosion of that $20 licensing agreement they pay in every phone. Anyways, I can't. This is one path that I guess you could kind of look at it two ways. It's just not Apple's DNA to ever give credit so we shouldn't be surprised. But it's important I think that the world knows that there's innovative companies and innovative developers and innovative technology that is behind the implementer. And this goes back to the cases of innovators and implementers.
And it has a lot to do with patents and licensing and protections and intellectual property law. And we talk about this a lot. And the reason that we need to strengthen our IP laws because there are companies like Apple that will tend to make the world believe they're building everything that they're using. And then the companies that actually spend five, 10, 15 years and spend real money on research and then put the technology behind a company like Apple into market don't get credit. And then when those companies aren't popular, a company like Apple can then go sue them or try to actually pay them less or hold out all together, which is what happened in that most recent case between the two companies.
But we also know in the end when there's a symbiotic relationship and the technology helps the innovators and implementers both, they find ways to work together. So you hit that on the head, you told them the story. I'm just talking a little bit about antitrust and intellectual property protection laws because in the era of the CHIPS Act and everything else, it's not just about the implementers, it's also about the innovators.
Patrick Moorhead: I'm kind of surprised. I got to tell you, I'm a little disappointed that the press didn't pick up even after the announcement was made. I just did a search iPhone 14 Qualcomm satellite, and almost nobody cited Qualcomm as a contributor.
Daniel Newman: They all want to go on campus to watch a video.
Patrick Moorhead: No, I guess so. It was kind of weird.
Daniel Newman: But they won't get invited back to come on campus and watch a video.
Patrick Moorhead: I know. I used to be invited to those announcements, and they were on stage. And then I got off script apparently, Daniel, and started to provide some constructive criticism about Apple and what it was doing and leveraging its monopoly power. And can you believe that I didn't get invited back?
Daniel Newman: Divergence, by divergence. You've diverted from the pack. You are to the ground, and you are running against the grain. Not okay. I'm not even sure I can hang out with you anymore.
Patrick Moorhead: I know.
Daniel Newman: I think our bestie story has to end here.
Patrick Moorhead: Bestie festie is done.
Daniel Newman: You're testing the besting over Apple. But in all seriousness, I think we agree more than we don't.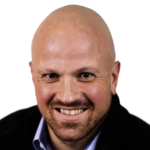 Daniel Newman is the Principal Analyst of Futurum Research and the CEO of Broadsuite Media Group. Living his life at the intersection of people and technology, Daniel works with the world's largest technology brands exploring Digital Transformation and how it is influencing the enterprise. Read Full Bio