Apple Event: iPhone, Watch, Airpods
Apple Event: iPhone, Watch, Airpods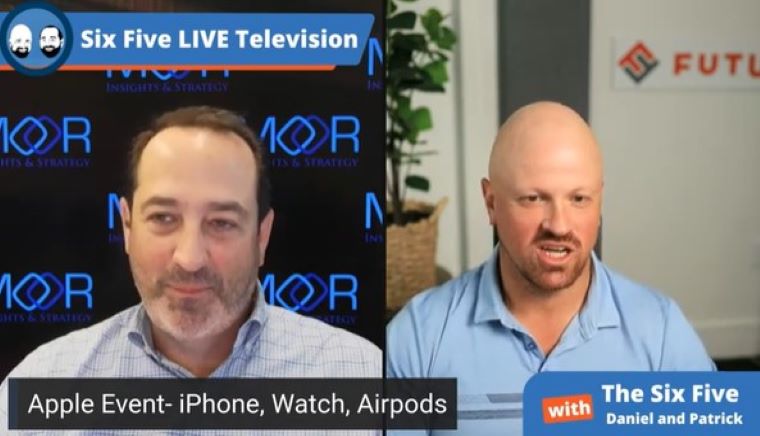 The Six Five team takes a look at Apple's new products following their event.
If you are interested in watching the full episode you can check it out here.
Disclaimer: The Six Five Webcast is for information and entertainment purposes only. Over the course of this webcast, we may talk about companies that are publicly traded and we may even reference that fact and their equity share price, but please do not take anything that we say as a recommendation about what you should do with your investment dollars. We are not investment advisors and we do not ask that you treat us as such.
Transcript:
Daniel Newman: Let's jump in and talk about the Apple event. I think my best tweet, I tweeted like 40 times during the Apple event. The best tweet was the one about 35 minutes into the watches where I said, I'm bored. Can we please get to the iPhone 14? That was the one that got the most engagement. I had a bunch of tweets about the watches, the Ultra Watch, the Pro Watch, the Watch eight. I watched and then fell asleep while they talked about watches. Now listen, I'm a mechanical watch guy. I like real watches. I do appreciate some of the technology. I definitely like some of the health wellness. And I know, Pat, you're an Apple watch wearer, so I'm not knocking it. I just felt there was a little bit too much time spent on the watch. I'm not sure about that category overall, but it was a pretty big reveal in terms of volume. I think it was a somewhat meh reveal in terms of the next iPhone if I'm being totally honest with you.
Patrick Moorhead: That's all we ask for is honesty.
Daniel Newman: You know how we are. We tend to be a little nicer to Apple than we should be on this show.
Patrick Moorhead: Yes, true.
Daniel Newman: Now if you see the irony in what I'm saying, the truth is we actually are a little nicer than we should be because it just wasn't that interesting to me. Now if you're an adventurer, cool the Ultra, that new watch, pretty cool for the rugged where if I start running in the Sahara Desert, I'm going to be very excited. I don't run, period. So not going to happen for me. If you're looking for the SE, which I call the, what do I call it? The Playskool version, P-L-A Y-S-K-O-O-L version of the Apple Watch. So now for $300 you can get most of the functions and features that you got in the one that was $400. I don't know. I think that's just more different and not necessarily better, but Apple does that really well, and then they sell a whole bunch of them. And probably with the SE, you have to buy a charger separate. Does it even come with one? I can't remember that fact, Pat.
Patrick Moorhead: No, endurant being environmentally friendly.
Daniel Newman: Oh, and that's why they don't come with one?
Patrick Moorhead: Exactly.
Daniel Newman: Because you might already have one.
Patrick Moorhead: Right. They decided to remove the $5 bomb cost to them as well.
Daniel Newman: Yeah, so anyways, it's probably Qualcomm's fault. That's what I've heard in the past. But anyway, so that's what's going on in the watches. There's some interesting news about satellites but we're going to kind of cover that separately in a few minutes. So I guess I'll talk about the iPhone 14 and 14 Pro. That's where everybody really cared about. 14 as far as I could tell, didn't have too much going on. Still has the A 15, still has a notch. What I thought was kind of cool was the Plus model coming in at 6.7. Now I use Apple, just for everybody to know, I do talk a little smack, but I am a customer. I'm actually on an Apple machine right in front of me right now. I run the ARM Mac right now too. So I feel like that gives me credence to complain about things.
But what I can't understand is the thousand-dollar phone and by the time you really put the memory in it that we need, I don't know about you, but my kids come to me about every three months and tell me their iPhones are over memory because the way people use them with all the video, the starter device is a nonstarter. Can we just acknowledge that the starters, unless you're a really efficient cloud user and you're okay with all your stuff always having to be accessed in the cloud, it's not really efficient with the on device storage. So by the time you get the device you really probably need, you're spending well over a thousand dollars. The question mark that I had is for over a thousand dollars, what are you getting with the 14 that you didn't get with the 13 if you have the 13, and I really couldn't figure much.
I do like the bigger screen. I'm a big guy. My jeans are big, my pockets are big. I can use a bigger device. So I'll probably upgrade it at some point, but I'm not upgrading it with any expectations of getting any real benefit. The last thing I'll just say about it, because I know there were a bunch of other announcements. There were some cool health tracking and stuff like that. That's a path they're on. I think it's talked about a lot. Nothing got me super excited. You could know when your car crashes, you could know if you fall over. And I know they're doing period tracking now, which I'm sure is going to be very controversial in the women's community. It's something that's going to certainly stir a debate because it's just more data being captured.
But back to the 14, Pat, the notchless design, not quite sure I get it though because the notchless design is great, but now you just have the little rim of screen above where the camera is. Is that any better? Can't figure that out. To me, it just kind of feels like more of the same, little bit larger, slightly better camera. I know we're Snapdragon aficionados, Pat, but isn't this going to be about equal to the last iteration of the Qualcomm Snapdragon camera? So you're not getting a lot new. Yet sadly, I'm still going to probably buy it.
Patrick Moorhead: Yeah. I could tell you this was one of the most boring Apple events that I've ever personally watched. And not that I don't use Apple. I mean, I have an Apple Watch, which means I have an Apple phone, but this is my main gear right here, which is the Samsun Fold 4 as my go-to phone. But the way as a research analyst I measure these is by black and white. What is it that I can do now with iPhone, Watch and AirPods that I couldn't do before? So what we're talking about is a shade of gray. And iPhone as an example, where's the 10 x zoom lens for super closeups? It's not there.
I mean, once again for the camera, we're talking about being able to take better night pictures. Not that there's not value, but there's really nothing to swing you around the room. And in fairness, you have to compare the 14 to the 11, which is where most people would upgrade from. And there are some demonstrable black and white things. But even the new Watch Series eight, I mean you add temperature sensors. I mean great, I've had that on this ring for years. And again, I know everybody doesn't have one of these or Oura rings, but there's just really nothing new even the watch Ultra.
Daniel Newman: Less than the watch, Pat. The ring.
Patrick Moorhead: What?
Daniel Newman: It's less than the watch, the ring.
Patrick Moorhead: Yes, it is. It is much less. And if you look at the Apple Watch Ultra, which bigger face, but there's nothing black and white that this can do versus a high end exercise watch from Garmin. This is really who I think they're going after, which is underwater dives, long hikes, and things like that. And we'll get into this later. Even the SOS capability was announced by SpaceX and T-Mobile. So really nothing brand new but that doesn't mean that people won't buy it, doesn't mean that I won't buy it. But I just thought it lacked black and white demonstrable things. I mean, when are we going to get to the point where the Apple Watch can test glucose? So you essentially have the triad of sleep, exercise, movement, and caloric intake. That would be fricking amazing.
Daniel Newman: What about some sort of deep regenerative scan that can tell you if you have a likely condition? I don't know. I want some sort of genetic testing in this watch. I mean, at least in the aero made version of it, we should get something more. It should be able to tell me if I'm going to die in the next 20 years and how it's going to happen. I want a little more. I want a little more, Pat. I want more inference out of this thing. I mean, I'm joking.
Patrick Moorhead: Well, you're half joking. I mean, no, I think we want more. It's just like, so What? Tell me something that is either not blatantly obvious or that you couldn't tell me multiple generations ago. I can't even tell you what generation this watch is as there's no new features that I feel are relevant. So anyways, I thought it was a pretty big, pretty big snoozer.
Daniel Newman: Well, glad we spent so much time on it. You and me, we can't resist though a little bit. I really did say what's up with the… So is the SE like the Casio version of the watch?
Patrick Moorhead: Yeah.
Daniel Newman: And you got that Pro is the Arrow made. I mean honestly, I want the Audemars or maybe a Patek Philippe version so they can charge like 35,000 for a version that has a band that has a little logo on it or something. You know what? People will pay it, Pat. And that is why they do it. So to their credit, that's why they do it..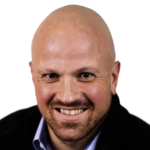 Daniel Newman is the Principal Analyst of Futurum Research and the CEO of Broadsuite Media Group. Living his life at the intersection of people and technology, Daniel works with the world's largest technology brands exploring Digital Transformation and how it is influencing the enterprise. Read Full Bio