Apple Blaming Qualcomm For Modem Woes?
Apple Blaming Qualcomm For Modem Woes?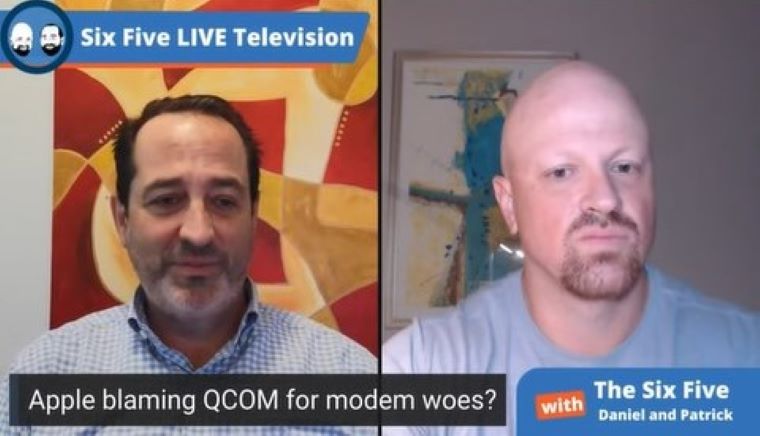 The Six Five team discusses Apple blaming Qualcomm For modem woes.
Watch the clip here:
If you are interested in watching the full episode you can check it out here.
Disclaimer: The Six Five Webcast is for information and entertainment purposes only. Over the course of this webcast, we may talk about companies that are publicly traded and we may even reference that fact and their equity share price, but please do not take anything that we say as a recommendation about what you should do with your investment dollars. We are not investment advisors and we do not ask that you treat us as such.
Transcript:
Daniel Newman: A couple weeks back, you and I, there was a report that came out of Asia from a well-regarded analyst that basically said a survey that he'd recently done suggested that the Apple modem may have failed and that they were going to continue to need to use Qualcomm a little longer, and then you and I talked at length about the complexity of a 5G RF system and the probability that this relationship may continue for some time. And then a few weeks later now, I think it's been a couple weeks, Pat, but Florian Muller, one of Apple's most outspoken defenders, you can go back and sort of follow the FTC case. You can go follow the original Qualcomm-Apple case. Definitely a person that strongly aligns himself with Apple whether there's evidence or not, seemingly, is what I've seen in the past.
And he kind of came out with nothing that I could see that was evidence based, just opinion based from what I can gather, that it's the reason that Apple has failed has nothing to do with Apple's technology and has everything to do with a couple of very specific patents that Qualcomm has not relinquished. Or what is the right word for it, Pat? There's some sort of they basically need to enable Apple to utilize these patents and Apple's lost every case in every court to Qualcomm about the ability to use these patents, so they can't seem to build it without help, quote unquote, from Qualcomm. And so, now we're in a situation where it looks like Apple is either A, trying to not acknowledge that they maybe have failed and they're looking for sort of a loophole, and the loophole being let's blame Qualcomm and let's call them patent trolls, more or less, or B, they really are building something and Qualcomm, which by the way spends billions of dollars on R&D, wants to be paid fairly for their development.
And you can say that we're Qualcomm defenders in this case, but I would say when you look at whether it's the CHIPS Act, or this thing, when you look at technology leadership, the companies that spend big money in advance to have the technology that builds the products of our next generation, they should get paid for it because there's a lot of risk that goes into that. Apple's an implementer. They want to often take credit as an innovator. They're an implementer of technology that creates innovative outcomes, yes. Let's say that's what it is. But many of these standards and non-standards that they use to build the products are created by others and their history says they often don't want to pay or don't want to pay very much for the access to that innovation, and if we keep doing that we're going to create more risk of future innovation.
Big story here, Pat, but I guess the question I throw over to you is, so, we're getting a flip flop here. Two weeks ago, you and I felt very comfortable saying it was probably a technical issue. Now you've got Muller coming out saying, "Nope, it's just a legal issue." Is it? Or do you think Apple's embarrassed and they're kind of throwing some weapons at the market to say, "Hey, don't let us get embarrassed here. Let's create some doubt in the fact that it's technical and let's make sure everybody thinks it's someone else's fault."
Patrick Moorhead: Listen, historically people love to blame Qualcomm for their modem issues. There's a lot of evidence that came out of the trial between Qualcomm and Apple where Intel was on the record kind of blaming Qualcomm for their woes, and then in emails you had Apple basically saying that Qualcomm is the best at this, which is why we need to go with them and why we need to essentially create a campaign to destroy the company to get what we need. I kind of put it under the if we can't figure it out on our own, let's blame the market leader and then sue them. That's kind of the way that I see this right now.
But listen, 3G was harder than 2G. 4G was harder than four and five was harder than four. And what happened in five is it really turned into a system, right? Which was it wasn't just the digital part that was important. You had to have really tight integration with the RF side. And that's given the complexity of the different levels of spectrum and some of the special features that 5G has. And you know, I have to ask myself, how do you go from buying a working modem from Intel three years ago, now they did have some millimeter wave challenges, but at a minimum you had sub-6. How do you go from that to not being able to ship anything?
I just chalk this up as more people blaming Qualcomm for their technical ineptitude. And you know, if I kind of dial back and I look at what's going on at Apple, listen, they hit an absolute home run with the M1 even with its incompatibilities, because it did run Apple software really well. But why don't we have an Apple Watch? When was the last Apple Watch SoC updated, Daniel? When did that happen? How do you get an 18% increase in performance on a 25% die size increase with the M2? I just don't understand. I think that Apple may be hitting the point where I don't know if it's COVID that's getting in the way of their developmental cycles. Maybe they bit off more than they can chew. Maybe 5G systems is just a more difficult thing than they had ever expected.
Daniel Newman: And can I just throw out one more thing? Sometimes innovation too fast and too much performance is not the goal. I'm just being candid. I know we kind of… We went off a little bit from the patent issue here, Pat, but you know, Apple has notoriously brought out mid-cycle upgrades that are very much the same as the last with a few updates, and they sell a whole cycle. This is good marketing, so sometimes I think we need to ask the real questions. Does the company want to innovate that fast? Do they want to get that much performance out of the next thing? Because they have people that will just keep coming and buying them. You heard me start this show off about TSMC saying record profits on demand for the iPhone, and what do most people get between their 12 and their 13? What changes for most users? What are they able to do on the 13 that they couldn't do on the 12? It's usually one little thing, like some sort of-
Patrick Moorhead: That 8K pro res, that probably two-square-millimeter die that they put on there. That's one.
Daniel Newman: I get it. But what I'm saying is it's like one feature and people will do a whole cycle of buying because the camera got better, or they'll do a whole cycle of buying because there's a new game that… Apple's gaming is not really their thing, but you know, my point though is that the 5G stuff is really hard, and that's a whole different story. The question of how much they innovate because they can and how much they innovate because they want to be able to get three more cycles out of what they could get in one cycle, what does that mean for revenue? That's all I'm saying is if they could push the M2 to really where you think they could, how many sales do they lose between people that'll buy an M1, M2, M3 and M4? So, they'll just make an M2, and an M3, and then at M4 they'll actually do what they could have done at M2.
I'm not saying that's what they do. I'm just saying there's a case to be made that innovating too fast creates less revenue.
Patrick Moorhead: Listen, the way that the whole processor, the highest end processor makers stay in business, is to have to convince people that they have to buy the latest and greatest, otherwise they're dead. Analog companies, just they operate at kind of a slower pace, but that's been their business model forever. But great question, Daniel.
Daniel Newman: Analog transformation, Pat.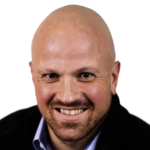 Daniel Newman is the Principal Analyst of Futurum Research and the CEO of Broadsuite Media Group. Living his life at the intersection of people and technology, Daniel works with the world's largest technology brands exploring Digital Transformation and how it is influencing the enterprise. Read Full Bio