Announcements from the Microsoft Business Applications Summit
Announcements from the Microsoft Business Applications Summit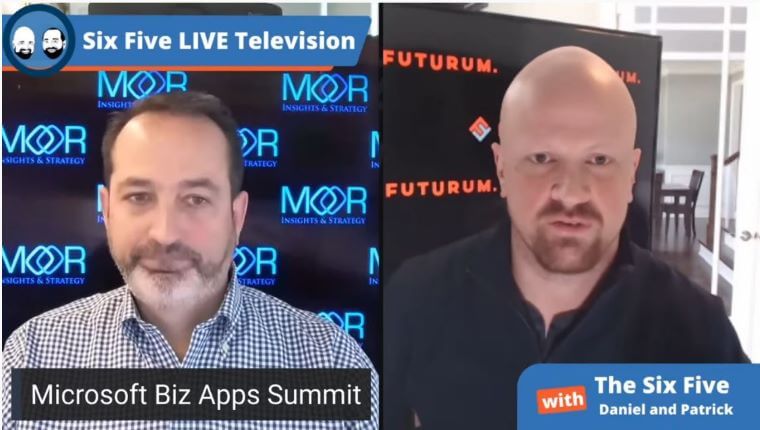 The Six Five team explores the latest announcements that came out of the Microsoft Business Applications Summit.
Watch the clip below:
If you are interested in watching the full episode you can check it out here.
Disclaimer: The Six Five Insiders Webcast is for information and entertainment purposes only. Over the course of this podcast, we may talk about companies that are publicly traded and we may even reference that fact and their equity share price, but please do not take anything that we say as a recommendation about what you should do with your investment dollars. We are not investment advisors and we do not ask that you treat us as such.
Transcript:
Daniel Newman: Let's finish out with Microsoft, this week the company held it's Biz Apps Summit. This is a annual event for the companies SaaS, prem-based applications. You probably know or heard of Microsoft Dynamics, used to be Great Plains, or Dynamics 365 now which is the cloud-based offering, which is the one that I think is seeing the fastest growth rate, from the 40's of percentile. There was a lot of news, it was a day and a half. We had an analyst day, a great wine tasting. Then we had the event itself, a mix of pre-recorded and real-time content and interaction. But this was a moment to get with the senior executive, Alyssa Taylor, is it James Phillips I believe is the name, the President of the business. Sorry, just want to make sure I get names right. We hear from them.
There's two things I took out of it Pat. One is, always great with application SaaS, CRM to hear customer stories. I think the company did a really nice job of talking through the lens of customers, how they're applying these technologies, and this is in my eyes of why the business is growing. The second thing was some new product solution offerings were rolled out. I kind of leaned into one in particular, and that was around the customer insights business, or the CDP. For those unfamiliar, CDP, Customer Data Platform. This is the next big frontier for many SaaS companies, whether it's Sales Force, Customer 365 Truth, whether it's Adobe Experience Platform. All of these companies are moving up to stack CDP. CDP is really all about tying first-party and third-party data, being able to truly understand the full 360 degree customer journey, being able to attach. To get that right offer, in the right channel at the right time. A big part of that is going to be tying advertising engines to the customer first-party data insights.
So Microsoft did that at their event. They basically announced a more sophisticated integration between Dynamics 365 Customer Insights, and Microsoft's advertising platform. But the important thing too by the way, Microsoft's ad platform, which is a growing part of the business, because every part of Microsoft is growing by the way. This is being built to not only unify first-party data for advertisers, but it's also being built to work with other third-party advertising systems. So think to yourself things like Google, Google Ads, Marchetto, MailChimp, SendGrid, AutoPilot, these are all the applications you'll be able to integrate with. But really what it comes down to is can you access the right data? Can you manage your segments? And can you scale your ads across multiple platforms? So the reason for this is we want to be able to reach the customers in that right channel, and we want to do it at scale. Customers have become pretty good at segmenting their business.
There's one other big caveat here Pat, that really everybody that's listening that's interested in this part of the business needs to pay attention to. That caveat is that effectively with the IB for Apple, and the changes being made to third-party, to make it harder and harder for companies that have long relied on inexpensive access to people's data without their permission, that's going away. It means every company needs to get more first-party data, they need to build systems to get customers to opt-in. So the way you get customers to opt-in is by putting the right opportunity to engage them in the right channel where they are opted-in. Whether that's a Facebook, or a Google platform, get them to come and be part of your first-party ecosystem so you can eventually target them with the right ads. I feel like Microsoft made a good move here, they're upping the stakes, and again it's a super competitive space. You heard me mention it, Sales Force, Adobe, SAP, Oracle, all competing, Treasury Data, Segment and Twilio. This is a space where I believe Microsoft is going to be effective, especially with up leveling the business with their existing D365 customers.
Patrick Moorhead: Brother, you talked so much that you lost your voice. Because we're out of time here. Two things that I noticed, it was nice to see Power BI add this goals function. Which is very key from just looking at the pretty pictures and charts, to know exactly where you are, to that some pretty sophisticated types of capabilities there. I thought the big story for me was Microsoft's ability to tell customer stories, and tell them very well. I think this is important, it's a sizeable business, but I think when you're trying to convince people to leave one company and move to the other, you need a lot of these, "Hey, come in, the water feels great." Types of things. Microsoft had the best communication on connecting the front-office and the back-office. I would dare to say that I've ever seen, literally overlapping worlds coming across and showing the applications and talking about the magic that people can do that. There's really only three companies at least that I'm tracking right now that can do that. Microsoft, Oracle and ZoHo. I know Sales Force is going to try to get there, and SAP is trying to get there. But those are the three companies that are there already. That seems to be the trend, full-service providers front-end and back-end.
Daniel Newman: Well just like the cloud stack, you've got the SaaS stack, and that is taking care of all the functions. That's your back-office, that's your human resources, that's your sales, that's your marketing. All right, we could talk about that, whole show, own day. See, I left something for you there. You went on for like two minutes.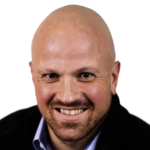 Daniel Newman is the Principal Analyst of Futurum Research and the CEO of Broadsuite Media Group. Living his life at the intersection of people and technology, Daniel works with the world's largest technology brands exploring Digital Transformation and how it is influencing the enterprise. Read Full Bio