Announcements from the Lattice Semiconductor Investor Day
Announcements from the Lattice Semiconductor Investor Day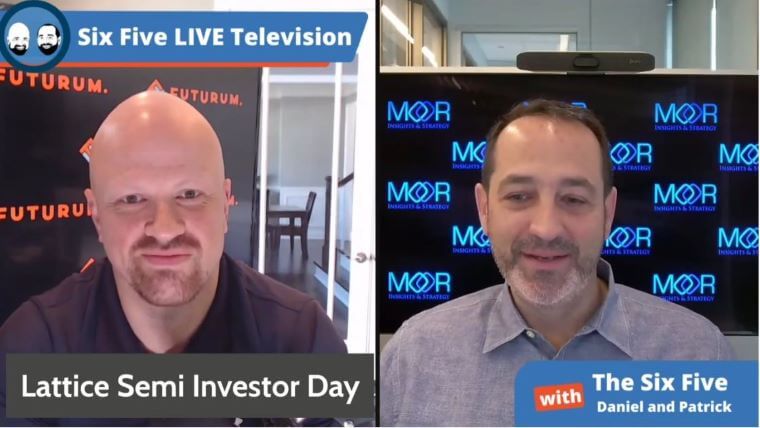 The Six Five team does a deep dive into the Lattice Semiconductor Investor Day and the announcements that came from it.
Check out the clip below:
If you are interested in watching the full episode you can check it out here.
Disclaimer: The Six Five Webcast is for information and entertainment purposes only. Over the course of this podcast, we may talk about companies that are publicly traded and we may even reference that fact and their equity share price, but please do not take anything that we say as a recommendation about what you should do with your investment dollars. We are not investment advisors and we do not ask that you treat us as such.
Transcript:
Patrick Moorhead: But let's move on to the Lattice Semiconductor Investor Day. Wow. I just love what they're doing there. I mean, if you look at the stock price, it's pretty ridiculous. I don't know if it's four or 5x appreciation since new CEO Jim got in there. Jim Anderson has done a great job at the company. And the reason that I'll reinforce, I'm an industry analyst, but I show up to investor days is because it's the source of truth for all companies. You cannot stretch the truth too far, or you might get sued by your investors, you might get investigated by the SEC. Generally, bad things you don't want to happen.
Jim took an opportunity to do a victory lap. I covered this in 2019 and Jim had a list of 10 things they said they were going to do in 2019. And then they had a list of what they did with all blue check marks. That is classic Jim Anderson. And they're doing great. Most interestingly, the company brought out a… essentially expanded their Sam. So not only is it a target market, but it's an addressable, a serviceable market of the mid-range FPGA with a new product called Avant. Now today, the mid-range, it's about a third, a third, a third in the FPGA market. Entry-level, mid-range and high performance. And essentially, that's measured in terms of lots, which is the compute function for FPGAs. And brand new, they've been working on it for years. They have customers for it.
This is squarely in the backyard of Intel and Xilinx. And they entered this market with a unique way to do it. So Intel and Xilinx are all focused on the premium FPGA market and SoCs with premium FPGA. So they really are innovating much the mid-range and the entry level. And not only are the designs older, but they're using older manufacturing for that as well. So you've got Lattice who comes in, new designs and new manufacturing. I feel like they're going to go and do really, really well.
Now, the design cycle is long, right? When you look at the markets they address… I mean, it's a year, year and a half design cycle. Finally, from a product point of view… I'm not leaving any oxygen in the room, Daniel, I'm sorry… were some new packs. One of those were for 5G O-RAN. And the other one was for industrial robotics. FPGAs are good, they're low power, but on the other side, they're harder than, let's say, a CPU to program. They're easier than an ASIC, but they're harder than, let's say, a CPU. So these packs essentially allow them to shorten the time to market, which is a great thing.
Finally, and here is the mic drop, the financial updates. They're raising their gross margin target to 65%, maintaining OPEX at 35%, raising operating profit at 30% and above. So it's hard for me to find huge faults here. I think the biggest challenge that Lattice is going to have is being a market maker, as opposed to… I think they've got the market taker thing down. But the market maker, going after and converting people from ASICs or controllers to FPGAs is probably their biggest challenge.
Daniel Newman: Yeah, anything else you want to throw in there? Just in case I wanted to say something.
Look, Lattice is an exciting company. I've put them in my MarketWatch piece last week as part of four semiconductor companies that I think people need to put their eyes on that aren't named Intel, NVIDIA, AMD and Qualcomm, just as a for instance. And I did it for all the reasons that Pat mentioned. There was a pre-investor day, but I had a pretty good sense that we were going to see some impressive data come out of the company and the entire leadership team.
Jim's a disciplined leader. It's very clear. If you look at some of the foundational in terms of things like cash creation, the company has really improved. And perhaps the thing I liked the most is, and we'd take a line out of Pat Gelsinger's SEDU, that he could legitimately get in front of the financial analysts and say everything I've said we would do we've done, we've executed.
And by the way, that is maybe the most important thing for building a steady foundational company and being investible. You know, the company's only got six billion in TAM and that's by the way doubled. So when we're talking to Intel, we're talking 300 billion in TAM. We're talking about a company that's disciplined, that's focused, that's not going to be doing comparable revenues anytime soon, but that has identified opportunities in the market and is executing very efficiently and effectively in those particular markets, and sees opportunities to co-exist with those big semi names. And I see a lot more success in the future for Lattice.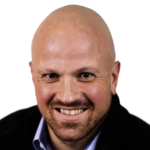 Daniel Newman is the Principal Analyst of Futurum Research and the CEO of Broadsuite Media Group. Living his life at the intersection of people and technology, Daniel works with the world's largest technology brands exploring Digital Transformation and how it is influencing the enterprise. Read Full Bio