Andy Jassy Takes The Helm At Amazon
Andy Jassy Takes The Helm At Amazon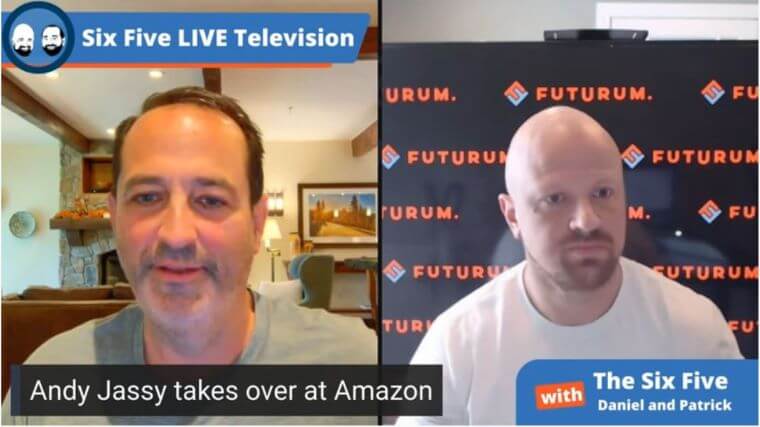 The Six Five team talk about Andy Jassy taking the helm at Amazon.
Watch the clip here:
If you are interested in watching the full episode you can check it out here.
Disclaimer: The Six Five Webcast is for information and entertainment purposes only. Over the course of this podcast, we may talk about companies that are publicly traded and we may even reference that fact and their equity share price, but please do not take anything that we say as a recommendation about what you should do with your investment dollars. We are not investment advisors and we do not ask that you treat us as such.
Transcript:
Daniel Newman: Speaking of thematic and not stopping talking about them, Pat, a new CEO has been appointed at Amazon. I mean, one who wants to get sent to space. Some people are signing a petition to leave him there. I don't agree with that, but Andy Jassy, someone that you've spoken to many times over the years and someone that we followed very closely, who's done a brilliant job building a $50 billion run rate IaaS was appointed several months ago, but he has officially taken the helm as CEO at Amazon, Pat.
Patrick Moorhead: Yeah. So a little backstory here. So it's funny. I feel like I cover AWS more than I cover, let's say the retail operations business, you and I both cover the corporate side of it, but in all the analysis that we've done on AWS, Andy Jassy has always been at the forefront. So, it wasn't ever a surprise to me that he would get chosen to run the company. I mean, Jassy had been at Amazon since 1997, he started off as a marketing manager at the company and he worked with Jeff Bezos in 2003 to come up with this whole concept of cloud computing and what initially started off as taking burst capabilities and leasing it to other people turned out to be … I mean the rest is history. Make no mistake, the most profit dollars since they started talking about breaking out the AWS financials, most of the profit dollars come from their cloud division and not from the retail operations.
Now, the revenue is bigger, but it's quite amazing. So not net net, I guess what I'm trying to say is, is Andy Jassy built this incredible product and service that has enabled the retail side of it to be super competitive by flowing cash into it. Don't let me say that Amazon, the retail side is a money loser, it's not. Retail holistically is a lower margin business. So, it wasn't a surprise to me.
The other thing is, is that what's going to change immediately at Amazon? I don't think anything. Why? Because Andy Jassy and Jeff Bezos were tied at the fricking hip. So my expectation a lot of the times when a new CEO comes in, got some big changes, maybe we'll see ESG amped up a little bit. I mean, that's a continuation of what we've seen through the last three to five years. The company's under attack. I mean, my gosh, the company does amazing things for people and society and they still get attacked. They're not perfect, pee gate. We don't have people peeing in bottles. There actually were drivers peeing in bottles. Not that I'm a pee gate specialist, but listen, I worked in a factory for many summers. I know how people operate. I mean, actually, I worked in a factory for three summers. So at least they admit when they're wrong. And they're investing billions into the environment. Listen, I'm straying here. I want to give you a chance to weigh in on that. There's so much oxygen in this room, Daniel. There's no possible way to take it all.
Daniel Newman: Oh, absolutely. Look, I had the chance to talk to a lot of media. A lot of them asked that exact question, Pat, what does it mean? Your answer is pretty good. I think for the company, it doesn't mean much. I think, first of all, Jeff Bezos is still the chairman. Yes, he is working on Blue Origin. He is working on big visionary things that people that become the wealthiest person on the planet might think about working on. He's also working on philanthropy, leading ESG efforts, diversification of the business. Andy, I guess the big thing is what's different? Well, he's going to be focusing on different things. So for a long time, he focused on growing AWS, as you suggested the operating income leader for the company and by the way, the part of the company that allowed for a lot of the innovation that happened in Amazon's commerce to happen, those profit dollars were shifted. So, when you started talking by the way about regulatory and splitting things up, it's not that simple because Amazon's retail business is there's an interdependence on things like AWS Cloud for generating the income that allows some of that innovation and investment to take place.
Patrick Moorhead: By the way, you may have cited a regulator's dream, which is why it should be split up.
Daniel Newman: Yeah, I may have, but I will fight that to the death. I'll give you guys plenty of citings and things to read about why I don't think so-
Patrick Moorhead: By the way, it's profitable too, right?
Daniel Newman: Absolutely.
Patrick Moorhead: And with margins that are reasonable for that market. So, sorry to interrupt.
Daniel Newman: No, you make a good point, but the interdependence allows for innovation. It allows for investment in small businesses, it allows for plants and jobs to be created in regional markets that most big tech companies don't even think of entering at any sort of scale. It allowed for, whatever, 18 billion investment in small business. Hundreds of millions in the climate pledge to be launched on global scale and many companies from every industry being brought into participate in carbon neutrality and accelerating the Paris Accord by more than a decade, with many even planning to accelerate it even faster. That stuff, Jassy's going to be doing more than he was doing before. He's absolutely going to be tied up in all this regulatory stuff. Amazon will be in the center of every single one of these suits, probes, he's going to be the guy on the Hill, having the conversations with lawmakers, policy makers, regulators, and it will be his job to position the company in as positive light as possible.
Hopefully the talking points that we're using … Look, you said this correctly, Pat, and I'll leave us on this one here, because we're going to do a continuation topic next anyway, but Amazon's not perfect. I am a bit of a big tech defender. I believe in big tech. I believe the experiences that we all enjoy on a daily basis, that have become integral with our life are because of these platforms and the integration and the customization, the experience that can be created when technology is ubiquitous. When you split things up, you have to make sure that consumers should not be harmed in the process. So about Jassy though, he's going to have new responsibilities, but to the point, you saw the two elevate together. Jeff becomes executive chairman, Andy becomes CEO. AWS keeps on tracking and trucking and the rest of Amazon will benefit from having someone that follows Jeff Bezos, the founder of that organization, who has basically been on his hip, trained right underneath his nose, understands how he did it and will bring his own unique value to the table. Let's keep going. In a year, Pat, I think Amazon's still going to be in very good shape.
Patrick Moorhead: Yeah. Hey, by the way, I think that Jassy also will play better on Capitol Hill, meaning how it looks. We're anti billionaire now. I think that Jassy being on the stand and doing all that stuff, I think that's going to be good for Amazon, because people looked at Jeff Bezos and thought, "Oh, he's a billionaire and that's bad. I'm going to take him to task." So, I think it's a good look for them.
Daniel Newman: Andy's day is coming, Pat. Andy's day is coming.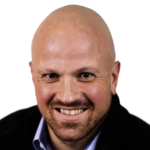 Daniel Newman is the Principal Analyst of Futurum Research and the CEO of Broadsuite Media Group. Living his life at the intersection of people and technology, Daniel works with the world's largest technology brands exploring Digital Transformation and how it is influencing the enterprise. Read Full Bio