Amdocs 5G Value Plane's Role in 5G Monetization
Amdocs 5G Value Plane's Role in 5G Monetization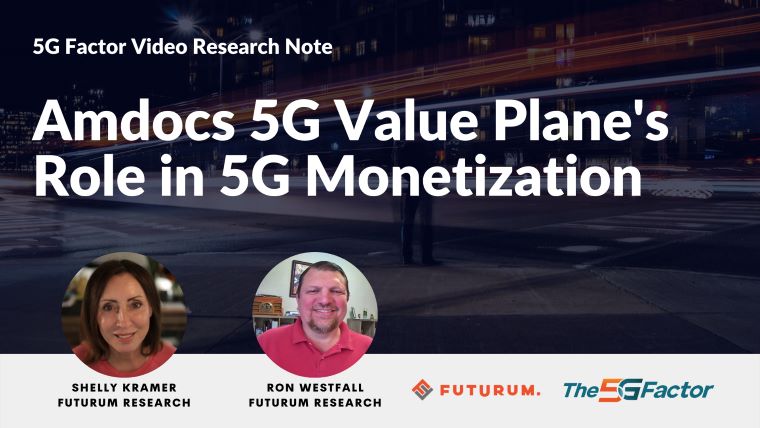 For this vignette of a recent episode of the Futurum Tech Webcast, part of the 5G Factor series, analysts Ron Westfall and Shelly Kramer look at the Amdocs 5G Value Plane proposition and the role it could play in fulfilling communications service provider (CSP) 5G monetization objectives.
Their conversation examined:
How the recent expansion of the 5G Value Plane aligns with CSP progress in deploying 5G standalone networks, especially as they need 5G SA capabilities to energize their 5G monetization initiatives.
The 5G Value Plane supports the cross-network automation key to ensure that essential capabilities, such as AI, machine learning, network slicing, and orchestration, are ready for 5G monetization opportunities as they emerge.
Why support for 5G standardized technologies such as Network Data Analytics (NWDAF), designed for closed-loop operation and enhanced automation, as well as Network Exposure Function (NEF), developed to enable partner on-boarding and "as-a-service" innovation, can help differentiate 5G monetization solutions.
Ron and Shelly view Amdocs' participation in 5G Open Innovation Lab and work with partners such as Microsoft as sharpening the use cases that CSPs can prioritize within their near-term 5G monetization strategies. These use cases include food resiliency, autonomous vehicles, and enterprise-specific networking. The Lab provides the collaboration environment key to advancing 5G network capabilities in areas such as end-to-end service orchestration and end-to-end lifecycle management that are vital to fulfilling 5G's full potential.
Watch the video vignette here:
Watch the entire episode here:
Or stream the audio of the entire episode here:
Don't Miss An Episode – Subscribe Below:
Disclaimer: The Futurum Tech Webcast is for information and entertainment purposes only. Over the course of this webcast, we may talk about companies that are publicly traded and we may even reference that fact and their equity share price, but please do not take anything that we say as a recommendation about what you should do with your investment dollars. We are not investment advisors and we do not ask that you treat us as such.
Transcript:
Shelly Kramer: The next bit of news in the 5G ecosystem that we're going to tackle is Amdocs 5G solutions and how they've been expanded to help accelerate 5G standalone network experiences and monetization opportunities. Again, as I promised, we'll be talking a lot about that. So, let's talk a little bit, Ron, about Amdocs announcements about its 5G Value Plane offerings, and what's involved there.
Ron Westfall: Yes, Amdocs is another great example of a player that truly used Mobile World Congress to tout some new product and portfolio developments that are aimed at enabling the acceleration of 5G standalone network deployments, as well as enhancing 5G monetization capabilities. And to that end, Amdocs definitely I think made a good impression talking about expanding their 5G Value Plane.
And what that is about is supporting key capabilities, such as cross network automation, enabling, again, network slicing and targeting use case capabilities that are aimed at specific vertical industries throughout industry 4.0 environments. And it's also, I think, interesting that they emphasize, I think, some distinct aspects, for example, NWDAF, which is network data analytics functions capabilities, and that is using analytics engines and advanced analytics to support across the board automation of all these processes and operations that are needed for successful 5G network deployments.
But also that is delivering closed-loop operations. And that's something that we lost sight because of all of the other things that have received a lot of important attention, like Open-RAN. But again, an operator has to have closed-loop operations in order to have a successful automation strategy. And combination with that are network exposure functions or NEF, and that's going to be important for onboarding partners, but also leveraging that ecosystem of developers, again, drive that innovation.
And to that end, Amdocs is working with the 5G Open Innovation Lab, a very aptly titled organization, to make all this happen. And specifically working with Microsoft, for example, to advance use cases that I think are intriguing, like being able to improve food resiliency in the agricultural segment. So, all these things are coming together and it's going to be vital for end-to-end life cycle management and enabling operators to move away from 5G non-standalone networks, which were important for getting 5G kick started.
However, the limitations there are understood. You're having to use dual communication mode and having to use 5G New Radio in combination with 4G LTE networks, particularly in the core and places like that. And the trade-off is that it limits flexibility and it's less energy efficient. It stands to reason you're having to use two networks in tandem in order to deliver the service. However, once 5G standalone is in place, then I think you're really going to get these payoffs that will really make 5G monetization a lot more interesting. And I think Amdocs is another example of a player that's going to have an impact in driving this.
Shelly Kramer: Yeah, absolutely. Absolutely. Looking forward to more good things ahead out of Amdocs, for sure.