AMD Ryzen 7000 Desktop Launch
AMD Ryzen 7000 Desktop Launch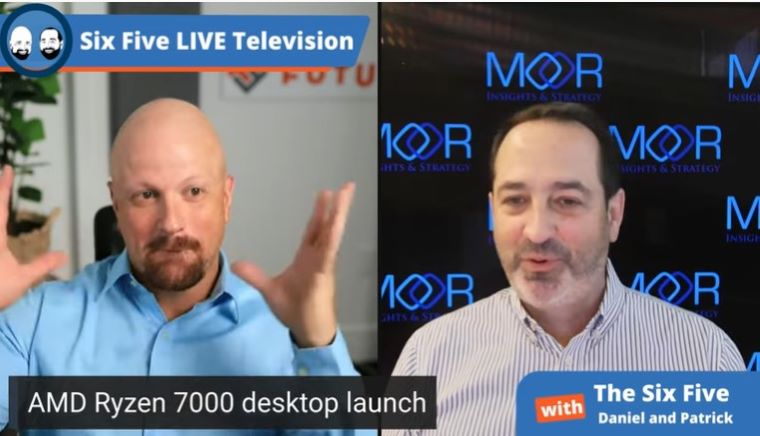 The Six Five team takes a look at the recent Ryzen 7000 Desktop Launch from AMD.
If you are interested in watching the full episode you can check it out here.
Disclaimer: The Six Five Webcast is for information and entertainment purposes only. Over the course of this webcast, we may talk about companies that are publicly traded and we may even reference that fact and their equity share price, but please do not take anything that we say as a recommendation about what you should do with your investment dollars. We are not investment advisors and we do not ask that you treat us as such.
Transcript:
Patrick Moorhead: AMD Ryzen 7,000 launch in a great resort outside of Austin, about 20 minutes outside of the airport, and it was a ton of fun. If you haven't been keeping score on AMD, it's been doing super well in gaining market share in both client and server. In fact, I'm hearing AMD has 50% market share in the top CSPs and they are gaining, well that they have at least for the last couple years have done really well in the high end desktop, and that's exactly what they refresh today. It's the AMD Ryzen 7,000 product, and it's what you would expect.
It's funny a lot changes over 20 years, but a lot doesn't, and this is more performance at lower wattage, and in fact, versus the 6K 49% more performance at the same power and 62% lower power at the same performance net-net for me. Again, look at the show notes, you can see all the gory details is their higher end price point was lower than I expected. Their lower price point was higher than I expected by about a hundred bucks. I think it's very likely competitive with what's upcoming from Intel for Raptor Lake, but there's important stuff that I don't know. The only reason I'm saying this is because Intel says that Raptor Lake is up to double digit performance compared to Alder Lake and I know how Alder Lake performs. With that said, I still think AMD will be competitive with Raptor Lake when it comes down to October, but a lot of details, I don't know about Raptor. I don't know power, I don't know performance, I don't know wattage on that, but I think enthusiasts are going to be pretty happy from what both Intel and AMD bring out.
One thing I want to point out is nothing that we saw so far on the 7,000 desktop will help AMD solve its enterprise share challenge. Typically the enterprises are not making decisions based on PPW, power, performance, wattage. They're making it based on other types of things. It's typically driven by the OEMs, but even if AMD provided 20% more performance for the same dollar, it doesn't make these folks necessarily move. Intel also has somewhat of a moat with what's called vPro and this is a special line of processors that Intel adopts its highest level of security and manageability on. AMD does have AMD pro, but enterprises have yet to, I would say, fully wrap their arms around it and actually ask for it like they do in bids with Intel vPro processors, but all around a great, great setting. It was great to see Lisa Su on stage, in person, rocking it.
Daniel Newman: It was great to be there Pat, at the redacted event, at the redacted location, hearing about the redacted products from a redacted company. That one time I almost tweeted out the name badge, so we were going to do the redacted tweet, but we were both wearing the lanyards and you caught me just as I was about to hit tweet, so that was good. See, that was maybe the highlight moment besides all the awesomeness that was released, so I'm a little newer to following the PC side. I track AMD much more closely on the enterprise and some of the things that they're doing on the OEM, but what I would say is that it seems that the company's got a couple of focal points and they're focused very heavily on that low power, which isn't only about competing with Intel, but it's also going to be about competing with ARM, which is something I talk to them about, because ARM is certainly going to become more prevalent and there are certain OEMs that are leaning more and more on ARM based designs.
AMD has been pretty consistently grabbing market share from Intel over the last several quarters, and I like your bifurcation. A lot of it's on consumer and that AMD's desire to create a deeper moat into commercial. It wasn't entirely evident that this launch is going to meet that particular requirement, and so that's going to be something to watch. I think we've talked a little bit about vPro and AMD Pro as a whole, not totally certain that the adoption has been anywhere near as high as either company would like to see given the amount of investment that they've made to build capabilities that are very specifically designed to take care of those complex commercial needs in areas like security.
AMD's been… Their story's been really driven by performance and it's been driven by a bit of a fan base of users that have become quite committed to the company's story, it's a bit of a sensational story in the market, and I think people have been very excited. Intel, unfortunately only had one direction to go over the last few years. They had so much market share that anything less than flawless was going to constantly cost. You and I talked about this in some of our different meetings at the event, grabbing market share from Intel has been at the disposal of AMD due to some different process delays, due to chip shortages, so the real question though, is I always like to talk about this with the market path, but is the growth on alpha? As Intel gets its stuff together, as some of its packaging and some of its process gets on time or closer to on time, will AMD be able to continue to grab market share because their product is notably superior or has it been because Intel couldn't deliver? And we've seen of course how that's been impacted on the server side.
But overall, like I said, as I'm starting to pay attention, it seems the low power, it seems security, and then of course you didn't say much about this because we didn't hear a ton. At least not the day I was there, but it seems the company's really bent big on AI and they're going to be more and more focused on AI, and so that's going to be something I will certainly be watching, but it was an exciting launch. It was great, very intimate setting, Pat. A lot of handshakes and opportunities to speak to the executives, and you could sense a lot of enthusiasm. The culture of AMD is incredibly strong right now. You can't really find anyone that's working there that doesn't seem excited and that's a good time for a company.
Patrick Moorhead: There really is good ads on there. I'm wondering if AMD has already tapped its brand switcher markets so far.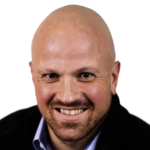 Daniel Newman is the Principal Analyst of Futurum Research and the CEO of Broadsuite Media Group. Living his life at the intersection of people and technology, Daniel works with the world's largest technology brands exploring Digital Transformation and how it is influencing the enterprise. Read Full Bio