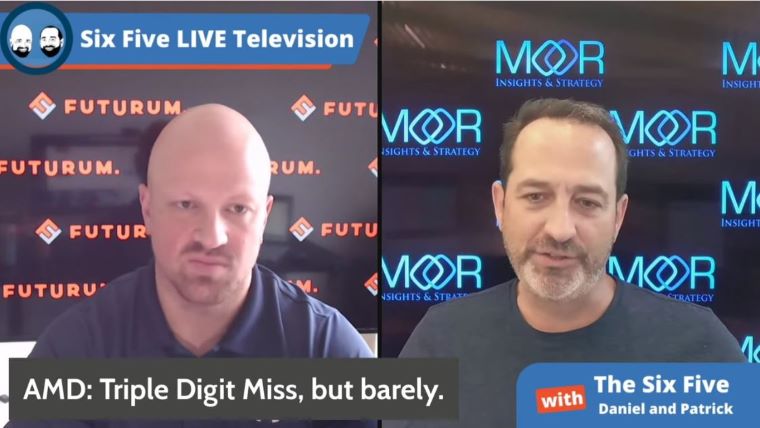 The Six Five team discusses the incredible Q2 AMD had.
Watch the clip below:
If you are interested in watching the full episode you can check it out here.
Disclaimer: The Six Five Webcast is for information and entertainment purposes only. Over the course of this webcast, we may talk about companies that are publicly traded and we may even reference that fact and their equity share price, but please do not take anything that we say as a recommendation about what you should do with your investment dollars. We are not investment advisors and we do not ask that you treat us as such.
Transcript:
Patrick Moorhead: Let's get into AMD. Gosh, what a disappointment, Daniel. I mean, they couldn't drive revenue top line triple digits. Amazing.
Daniel Newman: I know. Sell it. Sell it.
Patrick Moorhead: Big disappointment. Only a 99% year on year increase. Yes, 99%. And gross margin was up to 48% and just a crazy operating margin of 22%. Literally every product line was hitting on all cylinders.
And, Daniel, that gross margin number is even more impressive, in my opinion, when you look at that they had a stellar quarter with console chips. And console chips, the way they've structured, it's lower gross margin because Sony and Microsoft give them a below the line R&D funds to be able to create that in exchange for a lower price.
Now, the net operating margin, as you can see, and this is one of the first quarters where it really kind of hits here, that operating margin hitting not only from Epic but also from more console chips being sold. I mean, everything is up and to the right except for expenses. I mean, sure OPECs hit a billion dollars, but more importantly is the stock price for AMD hit an all time historical high, which was a hundred dollars a share.
And there's kind of an emotional thing there, Daniel, as you know. When a stock hits a certain price, even though they could split and it would be half that. But there are there are certain levels of investment prices that I've seen that are just emotional and kind of spiritual milestones. And I think this was a biggie here.
Now, what I want AMD to do now, okay, now that they've come this far is I really want to know exactly how much Epic did in their data center. Epic is lumped in there with gaming consoles and traditional embedded business, like on a factory floor robotics, right? Those need to be broken up. Those are big enough businesses that they need to be broken up or broken out, or is it that those businesses really aren't as big as you might imagine.
And the other thing I'd love to see broken out is the difference between CPUs and GPUs. We really don't know financially. We have no idea how GPUs are doing.
Quite frankly when what I look at the competition Nvidia that just keeps running a truck through gaming and data center numbers every quarter for the last eight quarters, I really don't have a good sense of how AMD is doing there. I get the sense that they're doing really well in notebook GPU's, but add-in cards for Desktop and Enterprise not nearly as well as they should be in my opinion, doing.
So, Daniel, I think what you're going to hear from me in covering AMD in the future of no longer … It used to be they were lucky to be alive. That was the meme. They sold off their Austin headquarters and we're down to their last sellable asset. And then it became, "Oh my gosh, is it time for a comeback? Could they do a comeback?" And then we got into the, "Oh my gosh, it's a comeback," right?
But I feel like now we're into, it's a much different company. No companies are ever too big to fail, but we're at the point where people should be scrutinizing the numbers even more. Maybe the breakout will happen during Xilinx and the close of that acquisition. I don't know. But I would love to have a better idea of financially how some of these businesses are doing.
Daniel Newman: Yeah, Pat, you made a number of great points. You covered this one well as you always do. I think you're sometimes like the AMD whisperer. Not a ton to say here. I mean, clearly market share in data center, I'm very interested in seeing when those numbers come out. It looks very promising that AMD is going to see and grab little bit here. You made a really good point about breaking up the computing graphics.
Someone said to me the other day, made a comment along the lines of like, AMD is really a thorn in Nvidia's side. And I'm like, "I don't think so." Their numbers, the way they're packaged though, you see that growth rate. And they're like, "All right, but how much of that's GPU?" And like you said, what kind of GPU? It's time to start breaking that out.
We all know the reason a lot of companies don't break this stuff out is because they're having overall strong growth, but maybe in certain areas that people are going to want to see growth it's not as big yet. And so I wouldn't be surprised to start seeing like Epic and data center chips split out from custom soon though, as the run of success has been somewhat consistent now over several quarters.
But, look, AMD, it's a combination of better, much better execution over the past several years and opportunism. I mean, clearly some opportunism on the backs of some difficult challenges, some leadership changes at Intel. And these are moments in time that company's smart CEOs like Lisa Su is take advantage, gain momentum, raise capital, strengthen it. And we're starting to really see the fruits bearing into their bottom line. These are some much better bottom line results.
They're multiple still makes them well, well, a higher price than the likes of an Intel, but I think that's the momentum play. That goes back to the comments I made earlier about Wall Street and fast money and everybody losing the plot. AMD has momentum. Other companies are seen as a bit more stagnant, and that's why so much money keeps funneling in and that a hundred dollar barrier was broken.
But yeah, great analysis, Pat. Good for AMD. I'm not always the nicest to AMD. I've sometimes wondered if it was more opportunism than execution, but you're starting to see it really is a by-product of both.
Patrick Moorhead: Yeah, listen, having insight scoop at AMD sometimes, I don't mean proprietary information, but having worked there and seeing what makes AMD work, I've got a pretty good idea of it. In the same vein, I think people are being way too hard on Intel.
And by the way, I'm really interested to see when Intel brings out their full line of drop-in graphics cards what that's going to do to AMD. That is right in the AMD sweet spot, which is right in the middle of the market. I mean, that's going to be like … Nobody's talking about it. Nobody's debating it, but I can't wait to see that.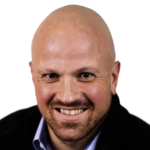 Daniel Newman is the Principal Analyst of Futurum Research and the CEO of Broadsuite Media Group. Living his life at the intersection of people and technology, Daniel works with the world's largest technology brands exploring Digital Transformation and how it is influencing the enterprise. Read Full Bio