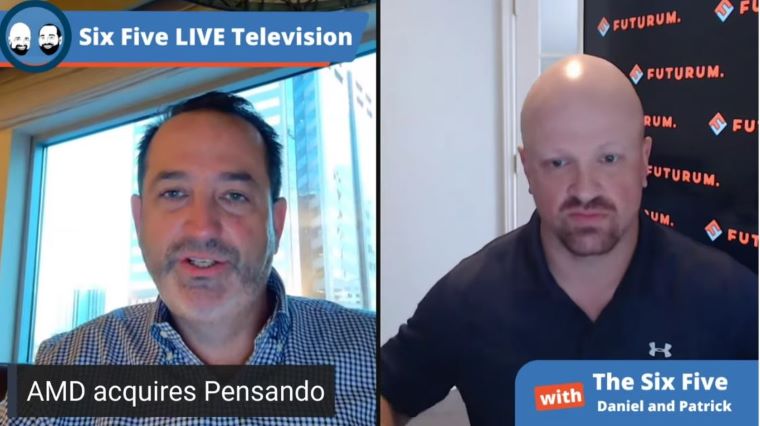 The Six Five team discusses AMD's acquisition of Pensando.
Watch the clip here:
If you are interested in watching the full episode you can check it out here.
Disclaimer: The Six Five Webcast is for information and entertainment purposes only. Over the course of this webcast, we may talk about companies that are publicly traded and we may even reference that fact and their equity share price, but please do not take anything that we say as a recommendation about what you should do with your investment dollars. We are not investment advisors and we do not ask that you treat us as such.
Transcript:
Daniel Newman: So Pat, Lisa Sue is on the prowl again, acquiring intelligent smart technologies that's going to take AMD to the next level, or is it? What's your take AMD acquires Pensando.
Patrick Moorhead: Yeah. So, company's been on a role with organic innovation with their PC and data center processors, doing okay with GPUs, huge acquisition with Xilinx, better known for FPGA tech. But, AMD I believe really bought them for their advanced high performance SOCs that combine ARM cores, FPGAs, discrete accelerators with high speed HBM interconnects. This acquisition, it was interesting. I had to really think through this one, but I think I had to think long and hard, just because I think the message was a little bit muddy, but let me just net this out. This is AWS Nitro for everybody else. And for those of you who might not be aware of what Nitro is, essentially, it's a complete disaggregation layer where you can disaggregate different processors. You can disaggregate networking and you can disaggregate storage. And, if you want, you can even disaggregate security functions. If that's what you have on your chips or your offload cars.
This clearly gets AMD into what we call the IPU or NPU market, squaring up with Marvell, Intel, and NVIDIA. I was struck by how many big name customers Pensando had. They had Azure, IBM Cloud, Oracle Cloud, partnered with Equinix, HPE Aruba, Dell Tech, NetApp, and customers were Goldman Sachs and Wells Fargo. AMD tried to make this about a big software announcement, which by the way, there is software, but there's also very much Asics and cards involved as well. I can't really comment on the 1.9 billion, don't know the revenue stream, don't know where they're coming. But quite frankly, with an opportunity like this and everybody going offload, I don't even know how much that matters, other than this gets AMD clearly in the networking IPU, NPU offload game. So, I like this one.
Daniel Newman: Yeah, it's a solid move for AMD. I mean, it's a different level of criticality than these eye leagues steel just based upon the established customer base and how that diversified its portfolio. And obviously, FPGAs do have a certain amount of momentum right now. But, let's look at some numbers here. I mean, the company had raised about $300 million from Lightspeed, from HPE, from Qualcomm Ventures. It says it has deployed more than 100,000 of its platforms in the production for customers. So to your point, it has some very good customers and a heavy dose of utilization in the marketplace. So, this is a fast moving acquisition, it's going to get done within probably the next quarter.
And Pat, I think what you said that's most critical for the market to understand is you're seeing what is happening with this disaggregation approach furthering to the core, right? You're seeing it done at the infrastructure layer with the cloud players. You mentioned Nitro, a great example, with AWS, but this is happening everywhere. Disaggregation, moving around workloads to take certain amounts of requirements off of the core CPUs. And, so Pensando's going to give AMD a bigger story here. And as AMD looks to expand and win deals, especially in enterprise, this is going to help diversify the company's capabilities.
So, I'm not necessarily sure it's just going to unseat. I mean, Marvell's done a terrific job in this space, NVIDIA is always an extremely difficult company to compete with. And of course, you can't rule out AWS, in terms of how they win through their basically all things IT approach, including homegrown chip making, which has become something that, Pat by the way, side note, 22% I believe of servers by 2030, I think is what I read, could be ARM, based upon mostly AWS's prowess in homegrown chip making. I read that about a week ago, really interesting data points, so.
Patrick Moorhead: It's a big number.
Daniel Newman: It is a big number and the team over there is doing some really impressive work under Dave Brown.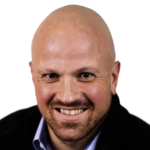 Daniel Newman is the Principal Analyst of Futurum Research and the CEO of Broadsuite Media Group. Living his life at the intersection of people and technology, Daniel works with the world's largest technology brands exploring Digital Transformation and how it is influencing the enterprise. Read Full Bio