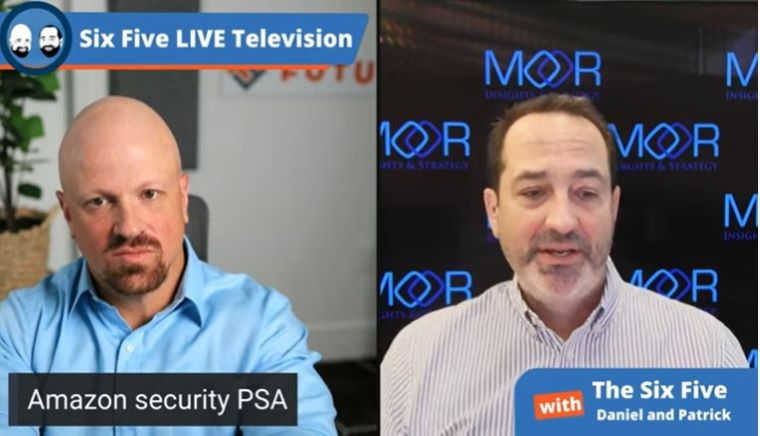 The Six Five team takes a look at Amazon's PSA called Protect and Connect.
If you are interested in watching the full episode you can check it out here.
Disclaimer: The Six Five Webcast is for information and entertainment purposes only. Over the course of this webcast, we may talk about companies that are publicly traded and we may even reference that fact and their equity share price, but please do not take anything that we say as a recommendation about what you should do with your investment dollars. We are not investment advisors and we do not ask that you treat us as such.
Transcript:
Daniel Newman: Welcome back to the hosting gig.
Patrick Moorhead: Hey, let's get into something a little bit different here. It's not earnings and it's not a product launch, but what it is something I think is very unique and that's a public service announcement that is being done by Amazon. I had the chance to sit down and talk with Stephen Schmidt who owned security for all of Amazon, AWS devices, self-driving cars and as he put it, AWS boxes with smiley faces. I didn't know there was security around the boxes, but I do now.
Amazon launched a PSA called Protect & Connect. It launched on August 22nd last week, and it really came out of a White House Security Summit that they had and I really appreciate Amazon stepping up. They're doing videos that I think are really funny, breaking through the jargon of… You having to painfully sit with me on some of our advisory councils, I'm really talking about how you have to simplify security and maybe even have a security score against something, but it really drilled down into things like multifactor authentication, fishing, there are funny videos, vignettes. Amazon in fact, put this on their very top of their Amazon.com website to make it a little bit more interesting and the ability to pull people in it even pulled in Amazon Prime actor, Michael B. Jordan and actor and producer Tessa Thompson, who are these internet bodyguards that I thought was actually funny and not cheesy.
If you want to hit the show notes and check this out, I wrote a Forbes write up about this, but it's really cool, and again, Danny, we talked this time and time again, Amazon, a lot of times gets viewed as the bad guy with the richest founder in the world, and sometimes we forget all the great things that the company does, like hire a ton of people, increase wages well above the minimum wage at levels that people say should be across the entire country. They do amazing things during COVID to help people out. In fact, they had really two rotten quarters gearing up to shift from having inventory of TVs, to things like food and stuff that you could buy that they normally didn't have great lead times on so that people then wouldn't have to go out and get in their car and potentially engage with themselves, walking into a store or not being able to do that. Good job, Amazon.
Daniel Newman: Amazon. With great power comes great responsibility and a company like Amazon, I think is making a very sensible decision and is using its clout and its visibility in a way that people should be happy. It's not entirely selfless. Amazon is a company that has risk, they're users being hacked. We saw what happened recently with the Okta and Twilio identity hack and what that can mean. We've seen it with a number of other hacks over the years. When consumer brands get hacked, it's extraordinary
I think over the last few years, maybe we can use Apple as a little bit of a backdrop here. Apple put the lock in key into its marketing and it talked about things like privacy, but there is a growing attention to cybersecurity, and Pat, this is actually being validated by the market performance. If you look at where was the biggest growth area this quarter for Cisco? Security. If you look at Microsoft becoming the world's largest security company, as part of its story. Companies, and by the way, this is probably one of the most robust and economically stable parts of any companies, because it doesn't matter if the economy's down, you got to protect data, you got to protect people, you got to protect information, and Amazon is a facilitator of the connected world. If you look at whether it's AWS, if it's Amazon in retail, if it's Prime, this company benefits from making sure its users put more energy into securing themselves, their companies, their data, their accounts, et cetera.
PSA, no PSA, advertising campaign, branding, videos, tweets, whatever the powerful and influential companies the world can do to make people try to give at least one crap about their security, because people give no craps, the better. By the way, it's costly, it's tax on society. When companies or government agencies get hacked, when data gets leaked, it creates crime, and by the way, unlike and most people out there don't seem to realize this, but when government spends money, someone has to pay for that. When we're paying money to do anything, including deal with cyber-crime, deal with ransomware, this has a big cost, and by the way in the future, it probably will be the biggest economic cost of any black op in the world will be the continued and pervasiveness of cyber-crime. Thanks Amazon, you didn't beat Apple to it, but maybe you're doing it in a way that's a little more pragmatic, can actually help people, because Apple did it merely under an onus of giving a crap about people, when we know.
Patrick Moorhead: Oh, it was amazing. Once they got that all locked in and did the cookie block, they opened up a huge advertising business.
Daniel Newman: Yeah. What's the odds?
Patrick Moorhead: Can you believe that? I can't believe a company like Apple would do something like that.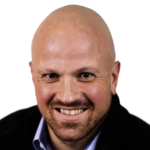 Daniel Newman is the Principal Analyst of Futurum Research and the CEO of Broadsuite Media Group. Living his life at the intersection of people and technology, Daniel works with the world's largest technology brands exploring Digital Transformation and how it is influencing the enterprise. Read Full Bio