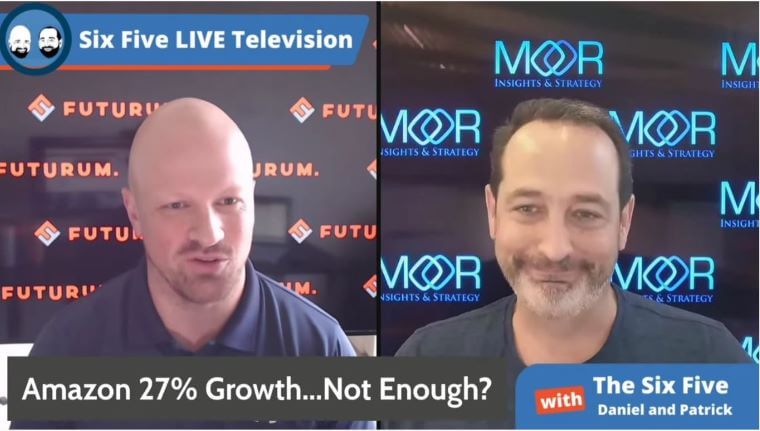 The Six Five team walks through the latest Q2 earnings report from Amazon.
Watch the clip here:
If you are interested in watching the full episode you can check it out here.
Disclaimer: The Six Five Webcast is for information and entertainment purposes only. Over the course of this webcast, we may talk about companies that are publicly traded and we may even reference that fact and their equity share price, but please do not take anything that we say as a recommendation about what you should do with your investment dollars. We are not investment advisors and we do not ask that you treat us as such.
Transcript:
Daniel Newman: Okay. So, Amazon 27% growth, 113 billion beat the EPS by almost three bucks a share, delivering incredible earnings. And everybody's pissed. Why is everybody pissed? Well, I would say we are in this fast money growth era. Everybody wants to put in a dollar, take out 10 tomorrow. And anything that doesn't happen faster than that isn't fast enough?
We got stocks, we got AMC, we've got SPACs, we've got Bitcoin. And you know what happened to good old investment? I think I heard a piece of advice just this week is the best trading advice I can give to the world is lose your password to your E-Trade account. Now again, not my advice. We don't give advice here.
So let's talk about what happened here. Two things. The 27% growth over a hundred billion. Remember that means every 1% growth is over $1 billion in new revenue. This quarter had Prime Day. Prime Day was good, really good for small business. Wasn't necessarily blow out year over year growth for Prime Day. I think some people might've thought that was going to happen.
But here's the real story about Amazon. You saw three years at least of growth pulled forward into about 18 months or less. People don't realize that these astronomical growth figures that we've had each and every quarter along the way, along with these earnings, aren't really sustainable.
We are returning to some level of normal mobility. The Delta variant has slowed a little bit, but people are out and about way more than ever before, everywhere around the country, and in most places around the world. That means that we pulled forward that demand. More people are on Amazon buying stuff through.
And you and I went in one of those factories, Pat, this week, the SAT2 factory in San Marcos and we can tell you it's a pretty impressive operation. I just think people have lost the plot. That is really the big thing when it comes to the 27% growth.
And I know you'll like to lean into AWS. We both do. I'll touch on that one really quickly because, again, we can talk about this topic for a long time, but 37% growth north of 14 billion. So over the last four quarters 30-ish percent growth.
And I think a lot of people thought 30 was sort of the marker and we were going to start to see downward from here. Just the law of large numbers, which by the way, is the same thing that's impacting the bigger end of the company. It shows that the cloud has even a more resilient ability to grow with mobility returning.
And maybe back to office is actually going to accelerate cloud, but also the diversification of product, the expansion of CapEx, the larger footprint, the continued innovation. I mean, those are all things that have been put in motion and the return is here.
Last thought on Amazon as a whole, I think this is a return to more normalcy. I think the market needs to adjust, adapt, and get used to it. Amazon is performing extremely well. If you can't be happy with 27% growth at 113 billion a quarter, you're talking about a trillion dollar a year in revenue company in a few years at this growth rate, you have lost your mind. That is not official medical advice, by the way.
Patrick Moorhead: You left almost nothing for me, but the good news is the almost nothing. That's good analysis. No. Yeah, let me just do a deep dive into AWS real quick, just to give you kind of the scale of number.
So, revenue was at $4 billion, okay? Most cloud plays do $4 billion maybe a year. This was the incremental growth and we are looking at a $60 billion run rate company. AWS contributed 54% of total company operating income, which is completely bonkers, but bonkers in a good way.
And another way that I look at it is they do dominate in IaaS. They're very competitive in PaaS and they're just itching and scratching on the whole SaaS part with a few targeted applications, but this company just keeps motoring and does not stop. One interesting factoid. I mean, if you compare it to even a Salesforce or even an SAP, I mean, you're looking at six times the size of these companies that are giants in themselves.
I feel like I'm talking about this every quarter, but it's a proportionality conversation that I think is important before people get freaked out about that 37% growth on a freakin' monster base. So yeah, that's the thought. That's the tweet, Daniel.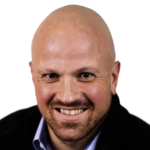 Daniel Newman is the Principal Analyst of Futurum Research and the CEO of Broadsuite Media Group. Living his life at the intersection of people and technology, Daniel works with the world's largest technology brands exploring Digital Transformation and how it is influencing the enterprise. Read Full Bio