Amazon Ambient Experience Drives Alexa
Amazon Ambient Experience Drives Alexa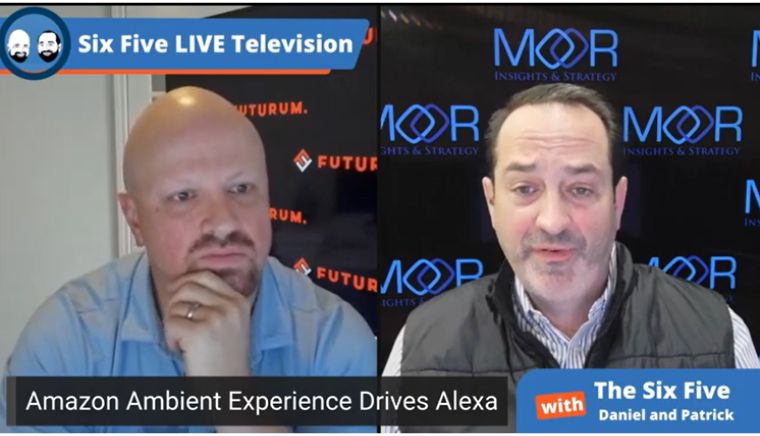 The Six Five team discusses Amazon Ambient Experience driving Alexa.
If you are interested in watching the full episode you can check it out here.
Disclaimer: The Six Five Webcast is for information and entertainment purposes only. Over the course of this webcast, we may talk about companies that are publicly traded and we may even reference that fact and their equity share price, but please do not take anything that we say as a recommendation about what you should do with your investment dollars. We are not investment advisors and we do not ask that you treat us as such.
Transcript:.
Patrick Moorhead: There is a standard that is called Matter, and Matter is an industry standard that runs across multiple smart home vendors. So the setup and interoperability improved, and actually a standard setup for smart home devices, along with interoperability. So you could buy an Apple device that interoperates with an Amazon device. And let's say you're trying to set up an entire smart home; you don't have to worry about just buying devices from one vendor. This took years to put together, and our IOT analyst Bill Curtis, who was the Vice President of IOT strategy at ARM for a while, when he was at ARM, actually was helping to put this standard together, and it took years to finally get this out the door. And at CES, Amazon came out with their new developer kit that supports Matter, so it will be able to have interoperability with other Matter-based devices.
I think this is a real breakthrough. Some people look at this as, if you have a powerful position in the smart home, why would you lean into interoperability? Dan, it would kind of- I talk about the magic API that AWS will never bring out, to have interoperability with Azure and Google cloud. But Matter is this magic … It's not technically an API, it's a set of processes and a technical specification to have lower latency. But imagine if you're on your TV, and you have a Samsung based TV that supports Matter; hypothetically you could be able to control your entire smart home on that Samsung TV, or on your Apple watch, or your Apple phone. It also limits the amount of applications that you might need. And Amazon, who is the smart home leader, this is a really big deal.
So check out the Forbes article that I wrote along with Jacob Framen, and then also Bill's research paper on Matter. And again, he was the guy that helped the industry put that together.
Daniel Newman: Pat, you matter, buddy. You matter.
Patrick Moorhead: Aw!
Daniel Newman: Actually it's been really great to watch the growth of Matter. I had the chance to speak on stage at the big Silicon Labs event here, and Silicon Labs is one of the companies that works behind the scenes with one of the leading companies, including Amazon, on some of the technology, and Matter is the standard that's really going to drive faster connectivity. But the idea of the smart home has been a dream, but it's been a dumb one for a long time. Everybody going to have a smartphone-
Patrick Moorhead: And it's not the idea that's dumb, right, it's the execution.
Daniel Newman: Sorry. The idea that everyone can have a smartphone has been a dream, but it's been a dumb one. Dumb Zigbee stuff, and just some of the garbage that's come out.
Patrick Moorhead: Oh, dumb, okay.
Daniel Newman: Dumb, dumb, dumb.
Patrick Moorhead: I got you.
Daniel Newman: Like, we've got 19 remotes, still to this day. What I really love is the idea of what Amazon's trying to do to democratize a smarter and more intelligent experience in the home. And by the way, this can translate into the office, and I have a feeling some of it will. Obviously security will be important at some layer, but your TV is one of the things that I'm pretty sure, in every house on the planet, every fluid household on the planet has at least a smart TV at this point. It's like $100 now for like a 40-inch flat panel. Building some intelligence into these, it comes down to, we have the Alexa, we've learned how to talk to our devices, we've learned how to interact with content.
In the future we're going to be able to walk into our home, even if it's a small apartment in Manhattan, or a giant house in the mountains in Summit County or wherever it is, and you're going to be able to say, "Alexa," or whatever your smart system is, "Turn my lights on. Close my drapes. Play me this song. Order me this pizza." Whatever it is. And the idea of needing a Crestron control system, and needing a Lutron lighting and shade system, and needing a big camera muck system, that is basically what is going to be displaced in some way by Matter, and by Amazon and what they're doing.
Again, you're going to probably end up with 15 Alexas, and they're going to end up with an incredible amount of data to understand how you live your life, but I want to be very clear even about that. We've already acquiesced our data, we've already given up, we would all trade, largely, our data for better experiences. And that's really what they're saying. You can walk in, play the music you want, show and display the artwork or pictures of your family, be able to set and connect in the future to more smart and intelligent nominee-like experiences. And that's what I really like about what Amazon is doing. And by the way, doing so at a price that is achievable in more and more households.
You look at some of these 65, 75 inch Fire TVs, Pat, they're several thousand dollars. Again, that's not cheap, but these are large, 4K displays with really great intelligence that can be used for content, and for smart home connectivity. So good stuff, Amazon, keep going.
Patrick Moorhead: The cool part that I didn't bring up here is that you can standardize on one intelligent agent. So for instance, what this enables you to do, if you're a complete Amazon household, if the Apple smart home devices would support Matter, you could use Amazon to control your Apple, and vice versa. If you're a Siri person on your smartphone, which most Americans are, but you are an Amazon smart home, you can use Siri to control all your Amazon stuff. And it's going to be a lot easier in the future.
One of the downsides, or a thing that's not in Matter, it doesn't support cameras or security systems yet. And I think I understand some of the important nuances, that's an oxymoron there, or a malapropism, it's not there yet. And cameras are already most confusing to me. I probably have 36 different cameras that I'm monitoring across multiple sites.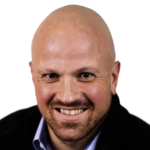 Daniel Newman is the Principal Analyst of Futurum Research and the CEO of Broadsuite Media Group. Living his life at the intersection of people and technology, Daniel works with the world's largest technology brands exploring Digital Transformation and how it is influencing the enterprise. Read Full Bio