Alphabet Wants to Make Its Own Smartphone Chips
Alphabet Wants to Make Its Own Smartphone Chips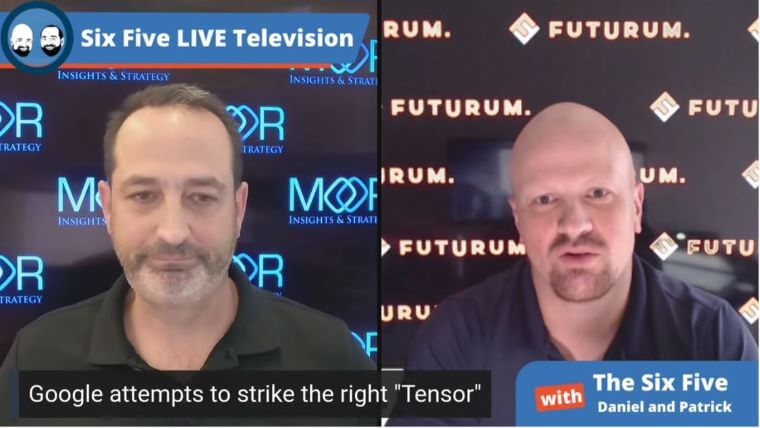 The Six Five team discusses Alphabet and how they want to make their own smartphone chips.
Watch the clip below:
If you are interested in watching the full episode you can check it out here.
Disclaimer: The Six Five Webcast is for information and entertainment purposes only. Over the course of this webcast, we may talk about companies that are publicly traded and we may even reference that fact and their equity share price, but please do not take anything that we say as a recommendation about what you should do with your investment dollars. We are not investment advisors and we do not ask that you treat us as such.
Transcript:
Daniel Newman: Alphabet Google broke some news, new Pixel 6 coming out, and they are going to go on the route of following Apple and making their own chips. What's going on, Pat?
Patrick Moorhead: So I think a little bit of background before we dive into it. So from a market share perspective in the US, Google Pixel has between 1% and 2% market share, depending on what service you look at. So they really are a very small player out there. When you look at Apple at around 50%, Samsung. There is a chance though with LG exiting the market at around three to 4% market share that they could get a jump on this, but what Google is doing jives with what we're seeing a lot of companies do, that they want to have their own special sauce. And in this case, tensor stands for essentially the AI capabilities, the inference capability. And you might be thinking, well, the company has absolutely no experience in chips that they actually do. And Daniel, you wrote a really good article up on MarketWatch kind of going through it. But we really have to ask the question, hey, one or 2% market share, and maybe it's a half percent or lower globally.
Does it really warrant some type of custom processor, even if the only custom part is the tensor piece? I do believe that Samsung did the integration on this. And if there's likely a CPU and likely… I mean, I'd be surprised that they picked anybody else, but Qualcomm for the modem, but we'll see because Samsung hasn't actually shipped a millimeter wave capability. But you know, I can't necessarily fault just out of default. Ooh, wow. Fall out of default, Google for doing something like this, because whether it's Microsoft, whether it's Sony, whether it's AWS or Apple, but we have seen companies that don't necessarily want to invest a whole lot. Even they said it was going to be doing all these custom types of things. And that fizzled out. LG said they wanted to go custom and they ended up just abandoning me the entire space.
Right now, this looks to me as a serious Hail Mary. Hey, it's what Apple is doing. Let's throw the long ball. I could see if they bring this processor to their smart home products, that would make sense, right? A really giant tensor processor on the edge. But aside from that, it first strikes me as a money pit.
Daniel Newman: Yeah. Great analysis, Pat. look, I was super skeptical and bearish on this. First of all, when you have less than 2% of US market share in less than 1% of global market share. It seems like it's either a massive risk or like you suggested, just a pure Hail Mary. A lot of the commentary read in a Wired piece about this. The commentary was the executive at Google was more or less that they didn't feel that off the shelf enabled them to do the things that they wanted to do.
And I kind of said to myself, okay, great concept, but for who? Because who's using these devices, I've never met anyone using a Pixel. That's actually a true story. And so Google of course is a company that wants to win in any and every category that it competes. And maybe like I said, at this point, working off the shelf, typically by the way being a little bit of a laggard with its processors and its flagship devices has not been able to grab the market share, has not been very successful.
I do think there is a bit of a leapfrogging attempt with Apple in the sense that with Bionic and Google wants to say, "They can do it, we can do it." I would say it to the positive for Alphabet and Google is I do believe their AI cores are very capable. And in fact, what most people don't realize, like you said, is they've been doing this in the data center, and they've actually been using cores in their phones up to this point, but nothing has actually been better than what has been available off the shelf, certainly available off the shelf from Qualcomm and Snapdragon.
Last point I'll make here, really feel like the big mistake that is speculatively out there because we don't know for sure, but there are rumors on the street that they're going to abandon the Qualcomm 5G RF modem system, which with millimeter wave is an incredibly complex technology, both to develop and also to certify with carriers around the globe. Again, if no one's using your phone, I guess that doesn't actually matter that much. But if you want people to buy and use your phone, you want it to be certified on all the majors.
So whether that's T-Mobile, Verizon, AT&T, or Orange, whatever you're using and wherever you're using, it has to work. Going away there, it's kind of like, why would you do it all at once? Like I kind of understood using cores, like you have great image sensing, maybe you have great training for AI, natural language processing. Start implementing your cores. Apple did this really well, but I'll leave it at this. Even Apple knew its limitations. And it said, you know what? We'll stick with Qualcomm a little bit longer. We know they've got that part of it right. We'll build around Bionic. We'll use Qualcomm and it's not like it's a permanent arrangement, but they didn't do it until they were ready. And so even with M1 and all the work they did, Apple has done a pretty good job of making sure they've been ready. And that period of time where people can really crap on their product was very short and they made the fixes very quickly.
All right. We got to keep moving here. That's a great topic. Could have talked about it for at least another minute.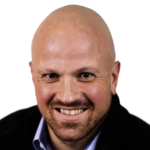 Daniel Newman is the Principal Analyst of Futurum Research and the CEO of Broadsuite Media Group. Living his life at the intersection of people and technology, Daniel works with the world's largest technology brands exploring Digital Transformation and how it is influencing the enterprise. Read Full Bio