Alphabet Set to Follow Apple IDFA – META?
Alphabet Set to Follow Apple IDFA – META?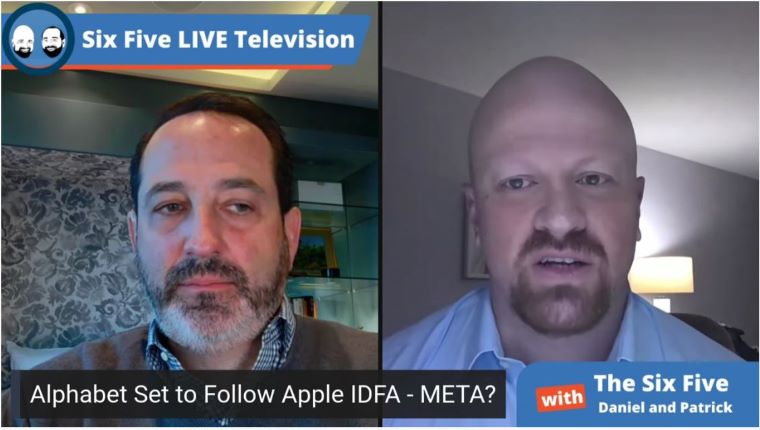 The Six Five team dives into Alphabet and whether their new privacy policy will hurt META.
Watch the clip here:
If you are interested in watching the full episode you can check it out here.
Disclaimer: The Six Five Webcast is for information and entertainment purposes only. Over the course of this webcast, we may talk about companies that are publicly traded and we may even reference that fact and their equity share price, but please do not take anything that we say as a recommendation about what you should do with your investment dollars. We are not investment advisors and we do not ask that you treat us as such.
Transcript:
Daniel Newman: This is a little bit more of a fun one. We don't always get to these topics, we had a chance to squeeze it in today, but an article came out. I actually got a call from the Wall Street Journal, and this is what brought my attention to it, that Alphabet here is set Pat, to follow Apple with their IDFA and basically just how big of a loser could this be for Meta. Now, going back a few weeks, I think we've all seen Meta stock, not only their stock, but sort of brand, the reputation has fallen off a bit of a cliff over the last couple of months.
Last year, they announced the metaverse and I think it was met with a lot of enthusiasm. In fact, I would credit Meta for creating this buzz about the metaverse. we've been doing AR and VR and XR for some time, but Meta created some significant relevancy and now we've got a lot of following going on in this space. And we're hearing about it from leadership companies, from NVIDIA, and we're hearing about it from Microsoft. And so, that's a credit, but also it's a $10 billion or so a year investment for Meta and in the process, they also lost about $10 billion in the last year due to changes in privacy policy by Apple. And so, when Apple did their IDFA, which was their new pro privacy, which basically forced users to opt in to sharing their data with apps like Meta rather than opting out, which was the old way of doing it.
And here's the long and short of it is Meta uses our personal behaviors across multiple applications on our mobile devices and on our computers in order to target us with advertising, this is how they made their money. Apple basically flipped a switch and said, "No more." Now you're going to have to actually, as a user choose and say, "I want Meta Facebook to be able to track me around the web so they can give me optimal advertising and feed me information into my stream." Clearly the market is opting out as much or more. And here was the kicker though, it was only for Apple. So in the US, this was a really big deal, because Apple has about 50 plus percent of market share, we've called it dominant before, Patrick. They have a dominant share in iOS, but Apple internationally has a slightly smaller percentage, but Alphabet hadn't turned this on yet.
And you go, "Will Alphabet do this?" Well, as a company that does a lot of advertising, does Alphabet want to expose itself to creating maybe unfavorable and unfair advantages for themselves? I really didn't think they were going to follow the IDFA type track with privacy, but here it is, this week, it was announced they're set to follow down the same path, basically meaning that the hundred percent of the mobile devices in the US are now going to be looking to give users additional privacy capabilities which will absolutely strangle Meta and Facebook in their advertising business, really bad news for Facebook. And then I don't know if you heard, but this week because of additional pressure coming out of the EU on Meta, Zuckerberg, and then we're talking about maybe even pulling the whole product off the whole of the continent right now. Now again, it seems a little bit dramatic and it would be a bit of tug of war.
So you're going to take your platform away from a giant Western continent like Europe, but they're talking about it. And Pat, Google and the Android operating system has what 70 or so, maybe even a little more than 70% of the global market share. So this could be really devastating for Metapad and I just thought it was, wow, so interesting. One question that comes to mind is, what will regulators do if… Because this is really the issue Pat, because you're giving people more control over their data, which is something that a lot of regulators have been looking at, but concurrently you're hindering competition by basically giving likely, we don't know exactly how this will work yet, but likely giving Alphabet and its own advertising somehow an advantage over others due to the opt-in that is going to be required, Pat.
So it is really interesting. They covered it on Fortune, on the Wall Street Journal, it was front page news on a number of big sites. So Meta, I don't know, I don't know how quick they can pivot this business, but you talk about 10 billion just from Apple, another 10,000,000,020. This could be huge, Pat.
Patrick Moorhead: So I have a slightly different angle on this, in that I absolutely think that this is going to be another issue for Meta, but Alphabet, just like Apple has their own ecosystem. So notice how, when this IDFA stuff came in, Apple's advertising revenue went up. Apple can still do all the tracking that it wants, just like Google who owns Android, which is 75% of every phone in the planet and has 80% Chrome market share can create their own little walled garden of advertising. So this is actually an advantage I believe to Google and its advertising because you're using their services, and so much that even France is like, "No, no, you can't do this because that will limit competition in the advertising market." So it's kind of a head scratcher here. From a privacy standpoint, it seems pretty awesome. And then you have… If Google ends up pulling this chain, then other advertisers, other advertising networks are actually at a disadvantage.
Daniel Newman: Well, it just seems like for whatever reason, Facebook, more than every other platform is getting hammered by these privacy changes and it just, I guess it just goes to show how invasive Meta and its various social platforms have been in terms of using your data versus others that use data, but maybe not at the same magnitude in order to decide what advertisements to feed you. But you're absolutely right, there is a huge conflict there. So Apple and its own advertising, it's the benefit of privacy and the cost of giving an unfair advantage to these by the way already monopolistic platforms. I mean, I'm sorry, but I'm not saying they are monopoly, that's the court's decision, but I'm saying you can certainly say by data and by the size of their market share that they have monopolistic behaviors and market shares in certain parts of their business and Android even bigger on a global scale also makes most of their money in advertising, so it's a-
Patrick Moorhead: It's not illegal to be a monopoly, it's just illegal to harm consumers or competitor. And what's funny is we saw with the Qualcomm thing, it's the potential to do this. As we saw the FTC, Star, Economist.
Daniel Newman: That's the direction they're trying to go into is they want to be able to predictively, like minority report, decide before a deal's even done whether or not it's going to be harmful and monopolistic, but yes, you're right, that's a great add, Pat. Good context. All right. Good topic. Fun stuff.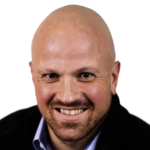 Daniel Newman is the Chief Analyst of Futurum Research and the CEO of The Futurum Group. Living his life at the intersection of people and technology, Daniel works with the world's largest technology brands exploring Digital Transformation and how it is influencing the enterprise. Read Full Bio