5G Factor Video Research Note: Qualcomm and Vodafone Strengthen Alliance to Spur and Commercialize Open RAN Builds in Europe
5G Factor Video Research Note: Qualcomm and Vodafone Strengthen Alliance to Spur and Commercialize Open RAN Builds in Europe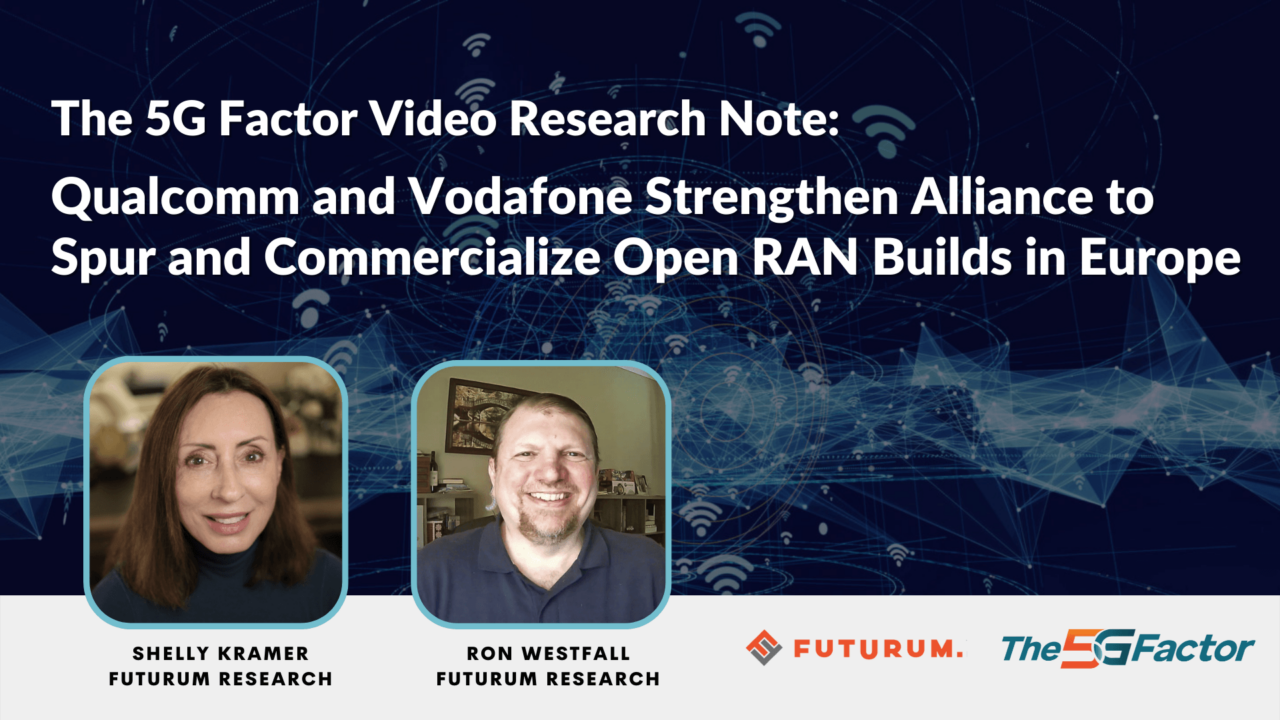 For this vignette of a recent episode of the Futurum Tech Webcast, Part of the 5G Factor series, analysts Ron Westfall and Shelly Kramer assess Qualcomm and Vodafone plans to develop, test, and integrate next generation 5G distributed units (DUs) and Radio Unit (RU) with Massive MIMO capabilities, ultimately to deliver the commercial deployment of Open RAN in Europe. The joint announcement builds on the companies' previous commitment in April 2021 to develop technical blueprints that can aid equipment suppliers building 5G networks of the future using Open RAN technology.
Their conversation addressed:
How Qualcomm and Vodafone are developing 5G Open RAN Infrastructure solutions powered by the Qualcomm X100 5G RAN Accelerator Card and the Qualcomm QRU100 5G RAN Platform.
The ability of the solutions to mee the demands of next-generation networks with massive MIMO using 64T64R and 32T32R capabilities needed for high-capacity dense urban scenarios.
Vodafone and Qualcomm's push to develop the technical blueprint for more equipment suppliers to help build emerging 5G networks using Open RAN technology by lowering the entry barrier for many companies and drive diversification of network equipment vendors.
Ron and Shelly view the joint solution designs are ready to improve power consumption performance to reduce total cost of ownership (TCO) and make networks more environmentally sustainable. For the alliance to achieve success with its latest initiative, Qualcomm and Vodafone need to make Open RAN deployments commercially viable in Europe by the end of 2023.
Watch a vignette of this conversation from our most recent episode of The 5G Factor, our webcast series focusing on all things 5G. Find the video here:
And the full episode here:
Or stream the audio here:
If you've not yet subscribed to The 5G Factor, hit the 'subscribe' button while you're there and you won't miss an episode.
Disclaimer: The Futurum Tech Webcast is for information and entertainment purposes only. Over the course of this webcast, we may talk about companies that are publicly traded and we may even reference that fact and their equity share price, but please do not take anything that we say as a recommendation about what you should do with your investment dollars. We are not investment advisors and we do not ask that you treat us as such.
Transcript:
Shelly Kramer: So we're going to dive right in and we're going to talk today about Qualcomm and Vodafone and 5G Open RAN. And with that, Ron, take it away. Let's hear what's on your mind with regard to that today.
Ron Westfall: Yeah, I think we had a very interesting announcement come out, and that is Qualcomm and Vodafone re-igniting their collaboration. It's been established for over a year. Fundamentally, they're looking to drive Open RAN across a broader swath of the ecosystem. So that part isn't surprising, but I think what's important here is that both of them are providing a level set, what is realistic in terms of Open RAN expectations now that we've gone through this hype cycle and Open RAN hasn't quite made the inroads that many expected say just over a year ago.
I think what's important here is that both players are pointing to this is something that is going to be a journey, it's something that's going to require a great deal of work in terms of getting everything synced up. But I think that the partnership is pointing to is the fact that by using Qualcomm's X100 5G RAN accelerator card, a combination with its QRU 100 5G RAN platform that operators can really punch through and get the power consumption efficiencies that they are prioritizing. And we know why this is important. It helps them meet their sustainability goals, helps the environment and all these strategic reasons. Plus that ties in directly to boosting total cost of ownership benefits. And we know that's always important. But now it's like Open RAN is more tangibly being tied into that.
So this is I think providing an impetus that also is aligned with other things that need to really be in play. And that is the massive MIMO technology needs to be in place. And actually, they're using Qualcomm 64T, 64R and 32R/32T technology, or I should say 32T/32R. But the Ts standing from transmit and R standing for receive.
Shelly Kramer: Right.
Ron Westfall: And why that technology is important is because that's going to be essential for delivering 5G Open RAN capability capabilities to dense urban areas. And so that's really where we're going to see, I believe, many of the Open RAN use cases gaining more traction to give it more market validity. What I think is interesting is that Vodafone is sticking to its guns, they're planning to use ran in up to 30% of its mass across Europe. So I think-
Shelly Kramer: That's a lot. That's significant.
Ron Westfall: Yeah, no doubt. I think this is, to be clear, a European-centric initiative, and I think though it will definitely be applicable to other regions once this is proven out more for the simple reason that Vodafone is truly a multi-regional operator for one, but lessons learned that Qualcomm and other partners can apply to other Open RAN initiatives.
Shelly Kramer: Right. Absolutely.
Ron Westfall: And that includes, for example, the fact that Qualcomm is working with Rakuten Symphony, it's working with Viettel in Vietnam, it's working with Fujitsu and also Mavenir. So this is really clearly an ecosystem play and it really requires all these players to be able to get the initiative more on track to gain the significant takeaways that will enable the operators to simply push brand forward and as part of an overall 5G play.
Shelly Kramer: Yeah. I think I saw that it was April of 2021, which is when the companies, Qualcomm and Vodafone, made a commitment to develop technical blueprints that could be used across the industry. I think that that's really an important part of what we're talking about here. This ecosystem and success here is really, I believe, contingent upon and really powered by strategic alliances like this in understanding that much like any digital transformation initiative, this is a journey. It's not a, "We're going to check all these boxes and be done." And so it is great to see a revisiting of that and the commitment, even though this is admittedly not a quick process, not a speedy journey, but it is great to see Qualcomm and Vodafone's commitment here to move this forward.
Ron Westfall: Yeah. In fact, they define success that Vodafone will have commercial deployments by the end of 2023. So this is going to be certainly a significant milestone and definitely that's going to be essential if they really want to walk away and say, "Okay, this resulted in a successful collaboration."
Shelly Kramer: Absolutely. Absolutely. It makes a lot of sense.