5G Factor Video Research Note: Juniper Cloud Metro – Juniper Expands Cloud Metro Portfolio
5G Factor Video Research Note: Juniper Cloud Metro – Juniper Expands Cloud Metro Portfolio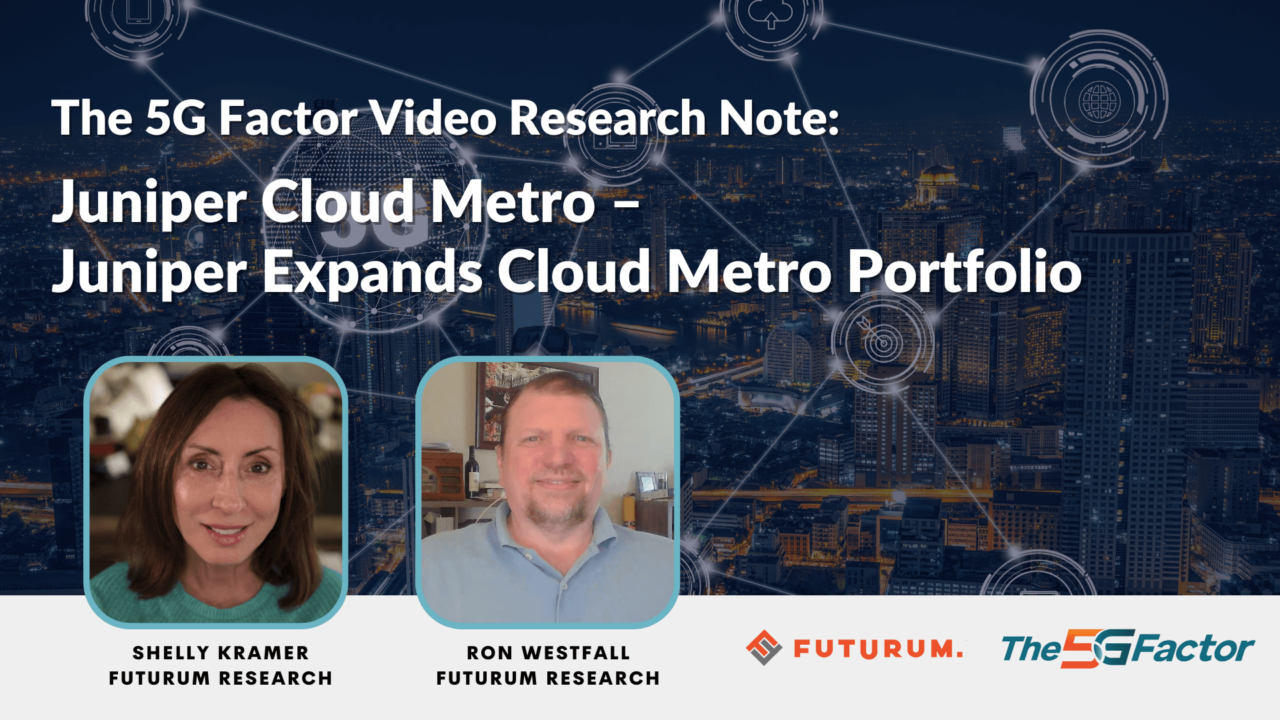 For this vignette of a recent episode of the Futurum Tech Webcast, part of the 5G Factor series, analysts Ron Westfall and Shelly Kramer review Juniper's expanded Cloud Metro portfolio and how it is purpose developed to drive sustainable metro business growth by delivering sustainable operations, sustainable systems, and sustainable architectures.
Their discussion stressed:
The flexibility and completeness of the overall Juniper Cloud Metro portfolio starting with sustainable operations capabilities such as Paragon Automation targeted at enabling and scaling Experience-First Networking in alignment with the AI engines and cloud-based as-a-service delivery essential to scaling 5G networks as they enter their 5G Standalone phase.
How the ACX7000 family provides the sustainable systems that address a wide range of deployment requirements ranging from small business/branch office settings with the new ACX7024 product all the way up to the large, high-end environments with the new ACX7908 Cloud Metro Router.
How the combination of Juniper IP services fabric, embedded active assurance, and built-in Zero Trust security delivers the sustainable architecture key to 5G network innovation.
Ron and Shelly highlight that the Juniper ACX7000 family merits top consideration due to its ability to deliver sustainable business outcomes for operators and network users across key areas such as over 70% lower power consumption, over 70% lower TCO, more than 50% improvement in space efficiency, and longer system lifecycles.
Watch a vignette of this conversation from our most recent episode of The 5G Factor, our webcast series focusing on all things 5G. Find the video here:
And the full episode here:
Or stream the audio here:
If you've not yet subscribed to The 5G Factor, hit the 'subscribe' button while you're there and you won't miss an episode.
Disclaimer: The Futurum Tech Webcast is for information and entertainment purposes only. Over the course of this webcast, we may talk about companies that are publicly traded and we may even reference that fact and their equity share price, but please do not take anything that we say as a recommendation about what you should do with your investment dollars. We are not investment advisors and we do not ask that you treat us as such.
Transcript:
Ron Westfall: But also it's important to understand why the Juniper Cloud Metro portfolio is very well-suited for meeting these demands, but also in particular to 5G network innovation, but also builds and scaling and so forth. And so this is an opportunity to take a snapshot of the Juniper Cloud Metro portfolio and the areas where it excels. I think first of all, we have to have a portfolio that is purpose-built and purpose developed to support sustainable operations. And that includes automation capabilities. We, I think, understand that automation is going to be critical to enable scaling at these massive levels. There's just no way around it. You cannot do it with manual legacy approaches. And that has to be combined with AI-enabled engines, that is using AI to assure that you know what is going on with the network, but also to be able to proactively respond to emerging, say security threats or to be able to assign distributed workloads on the most intelligent real-time basis.
And then finally taking advantage of all these cloud capabilities, that is as-a-service flexibility that many organizations appreciate when it comes to, for example, meeting time to market challenges and so forth. But it's not just about sustainable operations, it's about sustainable systems. And I see the ACX7000 family that Juniper offers really addresses this all the way from the low end to the high end in terms of meeting sustainable systems demands. For example, we have the ACX7024 pizza box type solution that meets, for example, small business requirements or branch office requirements and other important requirements. It just depends on what the customer needs. Certainly when it comes to the CSP, they want to be able to use these types of products to meet a broader array of customers.
But also at the high end, you have the new ACX7908 product; that it can meet all of these intense scaling demands on a flexible agile basis with security assurances. And so this is, I think, reinforcing the ability for Juniper to meet sustainable architecture needs. So I see that they've done a lot of grid work in terms of investing in, for example, IP services fabric capabilities, which are important for hybrid cloud and multi-cloud implementations, but also integrating that with embedded service assurance and built-in zero trust security.
Shelly Kramer: That's my favorite part, built-in zero trust security, baked-in security! It's my favorite part of any equation.
Ron Westfall: Exactly. Amen. And so what is different here is it has to be native, it has to be built in. We can't no longer depend on solutions that are more bolted in or only applicable to specific applications, specific networks and so forth. It really has to be based on this IP services fabric approach. So these are, I think, our key characteristics that distinguish the Juniper portfolio, but more importantly, differentiate it from competing solutions.
Shelly Kramer: I agree, absolutely.