5G Factor Video Research Note: Juniper Cloud Metro – How Cloud Metro is Becoming the New Edge
5G Factor Video Research Note: Juniper Cloud Metro – How Cloud Metro is Becoming the New Edge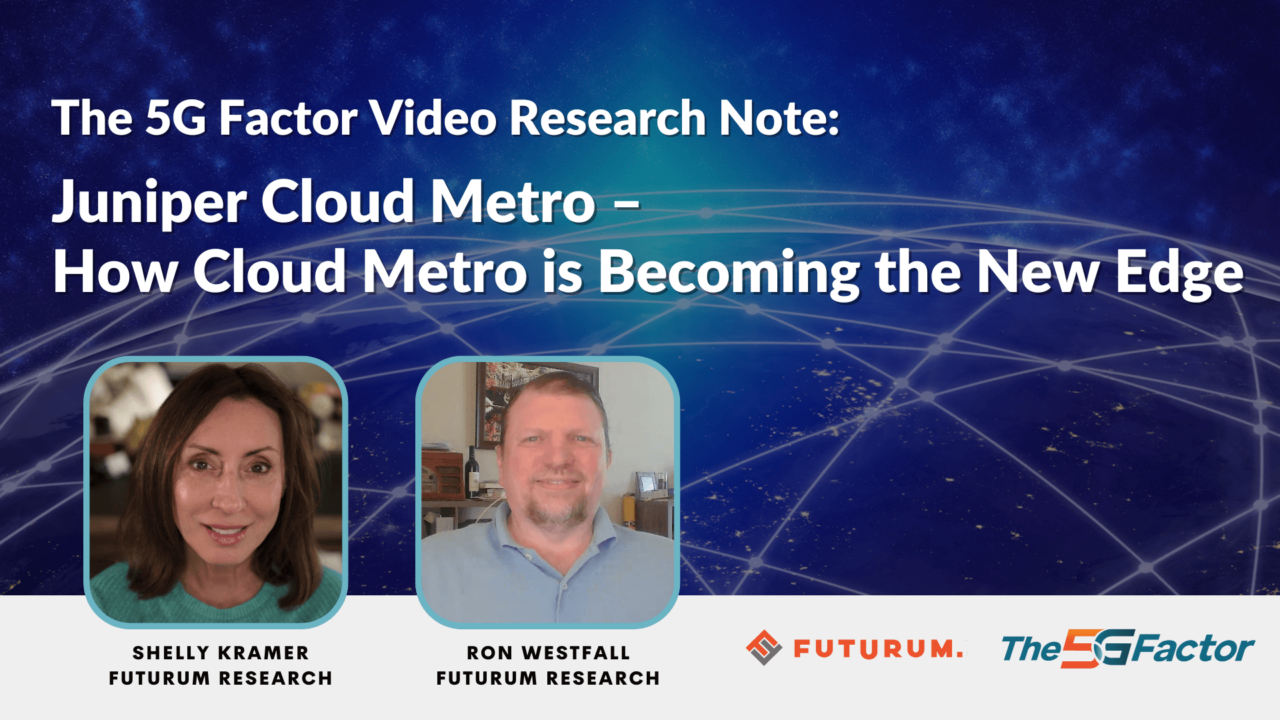 For this vignette of a recent episode of the Futurum Tech Webcast, part of the 5G Factor series, analysts Ron Westfall and Shelly Kramer assess how the Cloud Metro is becoming the "New Edge", where a great deal of the data traffic action is expected to take place, including certainly across 5G networks.
Their conversation accentuated:
How up to 50% of all enterprise data will be distributed in edge clouds by 2025.
More subscribers declaring their interest to pay for excellent service experience across apps such as cloud gaming.
The impact of the projected fivefold growth of metro transport traffic from 2021 to 2027.
Ron and Shelly underscore that the edge computing is expected to have a total addressable market of a half trillion dollars ($500 billion) by 2030 and how that fuels more demand for cloud metro solutions where connectivity, edge cloud hosting, and powering service experience outcomes are all expected to converge.
Watch a vignette of this conversation from our most recent episode of The 5G Factor, our webcast series focusing on all things 5G. Find the video here:

And the full episode here:

Or stream the audio here:

If you've not yet subscribed to The 5G Factor, hit the 'subscribe' button while you're there and you won't miss an episode.
Disclaimer: The Futurum Tech Webcast is for information and entertainment purposes only. Over the course of this webcast, we may talk about companies that are publicly traded and we may even reference that fact and their equity share price, but please do not take anything that we say as a recommendation about what you should do with your investment dollars. We are not investment advisors and we do not ask that you treat us as such.
Transcript:
Shelly Kramer: Essentially the way that I look at it is that Metro kind of becomes the new Edge. What do you think about that?
Ron Westfall: Well, I think that's a very apt characterization. I think we're seeing that not just at Mobile Wolf Congress where Juniper raised both its profile and its game, I believe, but also we're looking at various critical industry trends that are driving the Metro to becoming the new Edge, really where all the action is going on or certainly critical portions of the action is going on. And so I view it as this is where our connectivity, edge cloud hosting and service experience outcomes are really converging. And this includes, I think, information that we're seeing that's basically a consensus. For example, in the consumer side, we see that many of them are willing to pay for a premium service, that is to have quality of experience assurances that can guarantee something like cloud gaming or video surveillance, and things of that nature. But I think it's not just about consumers, it's certainly about the business side, the enterprise side.
Shelly Kramer: Absolutely.
Ron Westfall: And what I think is important here is that enterprise data will be increasingly distributed throughout Edge clouds. In fact, by the year of 2025, over half of this traffic will be residing in that environment. And so this is why it really becomes imperative to know what is going on with Metro Cloud in terms of, for example, that we can anticipate that Metro traffic will increase by fivefold, that is 500% over the next few years through 2027. So that reinforces the fact like, yes, this is the new Edge, Metro cloud is where the action is happening, and this is resulting in projections like by the end of the decade, this will be a $500 billion business. Let me rephrase that. It'll be a half trillion dollar business by the end of the decade. So already we're talking multi-billions in the very near turn. And so this is definitely a space that, one, a supplier needs to bet on, but it's also a very smart, solid bet. And that's why I see the Juniper Cloud Metro portfolio is really teed up to really take advantage of these opportunities.
Shelly Kramer: Yeah, absolutely. To follow on your comments with some additional stats that I think are interesting is, well, by 2022, we're already there, 82% of video IP traffic, video caching is getting distributed into Metro. And so we're seeing mobile data traffic, which will increase 54% by 2025. And by 2025, 30% of workloads will reside in Edge Cloud. So what you've got is you've got Metro, and then you've got all of these things around it kind of feeding into it. And that's really where I think the key part of the value proposition there is.