5G Factor Video Research Note: Deutsche Telekom Gives Mavenir Thumbs Up to Replace Huawei and Deliver Cloud-Native 5G Core
5G Factor Video Research Note: Deutsche Telekom Gives Mavenir Thumbs Up to Replace Huawei and Deliver Cloud-Native 5G Core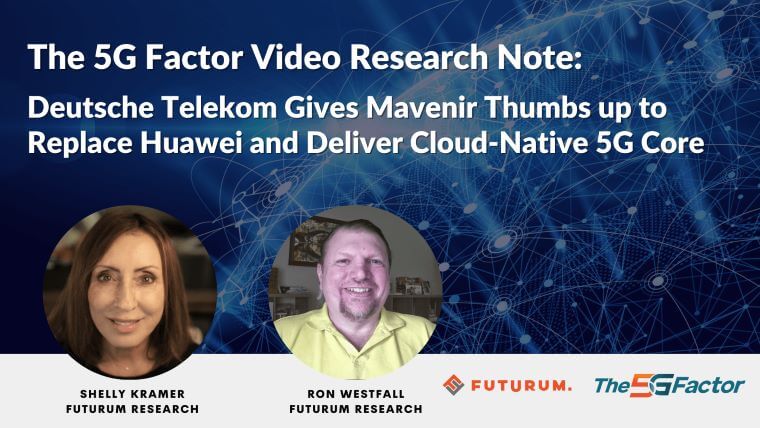 For this vignette of a recent episode of the Futurum Tech Webcast, part of the 5G Factor series, analysts Ron Westfall and Shelly Kramer assess the market implications of Deutsche Telekom (DT) selecting Mavenir to provide Europe's largest operator with a new cloud-native 5G core solution and advance its decision to replace Huawei in the mobile core.
Their conversation emphasized:
How Mavenir's Converged Packet Core solution supports DT's data, voice, and messaging services as well as emerging network slicing use cases such as live video broadcast.
The new deal is a sales and marketing capstone for Mavenir by further validating its extensive collaboration with DT throughout the 5G/4G core and further diversifies the company's portfolio revenue streams while augmenting its Open RAN advocacy across 5G standalone (SA) network builds.
DT's initial network slicing use case is supporting live video broadcasting indicating 5G SA networks and 5G monetization use cases are gaining momentum across Europe.
DT is also using Ericsson in its mobile core as part of its Huawei replacement strategy in the core although both Mavenir and Ericsson need to interoperate with Huawei RAN equipment into the foreseeable future.
The deal can gain more market impact as DT provides more details on it timetable to complete its Huawei replacement strategy in the mobile network core.
Ron and Shelly see the DT's selection of Mavenir as the supplier for key software applications to run on its defined hardware and existing Kubernetes-based platform of its German business, as notably bolstering multi-vendor, open architecture prospects across the 5G ecosystem, especially as 5G core capabilities embedded throughout 5G SA implementations prove their market readiness.
Watch a vignette our coverage of this hire on our most recent episode of The 5G Factor, our webcast series focusing on all things 5G. Find the video here:
And the full episode here:
Or stream the audio here:
If you've not yet subscribed to The 5G Factor, hit the 'subscribe' button while you're there and you won't miss an episode.
Disclaimer: The Futurum Tech Webcast is for information and entertainment purposes only. Over the course of this webcast, we may talk about companies that are publicly traded and we may even reference that fact and their equity share price, but please do not take anything that we say as a recommendation about what you should do with your investment dollars. We are not investment advisors and we do not ask that you treat us as such.
Transcript:
Shelly Kramer: Okay, great. All right, moving on. We've got some good news for Mavenir from Deutsche Telekom and this was interesting because when Deutsche joined the UK's BT to remove Huawei and worked toward a Chinese free core network infrastructure in early 2020, it meant opportunity for other players in this space. After what seems like a really long wait, Mavenir got some good news. Ron, tell us about it.
Ron Westfall: Yes. I think this is definitely the type of win that Mavenir has been searching for a while. They have been a Open RAN stalwart and so this win, particularly in the heart of Europe, i.e. DT, is the largest operator in the continent that this is a way for them to show that they can diversify their revenue streams, that their portfolio can address really the full spectrum of 5G requirements, especially as DT and other major operators put more investment into 5G standalone capabilities. So the 5G core capabilities are going to be very instrumental in that regard. That is supporting capabilities such as network slicing as well as enabling Deutsche Telekom and other operators to monetize their 5G networks more efficiently and more flexibly.
That's not to deny there are challenges. For example, the win of this cut over is still not completely clear. Also, Ericsson has a role in this particular transition. So that's pretty standard, the fact that they're using more than one operator to replace Huawei in the core, more than one supplier, and they will continue to have to interoperate with the vast array of Huawei RAN equipment that's out there. DT has not announced yet when they will plan on replacing that part of their network. In the meantime, the progress is steady. For example, in the BT network, Ericsson is supporting the 5G core transition there and so far, BT has maybe a million 5G standalone type customers. So this is definitely a work in progress, but the upshot is it's a feather in the cap from Mavenir winning the 5G accord deal with Deutsche Telekom. This is good news for them no matter what and it does demonstrate that the European market is getting its act together more in terms of pushing 5G out to a broader audience.
Shelly Kramer: Right. Yeah. I thought that was really great news for Mavenir so it'll be interesting to watch how this plays out as always.
Ron Westfall: Right on.