5G Factor Video Research Note: Cloud Battles for CSP 5G Business Intensifies
5G Factor Video Research Note: Cloud Battles for CSP 5G Business Intensifies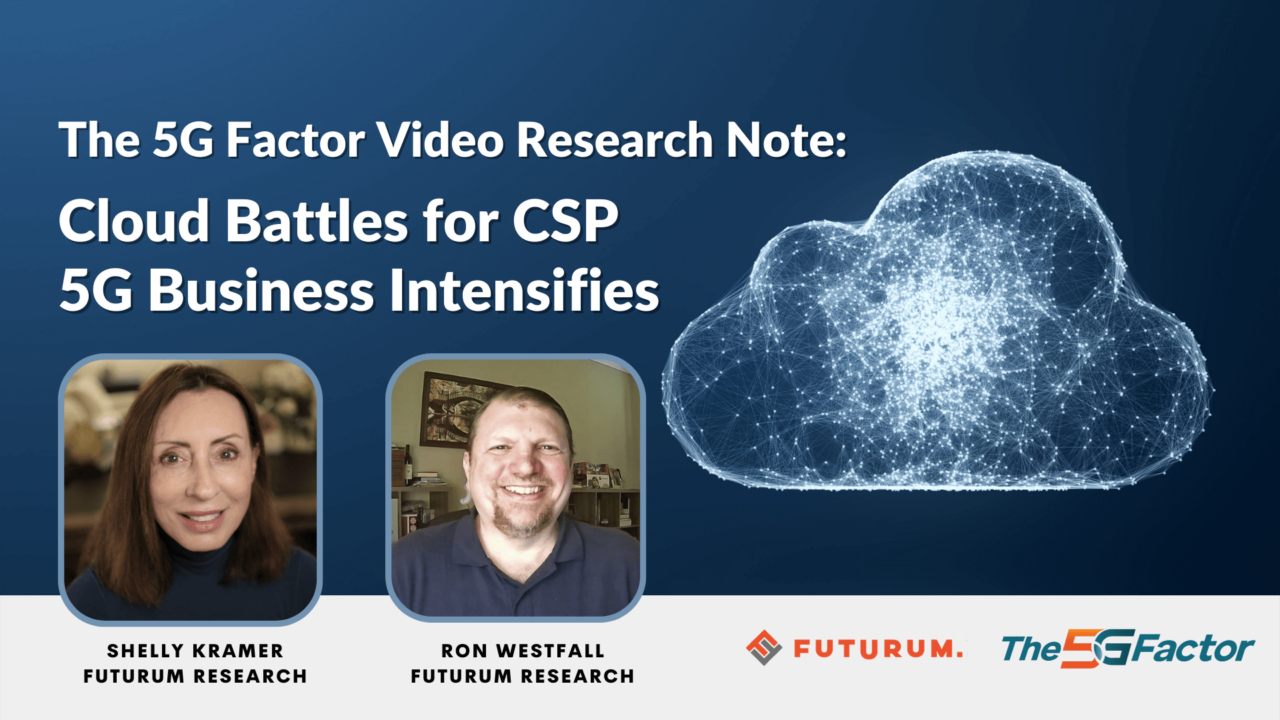 For this vignette of a recent episode of the Futurum Tech Webcast, Part of the 5G Factor series, analysts Ron Westfall and Shelly Kramer review how cloud providers are faring across the communications service provider (CSP) market segment. While the contest for cloud-based 5G deployments is still in the early stage, AWS can stake a claim to having the broadest presence with a slight leader over Microsoft Azure while the other cloud players also expand their foothold.
Their conversation addressed:
CSPs, for the most part, are strategically committed to a multi-cloud strategy to avoid vendor lock-in and exercise choice in their optimization of 5G services and applications.
Recent study from Omdia indicates that AWS is making a solid land grab in the telco cloud space to date, capturing considerable market share (~70%) among CSPs.
Azure is in a solid second place (~57%) with Oracle Cloud coming in a somewhat surprising third ahead of Google Cloud (fourth) and IBM/Red Hat (fifth).
Alibaba joins the "Other" category as geopolitical considerations limit Alibaba's addressable market beyond China.
Ron and Shelly anticipate that the cloud battles will intensify as CSPs accelerate their transition toward 5G SA (standalone) and 5G Advanced networks. Also, they see Azure for Operators as well-positioned to make further inroads in the CSP realm due to factors such as the breakthrough alliance with AT&T and the acquisition of telco software specialists Affirmed Networks and Metaswitch Networks, bolstering portfolio capabilities in areas such as container applications. Overall, they see all the cloud players winning more telco cloud business as CSPs advance their multi-cloud business objectives.
Watch a vignette of this conversation from our most recent episode of The 5G Factor, our webcast series focusing on all things 5G. Find the video here:
And the full episode here:
Or stream the audio here:
If you've not yet subscribed to The 5G Factor, hit the 'subscribe' button while you're there and you won't miss an episode.
Disclaimer: The Futurum Tech Webcast is for information and entertainment purposes only. Over the course of this webcast, we may talk about companies that are publicly traded and we may even reference that fact and their equity share price, but please do not take anything that we say as a recommendation about what you should do with your investment dollars. We are not investment advisors and we do not ask that you treat us as such.
Transcript:
Shelly Kramer: We're going to roll on to some other interesting news in the telecom space and the competition that's happening there between AWS and Microsoft and Google and what some are perceiving is maybe an early land grab. So talk with us a little bit about that.
Ron Westfall: Yeah, a great segue, Shelly. And I agree, I think we need to look at the cloud competition.
Shelly Kramer: Right.
Ron Westfall: We've certainly have spent a great deal talking about the operators that is inherent. And so yeah, it's a good time now I think to take a snapshot. And I want to start by saying yes, it's still early in the market.
Shelly Kramer: It is.
Ron Westfall: So yeah, this is a horse race that can't be called… I don't know if it's ever going to be called because I think my second key point before getting to more details is that I think the vast majority of operators, certainly the major ones, are going to be committed to a multi-cloud play.
Shelly Kramer: Absolutely.
Ron Westfall: Yeah. So while AWS will get some early announcements, and certainly Azure will get early announcements and so forth, this is something that isn't going to wall garden, what the operators want strategically. For example, our collaborative research with Ericsson pretty much verified that common sense notion that the operators don't want to be hamstrung by being overreliant on one cloud player.
Shelly Kramer: Right.
Ron Westfall: With that said, I think we can still point to what is going on. There's been some recent research, some of it coming from Omdia for example, that indicates that AWS does have the most partnerships in place that we can talk about. They accounted about 70, Azure is coming in at 57. But what I think is interesting is that third, it was Oracle.
Shelly Kramer: Oracle?
Ron Westfall: Yes. Yes.
Shelly Kramer: Yeah, that's impressive.
Ron Westfall: Yes, it is. I think that's a tribute to just how much they've strategically committed in building out Oracle Cloud and making it not just for cloud database applications, but for a vast array of verticals and so forth. And here we are talking about the fact that they have a major play in the telco space. And not surprisingly, Google Cloud comes in next, but they are gaining momentum. They are generating, I think, the most new headlines at least in the first half of this year. So
Shelly Kramer: Well, and IBM is showing up on that list too.
Ron Westfall: Exactly. Alright.
Shelly Kramer: I mean, they have a small amount of market share compared to these other players that we've mentioned, but I think that's impressive as well. IBM definitely has a focus in the 5G space, and so seeing them end up on this list. And I do have to back up and say since we're we're in the research business, this study from Omdia was really 49 executives asking them what public clouds they were using for, or clouds they're using for their network functions. So as you said when we started, this is early stages. This is a super small group, but I think these results are impressive nonetheless.
Ron Westfall: Yeah, I think it definitely validates IBM's acquisition of Red Hat in this area.
Shelly Kramer: Yep, absolutely. Absolutely.
Ron Westfall: One thing I think was also worth noting is who wasn't really directly mentioned, although there was an others category.
Shelly Kramer: Others. Yeah.
Ron Westfall: That's Alibaba, which theoretically would've had a higher number had it not been for geopolitical realities setting out.
Shelly Kramer: Absolutely.
Ron Westfall: They're still certainly out there working strategically with operators such as Saudi Telecom. So this is something that we'll definitely keep an eye on, but Saudi Telecom is going to work with other cloud players. So again, it's not a zero sum competition.
But I think one that I think we will pay more attention to is Azure, particularly Azure for Operators because they're the one cloud players so far that's invested directly into telco specific assets, specifically the acquisitions of Affirmed and the acquisitions of Metaswitch. I think this will help them in terms of supporting SDN capabilities that the operators will require as well as CNF and DNF capabilities, as well as ultimately container builds as the operators become more familiar and sophisticated about how to really leverage the cloud [inaudible 00:17:08] to meet their strategic ends.
They're the one cloud player that's had a high profile announcement with AT&T where AT&T has said, "We are working with Azure to strategically have our core assets supported. I mean, Azure Cloud." Now, Verizon for example, said, "We're never going to do that." And many other operators are pretty much pointing to that same thing. But who knows? I mean, nobody thought AT&T would come out with this type of announcement. And we know that AT&T personnel have onboarded onto Azure to make this strategic decision work. And so stay tuned. It's just fascinating that these developments have already happened. Tunes can change quickly, if say AT&T definitely makes vast inroads with its Azure partnership, et cetera.
Shelly Kramer: Yeah, that will be really interesting to watch for sure.
Ron Westfall: No doubt. I think it points the fact that the operators need to invest in, again, cloud native capabilities, certainly CNFs. And also Google, I think, actually has a very compelling SDN proposition. That's why I think they'll rise in these counts in its short order. So this is something that's going to be, I think, good news for everybody really. It's a rising tide.
Shelly Kramer: Absolutely.
Ron Westfall: And so, both the operators and the cloud operators will figure out ways to quite simply please the customers to make 5G even more mainstream, more agile, more use case savvy and so forth.
Shelly Kramer: Yeah, exciting times ahead for sure.