The 5G Factor: Qualcomm, Infrastructure Bill, and Key Takeaways from GSMA Report – Futurum Tech Webcast
The 5G Factor: Qualcomm, Infrastructure Bill, and Key Takeaways from GSMA Report – Futurum Tech Webcast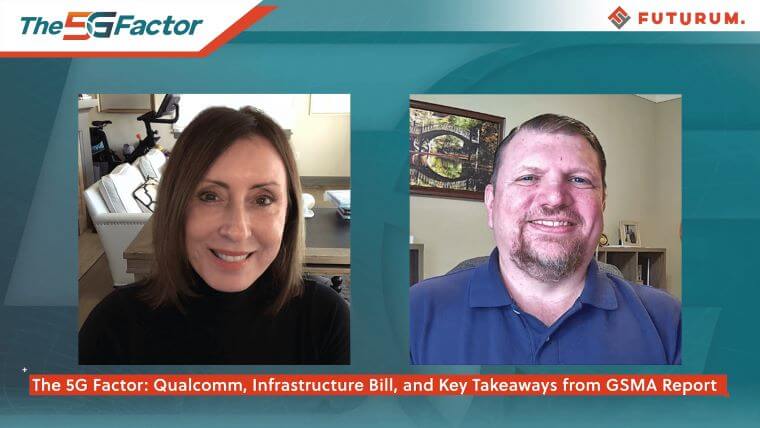 In this episode of The 5G Factor, part of the Futurum Tech Webcast family of content, I'm joined by my colleague and fellow analyst, Ron Westfall for our weekly look at what's happening the world of 5G. Our conversation today explored the following:
The Bipartisan Infrastructure Bill is good news for efforts to bridge the digital divide. Passage of the bipartisan Infrastructure Bill and the good news that brings for expanding broadband and 5G connectivity across the nation, closing the digital divide and allocating millions to a variety of different initiatives, as well as $100 million to each of the states.
Data from the GSMA report: 2021 The Mobile Economy North America including the fact that in North America, $1 trillion of mobile technologies and services generated 4.4% of GDP in North America in 2020, which is a contribution equivalent to $1 trillion of economic value added. Wonder why we focus so much on 5G — these numbers are only going up! Ron broke down growth we can expect ahead, content strategies for CSPs and partnerships we're seeing, along with some info on private networks, which we've covered here frequently.
Qualcomm had an impressive Investor Day 2021 event this last week and we wrapped the show talking about some of Qualcomm CEO Cristiano Amon's vision, the diversification strategies the company has and is embracing, and how that's paying off and will continue to do so for the technology giant now and in the future.
Watch the video of The 5G Factor webcast here:
Or stream it here by way of your preferred podcast platform:
Don't Miss An Episode – Subscribe Below:
Disclaimer: The Futurum Tech Webcast is for information and entertainment purposes only. Over the course of this webcast, we may talk about companies that are publicly traded and we may even reference that fact and their equity share price, but please do not take anything that we say as a recommendation about what you should do with your investment dollars. We are not investment advisors and we do not ask that you treat us as such.
Transcript:
Shelly Kramer: Hello and welcome to this episode of the Futurum Tech Webcast. This is our 5G Factor Show. I'm your host Shelly Kramer, and I'm joined today by my colleague and fellow analyst, Ron Westfall. Hello, Ron, and great to see you today.
Ron Westfall: Oh, you bet. Yes, it's a fine day and certainly looking forward to our conversation.
Shelly Kramer: Always. Always.
Ron Westfall: Naturally.
Shelly Kramer: This 5G Factor Show focuses, of course, on all things 5G. We are going to talk about some key happenings in the 5G ecosystem over the course of the last week or so that we think are particularly interesting. And I'm going to start off by talking about the infrastructure bill. The bipartisan infrastructure bill passed in the last week, and that's good news for expanding broadband and 5G connectivity across the nation, which is sorely needed.
Congress passed the bipartisan bill and a significant amount of that funding is focused on technology, specifically on expanding high speed internet access across the country. Democratizing this high speed internet, making it both available and afford, is critically important. We've been trying to breach this digital divide for a very long time now. I think one of the things that navigating a global pandemic showed us for sure is the importance of internet accessibility and affordability for all.
It's great to see this as a key underpinning of the infrastructure bill. Some specifics there. $24.45 billion have been set aside for the Broadband Equity, Access and Deployment Program. This, again, will deploy broadband in underserved areas. Each state in the United States is expected to receive $100 million of that funding. There's $2 billion going to the broadband connectivity fund, $2.75 billion allocated for Digital Equity grant funding. If you're looking for opportunities to submit grant requests, there you go.
There's $1 billion for Middle Mile Deployment Broadband funding for rural communities in rural locations. Any way you look at this, this is great news really especially for rural communities and underserved areas in the United States and really an exciting step forward. Because I think a lot of times when we think about infrastructure, we think about roads. We think about bridges, but internet technology and connectivity is very much infrastructure.
Ron Westfall: No doubt. This has been most welcomed. It's been building up for a while. Finally, Congress was able to pass a bill that was signed into law. That definitely is laying the foundation for some very important work that needs to be done in terms of just that, making the US broadband infrastructure more available. Definitely it's targeted at addressing underserved areas. That is certainly going to be a difference maker in terms of reducing the digital divide, but also boosting investment in key technology areas such as fiber builds, as well as 5G technology.
The good news doesn't end there. I mean, the $65 billion that's allocated exclusively to broadband infrastructure is a difference maker, for sure. In addition, there's $5 billion that's being allocated toward smart grid upgrades. That will help actually fuel our overall broadband capability. In addition, there's $17 billion that's being allocated to port infrastructure specifically. This will help fuel the use case for what could be characterized as smart ports, as well as $25 billion for airport modernization.
We're seeing private networks taking off in airport environments. For example, companies like Betacom are making a huge difference in that regard. In fact, offering what is labeled a 5G as a service in terms of enabling private networking capabilities in airports specifically. And finally, $50 billion to improve our cyber defenses, as well as protecting against natural disasters. That definitely helps critical infrastructure to public safety.
All these billions are actually going to basically form that foundation to really advance broadband here in the US. I think it's been most anticipated. Again, we're looking forward to seeing how this plays out. I think we can make a solid bet that this will definitely be good news in terms of overall broadband capabilities, because it's not just focusing on one segment, but really across multiple segments that all, when you combine them together, will make a net new advancement for broadband.
Shelly Kramer: Right. Absolutely. Well, good things ahead. We are very excited about that for sure. Now we're going to move on and we're going to talk about the GSMA report called 2021 The Mobile Economy North America. I think that we realized that everybody everywhere is walking around with one of these, right? But when you look at some of the stats, it really is kind of interesting. By the end of 2020, for instance, 327 million people in North America subscribed to mobile services. That should not be shocking in any way.
But it's 83% of the population. That's a lot. Another cool stat is that one trillion of mobile technologies and services generated 4.4% of the GDP in North America in 2020. This is a contribution… Okay, big numbers. Wow. Who cares? So what? Right? Well, this contribution is equivalent to one trillion of economic value that's been added. When we talk about 5G and what's ahead, and the reality of it is we really are in the nascent stages of 5G and massive adoption by not only consumers, but businesses.
When we look at numbers like that and think about what's ahead, it's crazy exciting. Let's talk a little bit about what's on tap for growth ahead. Ron, I know you've spent some time immersed in the GSMA report. Lay it on us.
Ron Westfall: Oh yeah. Now, there are some major key takeaways coming out of this report. To add to the current impact, over 2.1 million jobs have been generated by the mobile ecosystem. This, again, is going to fuel what we can anticipate as significant investments in mobile infrastructure throughout North America. In fact, through the end of 2025, we can anticipate that there will be $300 billion in new estimate with 98% of that allocated to 5G. 5G is only going to account for 98% of that.
Shelly Kramer: Only. It's only 98%.
Ron Westfall: If you're a player out there, you know where to follow the money, in other words. This is definitely going to have positive impacts in terms of the 5G capabilities we've been talking about from last couple years. Yes, the pandemic actually did create new opportunity in terms of things such as remote workforce, digital workforce applications. A lot of that was driven by fixed access, but also definitely had a play for moving 5G investments forward.
And now that we're getting in the post-pandemic era and we're getting fully adjusted to the new realities of the hybrid workforce, that is going to enable these new investments to in essence generate two-thirds of all mobile connections being 5G, again, by that end of 2025 threshold. And a lot of that is going to be on what is called 5G standalone. And why that is important is in contrast to 5G non-standalone, which had to account for legacy technology, is that this will literally unleash 5G's capabilities across the board.
This is going to accelerate I believe IoT use cases. It will definitely accelerate network slicing capabilities. We're finally going to see these vertical industry use cases really blossom. And likewise, closely related to all this is ultra-reliable, low latency communications. That is the underpinning for all of these new 5G capabilities really taking off, particularly in the business to business segment.
A lot of it's been focused on the consumer side here in North America, but now we can definitely really see a take off I believe on the industry 4.0/B2B side. To also underlay why this is really coming into play is that here in the US, there was a mid-band auction, that is the 3.7 to 3.98 gigahertz range, that yielded $81 billion in an investment by the operators. This is going to be important for digital advancements across the board for the operators.
For example, when it comes to their content strategies, as we know, AT&T recently struck a deal at $43 billion with Discovery to basically spin off their WarnerMedia assets and merge it with Discovery content and distribution assets. This is now allowing them to form more alliances. I think we can anticipate the operators are going to be more focused on forming alliances to advance their 5G content strategies versus going out and buying them and looking to operate them. That can change, of course, over the next four years.
But for the near term, I think that is going to be the solid use case going forward. Now we see AT&T partner with the NBA and WNBA directly for their content. We on an earlier episode addressed Verizon's alliance with the NFL, again, taking advantage of 5G capabilities. And T-Mobile is also working with Zyter, a digital health platform, which is, I think very interesting to also complement their smart stadium 5G use case. This is also aligning with private networking becoming more important to address that enterprise opportunity.
Why is private networking becoming more critical and gaining more adoption? Quite simply, it gives the customers more control, more security over their capability. We see AT&T building out a private millimeter wave network with the Ellison Institute, for example. We also addressed that, and that's going to be important for cancer research, particularly when it comes to 3D imaging applications. Also, Verizon now has what it's called onsite 5G, and that is their first private 5G solution offerings.
Now, that is going to definitely fuel the advancement of private networking capabilities. In addition, Rogers for Business, now they're offering managed services for private network solutions. And also, as we know, T-Mobile has already built out the first nationwide 5G standalone network. And again, that's going to be critical for enabling those capabilities we already addressed in terms of fueling the internet of things capabilities, as well as network slicing and so forth.
This is definitely demonstrating that there are valid reasons why we can anticipate 5G is going to have society wide impact, why the use cases are finally going to take real world monetization capabilities on, and so forth. This is all of great news, I believe. I think the NWCLA with the GSMA report definitely underlines that.
Shelly Kramer: Absolutely. One of the things that I'll do in the show notes for this show, as well as in our conversation here on both LinkedIn and I think we're streaming it to Twitter as well, is I'll include a link to the GSMA report, which is terrific. I'll also include a link… Sometimes I feel like I mention this so much that it's too much, but I don't care, because the IBM Institute for Business Value did a terrific report on 5G and what's ahead and how literally 5G is going to transform much of what we know today within the next four or five years.
I refer to this report all the time from the IBM Institute for Business Value. I've done an interview with Chad Andrews from IBM Institute for Business Value. He is terrific as well. I think I'm using the word terrific today. That's my word, terrific. I'm going to try not to use it again. Anyway, great information in there, along with the GSMA report. We'll hyperlink them in here so that you too, if you're a 5G geek like we are, you can dive in and see what's going on, because it's really some exciting stuff, for sure.
Ron Westfall: No doubt. No, that was a valuable conversation. I think it is, again, validating the fact that 5G isn't just going to be about networks. It's going to be about society wide influence and really transforming our lives and enabling not just lifesaving capabilities like on the critical infrastructure, but our daily lives, our ability to work from home in a safe way, et cetera. This is I think definitely worth looking at.
Shelly Kramer: Well, and I had a conversation on this topic a couple of days ago and the reality of it is it's kind of like how you have a network of arteries throughout your body that brings blood to and from and is responsible for keeping you alive. But when it comes to business today and life today, the strength of our networks is what allows us to be connected. And that's really everything that we're talking about 5G, is that 5G will be powering cities and critical infrastructure, all kinds of things like that.
Our personal communications, our media and entertainment, factories, I mean, just you name it and 5G is going to play… Is already in some instances and will continue to play a significant role. It's really exciting stuff.
Ron Westfall: No doubt.
Shelly Kramer: All right. Well, speaking of exciting stuff, if you did not get a chance to tune into Qualcomm's Investor Day 2021 event this last week, I can tell you it was a really great event. Qualcomm CEO Cristiano Amon in his keynote talked about his vision for the company and really talked about the company's success and how it's really all about market diversification.
He talked about the opportunities that he and team are looking at are focused on opportunities to expand revenues based on a projected 7X increase in Qualcomm's addressable markets that are valued at 700 billion within the next decade. This is a really bullish forecast. It led to a surge in Qualcomm on stock price on Tuesday immediately following the event, which isn't surprising. But the presentation itself, not only Cristiano's presentation, but other folks from the company throughout the day was just really terrific.
Again, terrific. But there's not much that the company isn't leading in, IoT, the metaverse, automotive, some real interesting things happening with regard to Qualcomm and automotive, and then all things connectivity, compute, and convergence. What Cristiano focused on a little bit are among markets, including smartphones, PCs, and the IoT, again, I mentioned there's huge opportunities come up in automotive.
The company announced a collaboration with BMW to provide the Qualcomm Snapdragon Ride platform to the company's next gen ADAS system, Advanced driver-assistance systems, and also autonomous driving platforms. Qualcomm now works with, and this is kind of fun fact that I think a lot of people don't know, Qualcomm now works with 25 different vehicle OEMs providing Snapdragon chips and software for autonomous driving capabilities. They also talked about moving beyond chips and really, again, going into these addressable market opportunities.
These include RF front end. Our colleague and fellow analyst Olivier Blanchard has written extensively about RFFE. But the other opportunities include technologies for handsets, RF front end, automotive, as I mentioned, and the IoT. Really some of the most significant opportunities that Cristiano identified were the convergence of mobile and PCs, the metaverse for various applications, wireless fiber, and then the industrial IoT. And really lastly, pardon me, one of the things that he talked about is not…
What we're accomplishing here is not enabled by 5G alone, but it's how we define 5G that connects everything to the cloud 100% of the time. Qualcomm is positioned at the intersection of all these trends. Really presented a great presentation looking at Qualcomm's growth beyond handsets. One of the things that we looked at in terms of growth from fiscal year 2020 to '21 in the RF front end category, they're up 76%. In the automotive category, Qualcomm's up 51%. In the IoT category, up 67%.
I'll include some screenshots from that keynote presentation and some other keynote presentations in my show notes for this, but it was a really interesting presentation. It's no surprise that Qualcomm is having the success that it's having. And again, it's all about smart diversification, not putting all your eggs in one basket, but it was really great to see.
Ron Westfall: Yeah, definitely Qualcomm is extending its overall ecosystem influence. It's stepping out beyond, okay, we're a chip set company. We're truly a mobile ecosystem company. I think pointing to, again, that BMW alliance, that I think also emphasized the car to cloud platform capabilities that Qualcomm brings to the table. Obviously the cloud's going to be a major instrument or capability in terms of advancing the ADAS capabilities for example. And also, it's showing that Qualcomm is stepping up in terms of these segments.
For example, in the automotive segment, Nvidia and Intel already had pretty high profile. But now, I think Qualcomm is definitely part of that top tier of profile players in terms of advancing automotive capabilities, whether it's autonomous driving or infotainment capabilities, you name it. Anything that's going to make cars smarter and safer will definitely be most welcomed. I think it's also interesting that they're also addressing the metaverse possibility. We also argued about that when Facebook renamed itself Meta.
A little skeptical about its near-term impact. Longer term, it can have I think potentially more impact, especially as the capabilities become more proven. I'm anticipating that you would need at least 90 milliseconds latency to make it work on a truly regionally distributed, let alone global basis on a consistent, reliable basis. Otherwise, you get too much jitter and I think people will be put off by it. Metaverse, there's a risk there'll be a 3D TV 2.0. Something very hyped. People rushing out to find out more about it.
They try it out and they're like, "Ugh, never mind." We saw what happened to 3D TVs, anybody with one. We'll see. Right now, I'm more skeptical about it than others. But hey, I'll definitely like to be proven wrong. I'd just like to see the headsets become a lot more slimmer and user friendly if metaverse is really going to make inroads across the general public. We'll wait with unbated breath.
Shelly Kramer: I'm right there with you. I feel like in the last 30 days alone perhaps the most overused term is the metaverse. I'm already over it.
Ron Westfall: Right, Yeah. The hype cycle's already gone through.
Shelly Kramer: Yeah, exactly.
Ron Westfall: It'll be years before it really becomes a mature application, I believe.
Shelly Kramer: Absolutely. Yes. Well, you know what? That actually wraps our show. Ron, thank you, as always, for hanging out with me for this episode of the 5G Factor. To our audience here, thank you so much for being with us as well and we'll publish, as I said, some show notes that I'll include some links to the things that we talked about, some screen odds from the Qualcomm Investor Day event that kind of lay out their vision a little bit more, and links to the GSMA and IBM Institute for Business Value report.
With that, we're going to say goodbye, have a great day, and have a wonderful Thanksgiving holiday if you're celebrating that soon.