The 5G Factor: Marvell New AtlasOne Chip, T-Mobile on 5G, Apple's SE 5G, and Ericsson's Consumer Trends Report – Futurum Tech Webcast
The 5G Factor: Marvell New AtlasOne Chip, T-Mobile on 5G, Apple's SE 5G, and Ericsson's Consumer Trends Report – Futurum Tech Webcast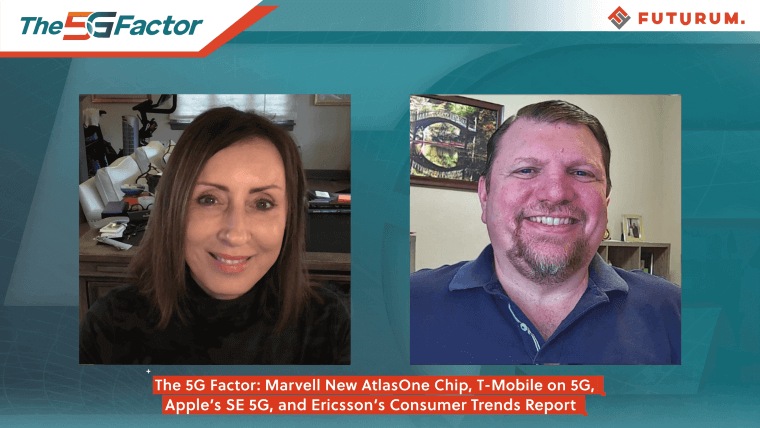 In this episode of The 5G Factor, a Futurum Research production, my colleague and fellow analyst Ron Westfall and I covered happenings and news across the 5G ecosystem. Our discussion points today included:
The Marvell AtlasOne Chip that readies 5G RAN Optical Fronthaul for the 5G ecosystem, expanding the company's 5G ecosystem-wide influence.
T-Mobile's Neville Ray participated in an AMA on Reddit earlier this week, talking about the next phase of 5G and what's ahead for the company.
Apple's soon to be released SE 5G iPhone has the potential to attract somewhere in the neighborhood of 1.5 billion non-premium Android customers. With people holding onto phones longer, prices getting higher, and chipsets getting more sophisticated, this move into the mid-level tier of devices presents a lot of opportunity for Apple.
Ericsson's 10 Hot Consumer Trends report is out, highlighting 10 high tech facilities that customers envision they'll see (and take advantage of) in Malls by 2030. This, combined with our own research in our comprehensive research study done in partnership with SAS, Experience 2030: The Future of Customer Experience is NOW, gives great insight into some of the key technologies customers expect, and are excited about being able to use, enjoy, and benefit from in the not-too-distant future.
Watch the video of The 5G Factor webcast here:
Or stream the audio by way of your favorite podcast station here;
Don't Miss An Episode – Subscribe Below:
Disclaimer: The Futurum Tech Webcast is for information and entertainment purposes only. Over the course of this webcast, we may talk about companies that are publicly traded and we may even reference that fact and their equity share price, but please do not take anything that we say as a recommendation about what you should do with your investment dollars. We are not investment advisors and we do not ask that you treat us as such.
Other insights from Futurum Research:
Marvell Industry Analyst Day 2021: New AtlasOne Chip Readies 5G RAN Optical Fronthaul for 5G Ecosystem 
Ericsson Goes Long on Open Network Innovation with $6.2 Billion Acquisition of Vonage
The 5G Factor: Qualcomm, Infrastructure Bill, and Key Takeaways from GSMA Report – Futurum Tech Webcast
Transcript:
Shelly Kramer: Hello, and welcome to the Futurum Tech Webcast. This show is part of our 5G Factor series, where my colleague here at Futurum Research, Ron Westfall and I talk about all things 5G, the news, the ecosystem, the opportunities and all things 5G. So Ron, welcome. It's great to see you today.
Ron Westfall: Well, you bet Shelly, and it's great to see you. I feel cheer in the air. So this is going to be, I think, a great way to address 5G as 2021 wraps up.
Shelly Kramer: That's right. Cheer in the air, that's always a good thing. Cheer in the air. So we are going to start the show talking about our friends at Marvell and their new AtlasOne chip, which is all about expanding the company's 5G ecosystem wide influence. And let's talk a little bit about this chipset offering, Ron. I know that you covered Marvell's Industry Analyst Day here, and so fill us in.
Ron Westfall: Oh, you bet Shelly. And yes, I know Daniel Newman, our chief analyst and Nigel Alvares the VP of solutions marketing also talked about the Analyst event in a webcast. And that is a recap of everything that Marvell addressed that day. Here for 5G Factor, I want to drill down on the AtlasOne chipset debut which is very important, not just only for Marvell's ability to expand their 5G ecosystem influence, but for the higher industry. And on the technical spec side, it's a 50 gig PAM4 chipset.
And what it does, it aligns with the mobile network operators expanding demand for fronthaul capabilities that scale beyond 25 gigabits. And that also acquires lowering power consumption. And this chipset actually lowers power consumption by 25%. So 25 is like a magic number her because it's adding 25 gigabits to the overall bandwidth capacity while reducing power consumption requirements by 25. But also, in addition, it's enabling more flexible shifting bandwidth capacity in the fronthaul realm.
And that's going to be important because we know that unexpected spikes in mobile traffic can cause interruption in service, and sometimes it's due to this part of the network. And with this new integrated capability, mobile operators will have just that, the agility to respond more dynamically to unusual traffic or again, those traffic surges that can be unexpected. And as a result, maintain continuity of quality of service and so forth for 5G. In addition, it's also, I think delivering some important capabilities such as edge optimization.
Again, lowering the footprint and lowering that power consumption to a lower quite simply overall solution costs for optical electro capabilities in the fronthaul segment of the network. Also, it's supporting integrated security which is important as we know across the board in particular MACsec capabilities, which is ethernet link security. And combining that with other security capabilities such as routing level Ipsec. Helps the operator prevent the things like those dreaded distributed denial-of-service attacks and mall-
Shelly Kramer: Very brutal.
Ron Westfall: … and all the nasty stuff. Yeah.
Shelly Kramer: Yeah. Well, and very important because CUS attacks are on the rise that they have been absolutely off the charts in the last year, and that is not expected to slow down anytime soon if ever. So this is really baked-in security is tremendously important.
Ron Westfall: Oh, no doubt. And so, yeah, the timing is actually very well received. And in addition, it's also enabling segment routing capabilities. And what's the innovation here is that it's supporting source-based routing information to improve traffic engineering capabilities. Before segment routing was more available, the carriers had to basically deal with having to look up network state information at transit routers and transit nodes, and that just added complexity and delay.
And so, with the support of segment outing capabilities baked into the chip, that will definitely improve the overall efficiency of 5G networks, particularly in the fronthaul segment. And so, I think what's also important here is that Marvell is definitely advancing the O-RAN and the vRAN capabilities that mobile network operators are putting more emphasis on. The O-RAN Alliance clearly was formed just for that very capability.
And it's combining the AtlasOne capabilities with other Marvell product lines such as the OCTEON Fusion chipsets and as well as the Prestera switching capabilities. That it shows that Marvell is really spreading its wings more, that it's becoming just more integral to how any supplier is going to strategically advance 5G networking capabilities, not just in the fronthaul, but in terms of the end-to-end 5G networking.
And this is important because obviously the operators are betting and need for new applications to win and take off. That includes ultra-reliable low-latency communications that we see throughout, for example, manufacturing and industrial environments. Also, it's supporting, again, that dynamic sharing of the capacity across radio units to quite simply make the 5G network more efficient.
And finally, also, supporting new applications such as fixed wireless access as well as hybrid workforce. And combine all these together, and it's just a winning combination for operators. And I think we really are becoming more close to seeing these become mainstream, becoming quite simply monetize because of innovations like the AtlasOne chipset. So this is good news for the 5G ecosystem, for sure.
Shelly Kramer: Absolutely. Good news and exciting news, so that's awesome. And I'll be sure and link that interview of Daniel's into the show notes here so that if you're watching or listening to this broadcast and you want to also see that conversation, we'll make it easy for you. So we're going to transition on and talk now about T-Mobile and the next phase of 5G. So I had the opportunity earlier in the week to listen to, sit in on an AMA on Reddit, which is an Ask Me Anything featuring T-Mobile's Neville Ray.
And it was an interesting conversation. You know, sometimes these things just kind of stumble your throw across your field division and you think, "Wait, I'm going to make time to see what's going on there. And what Neville has to say." So one of the key questions, there were a lot of questions that came Ray's way. One of the questions that was particularly of interest to me focused on small cells and mmWave strategy that some of T-Mobile's competitor in the telco space have kind of bet on as being the way to go.
And Ray's comments did not surprise on this topic, specific to mmWave. In fact, he didn't really pull any punches. He made it clear that for T-Mobile, they believe that mmWave is not the best way or the right way to build a nationwide 5G network that can support mobile applications, is this a really popular topic of conversation when T-Mobile's involved. And their offerings instead rely on what they call kind of a layer cake approach. And this is a mix of low, mid and high-band spectrum. And they've got some interesting things.
I know that right after the merger was sprint, T-Mobile turned on its newly integrated 2.5 gigahertz spectrum in New York city and in Philadelphia. And this 2.5 gigahertz comprises part of this layer cake that we're talking about. And then this also include it's low-band 600 mil Hertz and mmWave 28 gigahertz spectrum. So it truly is kind of a mix of things. And I think T-Mobile has also, in some of their marketing messaging and that sort of thing relied on some layer cake imagery and messaging. So I thought that was interesting. And I'm sure you have some thoughts on that, Ron.
Ron Westfall: Yeah. In addition to the fact that Layer Cake is an outstanding British film, but it's also an outstanding philosophy in terms of how T-Mobile built out its nationwide 5G network. And I think Neville has a valid point in terms of how this has played out. I think if you look at Verizon, they led more with the millimeter wave capabilities and bet more heavily on that. Now, what we saw earlier this year, they have subsequently bought up a lot of mid-band spectrum to an essence make their nationwide build out more of a layer cake a type-
Shelly Kramer: As well.
Ron Westfall: … of approach.
Shelly Kramer: Right.
Ron Westfall: And so, I think it's fair to say that T-Mobile has a time to market or a time to deploy advantage here and executing that strategy because what is sometimes misunderstood, it doesn't mean T-Mobile is stewing a millimeter wave or small cells, they have invested heavily in both those technologies. But again, it's part of that layer cake blended approach. It's also technology that can help the overall 5G experience.
And it's just a question of how the prioritization rolled out and who has, I guess, a more compelling strategy certainly on the consumer side in terms of enabling broader coverage, enabling more compelling applications in the near term and so forth as a result. And so, I think the spotlight is also now on T-Mobile's use of N41 2.5 gigahertz 5G.
Shelly Kramer: Just take the words right out out of my mouth, Ron. Just take the words right out of my mouth. Yeah. Sometimes I have to slow Ron's role because he gets started and then he just gobbles up everything that I'm going to talk about. So Ron, I'm not going to let you gobble it up. No, you're absolutely right though. The N41, which is 2.5 gigahertz 5G, a nationwide carrier aggregation for 5G have been key areas of focus.
And one of the things that Ray talked about in this AMA is that T-Mobile expects to begin delivering NR CA by the end of 2021. And he went on to say that the next phase of T-Mobile's NR CA focus will be on increasing the 2.5 gigahertz mid-band spectrum beyond 100 megahertz. Is it megahertz? Megahertz. Megahertz.
Ron Westfall: Yeah. Yeah. Carry on.
Shelly Kramer: And he also hit on… And well, sometimes you have all these acronyms, you're like, "Wait a minute, did I get it wrong?" And then he also hit on the fact that, this is exciting, that customers could look forward to experience a significant boost in throughput. And this will be available initially to customers using Apple's newest iPhone 13 and then it'll expand to other devices in the first quarter of 2022. So I thought that was really good news.
And one thing that I wanted to wrap up this conversation about T-Mobile on, I know is interesting to you, Ron, as well. So Neville, covered a wide range of topics and questions, including the company stance on OpenRAN. OpenRAN, and then of course T-Mobile's transit to Voice over New Radio and voice over LTE. But I know that the company has had some challenges with, or some thoughts about OpenRAN and they're kind of going slowly as it relates to that.
Ron Westfall: Yes, definitely. I think that's another start contrast with Verizon, AT&T, at least in terms of the marketing aspect of OpenRAN or O-RAN Alliance specific initiative, as well as vRAN for that matter. And I think it's refreshing because T-Mobile is basically the tonic, if you will, in terms of just how ready for prime time is OpenRAN technology really. And I think in their own testing they've come up with some valid security issues, again, that scaling flexibly issues and so forth.
And each network is going to have its distinct profiles. So some of the things that are T-Mobile concerns might not necessarily apply to other operators whether here, in the US or in other parts of the world such as Vodafone and Telefónica, who have been cheerleaders for OpenRAN. And I think it's a process. It's a journey. I think, yes, there is the hype cycle that we all are very familiar with in our industry, let alone other industries, and OpenRAN definitely had that initial flush.
Operators like Rakuten definitely put, I think, some fire under making it more interesting and attractive to talk about. And it, again, I believe as the standards mature, as the technology becomes better optimized and so forth that in variably OpenRAN will become a more significant mix of the overall RAN market. And I know, it's a very low single digits today. And by 2025 there's expectation it can hit that 10% threshold. So that could be a realistic expectation. Obviously, T-Mobile probably won't be contributing to that particular market growth.
And I think, circling back to Marvell, that we're also noting like, yes, when it comes to, for example, vRAN capabilities, what we're looking to prove with our chip sec technology is that it can at least be on par with traditional RAN technology in terms of performance and security. And with that, then all these new capabilities can really come to the forefront involving obviously third-party application innovation being leveraged, being able to use cloud capabilities on a much more extensive basis.
In other words, being able to accelerate know time to content, time to market and all those important factors when mobile operators are looking at how do they really differentiate themselves? So, yeah. Yeah. I think it's just refreshing that, now here's a fundamental differences in philosophy. And T-Mobile is, I think, making a good case behalf of their aims and on behalf of their network requirements. And it's playing out where T-Mobile can, I think, objectively make some claims in terms of the 5G foot race when it comes to at least nationwide consumer services. But yeah, there's still a lot of journey ahead of us.
Shelly Kramer: Oh, absolutely.
Ron Westfall: And lots of variables and wildcards, as we know, can always pop up.
Shelly Kramer: Absolutely. And lastly, in this conversation focused on T-Mobile, and also because CES coming up, the consumer electronic shows coming up in early January. And if you'll will be there, our team from Futurum will be there as well. So hopefully, we can meet up. But one of the things that Neville Ray was asked as part of this AMA was, "Tell us about some of the technology you're most excited about." And since these are all things that our team is particularly bullish on, I thought I'd throw them there.
And so, he's excited about wearables, smart apparel, biometric devices, AR VR glasses and headsets, home internet. And really how the company plans on disrupting the status quo as it relates to bringing great internet access, reliable, fast internet access to the millions and millions of people across the United States who don't have that. So anyway, I thought it was a great conversation. I was glad I stumbled across it. And look for more good things from the T-Mobile team, I'm sure.
Ron Westfall: Naturally, yes. Stay tuned because things are heating up more as 5G standalone now becomes more implemented. And as a result, that will enable some of the more creative use cases that we've been hearing about as a finally start transitioning away from the necessary initial 5G non-standalone limitations, which was the blending of LTE core capabilities with 5G radio capabilities. And that inherently introduced complexity, but it was necessary to really get 5G set up.
And so, this is definitely, I think, an event horizon here that's coming up for the mobile industry that is 2022. There really is, you have to really put up some compelling 5G services, compelling 5G use cases to really justify the estimate that's occurred across the board, certainly in terms of mobile spectrum auctions, but also an investment in the equipment and so forth. But we all know that the primary money investment trail is into 5G.
So it's going to be a solid bet, certainly, I would say, for the next two years with. For example, fixed wireless being a second highest priority due to things like hybrid workforce being more prominent. And so, this I think is just going to advance the 5G ecosystem, is going to enable some of these innovations to really take hold. And I think T-Mobile definitely will be a key part of the mix, especially as new devices become commercially available in the market.
Shelly Kramer: Absolutely. With that, we're going to take a turn. We're going to talk about new devices. And we're going to specifically talk about great positioning there, Ron. We're going to talk about Apple soon to be released iPhone SE 5G, and really how that presents an opportunity. So the reality of it is that affordable mobile devices are big in many markets and they're incredibly attractive. And Olivia Blanchard, one of our analysts here at Futurum has covered this topic quite often.
And so, I'll share some content related to that and really what's ahead. And some of the key players in driving lower to mid range devices, including Qualcomm, who are doing some great things with chips. But in any event, Apple's new iPhone SE 5G is newsworthy and something to kind of get excited about because it has the ability to attract somewhere in a neighborhood of almost a billion and a half non-premium Android users to the Apple ecosystem.
And the thing about iPhones is they're great, but they're not cheap and they never have been cheap. And for instance, the newest iPhone 13 and the 13 Pro starts somewhere between 799 and 999. I can promise you, I always kind of go with sort of, not the lowest in terms of store, but kind of… I mean, I think the days of having to have the phone with the biggest storage for me, anyway, have gone away because I replace them so often. But replacing an iPhone is expensive. And I think there's a gigantic customer base who hold onto phones longer.
And, or who are using Android devices who might be interested in an Apple device. And I think this is… And that low to mid-range category has largely been dominated by, my mouth is not working today, largely been dominated today by the likes of Samsung and Huawei. And I think that's about to change, especially as we see the demand for 5G phones remaining strong and continuing to grow. So the news about Apple here is that the company is expected to launch this 5G SE phone in early 2022.
The current iPhone SE is priced at about 399. And it's safe to say that price should remain somewhat consistent, should be expected to remain somewhat consistent with the new model. But this lower price point, I mean, there's a huge difference between 799 and 399. Right? But this difference combined with Apple's trade-in program, which isn't fantastic. I mean, it's okay. But if you've got an older phone that you've been hanging onto, you're going to get $25 or $50.
I just tend to hold onto them all and then I nostalgically look back at them and go, "Oh, remember when phones were so little?" But anyway, so it could mean an entry price point of between 269 and 399, which is expected to be really attractive. So anyway, that's on the horizon. And analysts are talking about how not only will this be, is expected to be attractive to somewhere in the neighborhood of, gosh, I think 300,000 folks who are holding on to an older model iPhone. And then 1.4 billion low to mid-range Android users. So that's a big upside for Apple.
Ron Westfall: Oh, I agree. And yes, that is ambitious. Anytime you hear a billion, that's always going to draw eyeballs. And in this case, yeah, almost 1.5 billion Android users are the target. And I think we can anticipate not every single Android user is going to convert to Apple.
Shelly Kramer: Oh, absolutely not. Absolutely not.
Ron Westfall: However, it will be disruptive as long as the execution's reasonably smooth. And I think you put a excellent point there, Shelly, in terms of the 269 to 399 price tag. Yes. We can anticipate that Android based smartphone will counter that. But the difference between say a 269 phone and a 239 phone could be not compelling if somebody's really looking for a new smartphone experience.
And I think this is also, again, fueling what we talked about 5G becoming more mainstream, particularly standalone implementations. And this will make, Apple iPhone offering this price range attractive because as we know, Apple delayed supporting 5G in its initial iPhone offerings. And so, this is definitely going to be shifting the competitive landscape.
And I guess the only notable concern right away is, again, the supply chain issues. That Apple is now committed to making its own chipsets specifically for smartphone capabilities. And so, that has to be factored into how soon will these new Apple iPhones make an impact. And so, yeah, this is going to be good for the consumer. It's going to inject-
Shelly Kramer: More choice.
Ron Westfall: … more competition. And definitely, I think, make it more compelling for somebody to convert to an iPhone now before just looking at that premier set of customers. So this is good.
Shelly Kramer: I think so.
Ron Westfall: I'm looking forward to kicking the tires on it potentially for the kids, things like that.
Shelly Kramer: Yeah, absolutely. Your kids are almost old enough, they're going to be dating through their phone. Yay. I remember those days. So now we're going to wind up our 5G Factor conversation with a look at Ericsson's 10 Hot Consumer Trends report. Report that outlines 10 high-tech facilities that customers envision finding in hybrid malls by 2030, where every space becomes a networked reality and suited for what they're calling a NextGen experience.
And this is what's particularly of interest to me, Ron, I know you surfaced this and suggested we talk about it on our show, but we did a report in partnership with SAS called customer experience 2030, the future of customer experiences now. And we looked at key trends. This was published in 2020, I believe, or maybe 2019. And then we did a pulse survey updating it in 2020. But we looked at a lot of these trends and what customers told us they were expecting in terms of what's ahead and what customer experiences would be like.
And many of those things included things VR and AR experiences and more experiential events and things like that. So I thought this was really, I thought this was really kind of interesting. And some of the things that the Ericsson report touched on were things like beauty salons that used technology to digitally enhance looks, which is something that seven out of 10 consumers who responded to this Ericsson research said that they expected and were looking forward to.
And things like hybrid gyms and mental fitness centers that have things like multisensory, personality tailored AR and VR scenery that's intended and designed to help improve mental health. So can you imagine like, "Hey Ron, let's go to the mall." And this is really what… Let's go to the mall. And instead of going to Banana Republic or wherever it is you go… I actually, I personally head straight to Auntie Anne's for some pretzel dogs. But I can say, "Let's go to the mall," because I want to do something that's focused on improving my mental health. I mean, I think that's really exciting, really cool.
Another part of the trends the team at Ericsson uncovered is the restaurant of the future, where Ron lives outside of Dallas and I live in Kansas City, but we could have an experience where we're having dinner with each other virtually by way of this technology that we're talking about. So I thought that those were good. And probably, let's see, I had a couple other things I was going to hit on. A medical multiplex which is an in-mall center where you can drop in and have AI powered health screenings. And that gives you near instant health status updates.
So anybody who's ever go on to the doctor, right? You have something wrong with you. Sometimes you have to wait for a while to see your doctor. Then they say, "Oh yeah, you're right. You do have something wrong with you." Then they send you for a test, that you have to wait a week for. And then you have to wait three weeks to get back into your doctor to get the test, right? So think how cool that could be. And lastly, the other thing that got me with my, I am a tree hugger extraordinaire, as my husband likes to call me.
But the multifactor that allows consumers to shop sustainably in a factory outlet that also recycles their own products. So a retailer like Patagonia is doing this already. Right? You can bring your Patagonia gear into almost any store that sells Patagonia stuff and you can recycle, the company reuses it. But those kind of things I think are really interesting. I mean, those are really interesting to me. So Ron, what stuck out for you from this Ericsson hot consumer trends report?
Ron Westfall: Oh yeah. Now this is, I think, a very insightful valuable report for the industry. Certainly the 5G market. This is the 11th edition. So the Ericsson's labs is definitely continuing-
Shelly Kramer: Doing this for awhile.
Ron Westfall: … to, I think, yeah, pinpoint, I know, these most interesting insights. And yeah, I think one that has the most direct relevance to 5G today is the one that had the highest rate amongst the respondents, 80% believe like the all new arena that will be pretty much integral to what they anticipate will be mainstream certainly by 2030. But I think we're already seeing it soon in the smart city.
Shelly Kramer: Oh, you and I have talked about this. We've talked about this on our show, it feels like a thousand times. I mean, the AT&T Stadium, is that in Dallas? I mean, there's several different-
Ron Westfall: T-Mobile in Seattle. Oh, yeah. I mean, there's this-
Shelly Kramer: Exactly. Exactly. So this is not new and it's, like you said, it's happening already. So totally makes sense. Anyway, go on. I didn't mean to interrupt you, but I wanted to touch on the fact that this-
Ron Westfall: Oh, not at all. I know.
Shelly Kramer: … you and I have been talking about this for a long time.
Ron Westfall: Well, it shows you how exciting and fun this is. Yeah. This aspect like, all right, what can we really anticipate that will be really neat? And so, it's not just stadium experiences, but also what could be called a smart theater experience. It's just an immersive experience using AR VR capabilities that allow the customer to create that almost out of body experience when that previously that was not just possible.
I think another one that I thought was interesting was the MetaTailor application, 70% thought that would be pretty much wildly available.
And that makes sense, because anybody who's been fitted for a suit or other important clothing knows that it could be somewhat time consuming to actually visit a tailoring outlet or a tailor shop.
And what this, what it enables, so you have an avatar that will simply enable them to make the measurements based on that. And therefore have the suit turn around in shorter time, save everybody time. And it would, actually, I think, definitely link into the whole idea of metaverse or the metaverse of things becoming more prominent in terms of adoption. And so, again, this is-
Shelly Kramer: Or the Anyverse.
Ron Westfall: You're right.
Shelly Kramer: As Ericsson calls it, the Anyverse.
Ron Westfall: Right. Yeah, exactly. And yeah, that's another one I think that was interesting, was the Anyverse pool. Where you could use an oxygenated virtual reality headset to actually have a zero gravity experience while you're in the pool, kind of a space exploration simulation.
Which as we know, with firms like SpaceX advancing space exploration, I think will become even of more interests to the general public.
And that one had actually up to two thirds support amongst the respondents. So yeah, this is all demonstrating, validating that people are going to be looking at this with rose colored lenses, they're actually going to labs today. Testing this out and saying, "You know what, this is something I would actually like to use." And I know from-
Shelly Kramer: I like this. Let's go to the mall. I'd go to the mall to use this stuff.
Ron Westfall: Exactly. And when I have actually had the opportunity to experience this, it's just been very rewarding. And I'm just looking forward to 5G, oh, by 2030 6G, maybe even 7G, enabling these capabilities. And this is, I think, again, parallel in the SAS 2030 study, that this is something that we can put more valid bets on.
Shelly Kramer: Yeah. Absolutely.
Ron Westfall: That we can better anticipate where we can develop the use cases, prioritize them. Again, follow that 5G money trail. But after you get the 5G network in place, where can the operators and other parties really make money off of all this very valuable investment? So yeah, it's a really cool study. The Ericsson's labs one.
Shelly Kramer: And it's not just network operators and vendors, you know what I'm saying? I mean, I think that what we're seeing here and what Ericsson has identified in this hot trends report is that this impacts consumers too, and our activities and our entertainment. And I don't know about in your city, but in my city, malls are struggling. Right?
Ron Westfall: Oh, yeah.
Shelly Kramer: And people have shifted to eCommerce purchases and all that kind of thing. And I go to probably the biggest mall that's, I don't know, 20, 25 minutes away as infrequently as possible because I just don't have any reason to go there. And so, when you have a destination that has plenty of space, but then I can go to not only to shop for clothes or shoes or whatever.
But I can go to the hybrid gym kind of experience or restaurant experience or healthcare experience or seeing a concert, watching my favorite performer perform virtually and having an opportunity to do that. I think all of those things are, I think that they're consumer driven. And I think that we're all sort of looking for different things to do, different experiences and that sort of thing. And these will be powered by 5G.
Ron Westfall: Definitely, and in the near term. And definitely, feature iterations of 5G, 5.5G. And I would anticipate, yeah, just that. 6G, when they become really mature, that you don't think twice about it type of scenarios. And so, I think that this is helping guiding investment decisions, helping the decision makers have a better understanding as to how to optimize the 5G networks of today and over the next four years, at least.
And definitely, this is something that will, I think, be a difference maker, having this data, having this information. Because a lot of this 5G build is being driven by the industrial side, the business side. And private networks, for example, are definitely going to be more heavily invested into. But yes, definitely, consumer applications are going to be major. And it's definitely going to be ecosystem, just that 5G ecosystem imperative. And this, I think, demonstrates why.
Shelly Kramer: Well, and it's part of the monetization process. You know what I'm saying? Like when I'm going to the mall for the for the virtual gym or the mental health wellness, I'm paying money. Right?
Ron Westfall: Oh, yeah.
Shelly Kramer: I'm paying money for that experience. I'm paying money for the virtual concert. I'm paying money for the tailor experience. And all of that is geared toward delivering up better, more streamlined, more efficient, more enjoyable customer experiences. And so, I think it's really interesting stuff. So I will link, in the show notes for this conversation, I will link the Ericsson 10 Hot Consumer Trends report. And I'll also share links to our research for SAS on customer experience 2030.
And what both brands and customers told us they want, expect and plan on seeing and using and having available within the next decade. So interesting stuff for sure. And with that, Ron, that's a wrap for our show today, The 5G Factor. For our watching audience, our viewing audience or our listing audience, if you haven't yet subscribed, be sure and hit that subscribe button. Ron and I are here every week talking all things 5G. And well, I think with that, that's a wrap, Ron. Thanks for joining me as always. And we'll see you next week.
Ron Westfall: Happy Merry day.
Shelly Kramer: Happy Merry day. All right. We're out.