The 5G Factor: Lumen's New CEO Bodes Well for the Company, Mavenir and Deutsche Telekom, Starlink's Feud With the FCC, T-Mobile and Starlink Partner, T-Mobile's Got Apple Deals
The 5G Factor: Lumen's New CEO Bodes Well for the Company, Mavenir and Deutsche Telekom, Starlink's Feud With the FCC, T-Mobile and Starlink Partner, T-Mobile's Got Apple Deals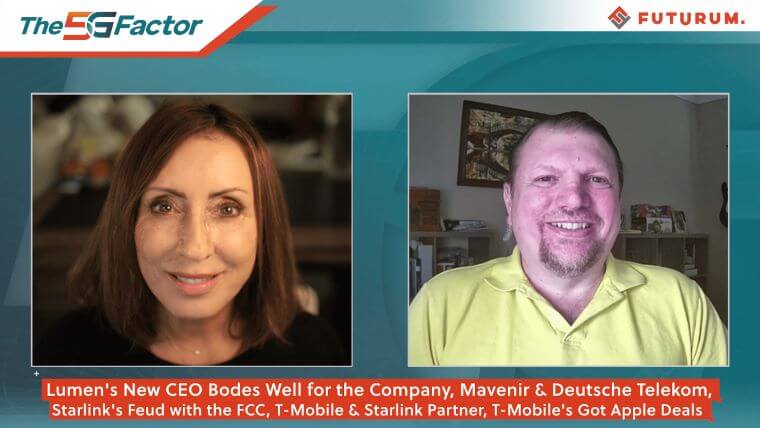 In this episode of The 5G Factor, I'm joined by my colleague and fellow analyst Ron Westfall to talk all things 5G. News, alliances, lawsuits, and new hires — there's always a lot going on in the 5G ecosystem and that's what this show is designed to cover.
In this episode, we cover the following:
Lumen's new CEO Kate Johnson comes to the job with serious chops and serious challenges ahead.
Mavenir got the thumbs up from Deutsche Telekom CEO Timotheus Hötteges' move to "work towards a Chinese-free core network infrastructure" replacing Huawei in DT's core.
Starlink fights back against the FCC's recent decision to deny the company $885.5 million in funding under the Rural Digital Opportunity Fund (RDOF).
T-Mobile and SpaceX's Starlink partner to leverage Starlink's low Earth orbit satellites combined with the power of T-Mobile's wireless network to solve connectivity issues where most needed.
Following Apple's 'Far Out' event last week announcing the newest iPhone 14 and iWatch models, T-Mobile launched some pretty 'far out' deals of its own.
That's a wrap for this week's episode of The 5G Factor. You can watch the show in its entirety here:
Stream it here:
And be on the lookout for our soon-to-be-published 5G ecosystem Market Insight Report for a deep dive into the 5G ecosystem, the challenges, the players, and the companies leading the pack on all things 5G.
If you've not yet subscribed to The 5G Factor, hit the 'subscribe' button while you're there and you won't miss an episode.
Disclaimer: The Futurum Tech Webcast is for information and entertainment purposes only. Over the course of this webcast, we may talk about companies that are publicly traded and we may even reference that fact and their equity share price, but please do not take anything that we say as a recommendation about what you should do with your investment dollars. We are not investment advisors and we do not ask that you treat us as such.
Transcript:
Shelly Kramer: So, hello and welcome to this episode of the Futurum Tech Webcast, the 5G Factor. This is our show that is dedicated to discussing all things 5G and the growing 5G ecosystem. What's new, what's next and what's caught our attention this week? I'm Shelly Kramer, I'm your host, and I'm here along with my colleague and fellow analyst, Ron Westfall. Hello, Ron.
Ron Westfall: Hey, Shelly. Great day. I think we're really looking forward to some really hot topics in 5G as it's hot and sizzling outside today in our backyard.
Shelly Kramer: Well, it's still hot and sizzling here in our backyard, and I will say that I am more than ready for that to change and for us to have some fall weather
Ron Westfall: No kidding.
Shelly Kramer: With that, we're going to dive right into our show today. We've got some interesting tidbits of news and information, and I'm going to kick it off talking about Lumen's new CEO, who I think brings some serious chops and those chops are much needed as we are seeing an industry of telcos trying to transition to techcos. So what's the news. So Lumen technologies is announced the hiring of Kate Johnson as CEO and she'll be taking over from Jeff Story in mid-November of this year. Jeff has had an incredibly long career, a 40 year career, and he's been serving as the Lumen CEO for the last nine years. So why do I say that Kate Johnson brings serious chops? Well, let's step back and look a little bit at her background. She comes from Microsoft most recently, where she served as the president of Microsoft US from 2017 to 2021.
There she was charged with the growth of solutions services and support revenue and she led a team of about 10,000. Prior to that, she did a stent at GE, focusing on software and service solutions. She also worked as a global VP of strategic accounts for Red Hat, and she was Oracle's senior vice president of its north American technology and government consulting business. So all in, and especially in the last decade, Kate Johnson's focus has been on growth and that's exactly what Lumen needs in this next phase of growth and transition for the company. As I said at the beginning of this segment, Lumen isn't the only telco who's working to transition to being a technology company and Lang the right foundation there. I believe it's going to play a really big role in the success of telcos moving forward into the 5G era and being positioned to deliver the services and the technology solutions that customers need in order to really maximize 5G. So I saw this as a really smart move and I'm looking forward to seeing Kate take the helm at Lumen and see what happens.
Ron Westfall: Yes, the timing is excellent. I couldn't agree with you more, Shelly. I think the background is remarkable. Certainly the most recent stint at Microsoft US does bode well in terms of the fact that she's very expert at software and services, and clearly that's a direction Lumen needs to go in, particularly since it's portraying itself as an enterprise platform dedicated to driving digital transformation across industrial revolution for type of scenarios and verticals. I think it's also important to note that while she was at Microsoft, she was also in charge of $45 billion in PnL. So that I think will definitely lend itself to steering Lumen to I think what is also needed a brand that will be more well received across the enterprise space.
Certainly I think when it comes to embracing more cloud native technologies, being able to position the company as a digital transformation Vanguard type company, that will be critical. So there's some work to be cut out here. For example, that branding has also to connect emotionally. It can't simply be, okay, where another techno that can also support cloud technologies. It's about, okay, how are we unique? How are we different? How are we actually making a difference in not only the organization, but also in the lives of the people who work, particularly in the work from home type of settings and in terms of just making the work experience all the more attractive for people who are working at Lumen?
Shelly Kramer: Right. Well, it'll be very interesting to watch Kate Johnson at work and see what she's able to accomplish. I, for one, am rooting for her.
Shelly Kramer: All right, moving on. We've got some good news for Mavenir from Deutsche Telekom and this was interesting because when Deutsche joined the UK's BT to remove Huawei and worked toward a Chinese free core network infrastructure in early 2020, it meant opportunity for other players in this space. After what seems like a really long wait, Mavenir got some good news. Ron, tell us about it.
Ron Westfall: Yes. I think this is definitely the type of win that Mavenir has been searching for a while. They have been a Open RAN stalwart and so this win, particularly in the heart of Europe, i.e. DT, is the largest operator in the continent that this is a way for them to show that they can diversify their revenue streams, that their portfolio can address really the full spectrum of 5G requirements, especially as DT and other major operators put more investment into 5G standalone capabilities. So the 5G core capabilities are going to be very instrumental in that regard. That is supporting capabilities such as network slicing as well as enabling Deutsche Telekom and other operators to monetize their 5G networks more efficiently and more flexibly.
That's not to deny there are challenges. For example, the win of this cut over is still not completely clear. Also, Ericsson has a role in this particular transition. So that's pretty standard, the fact that they're using more than one operator to replace Huawei in the core, more than one supplier, and they will continue to have to interoperate with the vast array of Huawei RAN equipment that's out there. DT has not announced yet when they will plan on replacing that part of their network. In the meantime, the progress is steady. For example, in the BT network, Ericsson is supporting the 5G core transition there and so far, BT has maybe a million 5G standalone type customers. So this is definitely a work in progress, but the upshot is it's a feather in the cap from Mavenir winning the 5G accord deal with Deutsche Telekom. This is good news for them no matter what and it does demonstrate that the European market is getting its act together more in terms of pushing 5G out to a broader audience.
Shelly Kramer: Right. Yeah. I thought that was really great news for Mavenir so it'll be interesting to watch how this plays out as always.
Ron Westfall: Right on.
Shelly Kramer: So in not so good news, Starlink is not happy with the FCC's recent denial of subsidies under the Rural Digital Opportunity Fund called the RDOF. So Starlink is the subsidiary of Elon Musk's SpaceX, and they filed an appeal of the FCC's decision to deny the company 885.5 million in funding through the RDOF program. So to step back a little bit, this was always a possibility. This is how the RDOF program was structured in that you win an auction, they allocate funds to the top 10 winners of the auction, but it was always clear that that funding could be withdrawn at any time. So first off, this wasn't like, oh my God, out of the blue, this happened. So in fact, about a year and a half ago, both LTD broadband and Starlink were originally two of the top 10 winners of about 9.2 billion allocated by the RDOF broadband subsidy auction.
Let me get that right. Allocated by the RDOF broadband subsidy auction, but in August of this year, the FCC decided that neither company, they determined that neither company would be able to provide the services at the level they promised when they won the bidding. In that bidding. LTD Broadband received about 1.3 billion in the auction to deliver gigabit broadband to about 528,000 locations in about 15 states. Starlink got 885.5 million and that was originally intended to provide 10 of 20 MVPs service to almost 650,000 locations in about 35 states.
So this is a lot of money, and what happened? Well, the FCC decided that the organizations couldn't deliver what their original applications promised, which critics have been saying was the case for some time. Of course, we'll admit there are advocates and critics in every situation, especially when we're talking about a whole bunch of money in federal subsidies.
So some of this decision was based on UCLA data, which showed that Starlink speeds have actually declined between the last quarter of 2021 and the second quarter of 2022, coming in at significantly below that 20 MBPS target they were supposed to hit. The FCC then decided that it wasn't right for these companies to be publicly subsidized, especially at such great cost, and that it didn't make sense at this point really to continue to bet on this. Starlink, of course, was not happy with this decision and disagrees with this decision, saying that the company has proven its ability to rapidly scale and to expand and to upgrade its network and that only half of its about 4,400 plus or minus licensed satellites have launched and that it's already invested millions of dollars in preparing to meet the obligations that it has under the RDOF fund.
But moreover, Starlink says that the company is actually not required to meet RDOF speed requirements until 2025. Of course, the potential impact Starlink says that this will have on many rural customers of course is a negative impact, so it's kind of a big deal. This appeal was just filed by Starlink and the good news anyway in this situation is that the FCC commissioner at least is on Starlink's side. Brendan Carr criticized the decision when it was announced in August and the reality of it is who knows how this will turn out. But I thought that it was interesting. We've talked a lot about SpaceX's Starlink in the past, and some of the many, many different brouhas that are going on. But anyway, this was interesting news in the 5G ecosystem and we will have to wait and see what happens with regard to this appeal.
Ron Westfall: No doubt. It's good news for lawyers, that's for sure.
Shelly Kramer: Good news for lawyers, right? Well, and that's the thing about working with Elon Musk, right? I mean, you never know how many lawsuits we're going to be involved in. And you know what? To be fair, I will say this without taking any deeper of a dive in this than I have. There is some validity to the fact that this is 2022, their obligations were to meet certain speed requirements by 2025. It does seem like it may be a little premature so I don't know any more specifics other than that. Now I know with LTD broadband, they had already pulled out of a number of their obligations, not being able to meet them. So they were already kind of in a sketch situation so I don't really know beyond the speed test what other there have to be other factors that factored into this. So it'll be interesting to kind of watch this play out and see what happens with this lawsuit. But anyway, again, more money from lawyers. So there we go.
Ron Westfall: Right. On the other factors aspects, a brief note that they also, the FCC, cited that Starlink's equipment is too expensive, $600 per dish, and naturally their response is it's transparent pricing.
Shelly Kramer: That's a lot.
Ron Westfall: Yes. So they're not actually trying to conceal the actual pricing by using permanent rental type of arrangements, by masking installation fees, not including ballooning promotional prices. So yeah, this is something that will definitely need to be played out more and the speed thresholds, this is definitely not endorsing, at least from the SEC perspective for the RDOF funding, fixed wireless access technology, i.e. LTD and then obviously the satellite technology that Starlink offers. So we'll stay tuned. Hopefully they can meet these thresholds over the next few years, 100 megabits downstream and certainly 20 megabits upstream. So we'll see.
Shelly Kramer: We'll see, that's for sure. Well, with that, and speaking of SpaceX, we are going to talk a little bit now about SpaceX and T-Mobile partnering in an effort to eliminate dead zones in the mobile ecosystem, and really who doesn't want better cell phone connectivity? Anybody is willing to settle for that. So that's why this partnership between T-Mobile and SpaceX using Starlink's low earth satellites together with T-Mobile's wireless network is a big deal. It's big news. I know you covered it on the Futurum blog. So Ron, tell us what that's all about.
Ron Westfall: Oh, thanks, Shelly. Perfect segue. Yes. So let's talk about this partnership. Yeah, it's very encouraging in terms of its potential, i.e, what they're planning to do is take the phones, specifically smartphone that are sold by T-Mobile today, let alone in the near future, and connecting them to a new constellation of SpaceX satellites, that is the Starlink service. What this is aiming to do is to provide coverage where there's none today offered by any provider. That includes over a half million square miles in the U.S. alone, as well as oceans and other hard to reach areas because of natural barriers like mountain ranges and so forth. The testing here will begin in late 2023, so this is something that is definitely a work in progress, and it's also paralleling other efforts and initiatives. For example, we touched on the fact that Qualcomm, Ericsson and Thales were working together to also use Leo's technology to bring 5G connectivity to smartphones.
What I think is really gaining momentum is the idea that 5G smartphones can replace those purpose built design satellite phones, which we all know tend to be bulkier and more expensive and so forth. This would be definitely a breakthrough for the entire mobile ecosystem when these partnerships make real progress. One thing that I'm definitely keeping an eye on is the offer by T-Mobile as well as SpaceX to support reciprocal roaming to any other operator who wants to tackle these dead zones and really level the digital divide and so forth in the process. So it's good news, but something that will require patience on all our part.
Shelly Kramer: Absolutely, absolutely. I think that's exciting news and as somebody who has lived in rural America, it seems like, a million years ago, connectivity is a really big issue. I think that it's grown to be even more of an issue in the wake of a global pandemic and when we've seen so many workers leave kind of big cities and head to other parts of the United States to work. So connectivity for farmers, connectivity for the ag industry as a whole, just connectivity in any way is something that many of us take for granted, I think, and this is, I think, a terrific partnership and a great way to use Starlink and T-Mobile's connectivity and really be a game changer.
Ron Westfall: Yeah, it's certainly also good news for 5G monetization in terms of being able to support remote workforces, being able to use existing smartphone technology and just streamlining the entire process of bringing connectivity to these really challenging places. We all know that 5G monetization is essential to the success of the 5G ecosystem and we're certainly drawing our focus onto it, looking at the progress in that particular segment and how the ecosystem, including major players, such as Amdocs, Netcracker, Ericsson, Nokia, and Oracle are upping their game in this regard and we're definitely keen on bringing that to attention to the market, what is going on in that particular space.
Shelly Kramer: Absolutely. Well, I wasn't originally planning on covering this as part of our show, Ron, but it seems like a good time to mention for all of the Apple fan girls and fan boys out there. Of course, Apple's event last week unveiled the new iPhone 14, the 14 Pro the most advanced iPhone lineup ever. Don't they say that every year? But lots of better battery life, new camera system, not as good as the Qualcomm camera, but I think that so I wanted to just end by saying, you know what? If you're not already a T-Mobile customer, some of the promotions that T-Mobile has going on are worth a mention here. So what they're doing here starting last week for new and existing T-Mobile and Sprint customers, including businesses, they rolled out a series of offers and this includes a free iPhone 14 Pro or up to a thousand dollars off of any iPhone 14 model when you're trading in another one.
If you're switching, you can stack on a $200 port credit. Another offer is half off of an iPhone 14 with 24 monthly bill credits if you're trading in  different ways to pay for things, right? Again, this also includes trading in an eligible device on almost all T-Mobile plans. Another offer is buy one, get one free. Pick up one iPhone 14 and get another one free. There's also an offer having to do with the new Apple watch, which also I think this is gen eight, but they're doing if you buy an Apple watch, you get $200 off a second Apple watch when you add a new watch line. So these are just a bunch of different offers. The T-Mobile team had shared them with us right before they came out. But since we're talking about T-Mobile, I thought it made sense to throw it out there. So there you go. If you're thinking about upgrading to the new iPhone 14, and you're already a T-Mobile customer, or if you're thinking about how happy you may be with your current carrier and looking for options, check it out.
Ron Westfall: Definitely looking forward to the demos and discussions at the upcoming Mobile World Congress Las Vegas event.
Shelly Kramer: Absolutely.
Ron Westfall: So this is perfect timing.
Shelly Kramer: Absolutely. Absolutely. One last thing I'll throw out there. We have a 5G focused market insight report that is scheduled to be published here within the next few days where we will cover what's going on in the 5G market ecosystem, what the challenges are, some of the key players in the market, and some of the things that we think are ahead. Did I leave anything out, Ron?
Ron Westfall: Oh, I think you got it all. Yes. The major events and the ring of honor, so stay tuned.
Shelly Kramer: There we go. All right. Well, that report will be out here directly, so be looking for it. This is your reminder. If you are watching or listening to this show and you haven't yet subscribed, hit that subscribe button so we'll end up wherever it is. You'd like to watch or listen or read about what we're talking about here on the 5G factor. With that, Ron, it's always a pleasure to hang out and talk all things 5G and to our listeners and viewers, thanks as always for hanging out with us.