The 5G Factor: Featuring Ericsson, Vodafone, Qualcomm, and Nokia, along with What's Afoot in the Chinese 5G Market, and Verizon and the NFL Partner on 5G – Futurum Tech Webcast
The 5G Factor: Featuring Ericsson, Vodafone, Qualcomm, and Nokia, along with What's Afoot in the Chinese 5G Market, and Verizon and the NFL Partner on 5G – Futurum Tech Webcast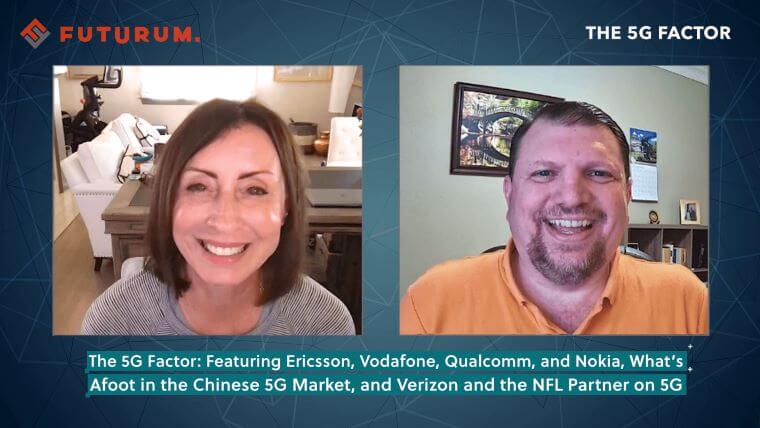 In today's episode of The 5G Factor, our newest webcast focused on all things 5G, host Shelly Kramer and fellow analyst Ron Westfall examine the key trends in the 5G market along with 5G-related news of interest.
This show focused on some familiar players in the 5G space, including Ericsson, Vodafone, Qualcomm, Nokia, Verizon, as well as a look at what's happening in the China market as it relates to 5G technology and innovation.
Our discussion today addressed:
How Ericsson and Vodafone are collaborating to improve 5G network energy consumption across Vodafone's network with London trial validating significant savings using Ericsson's antenna-integrated radio solution.
Ericsson's new radio, which is 51 percent lighter and more compact in design, and the role that will have in optimizing site footprints, making 5G rollout and 4G upgrades faster and easier.
Why Qualcomm and Ericsson demonstrating first 5G NR (New Radio) call on CBRS spectrum can advance Industry 4.0 use cases including 5G private networks (and why private 5G networks are increasing in popularity).
A discussion about Ericsson closing a major research center in Nanjing amid a shrinking 5G market in China. Ericsson as long been a major supplier of telecoms equipment in China, but geopolitical climate has had a significant impact on telecos hoping for business as usual in China. Ericsson reported in July that its second quarter revenue in the country dropped by 60% year over year.
Speaking of Nokia and China, our conversation touched on the implications of Nokia pausing technical work with the O-RAN Alliance due to concerns related to working with China-based companies on the Commerce Department's Entity List and the kerfluffle (one of Ron's favorite words) that may, or may not, be.
We wrapped up the show talking about Verizon's just announced 10-year 5G partnership with the NFL, promising not only an enhanced fan experience at various stadiums across the U.S., but also affording other enhancements like more innovative ways of player training, team scouting, health guidelines and venue operations as whole. Want to know what stadiums you can experience Verizon's 5G Multi View capabilities in? Well, you'll have to watch or listen to the show.
Watch the webcast on YouTube here (and subscribe to our YouTube channel while you're there):
Or stream the audio on your favorite podcast channel:
Don't Miss An Episode – Subscribe Below:
Disclaimer: The Futurum Tech Webcast is for information and entertainment purposes only. Over the course of this webcast, we may talk about companies that are publicly traded and we may even reference that fact and their equity share price, but please do not take anything that we say as a recommendation about what you should do with your investment dollars. We are not investment advisors and we do not ask that you treat us as such.
More insights from Futurum Research:
Epic Games V. Apple — U.S. District Court Rules Apple Can No Longer Prohibit Devs From Directing Users Away From App Store
Mastercard's Acquisition Of CipherTrace Will Bolster Crypto Capabilities
Zoom Adds $30 Million To Its Investment In Neat, Video Device Vendor
Transcript:
Shelly Kramer: Hello and welcome to this episode of The 5G Factor. I'm your host Shelly Kramer and I'm joined today by my colleague and fellow analyst here at Futurum Research, Ron Westfall. And in this 5G Factor series, we try to cover all things related to 5G, innovation, recent developments in the market, news that caught our eye, and so, if that's your jam, we're glad to have you and looking forward to another episode of this show. Ron, great to have you.
Ron Westfall: Hey, great to see you, Shelly, and looking forward to our conversation. It's a wonderful summer day.
Shelly Kramer: Absolutely. Well, we're going to kick off the show today and we're going to talk about 5G network energy consumption and what's happening on the rooftop of Speechmark, which is Vodafone's UK Central London office. Ron, tell us a little bit about what's going on there. It's really awesome, I think.
Ron Westfall: I think this is a high impact collaboration. What is going on is that Vodafone and Ericsson are working together to dramatically improve the energy conservation metrics of a 5G network. Specifically, what their trial entail is the use of Ericsson's antenna-integrated radio technology, specifically the AIR 3227 model and what they came across is the fact that by using Ericsson's AIR technology, that they were able to improve energy conservation across the entire network by an average of 43% on a daily basis.
Shelly Kramer: That's a lot.
Ron Westfall: Yes! I think that constitutes a breakthrough. And the other reason why this is important is that it's demonstrating that 5G is ready for primetime in terms of enabling operators to meet their sustainability goals, but also this is going to impact the society-wide objectives to improve energy efficiencies, to achieve some ambitious, aggressive goals that we see particularly in the UK and EU, but increasingly across the world to have what could be characterized as carbon neutrality in the next decade or two.
This is definitely playing a contributing factor. And I think it's showing progress in that relationship, they've been working together. For example, when Vodafone launched its 5G service, it was a collaboration with Ericsson back in 2019. And this year, they announced the fact that they're working with Ericsson to use Ericsson's technology in terms of their 5G standalone core capabilities to support a packet core capabilities.
I think what's also neat about this announcement is that they're actually using drones to enable these capabilities, that is the improved energy efficiency. And so, the capstone, at least in the near term will be in Q2 2022, that's Vodafone will be deploying 1,500 of these AIR 3227 models throughout the London network. And so, this is I think something that will gain momentum, these types of announcements, because it's going to be an increasingly important differentiator, I think this is really our first opportunity to talk more about the fact that when it comes to 5G, the sustainability and energy efficiency aspects are going to be increasingly critical. And this is, I think, definitely a demonstration of that fact.
Shelly Kramer: Absolutely. I noticed when I was looking at the news around this, that speaking about future-proofing and sustainability that Ericsson's new radio is more than 50% lighter in comparison in that compact design and the improved energy management features are so key because this is going to help optimize the overall site footprint and it'll make 5G rollouts and 4G upgrades faster. Those things are critical here when we're talking about speed to innovation and really being able to benefit from all the things that 5G and upgraded 4G has to offer.
Ron Westfall: This is a great example of why competition is so good because it's a very spirited one in between Ericsson, Nokia, and Huawei, just within the last year, all of them have been engaging in one-upmanship like we have now the lightest unit and just wait a quarter, then one of the other ones will come out and say, "Now, we have the lightest unit." And this is just really making a difference across the entire mobile ecosystem, but certainly across 5G builds.
This, I think, is going to be, again, something that will prove pivotal in how aggressive the operators deploy 5G. And we've been going through a hype cycle and 5G hasn't really had a breakthrough application yet the same way that 4G enabled, for example, the car ride applications such as Uber and Lyft and so forth. However, stay tune. I think it's definitely something that is going to become more than, okay, we're improving performance, we're improving throughput and lower latency, and we're going to have, I think, some real interesting examples and use cases coming out over the next year, particularly on the industrial side.
Shelly Kramer: Absolutely. Say that again five times, industrial.
Ron Westfall: Industry 4.0. That'll be easier to say five times real quick.
Shelly Kramer: That's the thing about being colleagues. You can make fun of one another at will and that's really, we're kind of a big family around here giving each other a hard time as often as humanly possible. Moving on, let's talk a little bit about why Qualcomm and Ericsson demonstrating the first 5G new radio call on CBRS spectrum is a big deal, especially as we look at industry 4.0 use cases and 5G private networks. I know this one is kind of, again, claiming the first successful move here in this space, but talk a little bit if you would about what's going on with Ericsson and Qualcomm as it relates to this.
Ron Westfall: Sure. I think this is the first successful over-the-air demo of this particular combination and CBRS is going to be very important, also known as Citizens Broadband Radio Service, and that it's an increasingly popular choice in terms of enabling private networking. It's a shared spectrum technology and resides it in the 3.55 to 3.7 gigahertz range. In combination with personal access licenses, it's really demonstrated that at least when it comes to LTE private networks, it's a valid business case. It's already being proven out and what is going to be, I think, the next important state is the 5G capabilities being injected into these private network environments. The foundation is there and this particular demonstration is going to enable 5G to take private networking to the next level, to really bust through in terms of ultra low latency capabilities in terms of quality of service enhancements, increased agility and so forth. And so, that is right. This is a difference maker, it's because it's really advancing 5G capabilities into these private networking environments.
Shelly Kramer: And private networking is really hot right now, right?
Ron Westfall: Yeah. We talked about it on our last show and it's, I think, indicative that it's just I think a use case that will gain more traction because security first.
Shelly Kramer: Absolutely.
Ron Westfall: We can keep saying that every each episode we do, but it simply matters. It's like when you're talking about a manufacturing facility or a warehouse or any place where information and data is very sensitive, you don't want that hanging out on a public Wi-Fi network, et cetera. I mean, there's just a host of reasons why private networking is going to accelerate and we anticipate that we'll be talking more about it throughout the course of this year, let alone into the foreseeable future.
Shelly Kramer: We will indeed. Earlier in this conversation, we touched on Ericsson and Nokia and Huawei and we're going to talk about that a little bit more. We're going to transition away and one of the things I saw with interest here in the last week is that Ericsson announced that it's going to close one of its major research centers in Nanjing and really, the reality here is the company has a shrinking 5G market in China.
And so, Ericsson has five research centers today in China and they're going to close that one and they're going to transfer 600 and some employees, perhaps this is a rumor not confirmed to a partner company rumored to be TietoEVRY, which is a Finnish software provider with offices in China. And this is really largely due to the fact that the Swedish telecoms company is losing market share in a big way to Huawei in China's 5G market.
That makes sense, with all the things that have been going on with Huawei and sanctions imposed by the US and other concerns, the worldwide, and some challenges that Huawei has had, but to step back from that for just a minute, China is the world's largest 5G market. They've got nearly a million 5G base stations in operations or will have… No, they have had a million 5G base stations in operation by the first half of 2021. That's a lot. It's of course, considered a critical market for any telecom provider, right?
China provides a test bed for all of the advanced 5G technologies and companies like Ericsson and rival Nokia want to be able to tap into that test bed, those results, that information when they're deploying their 5G networks across the world. This is a big deal for Ericsson to be struggling in the Chinese market. The company has had a presence there for a whopping 120 years. That's a serious long time, right?
Ron Westfall: No doubt.
Shelly Kramer: And they've been a dominant player of gear in China for a very long time and they've worked hard to win contracts in the country. Ericsson was once a major supplier of telco equipment in China, but the company reported in July that its second quarter revenue in China dropped 60% year over year. That's not sustainable.
Ron Westfall: I agree. I think at least in terms of maintaining a competitive presence in the China market, and this is a clear cut example of geopolitics trumping trade considerations and technology considerations. One thing that is specific in terms of why Ericsson's share dropped but Nokia was effectively re-introduced is that the Swedish government is also implementing its own ban on Huawei and ZT Equipment. And so, this is, I think, clearly a retaliation move, but they are still hedging. They didn't completely cross out Ericsson's name in terms of winning some of the most recent tenders. I think this is something that isn't going to go away anytime soon. I think the geopolitical factors will be increasingly factored into how these players look at competing long-term in the global 5G market.
And I think, well, in the near term, it's not going to be helpful to non-Chinese vendors in how they can grow in the China market. I think it won't be good for China itself because while these numbers are huge, we really don't have a lot of insight into the level of quality of these 5G connections, how the applications are running over them and its aggressive deployment so far and there's still more ceiling. I think a part of it is the Chinese government deciding, okay, Huawei and ZTE are getting some important markets cut off to them, so let's see them pump up the market that's addressable in China to help offset that and also, be able to make global leadership claims in 5G.
I think what we're seeing is with, for example, Jack Ma being leashed and other high profile moves that have, I think, hampered the overall Chinese tech industry, that it's going to make it less innovative. It's going to be less agile and this is a two-way street. It's one thing for the US and US allies to have to dial back their presence in the China market, but it's going to be hard for China to really have much impact beyond the domestic market and select few countries if they can't really take advantage of ecosystem innovations on a more predictable level rather than having geopolitics interrupt what would be a normal bidding process for China Mobile, China Unicom, and so forth. I think ultimately, it will be actually more bad news for China than US, Sweden and other countries that are putting the brakes on using Huawei or ZT Equipment in a 5G network specifically.
Shelly Kramer: China is a really tricky place to do business these days. I mean, we're talking about the Edtech industry has been reeling as a result of some recent new regulations out of China. And now, we've got the gaming industry in the sites in terms of the country limiting consumption of video gaming on the part of its citizens and Jack Ma sort of being invisible over the last several months. And so, it's a very tricky time for investors, anybody investing in the Chinese market, it's a really tricky time for companies trying to do business there. When you talk about the money part of the equation, Ericsson's got four remaining research centers in China, in Beijing, Shanghai, Guangzhou, and Chengdu, and they collectively employ over 5,000 people and they've got an annual R&D spending budget of 460 plus million dollars.
There are ramifications there for the Chinese and it just continues to be a sticky situation. And I will say kind of end this conversation by saying that, Ericsson's CEO told Reuters in an interview last week that the company was not giving up on the China market and I think that it's based on what we talked about earlier and how important the Chinese market is in the 5G ecosystem as a whole, I think it's great to see companies like Ericsson and Nokia committed despite the geopolitical issues to keep trying to figure out ways to work together and to do business together. And I think that to me, of course, and I know to you as well, smart partnerships are the path forward and one country pulling things in with a nationalistic view, whether it's China or the United States or any other country is really not the answer. It will be interesting to see for sure where we end up here. A lot more things are going to happen, I'm sure.
Ron Westfall: I think that's a good point about the Ericsson CEO giving up on the market. I don't think that would be prudent at all. And yes, geopolitical winds can shift and even with the new regulations that China is pursuing, there's always room for compromise and so forth. Yeah, I think that's the smart play.
Shelly Kramer: Well, we'll see.
Ron Westfall: Right. It can always get worse too, so fair enough.
Shelly Kramer: Well, speaking of Nokia and China, we want to touch here for a moment on the implications of Nokia pausing technical work with the O-RAN Alliance. There are some concerns about working with China-based companies that we've just touched on and companies on the commerce department's entity list. So let's talk about what's going on in the O-RAN market and what kind of a wrench this throws into things.
Ron Westfall: I think that is a consideration, the fact that Nokia paused work in the O-RAN Alliance and as a little background, the O-RAN Alliance was formed about three years ago by major telcos, really a who's who, it included AT&T, DT, NTT, Orange, and China Mobile. And as a result, that definitely put a strong imprimatur on its importance. That is the operators, so at least the major operators were pretty much committed to advancing the Open RAN capabilities across the ecosystem. As a result, that required a multi-regional or global cooperation. And after the establishment of the O-RAN Alliance, which is advancing Open RAN technology, in that it had virtually who's who of mobile ecosystem players joined because they definitely want to be integral to the plans of the major operators in this regard and that included China-based companies such as Kindroid, and they're on the entity list.
I think Nokia's move is valid because we saw back in Q2 2018, when ZTE crossed again the commerce department's regulations in terms of not trading with countries like Iran and North Korea, that they quite simply banned them from being able to access US technology and the entire company was shut down for about a quarter. And so, that was dramatic. And I don't think that would actually ever happen to Nokia, would not get to that point, but you don't want to take a chance of a heavy fine or just complicating things and what can be done to simplify this is for the White House, for the US government to say, "It's okay to collaborate within the O-RAN Alliance specifically in this regard."
However, it's really a kerfuffle because the O-RAN Alliance is one of many organizations that are advancing Open RAN. You have the standards bodies that are well-established in sanctions such as the ITU, the IEEE, ETSI, all of them are all working on enabling Open RAN technology and the operators themselves will have their own individual decision-making, but also very important is the fact that you have the regulatory bodies and many major countries cheerleading Open RAN technology. And so, this is really a kerfuffle. I don't think it's going to be anything that's going to disrupt the overall Open RAN ecosystem its progress, and in the meantime, Nokia is just making a smart move until there's more clarification.
I think there was, I think, an over-hyping again of, this is going to cause a stalling of the Open RAN markets for the next few quarters type of thing, but it won't really do that. However, it's also important to note that the overall Open RAN market is something that is a gradual viewpoint. That is the current Open RAN market represents only a small single digit portion of the overall RAN market. And it probably won't be until about 2025 that it will represent a double digit figure of the overall RAN market. The Open RAN market segment is definitely a work in progress, even with all this support and that threshold of 2025, I anticipate, could be accelerated somewhat because of the pressure from the operators and from the regulatory bodies looking at Open RAN as a way to help replace Huawei and ZT Equipment within countries like the UK, which had decided to go on without those suppliers as well as encouraging domestic development of technology companies. And so, this is something that is definitely gaining broad ecosystem support and I anticipate it will actually pick up more momentum despite this, again, kerfuffle.
Shelly Kramer: Ron, I don't know anybody who can use the word kerfuffle three times in a row on conversation. Actually, I don't know anybody who the word kerfuffle, so I like that, very good. I mean, did use it three times, so you got-
Ron Westfall: It was appropriate. It wasn't a disruption or a complete breakdown. It was none of those things, so I thought it was an apt term.
Shelly Kramer: Well, that's the thing when you're talking with a word nerd like me, I actually pay attention. I actually listened to what you might say. So, there that is. All right. Well, we are going to wrap up our show. I thought it was for a couple of reasons, so this is NFL Saturday kickoff ahead of us tomorrow. And last time on our show, we talked quite a bit about AT&T and some things that AT&T is doing with 5G and in stadiums and things like that. And I thought it was only fitting to talk about the NFL's partnering with Verizon. The NFL named Verizon as its 5G partner in a 10-year deal, which is kind of a big deal. This is promising enhanced fan experiences in stadiums and even better than more cool murmurs of fan experiences.
This also is going to provide more innovative player training, team scouting, health guidelines, venue operations. And so, it's really kind of a far-reaching partnership here that 5G and Verizon is going to drive. One of the things that I thought was cool and Verizon says it's going to be in play here is Verizon's 5G Multi-View. And this will be what fans see most quickly out of this partnership. This is a digital streaming platform that provides seven simultaneous camera angles. Oh, I can't even imagine how exciting this will be. Seven simultaneous camera angles and you can watch these camera angles on mobile devices in seven different stadiums on the home team's app. And so, this technology was piloted in Tampa Bay's Richmond James Stadium earlier this year, and the 5G Multi-View functionality will be available now in the Patriots stadium, in the Hard Rock Stadium, which is the Dolphins stadium, in the Indianapolis Colts Stadium, the MetLife Stadium where the Jets and the Giants play, the SoFi Stadium where the Rams and the Chargers play, and then in the US Bank Stadium, which is the home of the Minnesota Vikings.
It's funny because you can't, like the days where you could just call a stadium by a stadium's name are gone because the namings change as the naming rights are sold and partnerships are formed. Anyway, this is really kind of cool. This technology is actually supposed to roll out to be available to all stadiums and teams. Of course, AT&T Stadiums probably won't opt for that, but there's not a timeline for anything of that. It's just these five, six markets and what I think is cool about this is, well, first of all, it's great to see enhanced fan experiences across the board are kind of table stakes today. In sports and entertainment, this is fan-driven. I mean, we're trying to satisfy the rabid appetite of fans and audiences, I think.
And so, partnerships like that aim to do that, but I also think that this is interesting beyond just what this does for fans is the NFL was very early when it came to the COVID-19 pandemic where it's recognized as kind of being a leader in using technology to help kind of navigate through the season. And the NFL continues to do that in this season, but last season, the NFL used lightweight wearable devices called a proximity recording device and it was mandatory for players and club personnel. It was a device the size of a watch band and it was worn on a lanyard or on a wristband. And what it did was gather information about player proximity to one another by distance, by time, and that data allowed for quick and accurate contact tracing.
And it also allowed the enforcement of physical distancing. When you look at, and these kinds of things, this data is collected on the edge. This is really where 5G plays such an important role, but when you think about how beyond just cool fan experiences, when you think about this 5G technology that allows for this kind of data collection and management and use, and to me, those are the things that are really exciting beyond just what fans might experience is just what venues are able to do, what personnel are able to do, how it impacts health and safety for fans, for players, for all those kinds of things, but I think to me, that was something that was really exciting about this.
Ron Westfall: As an NFL fan, I definitely was intrigued by this announcement and all excellent points, Shelly. I think also of note is that this is a 10-year contract between Verizon and the NFL, previously was mostly a year-by -year basis. They're both betting on 5G to make a difference with the overall fan experience. And it's a great post pandemic use case. Finally, people can get back to going into stadiums and having a smart stadium experience and Verizon's using all their spectrum capabilities to enable this. It's not just the millimeter wave capability. It's also C-band, low-band and so forth. And so, as a result, I think this will definitely augment that fan experience such as the multiple camera angles.
I can't wait to get to the NFL stadium whether it's here in Texas or elsewhere and check it out and yes, it's not available on all stadiums yet. There are at least five stadiums that haven't actually been outfitted and it costs about $80 million to really have this capability across the entirety of the stadium and will vary from stadium to stadium, but this is, I think, a very sound investment. Both the NFL and Verizon, I think, are going to get valuable R&D nuggets out of this collaboration. And it's a durable partnership, so stay tuned. I can't wait to find out more.
Shelly Kramer: I think it's really exciting and there's seven stadiums, not five, where this technology will be. So, if you're lucky enough to be in one of those markets, and be one of those fans-
Ron Westfall: In the early stage.
Shelly Kramer: … hopefully you report back and tell us what the fan experience was like, because I'm sure it'll be cool and I'm sure it'll get much cooler. So, with that, we are going to wrap up our show, The 5G Factor. Again, I'm Shelly Kramer. Ron Westfall is my co-host. We hope that you've enjoyed this conversation. If you have, please be sure and hit that subscribe button on YouTube or that subscribe button in your favorite podcast streaming platform. We would love to have you back every week. And with that, we are over and out for today.