The 5G Factor: 5G Powered Fan Experiences, 5G Industry News, and a Look at Some of the Newest 5G-Related Partnerships – Futurum Tech Webcast
The 5G Factor: 5G Powered Fan Experiences, 5G Industry News, and a Look at Some of the Newest 5G-Related Partnerships – Futurum Tech Webcast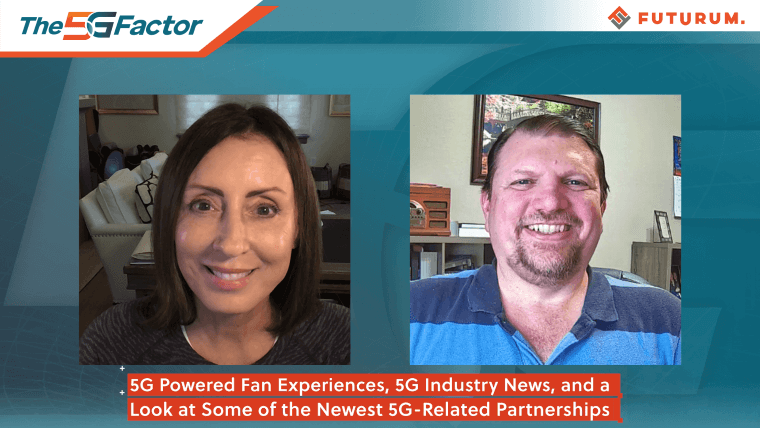 In today's episode of Futurum Tech Webcast, The 5G Factor series, my co-host Ron Westfall and I cover 5G industry news, announcements coming out of this week's MWC event, along with news about how 5G is being used in stadiums to power better fan experiences. We'll also talk about recently announced partnerships, including those between Samsung and Ciena, Nothing and Qualcomm, IBM and Cisco/Palo Alto Networks and Rakuten/Intel and Juniper and wrap with a short overview of the sessions I moderated at this week's AT&T's Business Summit event.
Our discussion on The 5G Factor show today centered on the following:
5G powered fan experiences abound at Seattle's T-Mobile Park, an MLB venue that the company is using to reshape the sports fan experience. Whether it's 5G powered experiences that transport fans to the field or a 5G Mixed Reality solution that fans can be immersed in, there's a lot to be excited about.
Samsung Ciena Partnership Announced. Samsung announced a partnership with Ciena this week centered on the evolution of network architecture, as providers seek ways to deliver more powerful 5G experiences. The announcement is a timely one, as Samsung's Tech Day 2021 is coming up in a few weeks, on November 15th. This virtual event will showcase how Samsung Semiconductor is powering new and unique experiences across the tech ecosystem with memory innovations. Check out my partner, Daniel Newman's, interview with Jim Elliott, Corporate SVP of Memory Sales for Samsung here — Samsung Tech Day 2021, Powering Experiences with Memory Innovations and if you're interested in attending, you can register to attend the Samsung Day event here.
Qualcomm to Power Nothing Devices. There's a lot of fun to be had in a conversation about a company called "Nothing," but make no mistake, London-based consumer tech brand Nothing is doing some pretty cool things. Carl Pei's new company is focused on differentiated design and working to move away from a place where essentially all earbud products look alike, designing transparent, intuitive devices that fit into our lives. Nothing has tapped Qualcomm and its Snapdragon platform to power its future tech products.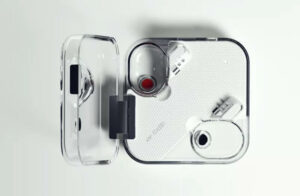 Here's a look at Nothing's Ear 1 transparent earbuds, which squeeze wireless charging tech into a transparent shell, and claim to offer up to 24 hours with active noise cancellation on and 34 hours with ANC off. Why is this a big deal? That's an easy one: the wireless earbuds category is a growth category, with 310 million units expected to ship in 2021, according to Counterpoint Research.
IBM Announces Partnerships with Cisco and Palo Alto Networks. IBM's announcements coming out of MWS earlier this week include news of a partnership with Cisco, pairing IBM's Cloud Pak platform with Cisco's Crosswork service. IBM's partnership with Palo Alto Networks is focused on security and helping mitigate the challenges telco operators have as they deploy 5G and edge services.
Rakuten Symphony, Intel, and Juniper Networks Laser In on Simplifying Open RAN Deployments at Scale. When we're talking about what mobile network operators need most, agility, smart security, and new levels of automation capabilities and a more broad, more secure supply chain are all key. That's why the news about a collaboration between Rakuten Symphony, Intel, and Juniper Networks announced earlier this week is especially newsworthy. This collaboration is intended to develop Symware, a carrier grade Open Radio Access Network (RAN) solution for mobile operators. This will facilitate the modernization of radio cell sites by leveraging cloud-native architecture, providing networks flexibility to densify networks, support new features and beyond.
AT&T Business Summit. We gave a quick nod here at the close of our show to AT&T's Business Summit, a virtual event held earlier this week that I happy to be a part of. I hosted sessions with a variety of AT&T leaders and partners on the following topics:
The Everchanging Ecosystem, a conversation about the technology landscape and state of rapid change we're experiencing, which means that identifying which new technologies that offer the most promise in terms of effectiveness, adoption, and value is important.
Adapting to an Unpredictable World, a conversation about how to think about supercharging your technology stack to gain a competitive advantage and be ready for the next curveball coming your way.
Simplified Customer Experience, a conversation about customer service strategy and how digital experiences and modern platforms enable simpler, faster, and more reliable delivery and assurance, helping customers drive their businesses forward.
There were many great conversations and lots of valuable insights coming out of this event — I encourage you to register for the AT&T Business Summit and access all the content on demand. Registration link is here.
Watch the video of The 5G Factor webcast here:
Or grab the audio here:
Don't Miss An Episode – Subscribe Below:
Disclaimer: The Futurum Tech Webcast is for information and entertainment purposes only. Over the course of this webcast, we may talk about companies that are publicly traded and we may even reference that fact and their equity share price, but please do not take anything that we say as a recommendation about what you should do with your investment dollars. We are not investment advisors and we do not ask that you treat us as such.
Transcript:
Shelly Kramer: Hello and welcome to this episode of Futurum Research Series, The 5G Factor. I'm your host, Shelly Kramer. And I am joined by my colleague and fellow analyst, Ron Westfall. And this 5G Factor show is intended to shine a light on what's happening in the 5G ecosystem and news of the week. And all of the things that kind of caught our interest or some of the most important things that caught our interest this week. So Ron, welcome, it's nice to see you.
Ron Westfall: Yes, indeed. I think there's a lot going on in the 5G world, so definitely looking forward to our conversation today.
Shelly Kramer: Absolutely. Absolutely. So in this show, we're going to talk about some news coming out of this week's Mobile world Congress event. And we're going to talk about some news about how 5G is being used in stadiums to power better fan experiences. And we're going to talk about some recently announced partnerships including these between Samsung and Ciena, Nothing and Qualcomm, IBM and Cisco and Palo Alto Networks, along with the Rakuten Symphony, Intel and Juniper. So there's much to discuss and we are going to dive right into it and we're going to talk about 5G powered fan experiences that are happening at Seattle's T-Mobile Park. Ron, take it away.
Ron Westfall: Yeah. This is actually really cool because we've been hearing a lot about 5G capabilities and it has been a bit of a marketing hype cycle. And what the good news here is like, okay, here are some tangible applications that are being used in an actual ballpark setting. Obviously, the Seattle Mariners play at T-Mobile Park. And what is going on is that T-Mobile is showcasing a lot of these 5G enabled capabilities. And this is 5G specific, too. It's in essence creating an immersive experience for any fan. And we're seeing this picking up across different sports, across different stadiums as the COVID-19 lockdown restrictions are being pulled back and more people can file back into the stadiums in any part of the world. What's specific interesting about T-Mobile Stadium is the fact that they're combining holograms and Nreal smart glasses and mixed reality applications to create I think a lot of different capabilities that are rather unique, at least so far.
For example, working with a company called Omnivor which is a hologram developer that uses face-to-face volumetric video conversations. So obviously, that's something that is pretty cutting edge. The fact that it can actually conduct video conversations using holographic capabilities is I think a interesting experience. You just have to do it to appreciate just the level of quality that's involved in engineering to make this work. And I think this is showing that T-Mobile is leveraging the ecosystem. This is what it's really been all about. T-Mobile come up with all these applications themselves, and they've also enlisted a company called Iconic Engine, and they provide full extended reality experiences including the 5G mixed reality experience that, again, uses those smart glasses that people can put on to really gain that enhanced extra level of knowledge about what's going on the game, extra camera angles, automated stats about a player and so forth.
And I think it really is cool because I think anybody's been in a stadium can get frustrated looking down at like a magazine to find out information and miss a big play. Or they're trying to look up at the scoreboard and it's blocked. And you get the whole idea, it's not a consistent always enjoyable experience. And this is what really I think is taking it to the next level where you can avoid all these interference and barrier factors with our real world experiences to date. And as a result, I think this is really taking T-Mobile's brand to the next level in terms of driving the smart stadium experience. And to top it all off, they're using drone technology to actually film the Field of Dreams park in a recently released film.
And so, that was really cool because by using the drone you get that perspective that you can't get from standard camera angle shots. And as results, this is kind of an extra layer of, okay, this is really cool and exciting and stuff that's going on today that's being enabled for fans that can actually use these and stay tuned as this becomes more widely available. And perhaps to see all that manners, we'll have even a better season next year and really take these capabilities to a wider audience and more become aware of this. And well, demand it for their stadium. I live in the Houston area, I'd love for a Minute Maid Park to have these capabilities at least as an option. I'd pay extra to use things like that being an avid baseball fan.
Shelly Kramer: What I think is interesting about these stadium experiences, we've covered AT&T Stadium in Dallas. We've covered some of the things that Verizon is doing. And really when it comes to the sports experience I think in no time we're going to be talking about, you know how we talk about the telephone and we say, "Back in my day, we only had a phone in the kitchen and in mom's room." And you had to drag the phone around the corner into the bathroom and stretch the cord, right. And you're talking like this and your kids are little enough that this isn't happening, but just wait.
But your kids are looking at you like, "I don't even know. Is this like what, phones? What? Wired phones?" And I think that we'll look back on what our fan experiences are like maybe right now and what they will be in a very short period of time and think about the same thing. It's like I think part of this technology will serve to make every seat a great seat, which is not currently the case. Right. When you go to a stadium, and it's very expensive.
Ron Westfall: So true.
Shelly Kramer: And so, I think that that to me is what's exciting is just sort of the democratization. I hate to use that word. I feel like sometimes it's overused when we talk about technology solutions. But I do think that this is really interesting and it will take the fan experience to a whole new level. And the days of just going to a stadium and sitting in your seat and eating a hot dog and drinking a beer, those are soon to be behind us. And that they'll be so much more that we can do and get right. I was reading this article about, at the T-Mobile Stadium. And it's just fans can be put on smart glasses and be transported onto the field and be pitching a ball or hitting at a ball. And that's really super cool. So I really look forward to what we have here moving ahead, and I think we've got some exciting things for sure.
Ron Westfall: Yeah. Combine that with 10-cent beer night, for example, things will really take off.
Shelly Kramer: Things will really take off, that's for sure. 10-cent beer night, I don't think I've ever experienced 10-cent beer night. It's more like 20-dollar beer night.
Ron Westfall: Yeah. They tried it once. And yeah, a riot broke out. So it hasn't been tried since 1974 Cleveland.
Shelly Kramer: There you go. I thought that you would know.
Ron Westfall: That's why I brought that up.
Shelly Kramer: Yeah, 10-cent beer night.
Ron Westfall: It really happened.
Shelly Kramer: All right. Well, moving on. We're going to talk about some partnership news that we've come across in the course of the last week or so. So one of the partnerships that caught my eye this week was a partnership that was announced between Samsung and Ciena partnering on delivering 5G network solutions. And so, this was announced this week. And Ciena is a networking systems, services and software provider and they largely focus on network innovation. And you can't have great things happening with 5G without an amazing network and network capabilities, right?
So this partnership is all about the evolution of network architecture as providers look for ways to deliver more powerful 5G services, things that we're talking about like AR at VR and high def video streaming. All of those things that we know are incredibly important to consumers. And a little bit of backstory here about Ciena. The company has 7,000 employees and about 1,700 customers in 35 plus countries around the world, serving some of the world's low largest mobile network operators. Ciena is known for its coherent optical routing and switching and analytics driven optimization. So this partnership is about combining Samsung's 5G RAN and Core with Ciena's xHaul routing and switching network. And we know, Samsung has been a leader in the development of 5G solutions including chip sets and radios and other core solutions.
And Samsung delivers fully virtualized RAN and Core solutions along with private network solutions and those AI-powered automation tools. So this partnership is really all about delivering value to network operators. And this will allow them to more cost effectively modernize their network assets. They'll be able to use technology like network functions virtualization and segment routing and edge computing to support existing business opportunities for telcos. And then also help them prepare for and court more innovation, more opportunities to innovate on behalf of their customers and the things like that.
And I think a final point here is that what I thought is really important about this partnership between Samsung and Ciena is really it's intended to help manage massive data across networks into the cloud and to accelerate the deployment of advanced applications that are enhanced by 5G like network slicing, the IoT AI-powered automation, all of this. I think this announcement caught my interest because I know that Samsung's Tech Day 2021 is coming up in mid-November, November 15th to be exact. So seeing this news come out about Samsung and some of the things that they're doing, some of the partnerships that they're doing is especially of interest. So Ron, what did you think about this news?
Ron Westfall: Oh, yeah. No, I think it's a very interesting announcement, Shelly, as you pointed out. For one, it shines a spotlight on Ciena's xHaul capabilities. And that is taking traditional gNodeB base station backhaul capabilities and disaggregating them. So now that the operator has what can be characterized as fronthaul, midhaul and backhaul flexibility to really enable that network slicing that you were pointing. To ensure that the transport part of the network aligns with the Core and the RAN components. And the rest of the capabilities are required to really make network slicing work. And that's really integral to 5G success. And so, this is encouraging to see that Ciena is stepping up to the plate in this particular regard. And I think Samsung made a smart choice, and partly because Samsung didn't have a great last quarter when it came to mobile networking.
And I think this type of partnership will help lead to more successful outcomes. And this is something that is coming after they've already won the Verizon network. So hopefully an Alliance like this will enable more high profile wins like this. And also, counters the announcement that came out earlier between NEC, Netcracker, ADVA and Juniper. Basically, looking at xHaul capabilities, what is necessary to make sure that the transport elements are orchestrated. That they are able to handle the network slicing requests and so forth. And so, this in part is also showing that we're part of this competitive mix. It's also showing that they can counter the moves of companies like that in terms of enabling this capability. So yeah, it is just great for the 5G ecosystem overall, particularly seeing Samsung moving forward with partnerships in this area.
Shelly Kramer: Absolutely, fully agree with you there. So let's talk about see through technology products. What? You're scratching your head saying, "What are they talking about?" So I hadn't heard of this company before, but we are going to talk a little bit now about Qualcomm powering Nothing's product which are technology… So Nothing is a company. Carl Pei, one of the co-founders of OnePlus launched this company, and he is passionate about bringing to market tech products that are transparent, intuitive and fit into people's lives. So talk with us a little bit about Qualcomm's involvement with Nothing products.
Ron Westfall: Well, I tell you, I think it's fair to say that this partnership is much to do about Nothing. I think Qualcomm is ready to bet that they can be something with Nothing. And what's really important here is what you pointed out, shelly, is that Nothing is looking to innovate that there are fewer barriers between people and technology. And I think everybody understands this having to deal with wires, having to deal with accessory equipment. And it could be frustrating sometimes, especially if you lose say a power adapter. This is a pain. And the first product that they've already come out with, which was back in July, was a [inaudible] transparent ear piece or a earbud.
This is something I think is really only the tip of the iceberg, a harbinger because what Nothing is looking to do with the Qualcomm alliance is using the Snapdragon platform. And we all know Snapdragon's been purpose developed for 5G capabilities. And so, I think there will be some speculation. Now this could be another smartphone. I don't think they're going to go in that direction. I think the market is flooded with ample options in that regard, especially at the low price end. I think what we're going to be actually looking forward to is, oh, okay. Here is a neat device that is 5G enabled. And this is something like the smart glasses we were talking about.
That's something that would be really think a game changer potentially. If you can use your sunglasses to get a lot of this information through a 5G connection or Wi-Fi connection and not having to reach into your pocket or your purse and trying to find your 5G phone and put your password, you get the whole idea. So I think there's just a wealth of possibilities, but that's why I wanted to highlight that because we don't know all the details. But certainly, the foundation is there I think for a very interesting partnership and that this is all about Nothing.
Shelly Kramer: Much to do about Nothing. Well, a couple things that I thought were interesting about this is that, so I mentioned OnePlus and that Carl Pei is the co-founder of OnePlus. So OnePlus is the best selling, one of the most inexpensively priced cell phones in Europe. So he knows what he's doing, right? So there's some street [crosstalk] cred there. Right. And the other thing, when it comes to devices is like earbuds or devices of any nature. What we're all looking for is improved battery life, improved operating power, better features and things like that.
And one of the things that I thought, so Pei is passionate about differentiated design and moving away from a place where every earbud looks like what's in this case, right? And the Nothing's Ear 1 transparent earbuds squeeze wireless technology into a transparent shell. And they claim to offer upto 24 hours of use time with active noise canceling on 34 hours with that off that. Okay, that's a lot. Right.
Ron Westfall: No doubt. Yeah.
Shelly Kramer: And that's a lot of time. And the other thing I thought that was really interesting here is regardless of what other products Nothing might do in the wireless earbuds category alone it's identified, of course, not surprisingly as a growth category with 310 million parts expected to ship in 2021. By the way, that doesn't mean expected to deliver because many of those could be on a container on a ship stuck somewhere. Right. But anyway, 310 million units expected to ship in 2021 according to counterpoint research. So this is a big category. People are very, very interested in list earbuds. And so, it'll be interesting to see what happens. And obviously partnering with Qualcomm on this, I mean, that makes perfect sense.
Ron Westfall: And I think this is also important to know, in parallel they got 50 million and new funding, and this is on top of the initial 15 million. So clearly, the Swedish financial backers are betting on this. And so, this is all contributing toward the momentum. Obviously, 50 million can make a huge difference and advancing the design capabilities of the Nothing portfolio as it unfurls and unfolds. And yeah, we wait with bated breath.
Shelly Kramer: And Nothing becomes something, but it's still Nothing. So I will share a, when we publish the show notes for this show, I'll share an image of what these earbud Ear 1 look like.
Ron Westfall: Good idea.
Shelly Kramer: They're really pretty interesting. I mean, I'll buy anything. I'll try it. Or Nothing can send them to us. I don't know. They can do that, right?
Ron Westfall: So many possibilities. Yes.
Shelly Kramer: So many possibilities. All right. Well, continuing on in our partnership conversation, we're going to talk a little bit about IBM's announcement of partnerships with Cisco and with Palo Alto Networks focusing on security and 5G automation. So again, come news coming out at MWC, IBM announced earlier this week that it'll be partnering with Cisco. And the IBM Cisco partnership is about the pairing of IBM's Cloud Pak platform. I'm going to start over again. The IBM Cisco partnership is a about the pairing of IBM's Cloud Pak platform with Cisco's Crosswork Service. And that service is intended to facilitate the automation and abstraction of the complexity. This is like so many words strung together. The complexity of managing the virtualization of radio and network core. It's a lot, but basically it's really all about facilitating automation and abstraction and then making it less complex, right.
And much like with the Samsung/Ciena partnership where we've got a situation where companies are focused on slice lifecycle management, slice assurance and slice troubleshooting. These are all critical to maintaining service level agreements. And I think what we're seeing here with this partnership between IBM and Cisco is either laying the foundation for that there. And we're going to see a lot more of this I believe as 5G becomes more prevalent and we've got more customers and we've got more 5G related service offerings. I think we're going to see more and more of that, the IBM/Palo Alto Networks. And again, that's a hard thing to say, Palo Alto. It just doesn't flow easily. This partnership is all about security and helping mitigate the security challenges that telco operators have as they're deploying 5G and Edge services.
And part of the reason that this is important, we have actually a new research report out on confidential computing that we did in partnership with IBM. I'll link that here. It's not 5G related, but it's security related. And this is a top concern of everybody today. And part of why this is so important is that IBM reported, specific to telcos, IBM has reported that 75% of operators have reported that they've experienced incidents of fraud. And 61% of those have reported that network security threats have increased significantly in the last two years. So what we're seeing, what we have seen, what we will see is that threat operators are not wasting any time and they do not hesitate to take advantage of network vulnerabilities like what happens when we're navigating a global pandemic to wreak havoc wherever possible.
So security virtualization is all about shifting security functions from dedicated hardware appliances to software that can be moved between commodity hardware or that can run in the cloud. And so, we're seeing the increased virtualization of compute and network environments. There's a demand for the virtualization of security functions in a way that's portable. And so, that they can move along with the apps and the compute workloads as needed, wherever needed and that sort of thing. So I thought both of these partnerships were really interesting. Ron, what are your thoughts here?
Ron Westfall: Yeah, I fully agree. I think what's important about specifically the IBM/Cisco collaboration is what you pointed out, Shelly. It's the network slicing life cycle management. And that's what the Cisco Crosswork Network automation platform is well suited for. And I think Cisco anticipated that the name Crosswork that this is going to be something that requires a complete view of the fabric of how the network slicing is being implemented. How the segmentation, the assurance, the past selection, all these elements plus more need to be fully monitored.
At least in IBM's case, what they are doing is using their CP4NA AI-powered telco cloud platform to really provide intent networking information to the Cisco platform to enable this network slicing capability. And yes, it is complex. There's just really no way around it, but the elegant engineering that can be done to make this task easier for operators to handle is going to be a difference maker.
Shelly Kramer: I agree.
Ron Westfall: And I think IBM and Cisco are showing the way as to how this can be done. And yes, security is always going to be at the forefront of all the decision makers, certainly on the CSP side. And I think what is important is that, yes, IoT security specifically has been a vein. There's been more vulnerabilities that have risen. The Mirai botnets malware that's wreak havoc over five years ago now but is still echoing. That shut down major websites. So it's not trivial, the IoT security component here. And the recent ripple 20 exploitation was taking advantage of software that was designed in the 1990s, the TCP/IP stacks. And it's like, this is still being used with what-
Shelly Kramer: It is.
Ron Westfall: … can you be characterized as legacy IOT technology. So you always have to be on guard here. That's the bottom line. And thankfully IBM, Cisco and Palo Alto are going to help make the IoT business case more viable. At least when certainly when it comes to what we discussed last a week when the narrow band IoT implementation across the UK was finally implemented. And so, that was definitely I think a breakthrough in that regard. And so, we hope to see more of that in other parts. And show that carriers can really handle managed IoT services and monetize it and so forth and in a secure way.
Shelly Kramer: Well, and I think what we know, and I feel like this is theme of every episode of The 5G Factor, and it's a theme of almost every conversation we have across our team of analysts. And it's that smart partnerships are truly the path forward. And we see these every day whether it's Samsung and Ciena, whether it's IBM and Cisco or IBM and Palo Alto Networks.
I mean, we just see it's these strategic partnerships where you can work with a trusted vendor partner with certain capabilities that you need but don't have. And that helps you deliver the kind of solutions that you need, serve your customers, serve your employees, all those kinds of things. But that's really, I think what we're seeing here is just more and more smart partnerships like these that make all the sense in the world especially as it relates to the 5G ecosystem.
Ron Westfall: Oh, yeah. And my phone can attest to that. There are the ones who deploy that nationwide in the IoT network. And this is I think bearing fruit. Okay, here are some key partnerships that are looking to take advantage of precisely that use case.
Shelly Kramer: Yeah, absolutely. Well, our last conversation around partnership for this show anyway is about Rakuten Symphony, Intel and Juniper Networks who are lasering in on simplifying open brand deployments at scale. Let's hear about it, Ron.
Ron Westfall: Yes. What Rakuten Symphony is advocating is the use of what their branding somewhere. And basically, it's a multi purpose edge appliance that can fast track open RAN deployments. And obviously that's pretty much integral to their whole corporate mission. But what's interesting about this particular offering is that combines containerized cell site routing with containerized DU or distributed unit capabilities on a single platform. And so, this is clearly something that operators can really appreciate is that it's really streamlining the open RAN challenges. And it's also, in the same beat, allowing them to get away from the proprietary RAN implementations where basically the vendor was able to drive more of what you can do and can't do with the technology.
Obviously with open RAN, the operators will have more mix and match capabilities, more bargaining leverage quite simply when it comes to enabling 5G capabilities. But there's a host of other benefits ranging from being able to use open APIs in a more flexible fashion, more scalability and so forth. It's just a host of built-in advantages. And I think what's important about this relationship is that Intel's specifically, their Xeon D processor and FlexRAN technology is really what's enabling this consolidation onto the single server. So that's really a feather than the cap for Intel, which just had it Intel Innovation Week. And clearly Intel is going to have a major influence in how open RAN is deployed across the 5G ecosystem. And the shows Intel can definitely innovate when it comes to meeting these very rigorous demands.
And Juniper's contribution significant because I was pointing out earlier, this inverse platform also integrates cell site routing. And the ability to actually integrate that into a platform versus having to rely on all these traditional routers, it just makes sense. You can consolidate all of these components, all these devices onto a single platform. But also have a controller flexibility and a lot more distributed networking capabilities, disaggregation benefits and so forth. So yeah, it's a really, I think a compelling combination. I think this is the kind of partnership that can really drive the competitive fires out there. Because as we know, Rakuten's already in 20 other networks including Dish here in the US. So this is something that we definitely need to pay attention to. Let alone, the traditional suppliers consisting of Nokia, Ericson, Samsung, obviously they have a close eye on what Rakuten's up to with the Symphony unit. And this is I think a good reason why.
Shelly Kramer: Yeah, absolutely. And all of this is really focused on something that's pretty simple, what mobile operators need most right now. And that's agility and it's smart security and it's new levels of automation capabilities and a more broad, more secure supply chain. And so, that's the beauty of these solutions and that they're addressing these very real needs. And so, it's exciting to see partnerships like this.
Ron Westfall: Yes. Yeah, let software rain. That's for sure.
Shelly Kramer: That's for sure. Well, that is pretty much a wrap on our show. I will take a moment to mention that I got the opportunity to be at the AT&T Business Strategy Summit earlier this week. And I moderated a number of panel discussions and got to talk with some senior level AT&T experts and some of their customers. And we talked about things like the 5G ecosystem and where they see that going, had a fascinating conversation with AT&T's David Christopher on that front. And some of the exciting things they're doing with to 5G. And we also talked about customer experience and employee experience in a separate session. And I had some really terrific conversations. So in the show notes to this show, I will link to that AT&T Business Strategy Summit. This year is a very unusual year.
They are making the content available. They actually may opened it up earlier this week to anyone who wanted to join virtually. And now that content is available on demand for anybody who's interested in seeing and viewing or listening to some of it. So it was a terrific event. I think that many, many topics that I think you'll be interested in, especially if you're interested in all things 5G. So I'll include a link to register for that at AT&T Business Strategy Summit, in case you want to head over there. With that, mi amigo, it's always great-
Ron Westfall: Right on.
Shelly Kramer: … to record this show with you. And for our listening audience, thanks for hanging out with us. And Ron, we'll see you again right back here next week.
Ron Westfall: You bet, looking forward to it. Let's talk more Mobile World Congress.
Shelly Kramer: Absolutely. Until then, we'll see you next time.