Smart speakers, smart displays, and the Internet of Google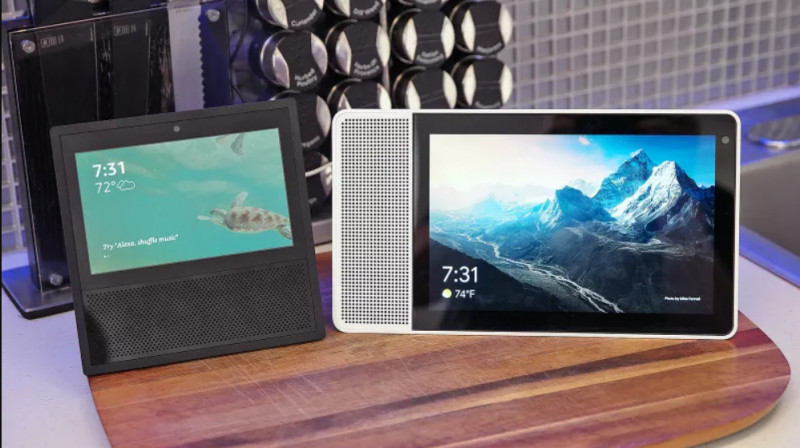 Listen to this article now
As many of you may know, Daniel Newman and I are currently working on a book about the future of human-machine partnerships. Among the central themes: the future of work (or rather, the future of employment), the future of everyday experiences, and what to expect from an AI-driven economy. Don't worry, we aren't just putting our "futurist" hats on. (I personally despise the term.) The book will take a pragmatic look at what is most likely to happen to technology's impact on society, economics, and culture over the next few decades, and how to prepare for that change.
I am only telling you this because what I wanted to write about today was pretty involved and complicated. I had it in my head to map out the role that machine learning and AI moving to the Edge (into devices and away from the cloud) with regard to the IoT would play in setting the stage for the next phase of smart automation embedding itself into our everyday lives. I was going to talk about advances in silicon, and the rise of smart cameras (equipped with onboard facial and object recognition capabilities), smart microphones (equipped with onboard voice recognition, noise filtering, and real-time language processing capabilities), and smart speakers… but I don't want to give it all away just yet. You may not have to wait until the book comes out (early 2109) to read my take on it all, but I won't dig into that topic today either. Instead, what I want to do is point you to a news item that caught my eye this week, and to a few facts and figures I think you will find interesting.
Let's get started.
The news item that caught my eye: Google's Smart Display.
Back in October of 2016, nearly two years ago, I noticed Google's big push into consumer electronics. Here we are, in August 2018, learning that Google may have a smart display in its pipeline. The product would be a rival to Amazon's Echo Show. This follows Google's introduction earlier this year of a smart display form factor, presumably targeting device makers like JBL, Lenovo, LG, and Sony. (This in addition to announcing at CES 2018 that a literal who's who of consumer products companies like Altec Lansing, Anker Innovations, Bang & Olufsen, Braven, iHome, JBL, Jensen, LG, Lenovo, Klipsch, Knit Audio, Memorex, RIVA Audio, SōLIS, and Sony were releasing smart speakers for Google Assistant.) Well, Google has apparently decided to hop into the design arena as well, and pursue its own version of a smart display, to directly go after the Echo Show.
Why does this matter?
For starters, it shows that Google is staying right on top of new chipsets, new form factors, and new advancements relating to IoT technology, specifically when it comes to riding the crest of the next wave of smart home automation. The company isn't backing off or falling asleep at the wheel. Second, Google isn't interested in allowing Amazon to own the next hot frontier in online searches: voice. That's right: If voice is the next interface (and it is), then voice is the future of search. And if there is one domain that Google cannot surrender to Amazon, it is search.
There is a lot more to it than that, but protecting its turf from Amazon must logically be at the core of Google's smart speaker/smart display technology, and therefore at the core of its home automation play. (Note Google's consumer-facing emphasis on voice-activated products – as opposed to, say, lighting, security, and appliance management.)
Why is search so important to Google?
Consumer data, sales, and advertising. (All sources of revenue for Google.) It doesn't take a rocket scientist to understand why Amazon planting smart voice-activated interfaces in millions of consumers' homes might be threatening to Google, so here we are.
And this is more than just a defensive strategy. It is also a massive opportunity for Google.
Google aggressively making a push in hot IoT consumer products categories, especially ones with clear smart home applications, isn't merely a survival strategy. It is also a massive opportunity for Google with regard to revenue. On the one hand, you have revenue from those devices themselves. (They aren't all that cheap yet.) On the other, you have entirely new avenues for revenue that these devices enable. As search expands from keyboards to voice, for example, the more Google finds its way to voice interfaces like smart speakers and smart microphones, the better. Adding smart displays into the mix adds opportunities for advertising and product placement to the mix. Bottom line: the more consumer touch-points Google can create between itself and consumers, the better: More microphones. More cameras. More screens. More speakers.
In short, the more opportunities for consumers to interact with Google, by tap, swipe, or voice interaction, the more data collection, more granular consumer profiling, and the more revenue Google can generate. It's just that this kind of somewhat intrusive proliferation into the very fabric of our everyday lives takes time, and it is early yet. Nevertheless, the smart display appears to be both Amazon and Google's next big bet in home automation adoption, and for good reason: Offering a smart speaker with a screen offers a lot more value than a speaker without a screen. After years of using laptops, tablets, and smartphones, we are all far more comfortable with screens than with facsimiles of intercoms. We are also visual beings. We like images and video. We like to see the weather report, not just hear it. We like to be able to read a recipe and watch photos or videos of what a dish should look like as we make it. And so it makes sense for smart speakers equipped with digital assistants to be equipped with screens.
Now let's talk about those facts and figures I mentioned earlier.
In case you missed it, Google has been killing it on the smart speaker front lately. Look at these numbers (courtesy of Canalys):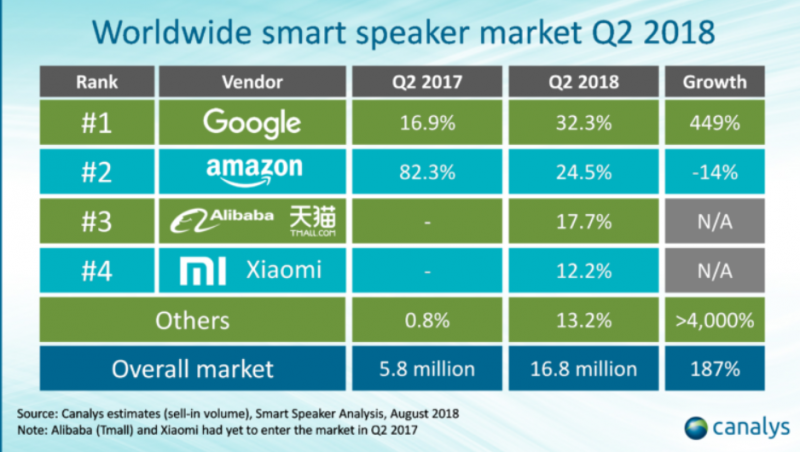 Smart speaker sales are up 187% YoY, and Google leads the pack with 449% growth. Total shipments of smart speakers increased from 5.8 million a year ago to 16.8 million in 2018.
Here's the most interesting part: A year ago, Amazon was the clear leader in the space, with 82.3% of the market (to Google's roughly 17%). In just a year, Google managed to double its share (up to 32.3%) while Amazon dropped down to 24.5%.
Note that China seems to be responsible for roughly 50% of global smart speaker growth right now, with Alibaba and Xiaomi not only accounting for about 30% of smart speaker growth globally but 90% of smart speaker growth in China.
Now, let us take a step back and look at the larger opportunity for smart speakers (and smart displays) looking to 2020 and beyond: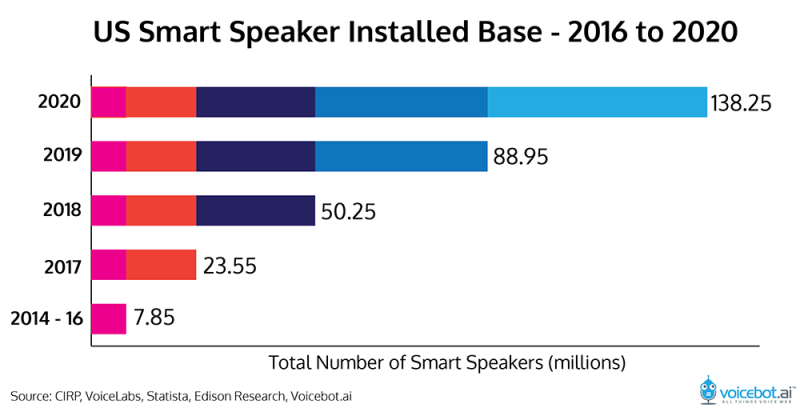 Our colleagues at Gartner predict that 75% of US households will have smart speakers by 2020. Based on census bureau statistics and trending, there will be roughly 124 million US households at the end of 2020. 75% of 124 million is 93 million households. Assuming that most of these households will have two or more smart speakers, based on Gartner's projections, the market for home-based smart speakers in the US alone could grow to well above 200,000,000 devices in the next 28 months. (In excess of what the above chart projects.)
I don't share Gartner's optimism regarding 75% adoption by Q1 2021, but even if only 45% of households have adopted smart speakers by then, we are looking at upwards of 110,000,000 smart speakers in US homes 28 months from now.
This piece from Voicebot.ai also has some pretty interesting data predictions on the shift in global smart speaker share between 2018 and 2020. Note Google's predicted dominance over Amazon: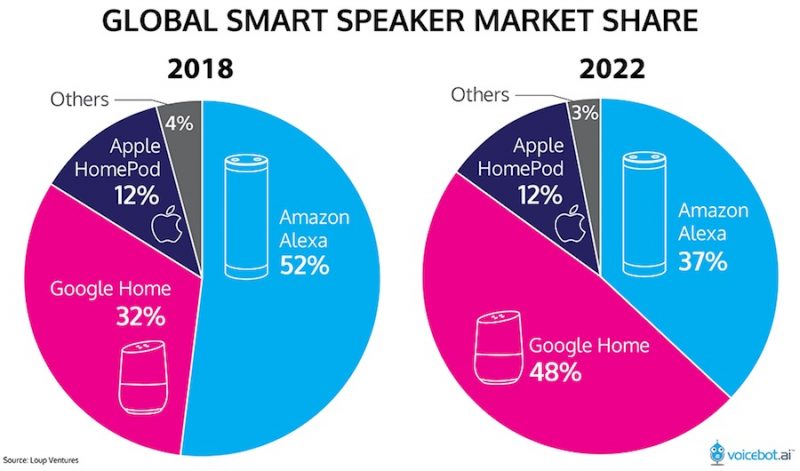 For reference, also take a few minutes to go over this piece from Musically, which dives into smart speaker sales and market share forecasts.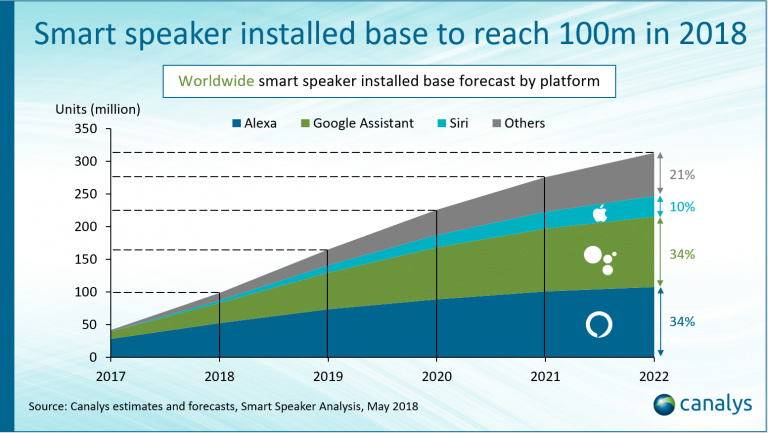 So yeah. It's a lot to digest, and all of those growth charts should be taken with a grain of salt, but that is why we should all assume that Google is dead serious about owning as much of that space as it can. It was a mistake to allow Amazon to dominate it as long as it did, and I don't expect Google to make the same error twice. If indeed Google plans to release a smart display product of its own to push back against Amazon's Echo Show, this is why.
Now you know.
Cheers,
Olivier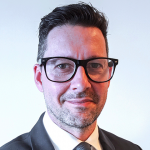 Olivier Blanchard has extensive experience managing product innovation, technology adoption, digital integration, and change management for industry leaders in the B2B, B2C, B2G sectors, and the IT channel. His passion is helping decision-makers and their organizations understand the many risks and opportunities of technology-driven disruption, and leverage innovation to build stronger, better, more competitive companies.  Read Full Bio.