We are LIVE! talking Qualcomm, SkyWorks, Microsoft, Oracle, IBM, Dell Tech, and VMware – The Six Five Webcast
We are LIVE! talking Qualcomm, SkyWorks, Microsoft, Oracle, IBM, Dell Tech, and VMware – The Six Five Webcast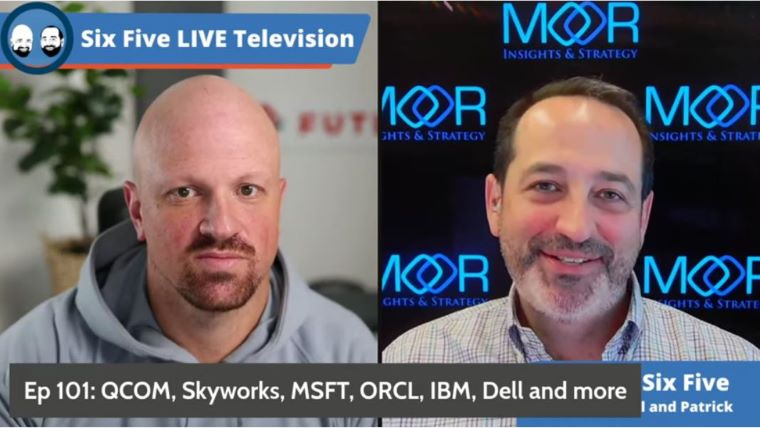 On this episode of The Six Five Webcast hosts Patrick Moorhead and Daniel Newman discuss the tech news stories that made headlines this week. The six handpicked topics for this week are:
For a deeper diver into each topic, please click on the links above. Be sure to subscribe to The Six Five Webcast so you never miss an episode.
Watch the episode here:
Listen to the episode on your favorite streaming platform:
Disclaimer: The Six Five Webcast is for information and entertainment purposes only. Over the course of this webcast, we may talk about companies that are publicly traded and we may even reference that fact and their equity share price, but please do not take anything that we say as a recommendation about what you should do with your investment dollars. We are not investment advisors and we do not ask that you treat us as such.
Transcript:
Patrick Moorhead: Hi, this is Pat Moorhead with Moor Insights and Strategy, and we are here for another Six Five Podcast. And I am here with my incredible Chicago transplant Austin, head of Futurum Research, Daniel Newman. How are you, my friend?
Daniel Newman: Buddy, you were doing that in real time. I saw the mouse turning the wheel. You're like, "Oh crap I said, Chicago." Now I got to figure out a way to get them here to Austin. That was pretty good though. That was pretty good. We actually live like six blocks apart.
Patrick Moorhead: I know how about that? It's pretty exciting. But you did bring this crappy weather here or what was it like? 49 degrees or something this morning? It was crazy.
Daniel Newman: Yeah. It's November though. So in my eyes, it's actually pretty good. I said the other day it was raining and it was like 55. I'm like, "This would've been a nice warm November day in Chicago, but it's freezing." I'm actually quickly becoming used to the warmer weather, but in fairness, and it just is a reflection on the fact that we are aging, Pat, that we do talk about the weather so much. But it is actually going to be back in the 70s and 80s in the next week.
So it was a temporary moment. But Austin here is awesome. It should be called Awesometin because it's great. And I love being part of Texas. So it's an Awesomesim, Texas. And by the way, dude, just a great week, man. It's Friday and everybody thinks that's great, but in our lives, that just means it's the day before the next day of work on Saturday.
Patrick Moorhead: That's exactly right. We do little bit of that. And I do try to modulate that every once in a while, but we do have a great show and, by the way I have to comment on the weather thing, I actually walk to work. So, like New York city, New Yorkers pay attention to the weather too, and they talk about it. I actually walk to walked to work. So it's a big deal for me, but we do have a great show. And for those of you who haven't joined or here for the first time the Six Five Podcast is about analysis. It's the why, we might talk a little bit of tech news for context. Also, we do talk about publicly traded companies and please do not take this as investment advice, find a professional. This is for educational entertainment purposes only. We have a great show, a lot of big stuff. We had Qualcomm earnings, we had Skyworks earnings, we had Microsoft Ignite, we had another Oracle Live, we had IBM, Kyndryl spin, Dell, VMware spin and more. So Daniel let's jump right in to Qualcomm earnings.
Daniel Newman: Yeah, it was a big week for Qualcomm. I think everybody had eyes. Remember we're coming on earnings palooza. We're coming off every company, not every, but legitimately the entire fang or now what Jim Cramer calls mamma, Meta is stupid anyway all reporting. And there were a lot of eyes. I kind of like what's going on. And was this quarter going to be good? Was it going to be bad? We've had so much growth for many parts of tech, but the chip shortage has been back in focus in a big way. And so watching the semiconductor companies, whether that's been Intel, whether that's been AMD and now of course, Qualcomm was all in focus. Qualcomm absolutely positively hammered it on every front on the revenue side 43% year over year growth on the earning side up 76% year on, year on the supply chain, not a lot of comments, but long and short, the company didn't seem to have a lot of problems with it.
And having had the chance to talk to Cristiano Amon, the CEO ahead of times, it seems like the company had a really good handle on its demand. It was working with its supply chain effectively, and it was able to meet the market demand for its products and be able to realize these kinds of numbers, Pat. The company really has in focus its QCT business. Now prior to becoming CEO, that's what Cristiano was responsible for and definitely sense his passion for the past few years, whether that's been the adjacent businesses like IOT automotive and RF, and of course, handsets with this onslaught of interest in 5G. And this being an area where the company is quickly looking to diversify beyond being known as the company that provides chips for mobile handsets and really to being a bigger contributor to these large secular trends and the company is showing it is able to do that.
So quick breakdown, Pat, handsets continue to be the biggest part of the business in this quarter was about 4.6 billion of the 7.733. So you could say, it's a handset focused company, but on the other hand, 38% now of the revenue from the QCT business is coming from its other three adjacent businesses. Which is the RFFE, which we'll actually talk more about in the next segment as well, automotive and IOT.
And the company Pat now has four segments, well almost $4 billion annual businesses and three of them now are a billion dollar a quarter plus businesses and with huge growth. So in the fourth quarter, RF front end grew 45%. And now they're the number one in wireless RFFE automotive 44%, and IOT grew 66%. And now this QCT business is representing $27 billion a year. So I want to leave a little bit there for you because the company did make some announcements on some other things, but my big takeaway on their earnings, extraordinarily strong, the company is diversifying its business. It is growing a good clip. It's managing its supply chain well, and it's in these right secular trend areas to be able to grow long term. And it's been a great first two quarters under the leadership of Cristiano Amon.
Patrick Moorhead: Yeah. It was really a somewhat of a repeat from a prior quarter, which was, it was pretty awesome, right? One big thing they did is they did talk about the future and essentially that they're going to have double digit growth into the next year, which I thought was pretty awesome. The other thing that I really appreciated was a slide that they did, where they compared what they had said in 2019 about FY 22. They actually hit those numbers a year early. And the reason I thought that was important is if you remember back in maybe 2017, 2018, Qualcomm was not looked at like a company according to its institutional investors who could hit and execute on those growth factors. And basically they did, and they did it a year early. And I think that's super impressive.
I think the other thing that I thought was interesting was that they had all this growth during a supply chain crisis, and Qualcomm has a very distributed manufacturing strategy. Meaning they literally work with every fab on, on the planet, okay? Every foundry and they also do some contract manufacturing out as well. A lot of people had looked at that earlier a few years back and said, "Boy, that's complex." "That makes no sense." "It increases risk."
Well, I certainly think it's paying off at this point for them. Being such a large company Qualcomm does have an advantage of having a very wide and deep supply chain, but they're disaggregated supply chain and manufacturing strategy I think is really paying off.
Daniel Newman: I know we got to move on, but very impressive. I'll leave it at that made my appearance of on Yahoo Finance very easy.
Patrick Moorhead: No, for sure. And, let's move into another company and that's Skyworks that we have actually never talked about on Six Five Podcast. And I think it's a good time that we start. So let me talk a little bit about the company. First of all, 5 billion in revenue, the 31% IBIT. Okay. So they're taking a lot to the bottom line and they're very focused. They're an analog company. Okay. You pair with a digital solution like a 5G modem, a 4G modem, Wi-Fi 6, GPS, Bluetooth, Zigbee, Laura. They are the front end for smart phones. IOT devices automotive and infrastructure from companies that we talk about like Ericson, Nokia and Cisco. They do 7 billion chips a year, 20 million chips a day. And one very unique thing about the company is they're vertically integrated, okay?
They actually do their own wafers, which is unique. They have their own manufacturing. Most people just have designed and they do PAs and filters and assembly and tests, so they can scale. And that's a real benefit here during this supply chain crisis. So they came out with overall 2021. And they grew top line 51%, which is absolutely incredible. And it's fun that we, two massively growing companies like Qualcomm and Skyworks talking on the same day here. They're customers, we would know their customer, their biggest customer is Apple. Okay. In 2020, it was 50% of their revenue. They're trying to not be a one trick pony here, but in the iPhone 13, they're the analog front end alongside the Qualcomm X60, and the Qualcomm Transceiver.
They're on Amazon, Google, Samsung devices, Microsoft, NETGEAR, GE, Honeywell, and Northrop. So that's a little bit of the background of the company. I talked about how they did for the 2021 52% revenue growth, EPS was up 71% and they also are looking to double digit Q1 sequential growth in the first quarter of next year. Daniel, I know that's a lot, but I had to get in the, not many people have heard of Skyworks. So here we had to explain the company. I mean, they're definitely not a household name. And quite frankly, it was a challenge even getting through their earnings. I had to go to the transcript to get to a lot of the key data. There's no presentation, they don't break out businesses. It's tough.
Daniel Newman: Well, Pat, I did spend a little bit a time reviewing and looking through it to make sure that I would have something intelligent to add to this, because I don't track Skyworks as closely. But even though we did just talk about Qualcomm is the leading mobile RFFE. Skyworks has an impressive portfolio, has an impressive client list. Just looking at some of the company's highlights, Pat, I think it's worth just reiterating what you mentioned. I mean, they're working with the Nokia's, they're working with Cisco, they're working with Amazon, Comcast, Samsung. It's said in their highlights, they're working on supporting autonomous driving and in market, leading robotaxi vehicle platform, couple of ideas who that could be. And those are some very, very significant names. Working on the control units systems for tier one European automotive OEMs.
This company is in a lot of places it's attached to some very important transformational trends whether that's going to be smart vehicles, whether that's going to be 5G handsets, all kinds of different connectivity, IOT. And Pat, they make a lot of money and they pay a pretty nice dividend, a 56 cent dividend, which was approved this quarter. So, for the investor audience that sticks with us, it is a company that probably warrants some attention based on some of these trends. If you're following trend lines like autonomous vehicles, if you're following trend lines, like 5G, this is a company that's there that's helping and supporting, making it happen. Like you said, they don't have that full digital two analog, but on that analog side, very complete portfolio, impressive vertical integration.
Patrick Moorhead: Yeah. The final comment I'll make about wasn't included in the numbers was a lot of the acquisition of the RF side of Silicon labs that really expanded their footprint. I talked to the company last night and asked them, who are they taking share from? And they were really, really sharp to say, "Listen, it's a growing market. And the amount of content in our solutions is growing radical versus 4G." And when you attach that to things like Wi-Fi 6, where they're a major player on the infrastructure they have a lot of growth to go. They did mention that they are probably taking share away from some of the lower cost Asian manufacturers. I couldn't get them to name any, but those who couldn't make the turn to 5G or Wi-Fi 6E. I mean, Wi-Fi 6 interestingly enough has some complex RF as well.
So good conversation, Daniel. Let's move to the next topic. We're going to move out of earnings into Microsoft Ignite 2021. Gosh, Daniel, we have so much stuff to talk about. There's no possible way for me to take all the energy out of it.
Daniel Newman: Pick a few things, and then I'll pick a few things. And-
Patrick Moorhead: Yeah it was interesting. I give Microsoft a lot of credit for the consistency that they give that they give Satya and they tended to change it a bit. This was all about the Microsoft Cloud. And essentially what Satya did is he came up and essentially talked about four trends and how Microsoft fits into this and essentially how are businesses being digitally transformed when many were not built to be digital? He asked questions like how can business collaborate and connect to the degree to which collaboration connection or accelerated digitally? How businesses are equipped, the tools and infrastructure to innovate? And then the big question of how does all this digitization collaboration and connection and infrastructure, how is it secure? So you get the idea, not something you wouldn't expect, but it was a little bit different than before.
I would say the one black and white product that was brand new that I want to talk about is Microsoft Loop. I want to admit something. And I do really try to be self-effacing when I don't fully understand something or something sounds complex. Microsoft Loop is essentially think of them as blocks of code or blocks of applications. And there are three essential part Loop components, pages and Loop workspaces. Essentially these are blocks of applications that can work anywhere in the Microsoft environment, whether it's Dynamics, whether it's Office, whether it's in OneNote, whether it's in Outlook. And that was absolutely the new one. And Loop reminds me of this, like a Canvas experience with the capabilities of a tag system with dynamic templates. I think Microsoft's going to have to work pretty hard to communicate this I'm potentially butchering it, but I am going to be writing about it with screenshots.
You almost have to see it to fully understand it. I think the final thing I'll talk about is some of the enhancements to Azure Arc. So Arc is a multi-cloud management tool that allows you to manage containers and VMs across your own private cloud, AWS, GCP, Oracle, and even IBM Cloud. And they're now starting to call it trust fabric, which drives me a little bit crazy, but it's more marketing than anything. I get what they're trying to do here, but they enhanced it with vSphere, new integration with Azure stack HCI.
There were some, Arc enabled data service announcements that I thought were interesting in. Well the reality is that no customer goes all in on anyone's cloud. Okay. It's kind of fantasy at some point. So Microsoft [inaudible] it might as well be the management plane for all workloads in the future. And I'll leave. I think there's a ton I've left for you.
Daniel Newman: A ton, a ton Pat, and we could go in so many different directions and we've covered a few different things. You mentioned Loop, which was the fluid framework, or I think they called it that for a number of years. And Loop is finally where they're turning this from an idea into something that's going to be productized, it's going to be marketable. It's super meta.
Patrick Moorhead: Are there too many of these Daniel, like it hit this point where it's like, is this going to be too complex for enterprises to integrate?
Daniel Newman: Well, here's, what's going on, right? Enterprises need a digital fabric. They need a fabric, kind of the way a cloud and or the IT within a company needs a networking fabric. Most people that are using an app don't care where the app is actually located. That's something that we care about, because we're analysts and we like to talk about this stuff. But in the end it's like, does the app work or not? And so there's a little bit of that, but what is going on, right? And it's very, very clear is there's a few horse race that are basically trying to reimagine work. And so when you think about Loop, you're thinking about reimagining work. I remember [inaudible] at MWC a few years ago, watching Halo and this is going to help me transition into another thing that was really big here.
And we were watching HoloLens, not halo, HoloLens. And we were watching, how we could potentially work and manipulate and collaborate in an environment together. Well, we saw Mark Zuckerberg showing the metaverse the other day. And now, Microsoft is talking about collaboration that transcends boundaries, right? And that's mesh. So you got mesh from Microsoft Teams, we're going to go from meetings face to face, to asynchronous. You got Viva, which got some enhancements, which is all about employee experience and work life balance.
And then you've got these asynchronous and then you've got mesh, which is effectively going from the 2D to 3D meetings to be able to put us in spaces together, to have us operating and collaborating inside these immersive spaces. So now you got Facebook building the metaverse for the consumers. You got Microsoft building the metaverse for Teams and for meeting and immersive spaces.
What we do know is in the end, there's a ton of meeting fatigue. We need to do this better. Microsoft is trying to address that. So that's something that's going on there. You've got cross organization collaboration going on. You've got Teams Connect, which is basically all about breaking down silos, making things simpler, enabling companies to have different Teams connecting across channels in a more simple, streamlined way. Again, complex, yet simple. This is all about this remote operating system for work. You're seeing CIVET now being integrated into the Team's platform, Pat.
So here are on Streamyard. We really like this platform. Well, Microsoft is going to have its own version now with events, with broadcast, with virtual green rooms, with Q&A. So you can see that Teams product by the way, being thematic, because what you've even mentioned with Loop it's a lot of it's about Teams, it's about collaborating is about being able to cowork within an environment.
This is where everything is going. This is where it all ties together. Then you have collaborative apps where you've got partners like SAP and ServiceNow and being able to work in your Team's environment and see the SAP screen or see your ServiceNow workflow all in one place.
And then of course now guess what else they're doing? Streamlining the contact center experience. We've all seen how contact center operates over here as one thing. And then you've got the Service Cloud, or Dynamics 365 customer service. Well, in the end we want a single streamlined experience that includes Teams, that includes service, that includes contact center, building that here now as well.
So what we've basically have going on across the board is that Teams continues to become more and more the epicenter of the Microsoft ecosystem. And now they're attaching everything, whether it's collaborating, whether it's creating, whether it's distributing and broadcasting, whether it's working inside of different applications, that's where this is all going. That's how I'm tying this all together. This is the future. If you make it about apps and about IT and about individual solutions and complexity, it does Pat. It becomes an absolute head scratcher. I would pull my hair out, but in the end, the real question is what are you trying to do? And do you in fact, have a dynamic or a digital fabric that allows you the ultimate extensibility think platform. And that's what I think Microsoft was really trying to get across. I think it got out there somewhat well.
And of course we didn't even mention a mountain of Azure updates that are going on, but it really does still go back to that full stack. It's about Azure platform built on top, applications built on top of that. And then of course all the service layers. In the end, Microsoft wants to be able to get you everything you need end to end. And then, like I said, with the ability to bring in those collaborative apps, whatever you don't get from Microsoft, they want you to use, you heard it in Microsoft. So that's what's going on. That's Ignite. That's where we're going rock and roll.
Patrick Moorhead: No, I appreciate that Danny. And I understand having notepad available. I just can't shake this, I'm not going to let this go. I totally get having, OneNote inside of my Microsoft email program, I get it. I get all of these things back and forth, but Loop is essentially an application, a new place to go. It needs to be called something and calling it a Canvas. I know I did that, but it has to be called something. Box has that similar challenge, but they came out and actually called themselves something. And there's a category. It's like, what category is Loop? I don't know yet.
Daniel Newman: I don't know. Collaborative work, future of work. Pat, well, let's call it digital transformation.
Patrick Moorhead: Listen I think you were one of the first analysts, if not the first to site digital transformation and there's as many people who hate it and who love that term, but changing your enterprise to move quickly is a good thing regardless of what we want to call it. But hey I'm not going to let this be a dangling chat. We need to move to the next awesome topic. And that was Oracle Live analytics and AI event. And as you know, Oracle has a monthly event around its fusion apps. It constant updates to its SAS application for its customers. And this month was about analytics and AI.
Daniel Newman: Yeah, we can hit this one pretty quick, Pat, because we can point our customers, customers. We can point our beautiful audience and friends out there to a pod that we actually did with two of the most senior execs in this business from Oracle. TK [Anon] and Steve Miranda. But we talked to them ahead of the event. So what actually came out of the event and this event was really not just, I wouldn't just call it analytics and AI, but it was really about building on the analytics cloud, the autonomous data warehouse, to be able to implement AI and analytics to drive supply chain.
And it was a very timely announcement because if you're not familiar, Oracle Fusion has what's called their SCM solution or their supply chain and manufacturing solution. And of course, if you've been under a rock, maybe you aren't aware that we're having a little problem on a global basis and this isn't just chips, by the way. We talk a lot about chips because we're in tech. But it's everything it's gasoline, it's fabric, it's clothing, it's paint, it's ladders, it's lumbered whatever it is, we can't get it.
And there we are heading into the holidays and for many companies, retailers, they have bare shelves. And of course this is driving inflation. This is not the Six Five economics edition, but let's just say, when you don't have enough materials and you don't have enough inventory and you have people that want stuff, what it does is it drives prices up like crazy and it causes a lot of issues. And by the way, this causes problems for companies to be able to function and operate and plan.
So right now, the ability to take data analytics, both internal to the company, external analytics that are available for things like market demand that are being created every day through research, and being able to apply those so that you know. Pat, you and I have talked about this quite a bit and not to get a little off topic, but the companies that have done the best through the supply chain shortage, especially in the chip space where the companies that understood what was going to happen to their demand and were able to identify early that the disruption of COVID wasn't actually going to be a disruption. In fact, it could have been an accelerant to their businesses.
Automotive companies immediately cut supply or cut forecasts and cut off their basically their arms. And it's still not in many cases, recovered from it. Whereas other companies had a better understanding for instance, one company that did extraordinarily well, it was Dell, another Lenovo that had their eyes on their long-term supply chain. Understood the demand for PCs that going to be caused by this actual pandemic. And then we're able to get out in front of it and their interruptions were less, they weren't nonexistent, but they were less.
Analytics and technology like what is being built here in fusion cloud supply chain and manufacturing can help your company. Again, being very clear what's being announced is that there are an opportunities to utilize technology, to get your arms around more quickly, the risks of global events, natural disasters, updates to trade agreements, changes in global policy, macroeconomics, and be able to utilize that, to understand what kind of supply you need.
You have better visibility into how is your supply chain performing to understand the process in how it's working towards your business goals. And then of course, to be able to detect in advance more proactively where a disruption might be. Laughingly, I heard a great story a few weeks back when I was doing some research about, I used the word paint earlier, Pat, and the fact of the matter is one time it was, they couldn't get the cans to put the paint in. So you could get all the paint you needed, but you couldn't get a can to put the paint in to actually be able to sell the paint. And then there was another point where they could get all the cans and then they couldn't get the resin required, because, it's a chemical compound that it's chemicals that ends up making the final product.
So when you have a supply chain, what people need to visualize, is like a chain link, right? And that the fact is that oftentimes to get to a final product it could be a small number five or six. It could be 500 or 600. The substrates for semiconductors are extraordinarily complex and the materials all the way back to raw materials, there's a ton of different component that go into making this happen. Then of course there's labor impacts, which is a whole nother thing that's going on.
This was the focus of this week's Oracle Live event it's that there are technologies available, there's investments the company can make. Oracle has been working very hard and building upon that fusion platform to be able to get deeper. And by the way, I really was impressed that they're this market opportunity to enhance this in a regular cadence, because right now this is something I believe companies need very badly. And so it was a good announcement Pat, a good opportunity by the way, check out our conversation with TK and Steve, because those guys did a great job of explaining what they're doing.
Patrick Moorhead: My favorite part of the event was not actually the event itself. Although-
Daniel Newman: Our podcast?
Patrick Moorhead: …I did enjoy that. Well, I like that too. But I liked a demo video that they did, which essentially showed a scooter maker. It looked like a general manager or maybe a product manager that said, "Hey, all the data suggests that they are not going to have enough supply to be able to hit demand." And it wasn't something that came through some phone call or some spreadsheet, it was real time. And then they get the supply chain folks, they get the product management, they get engineering on the phone and the system auto magically knows that there are certain parts of the scooter that can be borrowed from scooters that aren't selling as well. And literally on the Zoom call and using Slack by the way, which I thought was or what looked like Slack, sorry, it wasn't Slack.
They came together and ultimately reconfigured a product to be able to pull more parts off of other scooters that weren't selling as well. And my background is, product management and product marketing and strategy. But that definitely hearkens back to my product management days in general management days, where these were real life conversations you would have. And the only way you would know you were heading in the wrong direction, it was too late to really do much about it, right? You would stock out, you would sell out and then you'd have to wait one or two months to make something happening. This is all about prediction that something is going to happen, that really is the true power of what I think Oracle is bringing to supply chain management. And it was pretty cool. Watch the video, we'll put it in the show notes.
Let's move to our final two topics, which I think this is the first time we ever had two spinout, spinoff topics in the same show, but let's start off with the IBM, Kyndryl spinoff. And by the way, is it spinoff or is it spinout? What's the difference?
Daniel Newman: Sure. I don't know, whatever. I think it's whatever you want it to be, but I think it is a spinoff. I think typically the market's going to call it a spinoff. By the way, these two, we'll talk about this and we'll talk a little bit about Dell. We have another one yesterday. We talked to Bob Lord, the SVP of ecosystem at IBM. We did a six five, so we aren't going to have to beat the drama ton, but we of course know that only 90% of the world's population watch our show at any given time. So for those 10% of you, we wanted to make sure we came back and talked about this again.
In all serious though this was a really big for IBM. Now, if you haven't been following the situation too closely, IBM has been in a situation where for years now, it has really struggled to hit growth targets. It had a period where it had many concurrent quarters back to back without growth. And so the thing about that is though, is it wasn't fully reflective of the company's innovation, the company's efforts to innovate and its focuses into the right areas. It's been making some really sound acquisitions. Of course, Red Hat being one of them, some people bucked a little bit at the size and the price of that acquisition. But when that acquisition was made and Arvind Krishna, CEO now, it's by the fact that he wasn't CEO at the time led the charge on that one fully understood the direction the company needed to go in.
The company oftentimes finds itself being valuated as a old stodgy, monolithic IT company. And, realistically with its bets and investments, whether that's Quantum, whether that's AI, whether that's been Cloud, it really is anything but monolithic. But at the same time, because some of its old businesses, especially it's managed infrastructure services business, which is now Kyndryl. You had a business that really struggled to grow. Oftentimes didn't grow, but was representative of a significant component of the company's revenue. You have a market out there that's just thirsty for growth.
So this gave the company an opportunity to really narrow down its buckets, to focus on software, infrastructure, consulting and research, to be able to really lead with hybrid cloud. It's the time for Red Hat to rise. So it was, Kyndryl out, Red Hat in to be able to build the whole hybrid cloud and enterprise hybrid cloud narrative around software, around AI, around industry focus and enterprise. And I think that's really what's going on here.
Now having said that, I think we're going to take two, maybe even four quarters before we start to get a sense of how well this is going. I think the market is going to want to see the growth rates be more significant in those specific areas, meaning the business under cloud and software specifically. But I feel like this gives a new opportunity for IBM to be reborn a little bit to reintroduce itself to the investment community and also to settle on what it wants to be when it grows up, which is a faster paced growth company. They're only targeting single digits Pat. But overall, like I said, got to watch the pod ton of insights there, but the platform is taking it in a direction that I'm more fond of and that I think will pan out well over the long term.
Patrick Moorhead: I think it's just good for both companies Daniel, and I like to keep my strategy simple. And one of the strategic points I always look at is what I call gear theory, think of a company as a set of gears that have to work together. There's different sizes, maybe different speeds. The challenge is when you have gears that are two different in size and speed and even shape, they tend to grind on each other. And that's what I think what was happening between IBM and its managed services business. AI, ML, Quantum, and the hybrid cloud are one set of gears and manage services is a different set of gears. Kyndryl needs a lot of automation technologies. IBM needs investments in growth for AI, ML, Quantum and Cloud. It's literally as simple as that.
So I think this is a good move for Kyndryl. And I think this is a good move for IBM. And while this doesn't automatically make IBM grow double digits. In fact, it won't, the company has said, "Hey, we'll have strong single digit growth." We'll have businesses, that'll have double, triple digit growth, but this does not automatically put IBM into Amazon category or actually AWS category or something like that. IBM still has the challenge. And I think they bet big, like you said, with Red Hat on really making the hybrid cloud stick. And it's funny, IBM doesn't need any new customers. They have all the customers they actually need, the large enterprises. What they need to do is switch those customers in cloud from one brand to the other. But their biggest challenge is actually getting their customers to do the cloud. And I think, whether it's financial, whether it's government, whether it's life sciences, retail. I think IBM has a really good job of doing it wherever there are a lot of regulations, wherever there's a high degree of risk, I think IBM should do pretty well.
Let's move to our final topic here. And that is the Dell, VMware spinout a couple highlights. So first and foremost, just to review the two companies we're not one for one, there was a tracking stock that VMware had and there was a stock for Dell. Investors had challenges related to the governance of it and how it was run. And the theory is by splitting them up, you'll be unlocking the value. And if you looked at the combined value of Dell and VMware, it didn't even seem close to the opportunity.
So this is what this is all about. Now Dell brings a lot to VMware and VMware brings a lot to Dell. So they did a five year strategic relationship on certain product classifications. But I would say more near term impactful sales and marketing. Most of the growth that VMware exhibited over the last few years came from its relationship with the Dell Salesforce. So there's value both ways. And a lot of the differentiation, particularly on the software side, the Dell brought to the table came from VMware.
Now that will actually continue both companies I think now have permission to work across lines. But I do feel like for the next five years from an innovation side and the sales side, the two companies are symbiotically linked. When it comes to Dell in particular, right? I think Dell's done a really good job communicating its value proposition for the next stage of, and it's all about Edge it's carrier in Telco it's multi-cloud and hybrid cloud it's data management. And other businesses related to security AI and ML, and then the continued pace to gain share in what they call their core business that they want to essentially modernize that's PCs, compute, networking, storage.
So server storage, networking, and PC, and then putting on the, as a service layer of apex on there. And I think for investors to fully buy in, they're going to want to see evidence of apex growth. I think first and foremost, and how in these growth areas, Dell is achieving higher margins and big double digit, maybe triple digit growth.
Daniel Newman: Yeah. Pat, you hit on a lot of things really well. This spinoff needed to happen. We of course, saw the stock get halved for it. The market cap got zeroed out. I mean, I'm being a little bit over zealous when I say that, but we did know this was going to happen. We knew the market was going to react this way. It wasn't a reaction based on science. Dell has an amazingly large business, very robust with, or without VMware. And in many ways they always operated somewhat discretely throughout their entire existence. It was a growth business. And in terms of, on the infrastructure side of Dell's business, it did grow more consistently. I mean, remember VMware was growing, but it was really about a 10%. It was almost like you could almost count on about 10%, every quarter, 10%, this wasn't accelerating like an Azure or even a sales force in the double 20s, it was 10.
And considering the trend towards cloud if you did a comparative, just going back to IBM, Red Hat has actually been growing a little bit faster, just the Red Hat part, not the whole IBM Cloud, just the Red Hat part. And my point is, so VMware was doing well, but it wasn't blowing growth outta the water. Meanwhile, Dell has been working for years now on building this apex solution out. Now, for most people they've only really started to hear about it recently. It's sort of changed a little bit. I think it was Dell tech on demand was its early iteration. And then there was, Dell financing had been doing this by the way, on a custom basis on a very large volume for a long time.
Having said that, Pat, you were exactly right. Did I ever say that to you? You're exactly right. The market needs to see progress here. Needs to see progress, growth. It needs to see the service portfolio expand. You heard Michael and his team talk a lot at the recent analyst event about multi-cloud need more evidence about how without VMware, Dell is going to be supporting the multi-cloud initiatives that are going to be going on in enterprises, in the future. Dell has a worldwide world class sales organization, whatever is put in front of it, it's going to have the ability to put it out at scale. Whether that's, like you said, addressing Telco 5G and Edge, or that would be addressing core infrastructure for the enterprise or handling, security, whether that's zero trust all the way out at the Edge to core infrastructure, security requirements, storage, networking, you name it.
I want to see apex grow. I want to see evidence of apex growth and that's going to be through products, through services, through customers and through transparency, which is something that I think is going to be very important. I think right now, Dell is being put on sale a little bit. It's an interesting company to look at, I think ever doubting Michael Dell. And what he's able to do is a very bad decision by the market. And by the way, Michael made a mint on this deal. So if you were a investor and a shareholder and you understand the financial engineering of what he accomplished by bringing this company in and bringing this company out, and he also, by the way, just upgraded the quality of the company's debt significantly through this move. This was brilliance all over it.
However, it does leave a gap in the portfolio and the company is going to need to show the market that it's going to be able to fill that gap through strategic partnerships, or new acquisitions or new products that it's going to be able to take to market.
Patrick Moorhead: Final thing I'll say before we close out here is that VMware now has permission to work more closely with companies like HPE and Lenovo folks like that, than they did before. Daniel great show. It's great seeing you, buddy. This is my favorite time of the week and of the day to be able to do that. I just want to thank everybody for tuning in and as I always say compliments to me and criticism to Daniel on Twitter. No, we really want to hear from you and know what you like, what you want more of what you want less of. But with that, this is Pat Moorhead and Daniel Newman signing off for another episode of the Six Five Pod.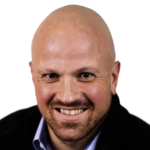 Daniel Newman is the Principal Analyst of Futurum Research and the CEO of Broadsuite Media Group. Living his life at the intersection of people and technology, Daniel works with the world's largest technology brands exploring Digital Transformation and how it is influencing the enterprise. Read Full Bio