We are LIVE! Talking Google, Microsoft, T-Mobile, Cloudera, Intel IDM 2.0, Biden visits IBM – The Six Five Webcast
We are LIVE! Talking Google, Microsoft, T-Mobile, Cloudera, Intel IDM 2.0, Biden visits IBM – The Six Five Webcast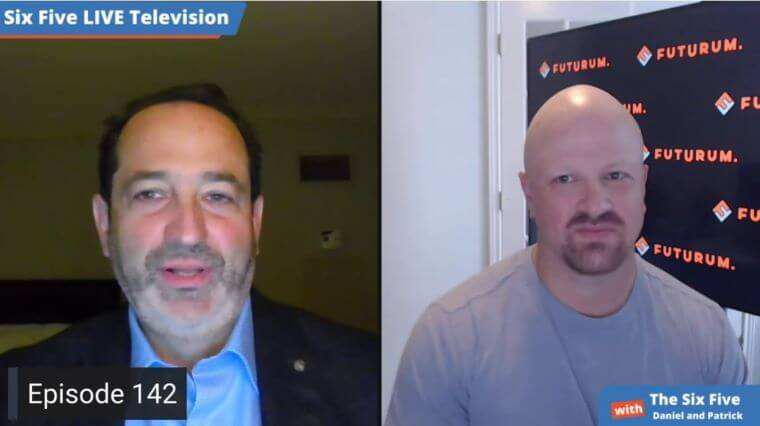 On this episode of The Six Five Webcast, leading global tech analysts Daniel Newman and Patrick Moorhead analyze the tech industry's biggest news each and every week.
On this week's show, the topics covered are:
For a deeper look into each topic, please click on the links above. Be sure to subscribe to The Six Five Webcast so you never miss an episode.
Watch the episode here:
Listen to the episode on your favorite streaming platform:
Disclaimer: The Six Five Webcast is for information and entertainment purposes only. Over the course of this webcast, we may talk about companies that are publicly traded and we may even reference that fact and their equity share price, but please do not take anything that we say as a recommendation about what you should do with your investment dollars. We are not investment advisors and we do not ask that you treat us as such.
Transcript:
Daniel Newman: Hey, everyone. Welcome back to another episode of The Six Five Podcast. It's Friday. It's show time. Another big week on the road. Except that, actually, I'm not on the road. Not at this moment. But we were on the road. Patrick, we've got a lot to cover today. How are you doing, my friend?
Patrick Moorhead: I'm doing great. It was an amazing week. It's tough traveling. This is my third event. I'm out here in Bellevue at the T-Mobile Analyst event, but we just rocked it. Kicked off the week in New York at Google Cloud Next. We went to Evolve, which was … I don't know. 20 blocks away from Google in New York City.
Got on a six-and-a-half hour flight. As you can probably see by the background, it's early here. It is 6:30 here in Bellevue. But I have to tell you, I really like Bellevue. It's like Seattle without some of the junk. It's nice.
Daniel Newman: Well, isn't it like the Mini City? You always see Bellevue and you're like, "Is that Seattle?" You're like, "No Space Needle. I guess we're not there yet." Bellevue has been a happening part of the city, where a lot of the big tech like T-Mobile. Microsoft has a big presence in Bellevue, and other tech companies do, Pat. I'm glad you made that trek.
I was supposed to. I was also supposed to go to Miami and I went to my house. And it was not the worst thing ever. We were up early. Monday, we did the Google Cloud thing. We crushed 11 Six Five On The Road videos. Four for Google Clouds. Seven for Cloudera. And then, we carried on and here we are on Friday. By the way, we had Cloudera, we had Google, we had Microsoft Ignite. You had T-Mobile Analyst Summit. There were other events.
I think there was a Samsung developer conference that we know we could have been at. There was an IFS event in the ERP space that we could have been at. There was so much going on. By the way, Pat, we are one week ahead of the start of another earnings season, which I know you love. Not as much as I do, but we're going to be seeing some real ground truth over the next few weeks about just how good or bad is this economy.
We had a crazy hot inflation read yesterday, but then there was some signal that maybe Putin is ready to come to the table and negotiate. Now, I know we're not a political show, but we've seen how hard the markets have been hit by this uncertainty of war, this uncertainty of recession. Are we getting some clarity? Dude. I am really excited. By the way, next week, where are we? At Oracle CloudWorld?
Patrick Moorhead: That's right.
Daniel Newman: And I don't think that's it. I think I have somewhere else to be. But anyway, we'll get to that. We've got a great show today. We're going to talk about Google Cloud Next and T-Mobile Analyst Summit. We're going to talk about Microsoft Ignite. We're going to talk about Intel's further commitment to its manufacturing and foundry model. We're going to talk about the Cloudera event, which by the way, Pat keynoted.
I wish I could embed the video of him circling on stage. He had some serious energy. And then, we'll talk a little bit about the broader market and Joe Biden's visit to IBM. Now, if you are visiting with us for the first time, The Six Five is six topics, approximately five to 50 minutes each. A lot of analysis. Minimum news. We have to give enough news, so that you can basically get our takes and analysis.
Now, a little disclaimer. This show is for information and entertainment purposes only. While we will be talking about publicly traded companies, please, I beg you… Please do not take what we say as investment advice. Pat, did I get everything there? Did I hit all the high notes?
Patrick Moorhead: You did, buddy. You did. You got it in there.
Daniel Newman: Well, you've got places to be and I've got a lot of coffee to drink. And so, let's get this show on the road. Now, starting off, let's talk about Google Cloud Next. I'm in practice here. We were at the beautiful Pier 57, Google Cloud's new offices in New York City. Near the Financial District. It was cool. It was a cool place. It was a cool event. It was basically on the pier. Totally retrofitted building. Pat, you said it well a couple of times on the videos. I'm not sure. Were we at a country club? Or were we at a Google office?
It was well-built, well-designed. There was coffee, food, sushi, drinks, snacks, hangout areas, televisions. More power supplies than anyone could ever need all over the facility. But Google Cloud was there. The event was kicked off by Sundar Pichai. We thought we were going to get a live appearance. We did not. Sundar was in a bunker somewhere delivering his hello, but we did get TK. Thomas Kurian. Thomas came on stage, kicked off, hosted the first keynote. There were two in a four-hour period.
The first keynote, Thomas Kurian kicked off. And then, we had some really interesting guests. Some of them appeared on our Six Five show. Really, the company was focused on a lot of things. There was a lot of news. This felt very fast. You and I sat next to each other during it. This was the hardest keynote I've ever had to tweet, because the pace was voracious in terms of the announcements. A couple things that stood out to me. We know that company is really focused on this data cloud.
It's been extremely aware that its positioning to come into new businesses has come as having some specialized capabilities with how it can handle data analytics … That has brought it into more and more organizations. I had the opportunity to sit in a session, talk to some of the heads of companies like Walmart that are looking at their multi-cloud strategies. Actually, hearing how the company is building on Google with Microsoft and with a giant on-prem presence. Basically, some of Google's specialized data capabilities are the reason that Google found its way into that opportunity.
The other thing I thought that was really worth mentioning to me was the strength that Google has in a number of industries. I don't know if you remember these, Pat, but Thomas flashed some slides where he went through manufacturing, retail, consumer goods. He was showing that the company is now in eight or nine out of the 10 biggest in all of these different areas. What did that mean to me? Furthering my reflection that multi-cloud is real and here to stay, and it is being adopted up-front and earliest by the biggest companies in the world.
We all have said, "How real is multi-cloud? What's hybrid? What's multi?" Google really was able to put their thumb on the fact that whether they're the number one public cloud or the second public cloud, they have found their way into the world's biggest companies in the world's most important industries. Those were the two things. The only thing I'll add to this, in fact, there's so much.
They leaned into security. It's a big topic. I'm not going to touch on that one too much right now, but I really like some of the things they're doing with collaboration. We don't hear about this much, because everybody thinks that Microsoft has an unchallenged path to owning the productivity suite. But we're talking hundreds of millions, I believe, was the number of users now using Google Workspace. That's apps. That's Google Docs. That's Sheets, that's Calendar, that's Mail.
Google is really making some hay there. They're building out next generation collaboration. They showed a new collaboration technology that actually uses 3D. It's this more immersive experience. It puts people into rooms together. That's going to help involve hybrid. Now, we'll talk more about that when we get to Ignite, but I'm going to stop there, Pat, because there was a lot. I did four-and-a-half straight minutes of the five-minute window. Nothing left. No. There's actually a lot left. I'll let you go whichever direction you want.
Patrick Moorhead: Listen, the briefing guide for us was 160 pages. I think that's a good predictor of just how much happened here. I think what I'd like to do is boil it down to … For me, it was four key things. You had mentioned it before, but it's an open data ecosystem. Google Cloud has been very successful in landing with analytics, data, AI, and expanding. One big message really was about the openness. And that's openness getting in, and openness getting out.
Whether that's, again, big query where you're querying any type of database anywhere on the planet. But there was a long list of companies that came to the table to say, "Hey. We're going to be part of this." There was an ODI that I think … Was it Microsoft that created that? Or wait a second. Was it SAP? Salesforce? Anyways, there's been a lot of open data interchanges out there. I'm interested to see how this one pans out.
There are a lot of benefits that Google has. It has so many tools that can reach out to other pieces of data. If there's bidirectional movement there, I think it's a big plus. Some of the AI capabilities. Again, we should never be surprised at how good Google's AI is applied to business. Because quite frankly, they were the first company to do machine learning on images. This was ImageNet over a decade ago. They were the first company to do this.
One of the demos that blew me away was what's called Translation Hub. Let's say, you create a white paper and you know have a workflow where you translate it into 27 different languages. Typically, what you have to have is you have to create literally 27 different versions. This drag-and-drop capability allows you to literally drop a PDF as it is into the Translation Hub, click off how many languages you want it in, and it spits out essentially a PDF that is in 24 different output in different languages.
I just think that is absolutely amazing. Google translation, by the way, this is being borrowed from the consumer side. Big theme. Another big theme for me was they weren't afraid to talk about a lot of the innovations they had done on the consumer side that they can leverage on the B2B side. I give Thomas Kurian, Google Cloud CEO, credit for really setting that pace. No longer are we asking Google Cloud or its potential customers, "Hey. Are you going to just take our data and advertise it? Are you going to Hoover it?"
We don't even talk about that anymore. It was good to see the company open up the aperture and talk about why it has an advantage with a lot of its capabilities. Because it is the largest consumer cloud out there. Security was key. We talked to Google Cloud CISO, Phil Venables. It's funny. I had even said to him, "I don't remember in history Google ever getting hacked."
As we've seen with Microsoft, and as we've seen with Cisco, Google is making a bunch of acquisitions. Gosh. A bunch of them on The Six Five interview. Four of them. Enterprises are looking for one throat to choke and all the integration to be done. I fully expect in the future Google to be up there with Cisco and Microsoft as it relates to security. We could go on and on, Daniel. We talked to Vint Cerf. The guy.
Daniel Newman: That was so cool.
Patrick Moorhead: He created the internet. June Yang on AI. Sudhir Hasbe for data analytics. Bronwyn Hastings who runs Google Cloud's ISV and Channels. It was incredible.
Daniel Newman: Maybe, Pat, we can just say here, hit our show notes. We're going to put links to all of the episodes of The Six Five On The Road. Yes. I loved them all. I do have to say I was a little starstruck by Vint.
He was such a humble guy. He's the guy that helped find the actual internet. Not like Al Gore. Actually, helped find the internet, did the building, Pat. I was very impressed. All the sessions were great. We got to keep chowing forward. Are you good on that one?
Patrick Moorhead: Let's do it.
Daniel Newman: That's why we call it the ten, five people. Some of these topics just require a lot of coverage. Speaking of coverage, Pat. You are on my behalf, not actually, but up there with my colleague Ron Westfall at the T-Mobile Analyst Summit. You're killing it man. I saw you with the presidents, CXOs, and it sounds like it was a great event. What can you share from inside the Analyst Summit?
Patrick Moorhead: It's not over yet. And it's NDA Day today, which is great, because we got to hit all the public stuff. Let me first say, I am completely surprised how good the event was. Whether it's events, whether it's semiconductors, whether it's software, whether it's a service. V1s are never very good, but T-Mobile absolutely knocked it out of the park. We had the event at their innovation lab. There's hardware, there's gNodeBs. There's hardware, there's software, there's IoT labs.
It's a real working lab. Reminded me a lot of what you and I saw in Chicago with Oracle. Some of the key things that stuck out for me was the maturity of how they're looking at the market. Most companies who are a consumer play getting into B2B, they start off with a horizontal play. You have to do some of these brilliant basics. Whether it's in transportation, automotive, utilities, healthcare, retail, public sector.
But they laid out a very compelling vertical strategy and offerings where they have pre-certified solutions. A combination of their network, hardware, software, on-prem services, and cloud services that I thought was really good. One example they did the drill-down on was retail. They had mobile connectivity, as you would expect. With private network, MEC, mobile devices, UC&C.
And then, they had point of sales systems, inventory tracking, personalized shopping, in-store heat mapping, and AR and VR. It's funny how an analyst's brain works, which is .. You know when you get to the point where you ask, "Okay. How real is this? Is this strategy? Or is this actually happening right now?" I thought the most impressive customer case was Alaska Air, which isn't a bicycle company, which they had up there. It's not an electric truck company. It's a very mature business. That impressed me the most out of it.
They have built a big channel network as well. With everybody who you would expect. SIs, ISVs, everything. Super impressed. They have a lot of room for growth. They showed some charts on growth trajectory, but they didn't give actual numbers, which I'm fine with. Reminds me of the early days of Google Cloud. My biggest recommendation for them going forward is … Find a way to integrate your B2B talking points and wins into earnings. Talk a little bit more about it.
I do realize that there's a certain revenue point that you have to get to, to make it interesting, but put a crawl chart in of new customers. Net new customers. Anyways, gosh. I'm talking a lot. I'm done. I'm writing up something on it. You can read it on Forbes next week.
Daniel Newman: Well, Pat. First of all, I'm glad you carried a little bit of water on this one. Not being there, I didn't see what got announced. I'm having to be a little bit dependent upon and your hot takes here. One thing I guess I'll say about T-Mobile as a whole is … I can really remember that there was a point when you saw the tides changing. It kind of happened right before our eyes. This has been both T-Mobile as a consumer company, when it was in that Legere … What is it? The Un-carrier moment.
Patrick Moorhead: Still going. By the way, met the guy who created the Un-carrier moniker.
Daniel Newman: There you go. And then, basically, we have seen it start to carry into the B2B side as well. The company has really transformed. One thing that caught my eye in following some of the social is the company really seems to have a good understanding. It's got this pyramid partner ecosystem where it understands everything from primary agent relationships. Working with companies like Hyperion, all the way through its OEM partnerships. It's got distribution partnerships. It's got SI partnerships. And it's got partnerships in the public cloud.
In fact, I got a Forbes article I'm working on right now, where I highlight T-Mobile and Google Cloud's partnership. This telco of public cloud relationship continues to proliferate, and T-Mobile seems to continue to be at the forefront of innovation here. If I think back to three or four years ago, I would've said it was AT&T that was the big carrier that was really doing the telco cloud B2B story. More and more, I think T-Mobile is carrying the water there.
The other thing is the company has really got a lot of ambition in private network. It's got a 5G nationwide internet approach for business. And so, that's something a lot of us, again, don't think about. We all think about 5G through the lens of a consumer on their device getting that connectivity. But that private network, we've talked to Cisco a lot about it. We've talked to the cloud providers a lot about it. That is opportunist. It's opportunity. That's both green and brown field for T-Mobile.
I envision their continued ambitions paying off for the company as more look to 5G as either a second connectivity capability to keep employees, hybrid workers, and offices always connected. Or in some cases, as primary connectivity in certain markets and regions where that level of dependability is required. I look forward to hearing more. I look forward to getting underneath the hood.
Like I said, I'm sad I couldn't get out to Washington, but I am happy that I'm home. I'm not going to lie about that. I haven't had a lot of nights in my bed. I slept like a baby last night. For what it's worth, thanks for the covering and carrying the water on this one, Pat. Let's move on to another one where we're both carrying water a little bit from afar. And that is Microsoft Ignite. By golly, Pat.
First of all, gosh, I look forward to doing Ignite again in-person. You talked about Google's 160-page book of news. That was a pretty typical experience for Microsoft. The hard part, like I said, is when you don't get to sit in the room. I do think there's a level of absorption that is lost when we don't get physically in front of these events. I think there's something about being in front of these machines, multitasking.
I don't know what it is, but when you have this much news, it's hard. Now, Pat, there's a ton of different ways to go. What I'm going to do, just setting this up for everybody out there. I'm not going to touch Surface. That's your baby. There were some really important Surface announcements. I will talk about some of the other themes that I saw at Ignite that I thought were pretty important.
First of all, Microsoft like Google is really leaning hard into the data platform. They have what's called their Intelligent Data Platform. It's been aggressively expanding. They've added 12 more partners to this. They're adding things for PostgreSQL. They've got more services for Kubernetes, for Azure Arc. They've also continued to expand their developer ecosystem.
I'm going to say that what really caught my eye tended to be more in the Power and in the Teams area. That's where Microsoft really leaned in. They have this DALL-E invite access program too. Not going to talk about that as much, but what they talked about big time is Power Automate. Power Automate and Teams really coming in together has been the focus of the company. They're finding more and more apps.
A high double-digit percentage of apps now that are being built on top of Teams are being done with Power. They're being done in low code. Microsoft has been on this trend for a really long time. They've got AI Builder. They've got conversational intelligence. Basically, what happens now is you don't need to be a developer anymore. You can build apps in Power, layer them into Teams, and then use them to connect, Pat, front to the back.
Patrick Moorhead: There we go, baby.
Daniel Newman: Efficiently. Without necessarily needing to deploy your most prolific developers to get the everyday applications in the business that you need. A couple of things done on the productivity side that I really liked was this new Places work app. There's always been collaboration available in 365 Office. What I would say is this is an area, Pat, where if I'm being up front, I think Google has been better. I use Docs. I like the collaboration experience in Docs more than 365.
With Places, you can see where they're trying to take this workspace. It's your optimization of hybrid work and physical workspaces to be able to collaborate more. No matter where you are. I like the direction they're going. I think giving 365 Office and Places and finding new ways to engage and collaborate … It's a little bit of their Workspaces answer to what Google's done with Workspaces.
The other thing I really did like, Pat, was the intelligent recaps. I don't know if you saw this, but you and I attend so many meetings. I just said … Yes. You and I love recording the meetings. But then, you get the transcription and it's still up to us to figure out what was worth capturing. Microsoft is using machine learning and AI to basically say, "We can extract layers of important data from a meeting, and then turn it into meaningful insights and information." That to me was like, "That's a home run."
Now, again, I've got to see it work. Because I don't know if it's going to really capture it. Pat, imagine if they could take the 10 best nuggets of every Six Five right out of an intelligent recap. And then, all of our listeners would only have to read those 10 things instead of spending a whole hour here. Don't do that, by the way. That's not okay. But in general, we do spend a ton of time in meetings. A lot of it's unproductive. How do we get the productive and important stuff surmised in a way that we can quickly and easily capture?
And then, I guess maybe the last thing was is there were some great partnerships with Cisco announced. Poly. They're deepening the bench. To basically say … Putting Teams on Cisco always made sense to me. Cisco has got a really good hardware portfolio. I know obviously they want everyone to use Webex, but I think both companies are realizing, "Why not open it up and let the best hardware and the best software win for every enterprise environment?"
Microsoft's always been good at that. Glad they decided to partner up. They're of course doing some stuff with Meta to deepen the partnership. A lot of what I talk about with Starline, with Google. That next wave of 3D immersive, metaverse-based collaboration. Hybrid work is going to have us all over the world at any given time. Can we use technology to make meetings less squares on screens and more immersive? Humans interacting nearly in-person. Microsoft is pushing that envelope too. Lots of good stuff here, Pat.
Patrick Moorhead: All right. We're 30 minutes in and we're on the third topic.
Daniel Newman: That's average for us. I just want to say.
Patrick Moorhead: Is it really? Okay.
Daniel Newman: We'll speed up though on the last three.
Patrick Moorhead: Daniel, you literally hit the top three announcements that I had carved out. Power Automate is super impressive. By the way, it's an evolution. When you think about the no-code capability, it was like using Visio, where you would drag-and-drop certain boxes that there would be certain actions. What this new capability enables is you to literally type into a CLI and have it spit out code and workflow. Really, leveraging AI and making it so that even you and I could figure this out.
Gosh. I've been using a no-code tool called Zapier for six years. It's more of a drag-and-drop. You put this in. Now, you just type it in there. I'm actually very comfortable in drag-and-drop. We're going to have to see how many people actually use the CLI and type it in there. The Teams' tool to spit out. I use otter.ai and it's attempting to do it. It's not that good. It is not that good.
Did you notice too that, to get those special features, you're going to have to pay more money? I like that from Microsoft. Let's not give everything away for free and bundle it into E1 or E2 or E3. Let's charge for that. You can imagine how much cycles go into that. But hey, I have to hit Surface. There was a gigantic Surface announcement that happened in New York City. Ironically, at the same time that you and I were in there. Let me hit some of the key themes here.
For Surface Pro, it's all about upgrading to the next generation Intel and Qualcomm processors. Of course, with Qualcomm you get 5G. They've also pulled the line together. There was the Pro X and there was the Pro 8. Now, there's the Pro 9 with two different processor options. I cannot wait to try out the Studio Effects on this, Daniel. Here's the interesting part. Between Intel and Qualcomm, you can actually do more effects on Qualcomm than you can on Intel.
Why is that? Because the SQ3 from Qualcomm has this giant NPU to do machine learning. It's kind of ironic. Hey. Forget about raw processing power when it comes to the CPU and integer. You can actually do more effects on, let's say, Teams with Qualcomm than you can with Intel. I thought that was super interesting stuff. Highlights from Surface Laptop 5.
By the way, I'm using a Surface Laptop 3 right now. They upgraded the processor Intel. They removed AMD this time, which is interesting. I'm going to have to get underneath that. They added Thunderbolt 4. A little bit disappointed that the camera is not 1080P. It's still 720. Typically, Apple is behind the curve on everything when it comes to cameras, but even they've moved to 1080P.
Another highlight for me, Daniel, iCloud photos on Windows 11. Essentially, what that means. Instead of doing what I do, which is uploading all my photos to iCloud, Google Photos and One Drive, it just goes directly. There's an API that pulls in all of those photos. I saw some demos about a month and a half ago. It's instantaneous. Take a picture on your iPhone, it immediately shows up in the iCloud photos.
Microsoft really improved on some elements that's kind of been this dangling chad. I'm seeing a bigger connection between Apple and Microsoft. Dare I say that it might be thawing a little bit? Heck. Even Apple content. Apple TV is going to have a native application on Windows. Mind-blown. Check out Forbes. I'm going to have an overall article about Ignite. And then, I'm going to have an analysis on the Surface launch.
Daniel Newman: Well, there you have it. What a cover. See? I told you there'd be enough left. The problem was I might have hit your top three, but Surface alone was worth a full spot for us here. Pat, let's keep moving on. There was a press release that came out from none other than Pat Gelsinger with Intel. Talking and reiterating about the company's plans for IDM 2.0. Amidst the changing economic tides we'll talk about later in the show. What's cooking there?
Patrick Moorhead: IDM 2.0 is the moniker that Intel uses. IDM is integrated device manufacturer. That means you're a designer and you're a manufacturer. IDM 2.0 was where, first of all, they opened up IFS. Or they opened up their own foundry. Now, they've had foundry capabilities before, but they're serious about it. They're going to spend hundreds of billions of dollars to do this, to get the scale that it takes to do leading-edge nodes, and have the scale so your costs are low.
The other part of IDM 2.0 was using other foundries in a bigger way. Intel had always used other foundries. Particularly, TSMC. But typically, for less strategic silicon. You have TSMC in some of Intel's newest products doing the GPU tiles. That's a huge shift from what it was before. What's new? You saw for years that the company was focused on the tech and the investment.
You and I both talked to Pat Gelsinger back at their Intel Innovation event, and he was very clear and he doubled down and said, "Five nodes in four years." That's the tech. We've talked about the funding and the hundreds of billions of dollars that Intel will not only invest themself. They also are sharing risk with a firm that the name escapes me. They're also getting money.
Daniel Newman: They're about smart financing.
Patrick Moorhead: Smart financing. They're also getting funding from government. CHIPS Act in the US. They're getting money in Western Europe. Once you get that in place, now you have to productize it. You have to make it work in your company. My biggest takeaways from the memo is, first of all, they've put together a committee. They've put Stu Pann, who's reporting right into CFO, Zinsner.
Essentially, putting an even playing field between the external foundry and the internal fab. Let's say, you run the client desktop business and you can choose which foundry you go to. Are you going to use Intel internal? Or are you going to use TSMC or Samsung? I think it's a big deal. It's actually productizing and enabling the technology, which we really hadn't heard details from before.
Daniel Newman: Pat, I think we're in a moment where communications matter. The market's a little spooked and Intel hasn't really benefited from when the market wasn't. It's been a really difficult time in terms of perception, and it's been driven by execution. I think Pat and his leadership team, not you, Pat- Pat Gelsinger. Big Pat. That's how we do it when we see you two together. He really wants to make sure that he's articulating two groups. We've seen a lot of articulation to the market, but also this internal communication.
There's been some discussions of layoffs at Intel. It's now that you really have to unify the culture of a company and say, "Hey. We still believe." Not only do we believe, because I think that speak has been somewhat commonplace over the last couple years, but we have a plan. Here is the plan. And so, having an IAO or acceleration office that basically says, "This is our plan. We are steadfast in executing this plan." An execution reminder. And that we have personnel with great capabilities and competencies to make sure this plan stays on track, which is what everyone in the market is going to want to hear.
And then, of course, being very articulate in the benefits of this strategy. Meaning the foundry-fab relationship should give Intel some unique advantages. The ability to step-process. The ability to expand capacity. The ability to identify where the leadership comes from internal, versus where maybe process leadership might want to come from external. And then, leveraging all of those potential opportunities to be successful. And then, of course, the company making sure it's clear that, "Hey. We've got a plan to win with our internal process with our five-and-four strategy."
Now, you've got me turning around. And then, on top of that, with the advent of risk, the advent of harm. Saying, "Hey. We've got a plan to make sure that we are going to capitalize even in processes that aren't Intel-led design." And so, the market needs to hear it. But more importantly, right now, I think the employees needed to hear it.
It was a good solid. By the way, brevity matters. It was brief. It was not long. It was not something that you had to spend two hours sifting through. It was quick, it was to the point, it was articulate. It was clear. I think us as analysts and hopefully employees of Intel, see it, get it, and know. Like everything we say with Intel fab, and I reiterate, "Proof will be in the pudding." We'll see how the execution goes, but these continued communications are promising.
Let's jump into number five, which was Cloudera slash Intel slash IBM came together to host an event in New York City, which Six Five was on the road for. At Evolve, New York City. Now, everything about the event. Solid. I really liked the venue, but the opening keynote was fantastic. It was delivered by a guy. He got on stage. He was riding a unicycle. Wait. It wasn't on a unicycle. He just ran in circles. But Pat, I've known you for eight years and I've never seen you speak in that capacity.
Meaning, I've sat next to you. I've watched you interview. I've never seen you on stage and you did a good job, Pat. You served as MC for everyone out there. You also gave an opening keynote and you told everybody out there that their cloud sucks. Now, provocation is never a bad idea when you're opening an event and when you're at eight in the morning and you're going to talk about hybrid data architectures. It's probably good to throw a little flame and make sure everybody out there… But here's the thing, this was a small event.
It was intimate. It had a lot of big customers. There you go. There you go. Hold on. There's the full run. You need to rewind that. Go back. I'm glad I got that. I'm really glad I got that. You did a good job. And so, again, we heard from CEO, Robert Bearden. We heard from the enterprise data management. Is it consortium or group? We heard from Rob, Thomas, IBM's head of ecosystem. He's got a bigger title than that. He's an SVP and he leads.
Patrick Moorhead: He runs sales and services. All the GOs.
Daniel Newman: Okay. Big role.
Patrick Moorhead: They call it global markets.
Daniel Newman: Global markets. And then, we had just a whole series of really thoughtful conversations throughout the day with the executives. We talked to their chief product officer, their chief technology officer. In fact, here's really what's going on here. Cloudera has historically been known as a prem-based solution for data. Over the last couple of years, in the wake of also going private, Cloudera has been in a transformational process of trying to convince the market that it has solutions for hybrid and public cloud.
You've actually seen it pivot. About two years ago, they really went all to the cloud, which by the way, Cloudera you would've thought would be cloud-led. That's always been the anomaly of the company. But in the last year, under Rob Bearden and since the go-private, the company's really leaned into this CDP. Cloudera Data Platform. With the focus on hybrid and understanding that most of its clients … It has so many big clients that use its platform.
This is Cloudera, Hortonworks. Hadoop, if you're familiar. Really bringing these clients into the modern era. It's really about data architectures. You can call it mesh. You can call it fabric. They've got what's called Iceberg, which is this next generation technology. What they're really doing is bringing together private and on-prem and public to create what's truly a hybrid data architecture for customers.
The company has a lot of work to do to compel the market that it is the right solution, but it also has the foundational customers. That was the message that seemed to just get reiterated throughout the day is that, "You need to unlock your data." You need to unlock all this data on-prem and all this data can't just be unstructured data. We need to be able to unlock structured data. We need to be able to unlock unstructured data. We need to have an open ecosystem that could connect a lot of different applications to all your data. Making it all available in a way that's efficient and affordable.
I felt like the company did a good job nailing and landing that message. I think we would all agree there's a lot of work to be done for Cloudera. I think that's what your message was on stage is, "Look. We've been talking about it a long time. There's a lot of work to do. In most cases, your quote, unquote cloud sucks." If you can build on the fabric , I know it's a little buzzy, in what's out there. With what Cloudera is launching with CDP One, they really do have a potential to bring that prem-based architecture with your cloud together to get a lot more value from the data that's held within our organizations.
Patrick Moorhead: Dan, good assessment. I saw this as a really a pivotal time for the company with this event. I know that sounds dramatic, but you know me, I love drama. But it was a big statement. This is the first in-person event that they had done since Strata, where they had announced CDP Cloud.
It was a big deal from the standpoint that it was the first live venue to really tell the whole story of, "It doesn't matter where your data is right now. On-prem, in the public cloud, or at a colo. Or how you want to access it." And that's either traditionally through their tools or through CDP One, which is their SaaS product. I think that's a pretty big deal for the company.
Now, Rob Bearden did share some of the financials publicly on our video. I was really impressed. He has increased revenue substantially. Even more importantly, and I didn't expect this, because they've been investing so much… He increased EBITDA considerably as well. The IBM partnership, I wasn't aware how deep that was, but I thought it was great to see. Because quite frankly, on a vertical basis, the two companies overlap a lot.
Both companies are very good in highly-regulated areas like finance, like government, pharmaceuticals. Rob Thomas really doubled down on the IBM commitment to Cloudera. If you remember, IBM had a Hadoop instance that it was doing. And then, they had inked a big alignment. This to me was IBM doubling down on that. And I think it's a good move for the company.
I don't even think we've scratched the Surface with CDP Cloud, because you know how slow some of these companies do. Most of Cloudera's customers aren't putting their data in the cloud for very good reasons, as we've seen. Because your cloud sucks. I don't think we scratched the Surface for the opportunity as well, as soon as we see CDP One get out there and go GA. Great event. Not just because I keynoted.
Daniel Newman: But that was part of why it was awesome. I may or may not have sent that video around private chats.
Patrick Moorhead: Yes.
Daniel Newman: All right. Let's take this home. I talked about this at the top. We've kind of alluded to it a few times throughout the conversation. Pat, last week, Joe Biden visited IBM CEO, Arvind Krishna. We saw our friend Ross Morey as well talking to him. He was there to look at the innovation and investments being made in the Hudson Valley, which Arvind committed to … What? $20 billion over the next 10 years to continue the expansion.
We've seen Global Foundries, Micron. Others that are all committing to building out and expanding. It's becoming a bit of a Silicon Valley of the East. I know Ohio. Actually, the best is down here, Austin, Texas. But New York is finding its sea legs in terms of semiconductors. Also, maybe just talking a little bit about what we're seeing with the supply chain and the market at large.
Pat, I guess first and foremost, you and I are both… I'd say we're both just kind of truth seekers. We tend to not sit on a political line as much as we want to see all the progress and the investments, especially in tech that are being made, be fruitful. We want to see the world a better place. One of the things that, of course, we've both agreed upon that we were really pleased to see the Biden administration get behind was the CHIPS and Science Act.
We've watched our country put itself in significant risk as Chinese missiles circle the Taiwan Strait, and that we know that we're really one incident away from being pretty much without leading-edge semiconductors. Because we've completely outsourced our reliance to Taiwan. Seeing over the next couple of years that we're going to bring some of that leading-edge back is important.
IBM has been a bit of a secret player. They don't necessarily get outward credit, but I think we've seen things like 2-nanometer innovation announcements that have come out of IBM's research centers in New York. We know the company. You and I visited and did a Full Stack video series for the company, where we delved deep into the company's contributions to innovation and semiconductors as well as things like quantum, which are going to be future drivers for the company.
The Biden visit to me is good for… We all pay a lot of attention to Microsoft, Amazon, Google. These are companies that everybody knows and their consumer arm tend to make them more well-known. Apple. IBM, one of the most coveted and known brands in technology for the longest time, has really realigned itself to be focused on business-to-business. When you're all B2B, you tend to not get the same amount of visibility at times. I thought it was a great indicator of awareness that Joe Biden visited. I also think it was good to hear that Arvind intends to continue investing. Now, Arvind, if you've got more dollars, may I recommend Austin, Texas?
I'm just going to get a couple of quick comments and pass it back to you on the overall state of the economy. With the supply chain still quite constrained, we are seeing significant fall-off in the consumer business, Pat. You and I have said this for a period of time. That commercial business would likely remain robust longer than consumer, and that what we were going to see… The first few to drop was going to be consumer demand. Intel, last quarter. AMD, Nvidia, early warning shots came out this quarter. 40% off by AMD.
Pat, you've made some good comments, I believe, on the record about AMD not necessarily having as close of a handle on the channel. I think was what you said. I'm not putting words in your mouth, so if I'm wrong, please correct me. The fact is that a lot of people thought AMD was just ripping and that Intel was uniquely having a problem. Now, what we're, I'm guessing, about to see is all the OEMs report. We're going to see HP's, Dell's, Lenovo's. It's going to be really interesting to see what happens there.
We saw market share reports come out. I'll let you comment more on that, but almost all of the big compute OEMs lost significant revenue in the last quarter. I think Apple was on one of them. The only one that showed a gain, which again will be interesting overall. And then, on the overall macro environment, Pat. We're heading into a really tough moment. I can't split the data any other way. Our low unemployment rate is horse shit. I don't know what else to call it.
You've got two-and-a-half million people that left the workforce. None of them have come back yet. At least, probably, half will have to come back at some point. When you actually add that back into the participation rate, we're going to see unemployment jump. You've got the signals of layoffs and hiring freezes in the market. You've got interest rates 7% now for a mortgage. You're going to see car payments and loans jump above 8% in the near future. Credit markets are tightening.
We don't have labor. Our immigration policy is a disaster. We need to bring in legal immigrants that can actually do service jobs, because our service market is what's driving inflation through the roof. We're seeing a little bit of signs of easing, but the Fed policy is only going to get tighter. Because the data's not giving them any reason to slow tightening, which means markets are going to stay repressed. Asset bubbles need to explode.
This will affect tech. But on the positive side, and this is my last thought, I do believe in the end, automation, ai, data technology, and cloud are actually going to be the solution to all the problems that we have, which means the next time semiconductor boom will come. It means software and technology will continue to roar. And if you have no faith in anything, know that tech will come back.
Patrick Moorhead: It's always easier to look in the rear-view mirror, but we over-rotated on stimulus. I think that last stimulus money print and distributing of the money is one of the biggest reasons we're in where we are right now. We also gave out stimulus checks to people who still had jobs.
Daniel Newman: And companies.
Patrick Moorhead: PPP. We should have taken it through the unemployment process, but I believe that there was a fear that that's so slow, it would get so overwhelmed that people wouldn't get any money. And then, we would go into this deep recession. Well, here we are. I think we printed more money in the past three years than we did in the previous 25 years. We spent more than any war. We shot ourselves in the foot and here we are.
What are some of the markets that just completely tanked? Well, like you said, the PC market is down 18%. Heck. Between Canalys, Gartner, and IDC, we can't even find agreement on how many MacBooks were shipped. IDC say it was 10. Canalys said it was 7.9. Gartner said it was 5.8. There's almost a 40% differential between IDC and Gartner. That is a clear indication to me of the uncertainty.
What I can confidently say is Apple was up. And then, the question is, were they up 40%? Actually, now that I look at it, Gartner had them down. We'll have to see. We'll have to wait for earnings to see what really happened. Now, let me pivot back to where you started. And that was President Biden visiting IBM. First of all, I would say I support about five out of 100 things that the current administration is doing. I think they're focusing on the wrong things. And I give them a lot of responsibility for the mess that we're in economically. This is Biden's economy.
Yes, the previous administration did the first stimmies, but we didn't need that second one. Thank goodness we didn't do the $3 trillion that the administration wanted to pile in. We broke it apart and did really smart things like the CHIPS Act and the Science Act. But even in the face of this uncertainty, we have IBM knuckling down and committing to $20 billion in regional investment. I think that says a lot about a company to make a huge investment commitment.
Sure. It's over a bunch of years and we don't know how much they'll spend the next two, but I don't think that matters. It shows that IBM is a believer that tech is deflationary and anti recession. You talked about automation. It's a really good example of how you can combat some of the biggest issues that you're having today around information workers and frontline workers. Heck. 3%, like you said, of the workers just left and never came back.
I'm seeing a ton of, just as an example, fast food restaurants. In particular, McDonald's rolling out automation. You and I both saw that, through technology that IBM and Lenovo is providing with an AWS AI backend, 50% of the orders at a drive-through will be taken by AI as opposed to a person. Here we are. That's all I have to say.
Daniel Newman: That's it? Nothing more?
Patrick Moorhead: Yep.
Daniel Newman: All right. Well, Pat, great show. I know it was a little early where you are. Thanks for sucking it up and getting up. I love seeing your bed in the background. Knowing where you sleep keeps me warm at night. But really good week. Solid.
Back on the road next week. See you guys all in Las Vegas at Oracle Cloud World. Then, I'll be off to Red Hat Ansible as well. Pat will be with me. I don't know where else he's going, but hit that subscribe button. We really appreciate the community.
We know this show is a lot of fun for you, because it's certainly a lot of fun for us. We'll be back in the next week. Hopefully, on Friday from wherever we are. But for now, we've got to go. We've got to say goodbye. We'll see you all later.
Patrick Moorhead: Take everybody. Thanks for stopping by.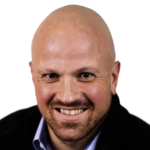 Daniel Newman is the Chief Analyst of Futurum Research and the CEO of The Futurum Group. Living his life at the intersection of people and technology, Daniel works with the world's largest technology brands exploring Digital Transformation and how it is influencing the enterprise. Read Full Bio