The Six Five On the Road: IBM Cloud — How It Fits Into IBM's Full Stack and Impacts the Future of Computing
The Six Five On the Road: IBM Cloud — How It Fits Into IBM's Full Stack and Impacts the Future of Computing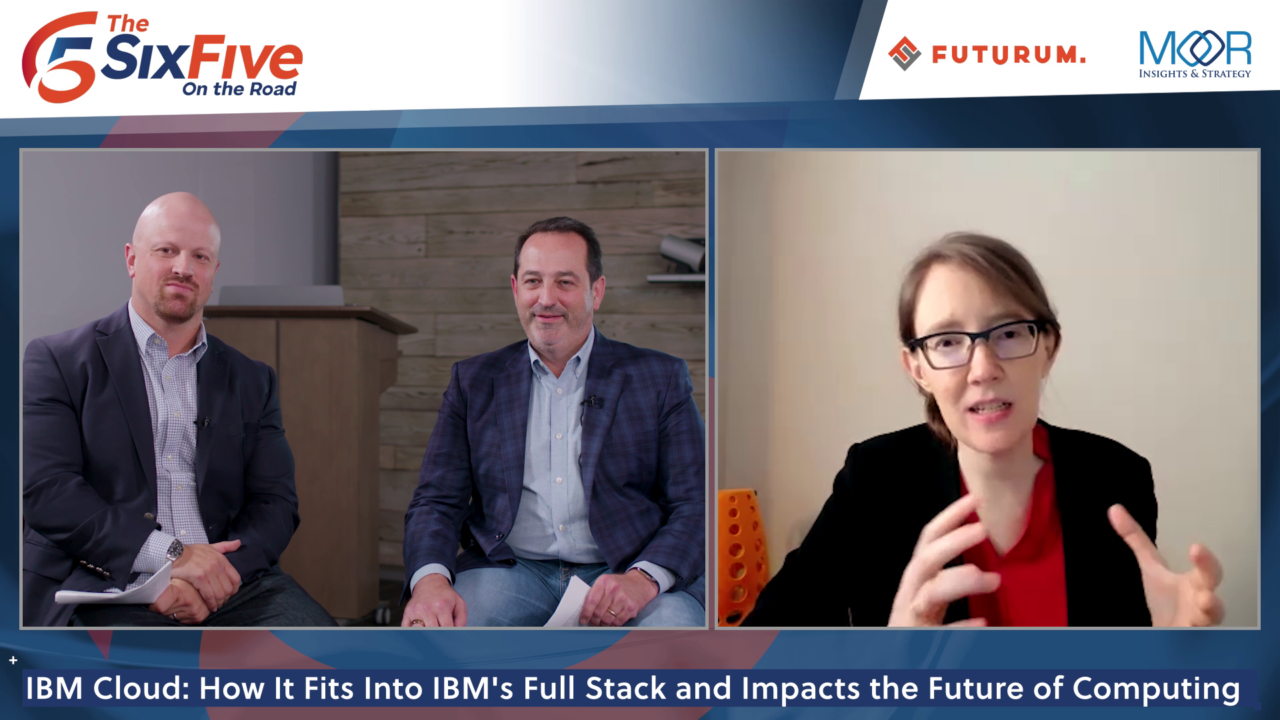 On this episode of The Six Five – On The Road hosts Daniel Newman and Patrick Moorhead had the opportunity to sit down with key executives across IBM to talk about their full-stack infrastructure and the future of computing.
In this interview segment, Daniel and Patrick were joined by Hillery Hunter, GM, Cloud Industry Platforms & Solutions, CTO IBM Cloud, and IBM Fellow, to talk about how IBM's Cloud fits into their full stack and impacts the future of computing.
Watch their other IBM conversation segments:
IBM's semiconductor vision and ecosystem with Mukesh Khare, VP Hybrid Cloud at IBM Research
The benefits of fundamental science and technology innovation with IBM's Ross Mauri, GM IBM Z and LinuxONE
Distributed infrastructure, AI, and how IBM's vision of the future of computing extends to Edge with Nicholas (Nick) Fuller, VP, Distributed Cloud at IBM Research
How Quantum Computing is shaping the future of IT with Jay Gambetta, IBM Fellow & VP Quantum Computing at IBM Research
Watch the full episode: IBM's Full Stack Approach to the Future of Computing
To learn more about the IBM Research, check out their website.
Watch our interview here and be sure to subscribe to The Six Five Webcast so you never miss an episode.
Listen to the episode on your favorite streaming platform:
Disclaimer: The Six Five Webcast is for information and entertainment purposes only. Over the course of this webcast, we may talk about companies that are publicly traded and we may even reference that fact and their equity share price, but please do not take anything that we say as a recommendation about what you should do with your investment dollars. We are not investment advisors and we do not ask that you treat us as such.
Transcript:
Daniel Newman: Yeah. So we have Hillery Hunter joining us. We're going to be talking about IBM Cloud and we're going to be making the connections. Started at the chip layer. We moved into systems. We're going to go to the cloud now and we're going to just keep tying all this together.
Patrick Moorhead: I love it. It almost sounds like this was very well planned out, Daniel. Great job. Do I give you credit or somebody else?
Daniel Newman: I cannot take credit for this, Pat, but I do think everybody out there's probably going to learn a lot here.
Patrick Moorhead: So stay tuned for Hillery Hunter. We're going to talk on IBM Cloud.
Hillery, how are you doing? Thanks for coming onto the Six Five. First time guest. Great to see you.
Hillery Hunter: Great to see you as well. Really a pleasure to be here.
Patrick Moorhead: Yeah. We're having some great conversations here in Yorktown talking about the future of computing and the role that IBM is having in it. And we're here to talk about IBM Cloud's role in that. So thank you so much for coming.
Hillery Hunter: Thanks so much. There's such exciting stuff in Yorktown and we have such great partnerships there. Lots of technology that comes into our cloud comes out of IBM Yorktown.
Daniel Newman: Yeah, it was really enjoyable to come on campus. Got the tour. We stood at the Watson jeopardy. I took a picture standing behind the Watson computer because I wanted everyone to think I'm the Watson machine that won the game. Turns out I'm not, Hillery, but that's okay. So let's talk public cloud. Let's talk about IBM Cloud. It's a part of the business that sometimes I think we could talk about more that I think that there's a big opportunity for the company. I'd love for you to start out sharing a little bit about the IBM Cloud, its differentiation, how you've sort of focused on some specific verticals and what's working right now and what should the market know about IBM Cloud?
Hillery Hunter: Yeah, I think it's interesting to think about what has happened with cloud over time. Cloud is definitely a place and it's a set of technologies. And for IBM it's also hybrid cloud conversation. And so the specific positioning of our public cloud has evolved a bit over time. And I think where we're at right now is very much in alignment with that overall IBM mission as an enterprise IT provider. It is also very well aligned with our hybrid cloud story, which may be a little bit surprising to say from the public cloud lens. But what I mean by that is our public cloud is positioned as focused on enterprise workloads, mint to back office, regulated workloads, and on contextualizing public cloud adoption for industries, for example, regulated industries like financial services. Like telco, like healthcare, et cetera. Traditional clients who really value what IBM does from a security perspective, what we do from a compliance perspective, et cetera.
But we work with our clients to help them trust the public cloud as a deployment location, even for their most sensitive workloads because of the data protection and other technologies that we have. But we also work with them in the context of IBM being a hybrid cloud company, where they're looking to have consistency between their on-premises estate and their cloud deployments, or they're looking to have consistency in a single control plane across their public cloud deployments on multiple providers. And so we deliver technologies that help secure their most sensitive workloads in our public cloud. And we deliver technologies that help them get consistency across their estate.
Patrick Moorhead: So Hillery, for what it's worth from one industry analyst to you, I do like the strategy. It's a natural for me. When I look at where IBM has had high degree of success the last 30 years it is in these environments. And whether it's on premises or cloud, it's very similar types of regulations, security, like you said. So it does make sense to me. Now IBM cloud does participate though in the overall architecture of a cloud as well with Red Hat, right?
Hillery Hunter: Absolutely. Yeah. And I was deeply involved in the Red Hat acquisition and in the overall hybrid cloud strategy that we established at the time and for us in the public cloud, OpenShift, we run it as a managed service. We help distribute it and other services in a common control plane out into other environments. And a lot of these clients in IBM's core base within regulated industries, they need that optionality. Cloud concentration is a great concern. And so they want to be able to deploy their OpenShift based workloads that they have on premises. They want to be able to deploy them in the public cloud, so as to have more flexibility, more elasticity, be able to respond to things happening in the market. They want to be able to deploy it consistently across environments, et cetera. And so the Red Hat alignment for us has been really great. It is a key part of how we help our clients envision the transforming of their estate into public cloud.
Daniel Newman: It's interesting, Hillery, you're talking about… We're working from the public cloud backwards. Now we're gone back on prem. We've talked a little bit about the Red Hat involvement. And here in Yorktown, we spent a lot of time on in the research, looking at the things that are being developed. And IBM does a lot of research and development. We saw the quantum machines today while we were here, but we also know that IBM has a big role in leadership in the semiconductor space. A lot of research, transistor research, things that are being done that will probably be seen as breakthrough on ultimately some leading edge part, that'll be put into a phone or into a computer, but bottom line IBM has a big part to play in that. But what about in terms of in the cloud? How do you see the IP, the research development and leadership that's done here in Yorktown and other IBM R&D facilities participating in the evolution of your IBM Cloud offering?
Hillery Hunter: Yeah, it's truly soup to nuts and we've had this luxury for the entire time we've been a cloud provider of being able to do that soup to nuts type of approach, custom hardware, all those other kind of opportunities afforded by that skill base that you were describing.
Maybe just to highlight just a couple of things, because I could talk about this for hours, but our cloud in order to do data protection at the industry's highest possible standards, leverages technologies that are done jointly with IBM research on cryptography that get built into our Linux One systems at IBM and it's custom hardware design all the way down to the transistors and all of the math that then helps our clients know that their data is their data and only their data in the cloud. So whether or not it's on the cryptography side, on quantum secure cryptography, we have deployed the algorithms that have recently been selected by [inaudible 00:37:41] to protect us against a future quantum state.
And we also bring IBM's quantum capabilities, both the developer environment and actual access to the machines, we bring those to market actually through the cloud. So whether or not it's the current problems and protection of data that are running on any type of servers in the cloud, but protecting the data, leveraging advanced cryptography techniques and hardware techniques through to protecting the future and then developing the future and looking and exploring the future of IT, including quantum, we bring all of that to market and all of that to bear in our cloud.
Patrick Moorhead: That's excellent. So Hillery, thank you for bringing Z Technology and Linux One to the cloud. I know you and I had a conversation a few years back on that and it's great to see an area that just make sense like security. I love that. So Hillery, you talked about how some of the things going on in Yorktown are making its way into the service line today, but what about the future? We've seen some amazing quantum innovations here, in fact. We went through the lab that was here. We've talked about AI and things like AI in the edge and moving data around. What about the future? How are you looking at IBM Cloud and future innovations?
Hillery Hunter: To be honest, we're getting all those things that you were mentioning out to our customers through the fluidity of cloud. The quick turnaround time, the ability to deliver stuff as a service, put things out in beta, help people try and experiment them, I don't think there's anything you mention that we're not actually doing even today with our clients, whether it's the latest in AI stuff or quantum technologies or experimentation with homomorphic encryption, so people can privately compute on things. But honestly I'll say also up into the stack, serverless computing and changes in orchestration models for workloads and how they're developed. We have a very tight partnership with research and with Red Hat on many of those different topics and technologies.
And in edge computing with IBM Cloud satellite, we can then help our clients deploy those technologies where their data is as well. So whether the data is in IBM cloud or on their premises in retail branches they have, or other things like that, we can help them quickly deploy those latest innovations and chat bots and virtual assistance and all that other kind of stuff. So I think we see a hybrid and I guess hybrid forms of computing in the future. IT is taking on new types of computing with quantum and stuff. So both in the hardware side as well as then in the software and the development, we're continuing to build out the latest models together with research.
Daniel Newman: As I read into it, Pat, really she's telling a story of a very distributed compute future that requires a combination. It requires public and multi-cloud, which by the way, aren't the same necessarily as hybrid cloud. And I think the market sometimes gets these things conflated a little bit. And that enterprises and organizations are going to have data and compute and workloads all over. And it's going to take a very thoughtful, well laid out, cohesive infrastructure to address that. And it sounds like that's what you're really focused on Hillery with IBM Cloud. And I think in those specific industries in those vertical use cases, it's really been a winning formula. And it's going to be very interesting at least from my analyst view to watch how that sort of expands into other industries, other workloads, and other opportunities in the future. But I think it sounds, Pat, like they're really on the right trajectory.
Patrick Moorhead: I like where we're going. And Hillery, just want to thank you so much for coming on the Six Five, talking more about what the company's doing from end to end computing, the future of computing, and how IBM Cloud fits into that picture. Thanks so much.
Hillery Hunter: Thanks so much for having me.
Daniel Newman: That was a lot of fun, very interesting conversation with Hillery. The cloud, something you and I spend a ton of our time… The cloud, something you and I spend a ton of our time thinking about, discussing, and of course where it's all going, multi, hybrid. And then where does it connect to there? Infrastructure, semiconductors, we really covered it all.
Patrick Moorhead: Yeah, we did, and I really did appreciate the clarity that it brought to IBM's strategy of it. They're not a cloud for every single workload out there. They're a cloud for, I think, the customers and for the applications that they've had decades of success with. Highly regulated, highly secure, and stuff that you just can't have mistakes on or it's really, really bad for you as an enterprise.
Daniel Newman: Well, you look at things like security. It's a rising topic of importance at the board room, at the CEO level. Companies know that the vulnerabilities and the risks of security are massive and the implications are massive. And as data continues to proliferate, these organizations need to be thinking, "Am I partnered with the right organization?" And that's where the whole cloud concept of, it's not just IAS and it's not just PASS, and it's not just software as a service. It's really all those things. It's the big C, and it includes the consulting and the service, Pat, and the design. And I think that's really the roots of IBM. And I love the fact that they're not saying, "We are for every workload." They're basically saying, "We have parts that we are confident we're the best," and then in some cases it might be AWS. It might be Google. It might be Azure. These players are all there, and I think they understand their role.
Patrick Moorhead: Yeah, and I'll put an asterisk on it. When you do overlay Red Hat, Red Hat can be everywhere for every workload, but that is not necessarily the tip of the spear for the IBM cloud. And that's why in many ways, even though Red Hat powers the IBM cloud, the IBM cloud is not Red Hat. And that's why we appreciate the separation that they put in there.
Daniel Newman: You and I have had plenty of time, we've had chances to sit down with Arvind. We know that hybrid cloud and AI data story is really at the core of what IBM believes. Red Hat was a big enabler. Their public cloud offering is significant, and it's in these specific enterprise workloads, these highly regulated, it makes sense, Pat. Another area that really is going to just continue to grow, continue to proliferate and create opportunities for the cloud and for this full stack future of compute story is at the edge.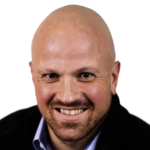 Daniel Newman is the Principal Analyst of Futurum Research and the CEO of Broadsuite Media Group. Living his life at the intersection of people and technology, Daniel works with the world's largest technology brands exploring Digital Transformation and how it is influencing the enterprise. Read Full Bio