The Six Five In the Booth with IBM's Rob Thomas at Mobile World Congress 2022
The Six Five In the Booth with IBM's Rob Thomas at Mobile World Congress 2022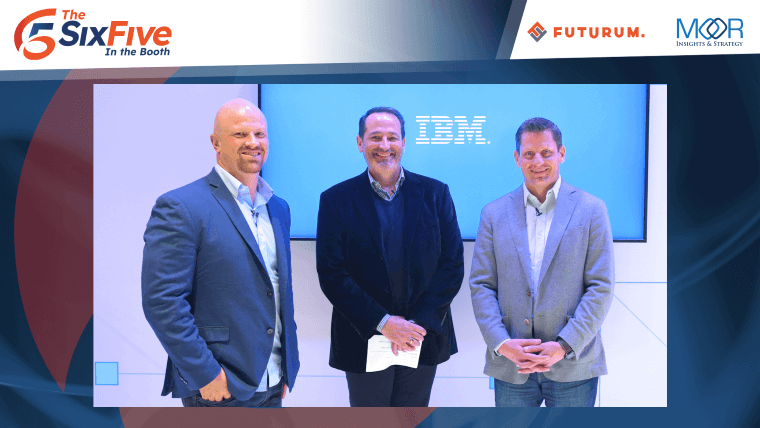 Six Five hosts Daniel Newman and Patrick Moorhead talk with IBM's Rob Thomas, Senior Vice President, about the industry at large, what IBM brings to the 5G space, and what telcos need to do to better compete and survive.
Be sure to subscribe to The Six Five Webcast so you never miss an episode.
Watch the episode here:
Listen to the episode on your favorite streaming platform:
Disclaimer: The Six Five Webcast is for information and entertainment purposes only. Over the course of this webcast, we may talk about companies that are publicly traded and we may even reference that fact and their equity share price, but please do not take anything that we say as a recommendation about what you should do with your investment dollars. We are not investment advisors and we do not ask that you treat us as such.
Transcript:
Patrick Moorhead: Hi, this is Pat Moorhead with more insights and strategy, and we are here for another Six Five Podcast In the IBM Booth. It is great to be here. Want to introduce my co-host, Daniel Newman co-founder of Futurum Research, but it most importantly, I want to introduce Rob Thomas from IBM. Rob, how are you?
Rob Thomas: Nice to see you, Daniel. Good to see you.
Daniel Newman: Good to see you, Rob.
Patrick Moorhead: Gosh, it's great to get back and I cannot believe how big this event is. Are we back?
Rob Thomas: Feels like it. I mean, it's pretty remarkable walking around. It's like everybody has re-entered the world. It feels really good, right?
Patrick Moorhead: It does.
Daniel Newman: Yeah. I said that. I said, when I first walked around, I got this first, almost real feeling event in a while. Except you do have to still wear those pretty heavy masks. We're clean and sanitized over here, but I think after a little while you get used to it, but no really exciting. I mean, it's been great to have a couple conversations with some of the executives on your team. Well, let's talk about the industry at large Rob. IBM not always thought of for telecommunications, but you're here at the world's probably most prolific telecommunications event, at least one of them, talk about what's going on in that space. What's going on in the tele telecommunications industry?
Rob Thomas: We think about big picture and what you see at this event. Everybody's talking about 5G. I think 5G is actually a little bit misunderstood. And what I mean by that is we're not talking about better 4G. We're talking about a 100X better. And sometimes people don't think about what does an exponential change in technology really mean? And that's kind of why IBM is here. Because this whole world is moving towards software technology. It's a big change from the radio networks of the past, and we're really excited about that. So what does 5G bring? It's going to be the battle for data supremacy. I think everybody playing this will think about what is my strategy and data. When you have this many different use cases, it's going to come down to how well can you automate? Because nobody can hire enough people to manage all the use cases, all the scenarios that would come up with 5G. And then it's got to be secure, it's got to run multi-cloud. These are the things that IBM is doing, that's why we're here.
Patrick Moorhead: Now that's great. And Rob, even though 5G has been around for three or four years, I don't think we've even scratched the surface. Right? And whether it Massive MIMO, whether it's just this fractional idea, funny, taking some of the tricks from the data center and bringing it into telcos, but on holistically, and I would say strategically, what do telcos need to do to better compete? And I think in some cases, looking at their income statements and balance sheets to survive.
Rob Thomas: Well, every telco, even if they didn't know it is becoming more of a technology company, although I think many of them see themselves that way, but I would say specifically a software company and that is a bit of a change because that's not always how they're differentiated in the past. Think about what is the technology stack for 5G? I would say it's a few things. One is computing storage is moving to the edge. So do you have a strategy for that? You've got low latency at the edge, which means you can do things at the edge, you never could before. There's a huge shift towards open architecture, things like O-RAN.
That's why we see Red Hat as such a key component to where this is going. You've got things like new bandwidths that enables new types of use cases. And then lastly, you've got network slicing. And some people aren't familiar with that term, but this idea that you can take a network and you can dedicate a stream or a slice to a specific use case, a specific user group, whatever it may be. That's pretty revolutionary for how a telco can attack this market.
Daniel Newman: But I think you've acknowledged that there is a real need for these kind of strategic partnerships for those telcos to truly evolve. I agree with you about the perspective telcos technology. Many of them have offerings. They're offering a variety of services, software, IOT, et cetera. They've had to evolve, had to find new revenue models, of course they were the early ARR people, and that by the way, became a big thing on the tech side later on. Right? So they can innovate, for sure. And I think together more innovation is possible. So that's maybe where I come back to you is I've heard you indicate in your first answer a little bit, but again, where is IBM fit into all this?
Rob Thomas: If you believe that 5G plays out the way I said, which is, this is an exponential change. We think we can be a technology provider that makes telcos more effective at competing. We're not trying to be a telco. We want to help them be more effective when they compete. We also have a consulting part in IBM, that is all about how do we actually help them implement? How do we help them be successful? One of the new areas of a product that we're investing in is software defined networking. Because again, as you move away from the data center, you're going to the edge. You need a way to integrate all these data sources to create a networking strategy. That's not just in the data center, but connects to every endpoint. So we're doing everything from data to automation, to security and all this runs on hybrid cloud. By definition, the telco world is a hybrid cloud world because it's from edge device to mobile device, to data center, to plant anything that you can imagine.
Patrick Moorhead: Yeah, it is pretty incredible what you can do. And the great part about it is this isn't necessarily the newest of technology on the planet. It's something that data centers have evolved into. They started in virtualization, they containerized and their services were fractionalized a very similar way that they're doing network slicing. Customer who needs, let's say low latency, high performance, or latency's not as important, or bandwidth. Telcos can make money fractionally, where they had to have a specific ARPO to get there. So I really think this is a breakthrough and a lot of our carrier clients believe the same thing. So let's go from kind of ethereal into real use cases and IBM clients. What are some of the more impressive ways that you've helped telcos?
Rob Thomas: Everybody's at a different stage in their journey? So I can share a lot of different examples. One I love talking about because it's probably one of the most innovative things happening in the industry is the work that we're doing with Dish. Dish is building a 5G network on public cloud, which now they're going to the multi-cloud over time. They're looking for a partner who can bring the skills, who can bring the technology that can provide everything we've talked about from networking capabilities, to network slicing, to data capabilities, to what we do with Red Hat OpenShift. It's a perfect example of… We're going to help Dish have one of the best networks, maybe the best network as we go forward. And this is all being built from the ground up right now.
Patrick Moorhead: I'm glad you said that, because we're actually going to meet with the chief network officer from Dish a little bit later.
Rob Thomas: Excellent. Good to hear. So they're doing amazing things that one's a fun. Verizon, we're doing tons of work from customer call center, how they service customers using AI, big consumer of Watson as an AI engine that helps them deliver customer service. And then also extending to the edge with things like Red Hat that I've talked about, really executing on hybrid and multi-cloud. Telefonica, we've helped them build the private cloud that they're rating for different customer cohorts and for themselves. We're kind of everywhere, but everybody has a different need. We're not trying to be everything here. We're trying to identify key capabilities from IBM that can help them be more competitive.
Daniel Newman: It's where your roots in consulting add a lot of value though, that you can be dynamic because you know, some tech company's like, here's what we offer, here's our slate of services. You guys can go in because you can come in as software, come in as consulting or services and say here's something we have or here's something we can create and build, which is an interesting opportunity to differentiate from other public cloud hyper-scalers that are also coming to market with solutions.
Rob Thomas: It's well said. It also informs how we partner, which is we're not trying to do everything. So we've invested heavily in different ecosystem partnerships. So different companies that want to provide different pieces to the solution. That's fine. We're happy to play with those. This doesn't have to be an all IBM solution.
Daniel Newman: Yeah, of course. And speaking of all IBM and a little personal note, you've been doing the sales thing, right? You've reiterated the value proposition a few times now, but when we had you on the show you're you were in a slightly different role. You were leading software on a global scale, now you're leading sales on a global scale. Talk a little bit about the role change. Talk a little bit about how you see that shifting in impacting this telecommunication space.
Rob Thomas: I think the role change is the reflection of where we see the market going. So yeah, I was running software before, heavy focus on products, engineering, how we deliver for the market. How does that translate to sales? Well, the biggest thing I've heard from clients is they want a much more technical engagement from IBM. They don't just want a salesperson. They want people that are going to come in, roll up their sleeves, execute, get work done for them, build out MVPs in their environment. That is the big focus in our global to market. We've built a team called Client Engineering. This is literally an engineering team. We don't charge for them. We give them to the client. We say, you pick the use case. You pick the proof of concept. You pick the minimum viable product, we'll deliver it. We've also built out a lot in post sale.
So after a client buys a product, we've built a customer success team, which is about exactly what it says. How do you make this client successful with the product? That's a big shift for IBM. Now on one hand, it's back to what IBM used to do a lot. You think of it, IBM kind of invented the notion of an SE, a system engineer. I think through the years we got a little away from that, more focused on I'll just call it sales, direct sales. This is a return to what IBM started in the industry many years ago.
Patrick Moorhead: No, it sounds great. And it's funny, looping back to Daniel, where you started, which was, Hey, IBM isn't as well known, but it's like, well, wait a second. You know, we're talking about Verizon, we're talking about AT&T, we're talking about Telefonica, we're talking about Dish. It sounds like you're very much engaged in this.
Rob Thomas: We are, but to some extent we don't feel like….
Patrick Moorhead: You're not trying to….
Rob Thomas: We need the….
Patrick Moorhead: …credit for it.
Rob Thomas: I want them to be the front. They are the client. They are the ones delivering the network. We are helping them be successful. So we are perfectly happy to be in a supporting role to them. And we know where we play. We have a point of view on where we can help them. It's the areas that we've talked about, but we want them to shine.
Daniel Newman: And I also think it's so as representative of how big IBM's wingspan actually is in terms of different industries that you guys can get involved in. Hey Rob Thomas, I want to thank you so much for joining us here for the Six Five In the Booth.
Rob Thomas: Great to see you both.
Patrick Moorhead: Yeah. Appreciate it.
Rob Thomas: All right. Thanks. Glad you're here. All right. Great to be back together.
Daniel Newman: See you again.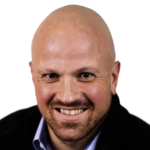 Daniel Newman is the Principal Analyst of Futurum Research and the CEO of Broadsuite Media Group. Living his life at the intersection of people and technology, Daniel works with the world's largest technology brands exploring Digital Transformation and how it is influencing the enterprise. Read Full Bio