Talking MWC, $DELL, Qualcomm Partnerships, Lenovo, $TMUS, $HPE and More – The Six Five Webcast
Talking MWC, $DELL, Qualcomm Partnerships, Lenovo, $TMUS, $HPE and More – The Six Five Webcast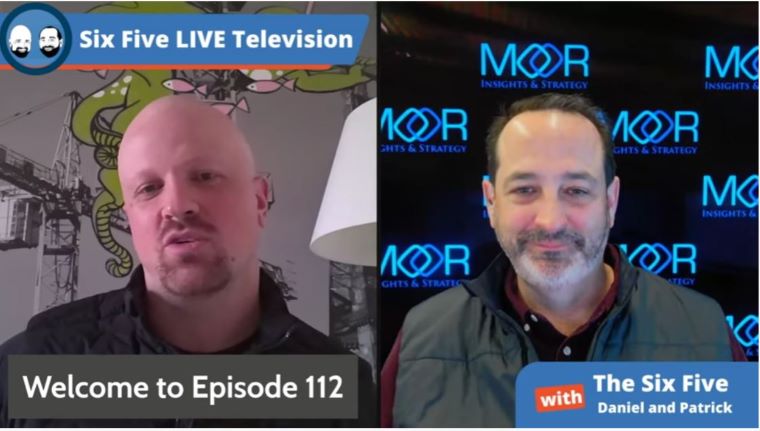 On this episode of The Six Five Webcast hosts Patrick Moorhead and Daniel Newman discuss the tech news stories that made headlines this week. The six handpicked topics for this week are:
MWC Expectations – The Preview
For a deeper diver into each topic, please click on the links above. Be sure to subscribe to The Six Five Webcast so you never miss an episode.
Watch the episode here:
Listen to the episode on your favorite streaming platform:
Disclaimer: The Six Five Webcast is for information and entertainment purposes only. Over the course of this webcast, we may talk about companies that are publicly traded and we may even reference that fact and their equity share price, but please do not take anything that we say as a recommendation about what you should do with your investment dollars. We are not investment advisors and we do not ask that you treat us as such.
Transcript:
Patrick Moorhead: Hi, this is Pat Moorhead with Moor Insights and Strategy, and we are here for another awesome Six Five podcast. It's Friday, Daniel has repapered his room back there with frogs or something. It looks like combination of a city scape and an octopus. So Daniel, where are you? Did you refurbish your room?
Daniel Newman: I'm in an undisclosed bunker, and this sweater I'm wearing is a $22,000 cashmere sweater.
Patrick Moorhead: I knew that. I knew it. You and Chamath, I knew there was something about you guys.
Daniel Newman: I didn't know if you were going to give the reference away. I decided going forward, we need to be in undisclosed bunkers in different parts of the world,, because it makes us seem more interesting than just being like, "I'm in Europe or I'm in North America." You know what I mean? So I'm going to just say undisclosed bunker, close to where MWC22 is going to be held next week.
Patrick Moorhead: That's good. So the land of wine, cheese, and ham.
Daniel Newman: Jamon. Jamon. So anyways, yes, here, going to catch a Barcelona game, which is Sunday, so that's exciting. But yeah, so we're back, buddy.
Patrick Moorhead: Yeah, I know we're back. And if it's the first time that you have hit the pod, we cover six topics for around five minutes each, sometimes 10 minutes each, depending on how much we want to talk, and how much energy we have, and how good the topic is. We don't talk a lot about the news. It's really about the analysis and the who cares. I also want to make a reminder, we are going to talk about some earnings in public companies, so please don't take anything that we say as investment advice, find a professional, because this is for entertainment and informational purposes only.
We have great show here. We're talking about a bunch of stuff. We're talking MWC, Dell, Qualcomm, Rakuten, T-Mobile, Lenovo, and a lot more. So let's dive in. Daniel, I'm going to be in the undisclosed city on Sunday morning. You beat me there. You're going to have a fun weekend there, but let's jump in. So Daniel, what should we expect from MWC22?
Daniel Newman: I think this is, first of all, a good pivotal moment. We've gone through these ebbs and flows over the last 12 months, but really in the last three months, where we've effectively seen the world's largest tech events, sort of in this state of limbo. Pat, we both went to CES, it was not even close to normal. It was oddly quiet. Yet, again, we found some joy in the fact that for those companies that were there, we were able, as analysts, to get so much access, and talk to so many people, have some really great quality conversations, but it just wasn't the same. And then I actually went to NRF, which is the big show in New York, the retail technology show, kind of the same thing. Only a few thousand attendees compared to, I think it was like, less than a quarter of normal.
Well, they're saying, Pat, they're going to get about 50,000 people are going to be coming to Barcelona, which to me is an indicator that we are getting into those very late innings, which it's felt like for about a year we were, of this COVID and the impact. And I think there's a couple factors in play. And I'll talk about this for a second. And then I'll talk a little bit about the technology at the show.
But I think the factors in play is, one, the events industry has probably been one of the most ravished of any industry on the planet. I mean, just talk about stops and starts. CES, they're going to go in '21 and they didn't. I mean, these shows are economies. Barcelona here depends on hundreds of thousands of people coming into the city and eating and drinking and staying in hotels, and having events and taxi cabs and hotels.
And I think the devastation of the economy is started to weigh, where some of these events are like, "Look, we can do this safe. Now that people have been vaccinated. Now that we have more protocols. If you want to wear masks, if you want to have to carry digital IDs, you can test rapidly and know whether you are, or aren't." Not perfect, Pat, but it's come a long way. And I think events with the right protocols are able to be held. And so I think they're full on now.
And by the way, we've been flying on airplanes now for the better part of a year, year and a half. And yes, I understand we wear masks, but I mean, you're sitting like six inches from people. In these spaces, at least they can ventilate them, you can keep some distance from people. And even if they're crowded, it's not nearly as on top of people as we are on airplanes.
In terms of technology, Pat, over the last, I think three or four years, it's felt like every year is going to be the year 5G. This is the year of 5G. Well, I would say that during the pandemic, when there was no Mobile World Congress, was probably the most legitimate year of 5G. We saw massive adoption of handsets, of infrastructure deployments. The most recent release, we're seeing numbers and companies like Qualcomm explode, we're seeing handset numbers, but we're also seeing the infrastructure companies rolling out new technologies around 5G. And I think that will once again, be in focus here at MWC.
I think automotive has become a focal point of every show. And every time I go to a show now, whether it's consumer, whether it's retail, whether it's now a Mobile World, which is more enterprise and telco and network, more automotive. I will not be surprised to see a significant rise in announcements and participation, either partnerships or actual OEMs and manufacturers there talking about their wares.
5G will fundamentally change mobility. And by the way, you don't need 5G to do it. We've been doing a cloud to vehicle for some time with 4G and LTE, but 5G will make it better, more reliable, and it will take us to the next level. So I'll pause there, because I said a lot, but I think there's still a lot directions for you to take this.
Patrick Moorhead: No, I appreciate it. And the great thing about having a huge show, like MWC, it's going to be harder to suck all the oxygen out of the room on the analysis. And you and I have been pre-briefed, so we need to kind of watch what we say and generalize. I think the good news is, is later on in the show, we're going to talk about some early announcements.
And I think what we're doing is 5G is maturing. Started off with low band in the US. It was low band and millimeter wave. And there was this big gap in the center, and between C-band and what came with Sprint on the mid-band, at least in the United States, we're seeing that to really connect the dots. And quite frankly, and I had a great conversation a couple months back with the CEO of Ericsson talking about, what is it going to take to have the new applications of 5G? And I think where we both landed is that you had to have top to bottom 5G capabilities to get the developers excited.
And I think we are at this point. So I think you add a couple years to this, and hopefully we'll see some novel things come out of 5G. And not that there hasn't been a lot of goodness, but at least on the smartphone side, it's essentially been faster downloads, and not really new way of doing things like we saw in the transition from 3G to 4G. But I am very optimistic.
I think we can also expect a bunch of smartphones. Samsung actually changed their strategy, they came out early with the S22 line, which I think disappointed some people at MWC, but, quite frankly, Samsung's a company that's big enough that they can take all the oxygen in the smartphone room. And they're either the number one or number two vendor, depending on what quarter that you look at.
But I think we'll see a lot of other smartphone makers, whether it's folks like Oppo, a lot of folks out of China, and some of the indigenous makers, even out of Latin America. And I think it's really going to be bigger, better, faster, bigger, better, faster, cheaper. And that's certainly not as exciting as it used to be. But I also think it's an indication of the maturation of the smartphone market.
We're going to see a ton of ORAN. We're going to see a ton of VRAN. We're in this massive architectural change. We're seeing at the core, where there used to be five different architectures, and now there's two, and added virtualization and containers. And now going farther out on the edge with vRAN and ORAN, you're seeing more industry standard makers jump in, and as you're going to see, as we talk about HPE and Dell… Actually, we're not talking about what Dell's doing there, but they've made some pretty big announcements as well with Marvell.
So I'm looking forward to it. I lost 100% of my hotel money two years ago when they canceled it. I didn't get any of my money back. I'm looking at you Nobu Hotels that didn't give me my money back. So if I get on that plane and it doesn't look like it's going to get canceled, in fact, I'd love to see if they just cancel all the mask stuff. I mean, my gosh, they're going to do it in the US, I think today.
So anyways, Daniel, some really good analysis here. Let's change the topic here and get into some earnings action. We saw Dell deliver earnings last night. And listen, the expectations for them were pretty darn big, because if you look at, historically, they had beaten on the top line and the bottom line pretty substantially for the last four quarters. Their stock is up 34% in the past 12 months. So doing really well, and this is in the midst of them spinning off VMware.
This quarter, they beat on the top line and they missed on EPS for various reasons, one of them being a tax reason. And I was thinking to myself, okay, I guess that's the point that you fire your tax accountants, in how you did that. Because their stock was at least last night getting beaten up pretty big. So really some big highlights though, and my gosh, record PC revenue at 26% gain, they had a 30% jump in commercial growth at PCs.
And Daniel, I started in the PC market in 1990, and I have to tell you, that's like the '90s decade growth there. I don't think we're going to sustain that. But I think as we heard from Intel last week, we're going to see pretty heavy single digit growth moving forward. Now ASPs are going up, which makes it a huge difference. Well, in fact, market wise, ASPs went up 25% in the US last quarter per Canalys. On the data set side revenue was pup three percent, but more importantly, bookings were up 17%.
I was really glad to see that Dell typically doesn't talk about out demand or orders, but I'm glad they did. Essentially, they are finally hitting up against some supply chain issues. They talked about the contamination in, well, they didn't name WD and Kioxia, but I will. There was a memory contamination issue that, when you're selling a ton of flash memory and real memory, these things matter.
Also, on the data center side, PowerStore, while they didn't give… And this is their new mid-range, says their fastest ramp in history. My final note is that for the year they're a $100 billion revenue company. And I think that's a huge milestone and that does not include VMware. So pretty awesome. And they're investment grade debt. So on pretty good footing. It's disappointing that they missed on the EPS side, it would've made for a great quarter. And it's very rare that Dell has some sort of, quite frankly, a self-inflicted wound related to taxes.
Daniel Newman: Yeah, absolutely. Sometimes with these one-off events, though, you have to sort of be able to write them off in your mind, and kind of say, "If we take this out, what did the numbers look like?" And I think largely the numbers looked good. You did cover a lot of the critical numbers, but the company did a really great job throughout the year with their client business. It was the anchor of growth, being able to meet and exceed on all demand, when a lot of companies struggled. And we saw that over quarters past, certain companies did not meet the demand.
We've been hearing this backlog story from other companies, but hadn't really heard it from Dell very much, because Dell had done such a good job. But, like you said, there are some things that are completely out of control, no matter how well you're managing your supply chain, these risks do come into play. It's just another reason why our resiliency needs to be focused on, it's another reason we need to onshore more of our chip manufacturing back to the US. And we'll save that for a topic for another day, but it does impact bottom line, when these things do creep up.
I thought the dividend announcement was really good news. Part of that return to investor grade was a commitment to pay a dividend. I think Dell really does fit in that sort of intermediary between make value and growth. Their numbers have grown faster than some of their IT OEM counterparts, again, this year, largely because of the PC business. But at the same time, being able to offer technology, innovation, growth, and a dividend is likely going to be attractive to investors that are looking for solid companies in the right markets that can offer a consistent return with a little less a volatility in their share price. Especially as we've seen, what's happened to growth and what's going on. So this is very timely. I don't think it was timed with the market, but the dividend was very timely.
And the last thing I'd say is that I'm watching closely to their service transformation. The APEX business is still kind of in its infancy. You're starting to hear and see some wins getting announced. But what we haven't heard and seen is, "Hey, how big is this business?" And no doubt, it's going to be in the billions by the time we start seeing any sort of breakout, but with the market really wanting to understand, especially with VMware, not there anymore, looking for where's that steady growth? Where's that net revenue expansion come from? And how are you switching more and more of your one time CapEx type revenue to consumption-based revenue?
But company's moving in the right direction. It was a good result. The miss was a miss on the EPS side, but the revenues were very good and the backlog should give confidence to anybody looking from afar that the next quarter should also be a solid result for the company.
Patrick Moorhead: Yeah. I mean, it's hugely disciplined company and I urge everybody to look at their investor deck. I wish everybody had an earnings deck like Dell. They have an investment thesis slide, they have growth thesis, they have moats, they have corporate strategy, which I totally appreciate.
So Daniel, let's move to the next topic, very similar to what we were talking about trends at Mobile World Congress. And essentially this is a Qualcomm and Rakuten partnering on massive MIMO, but what's going on there?
Daniel Newman: Pat, you indicated that we'll be hearing quite a bit about open RAN, and right now, what we're looking at are where are these kind of partnerships on a global scale? You've got companies building technologies, you've got companies deploying technologies. And Rakuten announced a partnership…I Actually had a chance to do a podcast with the CEO of both Rakuten Symphony and Durga Malladi from Qualcomm, that leads that business.
And I mean, basically, it's a 5G ran platform. It's going to be designed and deployed by Rakuten. And they basically have picked Qualcomm to commercialize their massive MIMO, RUDU, and it's going to be what they're going to offer for their next generation 5G infrastructure. So what we're really dealing with now, Pat, is that you mentioned, open and virtual RAN is where they're going.
The deployments of these moving from old architectures to cloud native architectures is the key. They want to be able to add automation. They want to be able to be more efficient. They want to be able to keep uptime levels high, and then of course they want to be cost effective. So this partnership, as they saw it, was going to give them the greatest opportunity to be successful.
Of course, this adds to the diversification play of Qualcomm, because so many people think of Qualcomm as the devices and handset side, but this is heavy on the infrastructure side. This where they're partnering up with companies. And by the way, Rakuten, Pat, I don't know if you remember around 2019 or '20, they had to have been the star of Mobile World Congress. I felt like every single booth I went to, I was seeing what Rakuten was doing with Cisco, what Rakuten was doing with Qualcomm, what Rakuten was doing with… I think I saw nine demos, in what must have been '19 the last time we were there.
But anyways, I digress. Fact of the matter is, now, as I mentioned, and you mentioned too, we're seeing, A, the year of 5G. And this is part of what's making it real. It's not just about having devices. It's about having the infrastructure that provides the bandwidth, the capacity, the scale, and by the way, the speed and efficiency that these carriers need. So Rakuten's been consistently flexing its muscle, especially overseas. I like them kind of like, I like T-Mobile here in the US, in terms of innovation. And it was a robust, solid partnership. I think this is one that we probably don't need to spend 20 minutes talking about, but big win and obviously timely that they announced it coming right into MWC.
Patrick Moorhead: It's funny a couple years back, I used to, I wouldn't say make fun of Rakuten, but it was like everybody was partnering with Rakuten, everybody in the industry. Whether it was Intel Qualcomm, Marvell, it was like, everybody was partnering with them. But in reality, they really, are all kidding aside, they are really the poster child for the next generation of a carrier, where it's all virtualized, there's no cruff, meaning there's no old legacy stuff that they have to take care of or they need to capitalize. This is a brand new, new infrastructure.
And like you said, most people look at Qualcomm, that their strengths, which is on the modem side, but they really have a growth play going, and one of those is infrastructure. If you study the history of Qualcomm, Qualcomm used to have infrastructure. They had infrastructure and then they had phones. So it was kind of ironic that they're getting back into the business. And nobody should think that they're brand new at this, they're not, they're just getting back into it. And-
Daniel Newman: That's such a good point though, Pat, not to cut you, I was trying to say, and I think you just hit it in a few words, is that people don't credit… As we've talked about Qualcomm's diversification path, this is like one of those really good examples of how they're going to play in 5G well beyond what they're best known for.
Patrick Moorhead: You're right. We don't have to spend 20 minutes on this. This is very straightforward, but it's a positive sign for Qualcomm to see some success. Because quite frankly, you can't put a price on something, even if you give away something for free, somebody's not going to take it unless it's really awesome. And looks like Qualcomm is making it happen, in yet another one of their growth businesses.
Let's move into a very similar announcement. That's a partnership between HPE and Qualcomm. Now, before I dive into this, I do want to mention that Dell technologies and Marvell had a very similar type of partnership between them, where Dell was creating an ORAN, vRAN solution, that's very similar to this one between HPE and Qualcomm. But the nuts and the bolts of this agreement is that HPE is combining one of their racks with a Qualcomm card. And let me see if I can find the name of it, the Qualcomm X100 5G RAN accelerator card with a HPE ProLiant DL110 telco server, in a very similar place.
So hopefully when you think about Dell getting into this and HPE getting into this with silicon providers and card providers like Qualcomm and Marvell, you can see where this is going. And I think you can see where this is going even more clearly, if you look at what the past was. And that was very proprietary RAN cards, primarily by vendors like Ericsson and Nokia and Samsung.
So with HPE and Dell Tech coming in here really leading in ORAN, I think this is a really good position for them. Dare I say the word it's a little bit more commoditized of a market. And that's where primarily Dell does really well, but HPE does well as well. For those wondering, hey, HPE and carrier, what the heck are you talking about? HPE is very, very locked into the carrier market.
In fact, in Western Europe, they have a bunch of, essentially, carrier-as-a-service deals at the core. And I think what you're going to see HPE do is do a bunch more stuff on the edge. Aruba plays into this, and as far as I'm concerned, from the network and the carrier side, you've got HPE at the core, you've got it at the RAN, and then on the implementation with Aruba on the deep edge.
Hopefully, you're all seeing that we weren't lying upfront when we gave our, what we expect on MWC 22. And the great part is we're seeing some of these announcements before MWC. Yeah, wait, why are we going to MWC again, Daniel, if there's all these announcements now?
Daniel Newman: So we can shake hands and eat Jamon.
Patrick Moorhead: Sorry to put you on the spot here. And I also wanted to give some props to Dell Tech and Marvell that, quite frankly, have a very, very similar partnership going on at the same time. The big difference here between Qualcomm and Marvell is Marvell owns RAN. It was kind of cool when Marvell kind of snuck out the vRAN and ORAN stuff. I don't think people were expecting it. I think they expected Marvell to stick to their guns and really lean into what they went at.
Daniel Newman: Marvell's been a real success story in so many different ways. And I know it didn't end up on the topic, because it's the six five, and we'd had these, and that would've made the seventh, but, yeah, there is a shout out. There's going to be a lot more of these kinds of partnerships though. I think that is the way we can describe this. You're seeing chip makers, established chip makers, infrastructure makers, and saying, "Hey, if we're going to virtualize this thing, it's going to take a little bit of the best of all of us. It's going to take software. It's going to take hardware. It's going to take chips." Pat, you can't run this stuff on air. You know what I mean? So you got to have the semi companies. I got that from you.
Patrick Moorhead: Thanks for the props, dude. You normally give me no credit, but you did this time.
Daniel Newman: I always give you credit.
Patrick Moorhead: I know, buddy. I'm just pulling your chain.
Daniel Newman: I almost always give you credit. And by the way, when I tweeted about Dell yesterday, I took your tweet and kind of just edited it a little bit.
Patrick Moorhead: Thank you, appreciate that.
Daniel Newman: Yeah. You know what? There's nothing wrong, people put dumb titles on their LinkedIn, like growth hacker. That's actually, growth hacking, is how do you more efficiently get stuff done? Well, sometimes someone's all already said the exact same thing you're trying to say, so the difference between reporting and analysis is I took the report data, and I put my own analysis around it, and that's what you do.
And that's what good analysts do. We don't need to share the earnings highlights, because that's actually in the press release. We need to actually say, "What does this mean? And why shouldn't anybody care?"
Anyway is going back to the HPE, Qualcomm 5G partnership. I've been watching HPE's telco business, actually on both the Marvell piece and the HPE piece, you'll see Futurum analysts, Ron Westfall has actually wrote a research note on both. So if you want to dive deeper, I will give you a little bit more there. But what we're seeing is purpose built edge computing. And we're seeing it built with some best of breed technology through a partnership. And right now, if you're in 5G, you really can't go wrong partnering with Qualcomm. You just can't. It is where you want to be, when it comes to connectivity.
And so I really won't be surprised kind of the way you saw Intel inside PCs to be seeing Qualcomm in inside a lot of virtualization and open RAN technologies going forward. So maybe I'll be wrong, but I expect to be right.
Patrick Moorhead: Buddy, good adder there. I didn't know you guys did a paper on that. Congratulations.
Daniel Newman: We write about everything.
Patrick Moorhead: You're an equal opportunity writing. I get that. I get that. I might even go read it. We'll see. Oh, maybe not. Hey, let's move into to the next topic. And Lenovo just had another, blow it out quarter here. Daniel, what's going on. We don't normally hit Lenovo here, but we probably should. I mean, they've had stellar performance for the last few quarters.
Daniel Newman: I mean the company's posting out record results, they're very focused on their results being closely tied to digital. And actually, Pat, to their credit, this is another company that puts together a pretty thorough investor deck.
Patrick Moorhead: Yes. If you weren't going to say it, I was going to/ I would like to see the investment thesis slide. That's a nice one.
Daniel Newman: Absolutely. But I do like the fact that they're breaking it down. So here's some things just for, a lot of people don't know, because they probably think of Lenovo, they might know of part of the business. So you might be familiar with the company for most likely PCs that used to be IBM's ThinkPads. That is what older people probably remember. But this is a company that highly diversified. It's got multiple businesses in intelligent devices. It's got businesses in data center and infrastructure. It's got a very complete set of service businesses. They have a consumption-based offering, much like GreenLake and Dell APEX that we do talk about quite frequently.
And actually, Pat, what's been most impressive is very quietly they've been consistently growing at staggering rates. And so we get to talk, regularly, you and I, to Kirk Skaugen. Kirk's one of the top execs here in the US. The data center's his big baby. He does talk to us about all this stuff. I mean, you're talking a company that's seeing record income. You're seeing record revenue, 20.1 billion in the most recent quarter. You're seeing growth in net income significant, you're talking about year over year, a 62% growth in the revenue.
So you're seeing strength. The companies make it so significant investments, R&D investments. They're expanding significant. Pat, you and I have actually been involved in some of their launches like Edge. They had a recent Edge launch that was really significant. AI technologies that is going into their business. They're very focused on solutions and service. They're basically chasing what they call a trillion dollar, 2025 IT services business. And so they continued to expand in that sector.
So you basically have infrastructure, you've got services, and then you've got devices. And, Pat, I would say, across the board, I mean, the company has done extremely well. You saw, I believe they're margins in devices up significantly year on year. Their operating profit jump like 21%, which as we know in the device space, that's hard to do. Devices are not like services, where in services you can push margin. Of course, ASPs have gone up a little bit with demand and whatnot, Pat, but they've been able to show growth across the board.
So I think it's a combination of that. I mean, they are domiciled in China. I do think sometimes the company gets looked at a little bit differently, but their US presence is very substantial here, Pat. They have a large headquarters here. They have lots of employees here. They have a go-to-market here. And they work, I would say, in a very strategic way between the two, between Lenovo here in the US and China. They are very focused on meeting a number of what I would say social impact kind of objectives, and they talked about that in their most recent earnings.
Especially in areas like sustainable materials, but not just for the greenwashing aspect of it. But what's been impressive is they're looking at these things, they're addressing and acknowledging the needs for these things, while using these things to create what they're kind of referring to as sustainable profitability in the business. And that's saying, "Hey, we want to continue to grow revenue, but we also want to make sure that we're profitable and we're delivering to shareholders."
This is a stock, by the way, that doesn't move much. I mean, just being straightforward. It does not move much. Great results, lesser results, it seems to be kind of a steady Eddie type of stock. But you can't confuse that, Pat, and everybody out there, I know you wouldn't confuse that buddy, but everyone out there can't confuse that for not having an impressive amount of growth. When you're seeing record revenue, and you're seeing incredible margin increases in businesses that are so hardware heavy, you've got some people that are really operating and really got their hands on the dials, making some good decisions. So it was a good quarter for Lenovo.
And by the way, between Dell, Cisco's good quarter, and now in Lenovo, I mean infrastructure on-prem is back. This is not just cloud buying. So earlier on in the pandemic, we saw a lot of cloud buying. Now what you're actually starting to see is enterprise data center buying, you're seeing branch office infrastructure buying. And so I think that you're starting to see the growth come back, because companies are going to bring people back to the office.
By the way, Pat, last thought here, we need to have a talk about this, people are going to go back to the office. I'm increasingly convinced companies cannot do this remote thing forever. There will be changes, but we're going to see it spin back, which means there should be some good spending on the infrastructure to support that.
Patrick Moorhead: And listen, if they want to keep Gen Z happy and they want to keep mentorship going. You just can't do everything virtually. I never thought it was. I thought we were kidding ourselves and I just need to go as far as my own kids and see how they're reacting to this. But let me weigh on this, kind of fill in some of the things you didn't talk about. Some of the things that really impressed me.
So first off, revenue by geo. Lenovo is a Chinese company. They're on the Hong Kong Exchange, which means I do believe in their books. But if I were to ask you, "Hey, which region, Daniel, do you think, or anybody, where do you think they do the most business?" You might say, "Well, they do the most business in China." Well, you'd be wrong. In the fourth quarter, they did most of their business in the Americas. 30% of their business was the Americas. 27% was EME. 27% was in China and 17% percent was in south Asia. So they do most of their business in the Americas, which is just absolutely amazing, and impressive.
The other thing I want to mention is, if you didn't notice, the first thing that they talked about and you put things in the order of importance was SSG, their services. Lenovo is the only infrastructure company that completely breaks down their services like this down to the op inc level, which to me is, if you want to turn a ship, this is one of the ways that you do this. I was on the phone with Ken Wong, president of SSG, either yesterday or the day before, we had really a great conversation on this.
Not only do you put it first, which, by the way, is super risky, because all the eyes are on you. And oh, they didn't just hide it with a percentage increase. They put the number there. 1.5 billion in Q2, with a 44% year on year improvement in the margin. So I think that takes a lot of courage to do this. And I think Lenovo is trying to move the perception from a box pusher to a service provider. And I really appreciate the way that they're doing this.
One comment in ISG, first time for profitability, which is important. We saw a ton of revenue growth, a lot of hyperscale growth on the server side, a lot of storage growth that we saw. And I know that Lenovo's competitors always like to denigrate what came out of ISG because like, Hey, where are the profits? Here we go, we have profits. The one thing that everybody needs to keep in mind is the profit model of Lenovo, and by the way, this could be why maybe the stock hasn't moved much, could be because of that margin model. But they're in a position to take share, because the expectations of their shareholders are a lot lower.
And where Lenovo started, which was in PCs, anything an SSG, an ISG actually makes the overall business and the margin profile go up. And that's what I see as a, as a recipe for market share growth. IDG just keeps humming along while their growth wasn't as high as, let's say, Dell, who had 30% growth, they did have 16 growth, but their profit was off the chain. 21% improvement in operating profit.
And by the way, I'm not doing the comparison to Dell to denigrate it. Lenovo has a lot of consumer in there, which isn't taking off, where on the other hand, Dell is more focused on commercial. Dell, it had 30% growth in commercial, which overall led to a 26% growth in Dell, which just leads you to understand just how big the commercial business is at Dell and how big the consumer business is in Lenovo. Altogether a really good quarter for them. They're a company that I have my eyes on and not just for the boxes that they have, but more along the lines of services.
Daniel Newman: Quietly and consistently doing their thing, Pat, and so got to give credit where credit's due.
Patrick Moorhead: Yeah. So let's get into our last topic and that is T-Mobile did an announcement for IoT. What a lot of people don't… Well, first off, T-Mobile, I would say, in the US, is recognized as a consumer play. What not a lot of people know is, though, is when they acquired Sprint, Sprint had a very robust B2B play. And since the two companies have come together, you've seen these superpowers unite. You had some product announcements that were out there that I thought were really cool. They have their own platform for collaboration as well. They've done a partnership on that one.
But here is an IoT announcement. And if you stand back and you say, "Well, wait a second. T-Mobile and IoT?" Here's the thing when you're doing an international IoT roll out, let's say, it's global. In this case, let's use Deutsche Telekom or Telekom as it's known, because it's all throughout Western Europe, you typically have to piece part the access together. You can't just go to one vendor, which gets super complex.
So you can imagine, it's hard enough to your solution going. You actually have to have the IoT devices, you have to have the IoT services, and you have to actually crank on the data to do something useful with that IoT application. But what's happening is you can go to one customer and get service across 188 destinations, 383 different networks worldwide. You've got a single account team. You have a single bill. And I think this is pretty awesome for a multinational company trying to do in a global rollout of IoT.
Daniel Newman: Yeah, absolutely, Pat. I mean, look, it's a very interesting participation to have T-Mobile jumping into the space, it's diversification, but we've seen this from the other vendors. They've all sort of been dabbling. We saw it from AT&T. You've seen it from Verizon. I think T-Mobile has just been uniquely more successful at executing over the past few years. And it's been visible in their growth, in their results. The transition from Legere has been okay. I was not sure how that would go. It's actually gone quite well. And the company continues to innovate, both on the business end and on the consumer end.
And of course, full disclosure customer and we advise this company, but I feel like every week, Pat, there's another announcement. There's something else interesting coming from T-Mobile that continues to fill in the portfolio. A lot of good partnerships on device side, but also, like I said, on the business and the business technology side. I think they're going to do very well. This is one more feather in the cap type of announcement.
Of course, we got to see how it pans out, hear how this is adopted in the market, and what kind of growth it gets. But big thumbs up. And like I said, it's interesting, Pat, to see all these announcements drop this week, I guess maybe there's a reason. There's an event going on that's really centric to carriers and 5G, but a whole lot of announcements, Pat. It feels, like you said, we got a lot of the show before the show.
And of course, you and I, give us a lot of props, because we've been pre-briefed on a lot of stuff that's going to happen this week. And I think we made it through this entire show without slipping on any embargoes. And that's risky to do the show live when you've been presented so much of what you know is going to come out, but sign of experience, professionalism, or just dumb luck?
Patrick Moorhead: Probably dumb luck here. But, hey, let's wrap up the show here, Daniel. This was a lot of fun. And let me see it's around what five o'clock, 5:00 PM your time there, which means you'll probably be going out to dinner in five hours at like 10:00 PM.
Daniel Newman: Yeah, about 10:00 is when we'll start getting ready for dinner.
Patrick Moorhead: I love that. So, hey-
Daniel Newman: Okay. We only woke up like 15 minutes ago.
Patrick Moorhead: I know that's terrible. That's terrible. The problem with MWC, it's like the worst of both worlds, because you do the Spanish night, and then you do the German meetings in the morning at like 8:00 AM. So it's like torture. So I-
Daniel Newman: And what's worse, if you want to really beat yourself up is that our real work stuff starts pouring in around 3:00, 4:00 PM in the afternoon. That's when all the emails start flowing in, then all the regular work. And so you end up from 5:00 until that 10 o'clock dinner, you're actually still working, because you end up going back to your hotel and you're cranking out the rest of your work.
Patrick Moorhead: I'll psyched to get there, buddy. But, hey, I want to thank everybody for tuning in here. Daniel is live from an undisclosed location-
Daniel Newman: Bunker. It's a bunker.
Patrick Moorhead: … in Western Europe.
Daniel Newman: It's a bunker.
Patrick Moorhead: Where they serve a lot of ham and cheeses and red wine. I'll be there in two days to join him. We're going to be doing a lot of great video work together, which I'm super excited about. But literally, no, seriously, thanks for tuning in. We really appreciate this. And Daniel, thank you so much for, I mean, you literally just rolled in off the plane and showered.
Daniel Newman: I rolled in.
Patrick Moorhead: I really appreciate… Yeah, somehow I was the guy who was late to this, not you, and I apologize for that. But we try hard. Thanks for tuning in. Hope you guys have a great weekend. With that, signing off, sayonara, have a good one.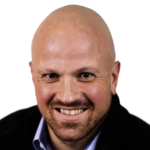 Daniel Newman is the Principal Analyst of Futurum Research and the CEO of Broadsuite Media Group. Living his life at the intersection of people and technology, Daniel works with the world's largest technology brands exploring Digital Transformation and how it is influencing the enterprise. Read Full Bio