The Six Five In the Booth with Accenture's Syed Alam at Mobile World Congress 2022
The Six Five In the Booth with Accenture's Syed Alam at Mobile World Congress 2022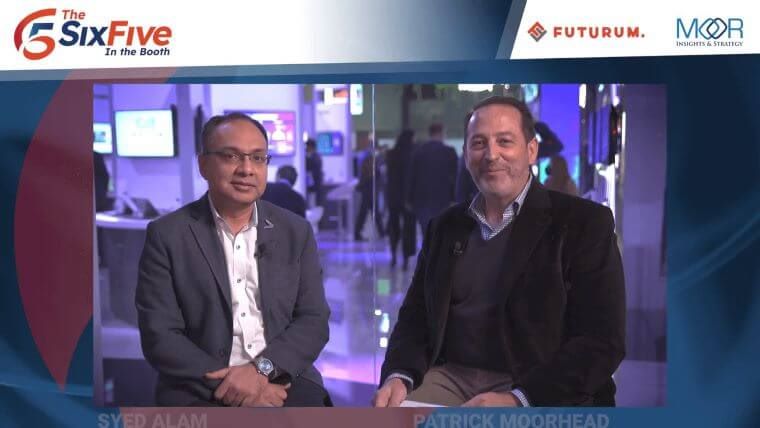 Six Five host Patrick Moorhead sits down with Accenture's Syed Alam, Managing Director and Global Lead, Semiconductor Practice, to discuss the company's presence at Mobile World Congress 2022.
Be sure to subscribe to The Six Five Webcast so you never miss an episode.
Watch the episode here:
Listen to the episode on your favorite streaming platform:
Disclaimer: The Six Five Webcast is for information and entertainment purposes only. Over the course of this webcast, we may talk about companies that are publicly traded and we may even reference that fact and their equity share price, but please do not take anything that we say as a recommendation about what you should do with your investment dollars. We are not investment advisors and we do not ask that you treat us as such.
Transcript:
Patrick Moorhead: Hi, this is Pat Moorhead with Moor Insights & Strategy and we are here for a Six Five Podcast in the Accenture booth at Mobile World Congress in Barcelona. I'm here with Syed Alam, Accenture lead for semiconductors. How are you?
Syed Alam: I'm doing great. Good to be with you.
Patrick Moorhead: No, I know. This is our second in person event of the year, and you and I were on stage at CES talking semiconductor supply chain…
Syed Alam: Yes, yes.
Patrick Moorhead: … For a full hour. And guess what? This is going to be a quick in the booth. And Syed and I, we're going to talk about kind of what we're seeing out there. But hey, maybe a great place to start is to educate our viewers on what do you do for Accenture and why is Accenture, who I typically know as a big consulting firm, here at Mobile World Congress?
Syed Alam: Yes. So first of all, Syed Adam, I lead the semiconductor industry at Accenture, which comprises of everything from fabulous companies to IDMs, equipment manufacturers, foundries and IP companies. And we are at Mobile World Congress for many years and this is where the technological innovation related to connectivity and mobile has been taking place for many years. And semiconductors, as you know, play a very important role in enabling most of these mobile connected solutions, so that's why we are participating at MWC.
Patrick Moorhead: Yeah, it's a really impressive booth that you have here, too. I got to see a couple of the stations. So in the green room, we talk a little bit about what's really hot at the show and I think number one on your list was the metaverse. So what are you hearing? What are you seeing? What are you thinking about related to the metaverse and semiconductors?
Syed Alam: Yes. So first of all, metaverse, there has been a lot of hype about it and what we generally see most of the hype coming from the consumer sector, and then later on business or enterprise adapting it. And this one we are seeing, in addition to consumer, business or enterprise is in the forefront and we are seeing many business and industrial applications across many aspects of business and different industries, and a lot of use cases in different industries also. So that's very promising and it looks like there is a very quick adaption by the businesses.
Patrick Moorhead: Yeah, it's interesting. Some people stand back and say, "Oh my gosh. What a surprise, business first." But in reality, the PC started with businesses too, and they were big and they were clunky, probably too big for the consumer, and then they got into the consumer once they were miniaturized. And the same thing for smartphones.
Syed Alam: Exactly.
Patrick Moorhead: Right? The big luggables for the business people who would travel to their calls or be on site somewhere, so it makes sense to me historically that would be the case. But what does it mean for semiconductors?
Syed Alam: Yes. Semiconductors are enabling and actually powering all the technology behind the metaverse, whether it's the chips in the headset or the chips in the cloud enabling all the data processing connectivity solutions. So chips are actually making it happen for the metaverse, and they're playing a very critical role in this. And the semiconductor companies actually have to play a more important role in terms of driving innovation in the metaverse.
Patrick Moorhead: Yeah.
Syed Alam: You know? Working on the chips with low power architecture for having more battery time on the headsets, also looking at the compute ability on the headsets for doing more processing quickly also, connectivity also important role in that one, and then AI solutions on the edge or on the cloud related to metaverse. So semiconductor companies have a huge role to play in metaverse.
Patrick Moorhead: Yeah. We had talked earlier, too. There's this debate on where's all this processing going to happen, right? Is it going to be a… I like to call it a thick end point and maybe a thin cloud. Or is it going to be a thick cloud, or edge, cloud edge, or some combination? Where do you fall on this right now?
Syed Alam: Yeah, so we are looking at different use cases. And I think, to your point, I mean, the jury is still out. There is not a one answer that fits all the use cases.
Patrick Moorhead: Right.
Syed Alam: For different use cases where the low latency is required, it may be more on the edge. Some of the heavy compute could be on the cloud, but it really depends on the use cases. And as this thing matures, and we see the use cases also getting well defined, we'll see it play out.
Patrick Moorhead: Yeah. So I would say from my point of view, my number one would be the network. And I know that's a big statement like, "Oh, the network. That's great, Pat. Is it the core? Is it the middle? Is it the edge? What part of it is?" And it's really been a continuum. I mean, three years ago it really was about enabling 5G and the base stations and the core had already been upgraded and virtualized to get ready for this position. But this year, I think it's really about the big discussion related to semiconductors is vRAN and ORAN. And out on the show floor, I'm seeing multiple semiconductor vendors in [inaudible] server enterprise company boxes.
Syed Alam: Yes, yes.
Patrick Moorhead: Okay. I know that's a mouthful, but one of the big things about ORAN, open-RAN, meaning there are standards and so you're seeing a whole new crop of companies, not the traditional network providers, but the traditional server and enterprise providers, which I think opens up…
First of all, with openness you get scale and competition and lower cost. And I would say that the vendors essentially doubled in this space. People who were in networking and related to this that five years ago would have nothing to do with this. So, very exciting and again, powered by these very adaptable semiconductors that has a combination of an open compute core, a bunch of ASICs to do a lot of the heavy signal processing for it. And same thing goes on the network offload part, but huge opportunity. And there's five major players battling it out right now, which I think is exciting.
Syed Alam: I'm glad you brought it up. And in addition to ORAN what other things you are seeing in the network space?
Patrick Moorhead: Yeah. So I mean, private 5G. Private 5G is huge.
Syed Alam: Yes.
Patrick Moorhead: Right? And I think the big question here is how big and when, right? Because I remember, gosh, we were talking about private 4G.
Syed Alam: Yes.
Patrick Moorhead: And it was going to be essentially the backbone of the enterprise and that didn't actually happen.
Syed Alam: Yes. I think we are seeing for the private 5G network companies doing analysis and evaluation in what cases wifi makes sense in what cases 5G private network makes sense. And we are seeing a little bit more work as compared to 4G in terms of evaluation of different use cases, different applications. We are doing some work with some of the companies in this space also. So I think based on the benefits of 5G, I think we will see more adoption of private network in the 5G space.
Patrick Moorhead: Yeah, I totally agree. And I was with the CEO of a major networking company yesterday and he really impressed upon me… Now, this company is big in wifi, okay? Just getting into 5G so their play is obviously going to be having a single pane of glass between wifi and 5G.
Syed Alam: Exactly.
Patrick Moorhead: Totally makes sense. And then I go two booths over and meet with another company whose very strong in 5G, not necessarily in wifi, and it was really all about having one type of network, 5g and you don't need wifi. So a lot of figuring stuff out and the vendor at the 5G booth basically said, "Hey, you don't want wifi and 5G. The signals are going to get crossed here." So anyways, it's fun stuff.
Syed Alam: Yeah, and it will play out over the next couple of years as 5G adoption goes mainstream.
Patrick Moorhead: For sure. We have to end on supply chain. Okay, now we don't have time. We had an hour at CES talking about supply chain. I think we have a couple minutes left, but what kind of updates are you hearing about the state of the semiconductor supply chain that quite frankly is paralyzing a lot of industries out there. And, my gosh, we just saw a boat full of cars just sank and we're already had a hard time getting new cars out because of chips.
Syed Alam: Yeah, so based on our earlier conversation, we believe the chip shortage to ease somewhere around end of this year, early next year. But at the same time, we have to look at it the perspective of what technology, what applications. So it's not going to be a single moment that at this date chip shortage is gone. You know?
Patrick Moorhead: Right.
Syed Alam: The phase out depends on the technology, the type of chips and things like that. And, at the same time, there is actually now really interesting concern that there may be an over capacity in '24 or something like that.
Patrick Moorhead: Exactly.
Syed Alam: So on the supply side, there is a concern of overcapacity and the semiconductor companies have been very… How should I say? Have been very careful and very… They look at the investment very carefully. They don't want to have us in a situation that they have an over capacity and they have billions of dollars of assets go underutilized.
So they are very disciplined. That's what I was looking for earlier. They're very disciplined in their CapEx investment. It's billions of dollars of investment, so they want to make sure that they don't have underutilized assets of billions of dollars. So, we'll see. And these things come online in 12 to 18 months, so if there is a situation that there could be over capacity, things could get dialed up. So that's on the supply side.
On the demand side, there is also concerns that there is a double counting of demands or buffering at each stage of the value chain. So OEM asking for a certain number of units, then the chip companies asking for a certain number of units, then the distributors adding to it, then the manufacturers adding to it. So we'll see how that plays out also. So there is that balance of looking at the real demand versus double counting, and then also supply looking at the potential of overcapacity. And all of this is playing out while we are trying to solve the current crisis, so very interesting times in semiconductor supply chain right now.
Patrick Moorhead: Yeah, and I think you did a great strategic view. I'm going to give kind of some tactical things I've been hearing. The first one was just when we thought we had enough memory and storage contamination hits, and I can't get enough memory and storage and my price are going up and I can't get supply. Okay? Another networking CEO who makes ASICs for his networking gear said, "We're having to make… put hard orders in to 2025."
Syed Alam: Yes.
Patrick Moorhead: And that just was a mindblower because typically in semiconductors you can have 90 to 120 days typically, even if you make a major mistake. So now we're talking almost three years out to make a major supply buy. One other anecdotal story was about automakers, who I thought really started to understand how to get it through this, making demands of semiconductor companies without hard orders.
So anyways, a lot of learning to be done. A lot of short term, midterm, and long term things that the industry is doing to put in place to balance supply and demand. Fascinating stuff. So Syed this is all the time that we have. I don't know if we can ever do anything less than an hour, but I think we did.
Syed Alam: Yes, it was.
Patrick Moorhead: And if I can put a plug in, Syed and I are going to be doing a monthly podcast talking about semiconductors. We will let you all know when that date is under the Moor Insights & Strategy brand. But for this, Syed, thank you so much for chatting with me.
Syed Alam: Thank you for coming to our booth.
Patrick Moorhead: Yeah, absolutely. So this is Pat Moorhead with Syed Alam from Accenture signing off from The Six Five Podcast in the Accenture booth. Have a great day. Have a great weekend. Have a great week wherever you are. Take care.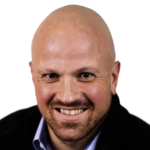 Daniel Newman is the Principal Analyst of Futurum Research and the CEO of Broadsuite Media Group. Living his life at the intersection of people and technology, Daniel works with the world's largest technology brands exploring Digital Transformation and how it is influencing the enterprise. Read Full Bio