Cisco, HPE-VMware, Honeywell, Groq, HPE, Qualcomm-Arm, Zoom, Qualcomm-Renault, AMD, IBM- The Six Five Webcast
Cisco, HPE-VMware, Honeywell, Groq, HPE, Qualcomm-Arm, Zoom, Qualcomm-Renault, AMD, IBM- The Six Five Webcast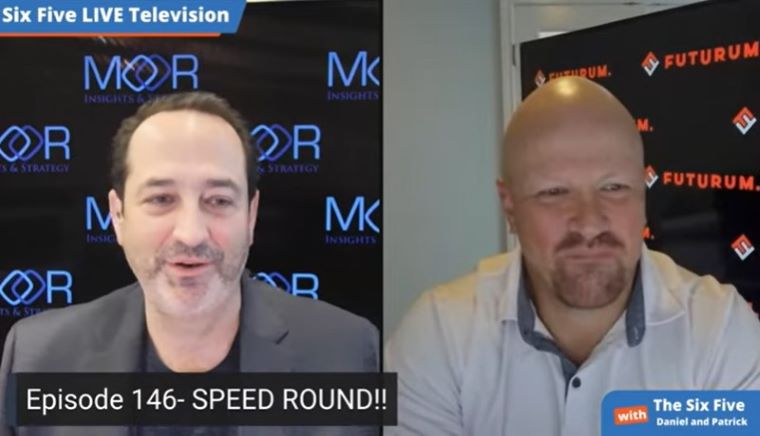 On this week's episode of The Six Five, hosts Daniel Newman and Patrick Moorhead get together to discuss:
Qualcomm Arm

AMD Epyc Server Launch
For a deeper look into each topic, please click on the links above. Be sure to subscribe to The Six Five Webcast so you never miss an episode.
Watch the episode here:
Listen to the episode on your favorite streaming platform:
Disclaimer: The Six Five Webcast is for information and entertainment purposes only. Over the course of this webcast, we may talk about companies that are publicly traded and we may even reference that fact and their equity share price, but please do not take anything that we say as a recommendation about what you should do with your investment dollars. We are not investment advisors and we do not ask that you treat us as such.
Transcript:
Daniel Newman: Hey everyone. It is Friday, November 11th. It is Veteran's Day and we are here for another episode of the Six Five Podcast. Starting out differently today. I heard my intro stinks. Can't let that continue anymore. Beating up myself a little bit, but it is a big day and it is a holiday and there's a ton of tech to talk about and I'm with my besty, Patrick Moorhead. More insights and strategy. How are you doing today buddy?
Patrick Moorhead: Doing great. Favorite hour of the week and we are here and I spent the week here in Austin. I had so many meetings, I got so much done. I had dinner with all the important people.
Daniel Newman: Well, last night was it with anyone important?
Patrick Moorhead: Well, I mean interns deserve love too.
Daniel Newman: I do love our interns.
Patrick Moorhead: Oh, so do I, so do I. And we have opportunities for all interns.
Daniel Newman: So we said we were going to start this episode out with some energy, but I think we just went straight to sarcasm, but whatever that's part of the Dan and Pat show is we do like to have fun and for a lot of people out there, it is a holiday. So if you are tuning in and it is a day off, hopefully that's just because you love what we do here. And you have a lot of fun joining us on the Six Five Podcast and if you are working like we are, by the way, Pat staying at home, I just want to reiterate this. For us is not better, it's better to be at home, but it's not better from a work standpoint. I never worked more than when I'm in the office. It's like I think when I travel at least it's like, well I'm on a plane, I can't meet or I'm in a taxi.
Well now we even meet in cars and cabs so it's a total mess but buddy, it's a speed round week. It's a speed around week because we had two weeks of crazy earnings pullozo, which meant we didn't talk about any of the cool technology stuff. We just talked about all the cool technology companies but when you work with hundreds of tech companies like we do, and you are responsible for providing the assessment analysis of what's going on in the market, that means six does not give us enough. We may have to change the show, it just may have to become the ten five, twelve five, twenty five. I don't know how old are you? We can call it the 65, but whatever it is, we are going to talk about a lot of things today. Now for everyone out there, first time ever listening to the Six Five, typically it's six topics, five minutes each, but it's usually six topics.
It's longer than that. This week it's going to be 10 topics, speed round. We do these occasionally when there's too much stuff to talk about and not enough Fridays for us to talk about them. Now the show is for information and entertainment purposes only and while we will be talking about publicly traded companies, please do not take any of our assessments or anything we say as investment advice. All right, so what are we going to talk about today? We're going to talk about Cisco, HPE-VMware, Honeywell, Groq, HPE, some more Qualcomm, Qualcomm, Qualcomm. No, just kidding. Twice. We're going to talk about Zoom, we're going to talk about AMD and then we're going to talk some about IBM's Quantum Summit.
We're going to go fast. So for those of you to us talking a little bit longer, we're going to do our best not to do that so one of us may cover a little more, the other one may cover a little less, but without further ado, it's been a couple weeks, Pat, you had a great time at the Cisco Partner Summit. You came back and said, Dan, this was really a great event, you dummy, you should have been there. Didn't go, I regret it already. Tell me what I missed. Let's talk about that.
Patrick Moorhead: Yes. First off, it really was a great show and it's interesting, I typically don't like to attend partner and channel shows because there's not a lot of product announcements but I'll tell you what, it was a great reaffirmation of the value proposition and Cisco's strategy and seriously hats off to Irene Mirageas and Brenna Karr at Cisco for putting together a great program. I mean I got access to pretty much every executive in the C-suite, met a bunch of senior executives I had never met with face-to-face like Jonathan Davidson, Jeetu. It was truly incredible. Cisco CFO met with there. So a couple thoughts right now. So first off, the channel did great with Cisco and the big focus there was getting partners and channel excited about some of the next generation opportunities that the company has, like software related to observability related to security and all of the as a service stuff like network as a service and obviously WebEx a collaboration and really gearing their programs around it.
But even during the pandemic, I mean it grew 10% in 2022, Meraki was up 48% co-selling with hyperscalers up 400% success tracks ACV up 330%. So Cisco is having a lot of success with the channel. And then Cisco CEO, Chuck Robbins came up and I got to tell you, I think I would buy anything from that guy. He oozes trust, he oozes credibility and one of the things I loved is he didn't just come up and say, "Hey, these are all the areas where we are great." He went and he talked about areas that Cisco was falling short and I absolutely love that, he puts himself out there and what that does with the entire audience is his partners, is it engenders trust. The other element is Chuck went through was the overall strategy and here's the great part. The strategy that he laid out before the pandemic is exactly the same strategy as they have now and enterprises and quite frankly the channel, they like stability.
And essentially it was re-imagining applications where they set the type of applications, securing the enterprise as were in more danger every day because of the nation state budgets that people have, powering hybrid work. Again, very, very future forward leaning into this before the pandemic and the final thing is transforming infrastructure, which has been Cisco's bread and butter for years, but doing it in more intelligent ways. So for instance, simplifying. I know Chuck had rolled this out before, but Cisco is hard and there is some power to having command line interfaces with equipment but customers want automation. They want cloud-based orchestration. They want a choice of consumption, whether that's cloud, on premises or as a service and finally, simplicity also talks about the experiences and I feel like the customer success group that the company has stood up knows what they're talking about and has the right focus.
So not a lot of new product introductions, but again a way to really point out what the company has announced over the last couple months, including AppD and Thousand Eyes integration. But one thing I want to point on that that really, really stood out for me, and I'm talking about this a lot in some of my advisory, is I really thought that Cisco was out of this whole multi-cloud game. You have customers like HPE, you have Oracle, you have Dell, you have VMware who've really been leaning into it but there's this notion of a secure network as a service that has security and network fabric.
Cisco calls it their security cloud so whether you're using Azure, Amazon, GCP or private cloud, you can have a singular way to look at security network. Now they're missing one thing, Daniel, which is a data fabric. Hmm. Maybe Cloudera, I might have mentioned to a few folks that they need to align themselves with a data fabric a customer, and I could see them as if they can put this together, and most customers already have a Cisco switch as their core network switch. I think these folks have a shot there, particularly if they can find a way to integrate a data fabric.
Daniel Newman: You hit a lot there and 'cause we are in a speed round, I'll just make a couple quick comments and we'll keep it moving here. One is I agree with you about typically channel shows tend to lack the pizzazz. I think Cisco always does a really good job of providing executive access to top analysts so I'm glad that you had that experience. I do think the company is in a pretty significant transformation from hardware centric to software centric. I think it's focused on observability is maybe one of the best examples of that with what they're doing. You mentioned Thousand Eyes and AppD, but I think they're also making some smart decisions to help feed their channel, like what they did with the Cisco Microsoft partnership. I think they understood where their software lied in the decision tree and how Microsoft Teams was at risk and what a great opportunity to create TAM by layering their hardware, which by the way, I'm using Cisco hardware right now on this video to participate in a collage on a video on streamer.
So congratulations to the team. Sounds like it was a great event. Hopefully the calendars will align in such a way that I can be there next year and I did take my eyes off you just a second buddy, 'cause I was trying to share on Twitter and LinkedIn so all of our friends could join us that didn't know we were already on. Anyhow, all right, let's move on to – I was feeling so guilty I had to confess. All right, so we have a few things from HPE this week. HPE's made some different announcements. They had their VMware had their explorer event in Europe this week and one of the big announcements that came out was actually a partnership between HPE and VMware deepening.
Now interesting on a few fronts. The first front is obviously this leaning in is just showing that further reiteration of what the future of VMware is going to look like. You know what I mean by the future of VMware is we all know as part of Dell it did run largely independently, but now as it's starting at this process of the finalization of the Broadcom acquisition, it's going to look different and I think you're going to start to see more other partners leaning in even further to this opportunity to be aligned with VMware, that talk about your multi-cloud comment Pat, this is the multi-cloud era and companies like HPE that are trying to sell a story about multi-cloud are going to be looking at partners like VMware to help them accomplish that. Now, VMware is deeply entrenched in many enterprises and is, from a virtualization standpoint, absolutely core. The future of its technology built on Tanzu, et cetera, where that's going to go with containers.
That's all a little bit to be seen but right now, HPE basically looked at its background that they have a 100,000 combined global partners. They have a combined 25,000 experts, 120,000 combined customers out there. And GreenLake, which is HPE centric motion, has been heavily adopted by now. About 80% of its top 100 customers and so what HP is really leaning into isn't just a partnership. That's always really been there, it's this idea of consumption. It's this idea from edge to cloud. GreenLake for VMware is going to be able to provide you with this fully integrated hybrid cloud deployment model for the partners of both HPE and VMware and using GreenLake, they can do it on with a consumption motion, which is what a lot of companies are looking for. I see this as a very strategic partnership for both companies. I see VMware leading into more and more strategic partnerships as part of Broadcom.
This was a big purchase by Broadcom and I think they're going to really look to this partner ecosystem. And of course they're going to need to make friends because that's one of the controversial things is how well are they going to be liked as a software company? VMware was really loved by the IT industry. Broadcom is really loved by the street, but are they going to be loved by the IT industry? And I think these kinds of partnerships could help solidify that so both companies coming out together, taking advantage of this joint ecosystem, selling it as a consumption model. I think it's a good move. Of course we're going to have to see how everything lands as VMware Broadcom finalized the merger.
Patrick Moorhead: Good insights, Daniel. Hybrid cloud is real and multi-cloud is real. The industry is just waiting for vendors to catch up. I have yet to talk with a major size enterprise that isn't already multi-cloud but the challenge with multi-cloud is you have to have a separate DevOps sec team to manage each one of these separate clouds. And that really is inefficient. So the industry's trying to look for connection points to make it easy and one of the foundational beliefs that I have is that neither Azure or AWS is going to have APIs to make it easy for multi-cloud because they would prefer that you come in and use all of their stuff. I understand that, but it's only a matter of time before customers reject that and in fact they have rejected it because there are different cloud providers that provide different levels of capability including so sovereignty, security, performance, the ability to do data and analytics.
So I like this partnership a lot because I like the way that VMware is setting up their hybrid cloud capability to limit the amount of resources it takes to properly do multi-cloud and I love GreenLake from its as a service capability and its ability to put this together. So it literally is one of these peanut butter and jelly moments. And it is very interesting to see HPE or VMware partnering with HPE versus going all in all the time on Dell Technologies. This is an example of VMware's growth strategy, which is becoming and looking more of a neutral party as opposed to leading all the time with Dell Technologies. So I do like it and it's interesting as I get to look at the deal more and as I am starting to research Broadcom and it's management, I think I could be starting to warm up to this deal a little bit more.
I do know that Broadcom CEO, Hock Tan has been traveling relentlessly, meeting with customers out there and in some cases him and Michael Dell meeting with doing two on ones with customers to talk about the future of VMware. I like the VMware multi-cloud play. It's different from even the OpenShift play that Red Hat is, it's a little bit different. I feel like VMware is obviously leaning into, they have containers, but they are the defacto standard for VMs and they put a lot of resources into fabric for security and fabric for managing multi-cloud workloads as opposed to OpenShift, which is really focusing on owning that container level, that container layer and having a compatible container. And by the way, operating system layer around there. So good stuff. We'll keep our eyes on this into the future.
Daniel Newman: Yeah, absolutely. So you headed down, was it Orlando? Was it Orlando?
Patrick Moorhead: It was Orlando, yes.
Daniel Newman: Yeah, so you were with Honeywell for what turned out to be another really good event for their HCE, which is their software platform for the Connected Edge.
Patrick Moorhead: Yeah, I mean I was all in on this event, Daniel. I had a conversation with Kevin Dehoff, Honeywell president and CEO on what he wanted to accomplish with the event and I wrote a Forbes article on it and you can see that in the show notes. But it was good, there were new products, there were basically three new products that came out. They expanded their OT, cyber security, they brought out Honeywell, Honeywell Forge Performance Plus for industrial customers and I viewed that as an EPM play and a sustainability service. And then finally really leaning into the future SaaS capability that they want to bring to the table. And you know, you step back and you ask yourself, let's go back 10 years. We did one of the first white papers on segmenting the internet of things and we had the industrial internet of things, then we had the human internet of things.
And of course we did a four quadrant analysis of different workloads and use cases and talked about what it took to win. I think 10 years ago the belief was that the born in the cloud companies were going to win in this whole industrial internet segment. I mean, you know, you have AWS and in Greengrass, you had Google Cloud IOT platform. But the reality is, is these big turn, huge turn types of projects. They're strategic, they take a lot of time and they need to connect with Brownfield. Think of manufacturing plants, think of airplanes, think of nuclear power plants, retail warehouses, life sciences, commercial real estate, none of that is pretty unless it's brand new and with about 10% brand new and 90% needing to be retrofitted, Honeywell absolutely has a chance here, Daniel, a big chance. They speak OT, they are OT to so many different industries, commercial real estate, retail, industrials, life science, airplanes.
And then they brought in a bunch of folks from Oracle SAP to build out a platform and we're in year three or four now and I think these folks absolutely get it. They also understand the reality of the shifting demographics. One of the things that they went hard at is they showed the past and the future. In the past they had a middle aged guy, white guy with a hard hat on saying 30 year expert gut feel right with a clipboard. And then on the other side they had probably a Gen Z African-American woman saying data is real, the digital native and they can't get people to come and work these jobs. So the whole thought here is if you have a ton of sensors, collect all that data, you can literally do a lot of this control from your smartphone or a tablet was all about attracting the digital superheroes. Clean data, automated operations, AI and ML for decision support and world class tools.
So I am very optimistic. They had a lot of great people either on stage two, they had Infosys, they had Jen Feld, she was a guest of the Six Five, on. They had OT cybersecurity experts, they had real people, Daniel, one guy got on with a jeans and gym shoes and a T-shirt and I think there may have been a mustard stain on it, but this guy basically worked OT security in a factory. So I'm really interested to see what happens in the future. I'd like to see more partners engaged and the one commitment that CEO Kevin Dehoff made and also David Trice is they're going to go to six month updates, I'd like quarterly updates, I like a lot of SaaS products we know, but you have to start somewhere, six month updates driven by 1800 software engineers, 3,600 employees and 150 data scientists. It was an impressive show.
Daniel Newman: That is impressive Pat and by the way, this is not a new wow moment for you and I. We've been following this, we've been working with Honeywell through its evolution of Forge. We've had their, not only the CEO of HCE but the CEO of Honeywell, Darius Adamczyk on our Six Five Summit multiple times. We've kind of had this hey, world, this is not just a industrial company, this is a technology company. Whether it's building technologies to provide and enable real meaningful ESG like clean fuel or technologies to actually monitor the fact that the edge, we talked so much about the edge and how big it is. All that data coming off the edge isn't really managed by traditional IT. It's not that some of that data does make it back to the data center, but most of it lives outside the data center. That could be manufacturing, that could be an office building, that could be a multi-dwelling unit in a community, that could be a government rail system.
I mean all those things have data and Honeywell is one of those companies that's well positioned to capitalize on that opportunity. That's what happened here. That's what you're hearing about. That's the evolution. And watch for companies like Dell, like HPE, like Cisco, the ones we've been talking about on this show are going to be doubling down on partnerships with companies like Honeywell to find a way to bridge the gap. And again, not new, just something that really hasn't fully been realized this early on because despite the fact that we act like IOT and IT OT convergence has really happened in a meaningful way, it's still early innings. It looks a little bit like the cloud. We talk about things like they're done but in so many ways it's just starting.
Right. Let's keep moving here. Let's talk about Groq. So you and I are both advisors and early investors. I want to point that out in the company and Groq's a really exciting one. Right now with the semiconductor industry under fire, you're seeing a lot of accelerator technology companies kind of wondering what their long term trajectory is. Pat, I feel like we bet on a good one and Groq, under the company's leadership announced over the last couple of weeks, basically a partnership in depth between them and the US Army and Entanglement, which is a company that partners with the army to work on some strategic AI projects. And they did a big validation and they were working on cyber security using what they call a Groq node server running Entanglement software to effectively identify security anomalies.
And the outcome, Pat, long and short, was a hundred, I'm sorry, was three orders of magnitude faster with lower numbers of false positives. Now this is pretty techy stuff, but just to get to the bottom line, the work in the past, and again we talk about inferences, we talk about things like tops, these are big numbers and something trillions of ops, stuff like that but basically in order to, with the amount of data moving around the web, you have to have the ability to look at a lot of concurrent data at the same time to try to identify some type of anomaly that could bring a security risk and if the military isn't the key example of where this becomes really important, then I don't know where it is because we need to identify things as early as possible and we need the best technology to do that.
Well basically past validation reports had this type of anomaly detection, it's somewhere around like 120,000 inferences per second. Now you talked about three is magnitude. The Groq AI approach with Entanglement got that up to, in the test, and the validation of 72 million inferences per second. So from 120,000 to 72 million and they believe that with this current technology on their workloads, that could be pushed all the way to a full 120 million inferences per second. I mean long and short Pat, really important when you think about the types of threats the army, other military branches and potentially the US government are trying to deal with when it comes to cybersecurity. So the army basically came out and it's not an easy thing, I think it's important we reiterate that. It's not an easy thing to get any US Army or military or even the government to come out and kind of tout a single technology.
So it was a huge moment of validation for what is still a mid to late stage startup in Groq, but effectively just the kind of simple math here, Pat, a thousand times cybersecurity performance running their system over the past technology that was being used and they've tried everything, by the way, long and short, Quantum, they tried that. They tried to use a software hardware bridge and effectively after all these different things they tried, they ended up with Groq. They tested with Groq and got this amazingly remarkable performance. So Pat, I think we picked a good one. This is a good moment. It's far from making it a hugely profitable company, but it's that kind of moment where you start turning corner. If it's good enough for the army, who else is it going to be good enough for? And I think this is a good indicator of their future.
Patrick Moorhead: Yeah, this is one of the best third party of what Groq has been saying for a long time. I did a really long interview with Groq CEO Jonathan Ross. I really wanted to get underneath the why, like how did you do this? And he did tell a similar story that talked about what CPU, GPUs and FPGAs are good at and what he wanted to do was come up with a much lower latency accelerator that's essentially an ASIC that solved the challenge of batch size one. And essentially when we see a lot of these benchmarks out there, they use big batches. So latency isn't necessarily in latency, just a fancy way to say responsiveness. And how do you get great responsiveness with batch size one that are a lot harder to do on inference platforms based on a GPU. And for everything I've seen, the Groq architecture doesn't experience any latency at batch size one and it's single threaded, single core architecture really has consistent performance and latency across any batch size.
It's funny, what the US Army said was actually bigger than what Groq claims, who says their TSP is 2.5 times faster than any GPU-based platform at large batch and 18 times faster than GPUs at batch size one. So I got to love it when the manufacturer, Groq, is more conservative than a customer who actually ran these and that just gives me more trust in the company and what the company says, because it hasn't exactly jumped into the ML perf game with all limbs here, people like Nvidia has. And we just saw one from Intel Habana. I think these customer stories are actually more influential to me than the benchmarks.
Daniel Newman: And there you have it. I think Pat, that's a good assessment by the way. I like that you mentioned some of the technical capabilities and how you got there with Jonathan. He's an incredibly smart guy. Did he show you his egg timers?
Patrick Moorhead: No he hasn't. No.
Daniel Newman: Okay. I was out there. I actually went out to their offices and I had a conversation with him and it was just absolutely fascinating although I only understood half of what he said, and I consider myself a pretty smart guy so he's a brilliant guy and they're building something, I think, that's going to be really special out there Pat. So let's run into HPE and let's talk about their new ProLiant Server. It follows a little bit of the VMware theme in what they're really doing. It wasn't just servers, it's about GreenLake.
Patrick Moorhead: Yeah, so my thought is that I can cover the server part and you can hit the GreenLake piece. So HPE, as you know it, is a very successful infrastructure company, particularly in servers. They do pretty well in storage and networking with the Edge networking but they're particularly solid on the compute side. So everybody is wondering what the company will do next. Now HPE has shifted its strategy from tonnage of volumes to value, which is a coded way of saying higher performance, higher value add making money. They don't anticipate in the money losing or low margin areas like Hyperscales, scaler or even really leaning into some of the pedestal servers are out there but when it comes to Racks, HPE is very strong and what they came out with on Gen 11 was to come out with a intuitive cloud operating experience and part of that is GreenLake, but part of that are some of the tools like HPE OneView to manage the infrastructure, HPE iLO for embedded server management and then of course GreenLake for compute ops, which I know you're going to talk about.
One of the areas that HPE leaned into first across all of the vendors is hardware-based security by having a proprietary ASIC on there as one of the first boot, but essentially doing a, first of all, secure supply chain, having a silicon route of trust, which you know and I know is super important, processor at a station to make sure somebody didn't put a processor into the same socket that isn't supposed to be there. Protected firmware and a protected TPM drive and storage controllers, that's below the operating system line. And I give HP a lot of credit in leaning into that and I think it's a kind of a testament to where the company does well, which is highly regulated and government institutions. But performance, we love performance. You and I love chips, the company is going all in on the new AMD chips that we're going to talk a little bit later and obviously they're going to go all in on Sapphire Rapids.
They weren't actually allowed to talk about those chips, it was more like hey NextGen processors and of course the first Gen 11 server was based on an Arm-based Ampere design who is very quickly moving up the food chain and making a major impact in particular cloud native loads that want single threaded, reliable performance with enough bandwidth to handle all those cores at an acceptable cost. A quick correction, HP hasn't announced a Sapphire Rapids platform yet, but I'm expecting it in the fourth quarter. So good stuff. I'm going to leave the rest over to you Daniel.
Daniel Newman: Yeah, no absolutely. There wasn't a ton left there but I think you hit a lot of the key points and I think they're making some smart hedging with their chip strategy, with their silicon strategy over at HPE because I think they want to make sure that they don't close any doors, keep up with the newest technology, make it all available. They're also being really focused on the service offerings, they've expanded their point. Next services as it relates to the Gen 11 specialized technical experts are going to be there that are going to be able to deliver support within the security constraints. They're also really focused on green linking. I use it somewhat as a verb, but the idea now is there's going to be the opportunity to basically do it at a pay as you go on all these systems and it's a consumption plan and that's just at the core of everything that HP is doing right now.
I mean they are legitimately, as a company, trying to move all the revenue from prime to consumption and GreenLake is the path to that outcome. That was something they really focused on. If you notice, Pat, when I mentioned the VMware deal that was all about VMware for GreenLake, you notice these new server offerings, they're making sure that it's basically bundling it with the GreenLake license so that you can quickly get these up on GreenLake and they can add that to that GreenLake number that they're building. So you know, hit that tech on the head, Pat, with this. I think your whole strategy as it relates to offering AMD Intel and Arm is the best of class, best of breed for this current market condition. And the GreenLake and Pointnext editions are just how the company continues to execute on its growth of consumption and growth of services, which is super important to all IoT.
So Pat will keep moving because we have to because we're just not going fast enough. Let's talk about a kerfuffle. I like that. There's a lot of different headlines out there Pat, This has been going on for a little while now so I don't know that there's a single news item here, but I guess for everybody that just kind of hasn't been paying attention, Arm is going after Qualcomm basically trying to force Qualcomm to destroy and stop the use of Nuvia designs that were derived from Arm's technology. Okay, this is what's happening. Effectively Qualcomm bought the Nuvia, Pat, I think you had some involvement and actually you know were tied into that because you were advising on both sides and what ended up happening now is Arm is calling a bunch of breach of license agreements and trademark infringement because the license kind of doesn't carry directly over through the acquisition.
And this is really interesting, Pat, this is too long for a speed round to really dig into too much but wanting to just put this out as a topic you and I may come back to. There's a lot of speculation as to why this is happening because you got to remember, I think Qualcomm is the second largest licensee. I think that's correct. I don't sell anything based on that opinion, but I think that's what it is Pat, and it's not just for obviously pc, which is the Nuvia business, but it's for the whole mobile business. This is creating a really interesting rift between two companies that actually have to work together very, very closely. With that in mind, there's some people that think it's payback 'cause obviously SoftBank, Arm and NVIDIA, well one of the loudest critics of the NVIDIA and Arm deal that really pushed against it happening was Qualcomm.
So now that Arm's in the process of trying to grow potentially to IPO, there's possibly some ill will about that. That could have come from SoftBank, it could have come from Arm and then another really interesting thing here is we've obviously seen a bit of a handshake in moving on agreement between Apple and Qualcomm. As Qualcomm has had to continue to provide Apple with technology. I say kind of because it's not like they want to but they have to. Is that fair? They can't seem to get it right so they kind of keep going back and nobody says no to Apple. But the number one licensee I believe is Apple and it is using tons and obviously helping build kind of what would be considered flagship future devices on Arm is Apple and Nuvia does have some cache, there's some threat, there's some perspective that they're going to build a PC that's going to be better than anything we've ever seen.
So right now Qualcomm on Arm is just early iterations of Arm technology, Windows on Arm, but what's supposed to come next could become somewhat scary for a company that has kind of always cornered the market on the ultra premium device. So that's a little more out there. I'm not saying there's no actual evidence that that's going on, but with these big licensees and agreements, we saw it with the Qualcomm Apple suit, we saw it with the FTC suit, the way these big companies insert themselves into these filings can be very interesting when they think it can give them some type of competitive advantage. Long and short, this could go on for quite a while and this could be a topic we'll be talking about a lot over the next few years.
Patrick Moorhead: I have stretched and pulled and looked under rocks trying to figure out how the two companies got here. Both companies are led by very rational people that I know very well and I'll be honest, I don't know who's driving this particularly at Arm or SoftBank, this could be a SoftBank move but what I know is that all companies have a right to protect their intellectual property and we see that at Qualcomm and we see that at Arm. If I had a guess, I think that I would say that it comes down to the licensing on the smartphone side was a huge part of Arm's growth and Arm sees the potential angle to not have this happen at the traditional Qualcomm prices but rather the Nuvia prices and move forward and they're taking a stand and so is Qualcomm.
From a future point of view with Arm-based PCs, this is going to be devastating if this doesn't get settled in the first quarter and OEMs who are leaning into Qualcomm Nuvia designs are going to bail. It's as simple as that. Qualcomm loses and Arm loses in the process because the one area Arm has not touched are those three, well 300 million, let's say, less 10 or 20 from Apple in the PC market and I don't think Arm is making a lot of money on that architectural license to Apple.
Daniel Newman: Absolutely. So this is one to kind of earmark. We'll be coming back to it. Pat, we're on speed dial now. You and I both have 15 minutes and made four topics. So Zoomtopia, your show.
Patrick Moorhead: Yeah, so I have written before about the Zoom platformizing their offerings, right? Platforms are the thing to do. We see it with Microsoft, we see it with Google, we see it with Salesforce and now we're seeing it with Zoom expanding their capabilities and two new capabilities, a little bit of a surprise. They add an email client and a calendar client to the experience. So what that would mean is that you could essentially be inside of the Zoom experience and calendar experience and have, for lack of a better term, a unified inbox where you would have messaging, you would have email, you would have calendar and you would have video. I kind of joked that even back in 1992 when AT&T bought my company, NCR, we were working on a unified inbox and the industry is still trying to do it almost 30, yeah, 30 years later.
But it is a big move. Now you don't have to move off of your email client. If you want to plug into Gmail and use this as a front end, you can as well. This gives Zoom access to really important data because if you're going to do email and calendar, you're going to do Zoom Chat okay? And all of this data that can come in and make the overall experience better using big data and machine learning. You can imagine if you're integrating Zoom into your hospital workflow, you're integrating it into your call center, which by the way, they're making huge strives in that. It all makes sense.
I want to get my hands on it and use it before I pass thumbs up or thumbs down. I really, I had a chance to interview Oded Gal, the chief product officer and I play junior product managers you like, I like to do all the time with him and I think we're in perfect alignment. Finally Zoom Spots. You want a tool to have your team do whiskey tasting or drinking games? Zoom has brought it to you, which is a different environment from the classic. My junior researcher, Jacob Fryman loved this idea and he's hardcore Gen Z, so we'll see.
Daniel Newman: Yeah, a lot of things got announced. I think it was a bit of a reiteration of the company's platform strategy sensibility. Some great customer validations came, CEO of HP, Enrique Lores gave a glowing testimonial to how Zoom really helped transform their business. Maybe that even had some influence on the ultimate decision for them to buy Poly and really lean in even further to that kind of future work thing so keep that and my comment on this one pretty short, but I think Zoom is at an inflection point. I think the market largely got the idea that everything was going to be remote forever, wrong. I think it's going to be much more hybrid and much more, there's going to be much more in person than I think we actually envisioned.
So getting that right and getting that hardware, software and platform correct is going to be an important thing, especially for a company like Zoom that really one big when people weren't mobile and that's got to be the big transformation the company makes that's throughout its stack and that's getting more hardware centric through potential partnerships. All right Pat, so one more. Circle back here. This is a quickie. Qualcomm, we've talked a lot about the automotive, Pat, with Qualcomm and it just feels like every single, what is it like every three days there's another announcement? I think the $11 billion design pipeline win or wins over the last quarter were amazing, but-
Patrick Moorhead: Incremental.
Daniel Newman:… incremental. The 11 billion incremental to add to its 19 billion but essentially what happened is, it's just one more announcement this time. It was Renault Group, I don't ever say French words well, but Renault? Renault? Renault basically they publicly came out and announced a deepening of an existing strategic partnership that was already announced last year around the World Congress a little bit before that they, Qualcomm, is planning to invest in their, what's considered their dedicated electric and software company also called Ampere, just to keep things confusing for people paying attention to the semiconductor space that they're going to co-develop high performance computing platforms on their Snapdragon digital chastity for Renault next generation of software defined vehicles. And they plan to start these vehicles being available in 2026 and that they have now a commercial agreement that's got kind of ties all of these things together. Pat, look, there's a number of large auto makers out there, there's the BMW Group, there's the VW Group, NIO Group, there's Stellantis Group, there's not a lot of consolidation here.
What we do know for sure is that there a number of different things. It's not just about electrification, it's about telematics, it's about infotainment, it's about drive and Adas and putting all these things together and Qualcomm has done a really good job of doing the building blocks here. They've gotten the partnership with all the companies. We saw this at the automotive day. The Renault deal is just one more check in the hay, another big company making big plans to build around Qualcomm and they're kind of you, if you think about it like building moats and flanks. This is what they're doing. They're building moats and flanks, long term agreements on a business that's relatively small for them today but it's only going to become bigger as more Qualcomm ends up in every vehicle. So it's a nice partnership, nice win, kind of an expansion of what exists, I don't think, I got to say, a whole lot more, but it's going to go from physical compute to digital twin and everything in between and really good trajectory for Qualcomm here.
Patrick Moorhead: Yeah, digital, Qualcomm digital chassis is real. I remember a few strong automotive electronics vendors who laughed at Qualcomm getting into more than telematics and they got into the dash and they're the market share leader in advance dashboards. People laughed at them trying to get into Adas, they did multiple strategic deals with folks like Arriva and then BMW and then we have another strategic engagement here with Renault, not only on the hardware side, but I would even say more importantly with the software side as they're going to work together to make that happen. And mobilize is great, but it's a black box and it's hard to work around. Nvidia is getting a little bit more open with its desire and I think some of this could be driven by some of the pressure that Qualcomm is providing, which is somewhat of an open stack where they'll work with the old stack and essentially it's a custom stack. So another big win for Qualcomm. Congratulations to Nicole, the $30 billion man.
Daniel Newman: And there we go, Pat, two more topics, six minutes, the ultimate speed round finale. Talk about AMD. They had a big launch this week. This probably deserves more time, but we're going to have to give it a quick hit today.
Patrick Moorhead: Yeah, huge announcements for them. Fourth generation epic AMD is in the 20% range of market share and server. I think for cloud providers they'll probably end the year at 30%. This company is on an absolute terror and the big question with AMD was how long could they keep this going? We saw this incredible run that the company had with previous server, which was called Opteron and after three generations it just petered out but AMD as strong as ever and quite frankly the numbers that the companies are putting up on a performance basis are actually higher than the previous.
Now the benchmarks out, the comparison to Sapphire Rapids isn't available, but AMD is saying they have 2P integer throughput on many core, a 3x over Xeon Platinum. And Integer is one of the primary determinants of application performance out there. Number of cores has a lot to do with cloud performance and it's single core as opposed to multi threaded performance but the company leaned into things like energy savings, which was great to see. We saw this back in 2006 and they're talking about using 25% of the energy of the other folks. I'm super interested to see Bergamo, which is 4th Gen, Epyc versus Sapphire Rapids from Intel and I'm hopeful we'll see this in the fourth quarter. The customers that got on stage, Daniel were incredible.
We saw Antonio, we saw Dell's president, we saw Clay Magouyrk from Oracle Cloud basically get up there that says, "Hey, no longer are my customers saying why AMD? My customers are saying why not AMD." We saw Kirk from Lenovo get up there and talk about his time to market advantage and all the speed records that he's breaking. Interestingly enough, Dell talk about all the world records that they're getting with with AMD and Dell is kind of the last company to lean in into non-Intel parts and we can see if they'll actually convert that into revenue. Heck, we saw Scott G from Microsoft and Azure, Google Cloud had a quote, CEO of VMware was on stage talking about confidential computing. So all around a big event for AMD. My spidey senses, Daniel, tells me that in 2023, AMD will continue to take share in the server market.
Daniel Newman: I would've said that's a provocative bet, but it does increasingly look that way. I think we are going to see a more fierce competitor in Intel next year with Sapphire Rapids scale and of course the processes that they're going to be the aggressive timeline if they're able to execute but these things don't flip overnight. It was like AMD didn't start gaining share on the first good products AMD came out with and the first mistakes Intel made and it's vice versa. With Intel kind of coming out of what I think is probably one of their darkest cycles in terms of issues, they're going to get things right, but AMD's built loyalty and they've been able to deliver at a level that has created a lot of loyalty and also with Arm and what we're seeing with AMD customers are, they're multi-sourcing more. The multi-sourcing movement is increasing and AMD has benefited from that.
So even if Intel gets it all right, you've got to figure there's going to be a cycle before they're going to really start to get some of the share back that they may have lost. So numbers, we'll see that ultimately, Pat, that's the great thing that we get that data every quarter but hey, we'll talk more about this one. Congratulations to AMD on the launch. Let's talk IBM Quantum Summit, Pat. Putting it in the show notes, great piece by Paul Smith-Goodson, contributor of Moor Insights and strategy contributor group at Forbes. He kind of went out and gave the quick and dirty, I was actually in New York City for the IBM Quantum Summit, SVP and head of IBM research, Dario Gil and VP Jay Gambetta kind of kicked it off and there was a lot of in depth. I mean look, if you get around Quantum, it is super technical, its super complex and it's really, really nerdy.
But having said that, I think this event that got me excited was the company leaned into making Quantum real, making Quantum addressable. A lot of talk about kind of the Entanglement of Quantum and classical computing. Of course the big moment was the launch of the Osprey. That's the company's newest, I'm trying to think, is it 433 cubit? Now Pat, you and I have really been talking about this since, was it Falcon? I mean there's been three, four iterations. It's happened really quickly as they've moved through the paces to Eagle, they're basically quadrupled from Eagle, which I remember you and I talking about just like a year ago. The company is focusing on the coherence and increasing that significantly. It's focusing on ecosystem, getting the right partners around it, getting research around it, and then of course bringing real commercial opportunities because I don't think IBM gets much credit in terms of the valuation of the company for how much they're putting into this particular space and the opportunity that it's creating.
I know we're really short on time Pat, but I just wanted to kind of come away and use this platform to say, look, we've got to give credit where credits due. We've kind of had this big pivot on IBM over the last year. The company's getting its core business right and I think it's getting things right here with Quantum in terms of being able to explain the incredible technical complexities of doing Quantum, but also being able to start to show how Quantum is going to be able to meaningfully interact with classical computing to start to help real companies solve some of the most complex problems that classical computing tends to struggle with in isolation. So we'll have more on that. Read the article on the show notes. Pat, I'll leave you the last word 'cause I know we got to take this baby home.
Patrick Moorhead: Yeah, this show, this summit was two parts. It was affirmation and what the company is doing in Osprey. It was giving an update on error reduction, giving update on Qiskit Runtime Primitives, an update on dynamic circuits and which are an update on Quantum Safe but the new thing was this notion of Quantum-centric computing. I had the chance to talk to the head of Quantum at IBM, Jay Gambetta. You can see the video on my YouTube. I also put it in the show notes but essentially how Quantum computing and traditional computing can work together in the future and that's really what it's like. Just like a GPU, you have a Quantum accelerator that through APIs you can create applications and usable stuff. So they're on track for what they committed at IBM think and I'll leave it at that.
Daniel Newman: Awesome. Well Pat, hey, great show, great topics, speed round 10 in a short period of time. We are off to Qualcomm Snapdragon Summit next week. We will be covering putting out some of the best thoughts from Maui, Hawaii. I know, doesn't our life suck? Hey, for everybody out there, hit that subscribe button. We love having you as part of our community, send us your comments your way. We're still on Twitter, we're everywhere else too. Wherever you are, have a great week. If you've served, thank you for your service. We appreciate you. For the Six Five for Patrick Moorhead and for myself, we're out of here. See you later.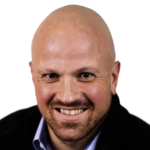 Daniel Newman is the Principal Analyst of Futurum Research and the CEO of Broadsuite Media Group. Living his life at the intersection of people and technology, Daniel works with the world's largest technology brands exploring Digital Transformation and how it is influencing the enterprise. Read Full Bio