CES Puts Chips, PCs, and Autos in Focus – The Six Five Webcast
CES Puts Chips, PCs, and Autos in Focus – The Six Five Webcast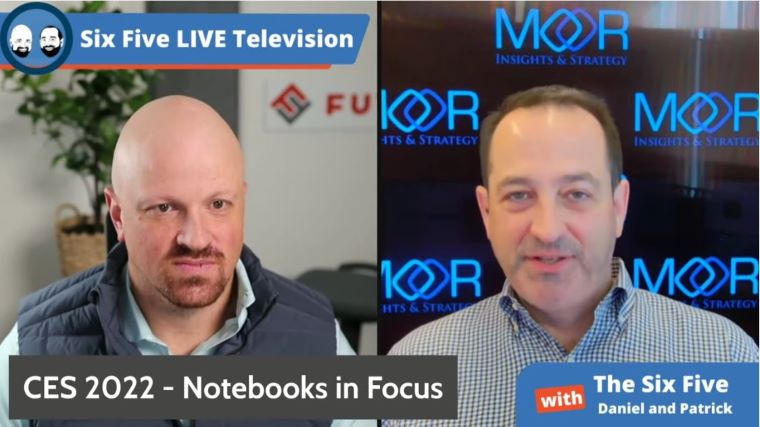 On this episode of The Six Five Webcast hosts Patrick Moorhead and Daniel Newman discuss the tech news stories that made headlines this week. The six handpicked topics for this week are:
For a deeper diver into each topic, please click on the links above. Be sure to subscribe to The Six Five Webcast so you never miss an episode.
Watch the episode here:
Listen to the episode on your favorite streaming platform:
Disclaimer: The Six Five Webcast is for information and entertainment purposes only. Over the course of this webcast, we may talk about companies that are publicly traded and we may even reference that fact and their equity share price, but please do not take anything that we say as a recommendation about what you should do with your investment dollars. We are not investment advisors and we do not ask that you treat us as such.
Transcript:
Patrick Moorhead: Hi, this is Pat Moorhead with Moor Insights & Strategy, and we are back, 2022, for another episode of the Six Five Podcast on Friday morning as expected, and I'm joined by my cohost, Daniel Newman, co-founder of Futurum Research, and Chief Poobah.
Daniel Newman: Chief Poobah. I'm gonna change my title this year. It's going on the card. Chief Poobah. It's the 14th of January, Pat, and we haven't podded in weeks. It's actually-
Patrick Moorhead: Well, we podded.
Daniel Newman: Well, we kind of did.
Patrick Moorhead: We did an on the road, we did an in the booth, we did kind of an insider, so we've been podding. Just not our routine pod. And by the way, we are the Six Five because we cover six topics in new, we analyze it, around five minutes each. Daniel and I add a little bit more time to be blowhards and talk about ourselves, to feel good about us, but one thing is we do talk about public companies, and please do not take any of this as investment advice. Find a professional. Just do the opposite of what we might be inferring. Because we're industry analysts, not… Tech industry analysts. We are not working for an investment banker. We're not a sell side, buy side financial analyst either.
Daniel Newman: Yeah. Absolutely, Pat. And as we try to get the year off right, what we all want to basically make sure you know is that we're going to tell you what's going on, and we're not going to just focus on the news. We're going to analyze it. We're going to go deep. And by the way, this year, it's interesting, Pat, but didn't start slow. Got on a plane the third day of the year, headed off to CES, and that's going to be a big focus today, eh?
Patrick Moorhead: That's exactly right. We're going to hit three CES topics. We're going to hit notebooks, automotive, we're going to hit chips, and because chips are so hot we're going to talk about more chips. Intel had some executive shuffles out there at the beginning of the year. We're going to be talking about silicon designers fleeing Apple for new companies. And then we're going to end kind of the way we started, which… PCs had a rocking year in 2021. Maybe talk a little bit about what the future looks like. Daniel, maybe we can kick this off here.
So, as I hope everybody understands out there, PCs, notebooks, Chromebooks were very important devices for us. In fact, biggest growth since 2012. But we couldn't do the pandemic without them. At home, we wanted more entertainment at home, and a lot of homes, they actually share laptops or desktops. What we got into was a one device per person in the household, which was big. We had big drivers in work, because essentially people were told within a two-week period, "You need to leave the office and go home." PCs are critical and I can't help but to give some credit to HP, who essentially coined this beforehand. I don't think they portended the pandemic, but they sure… Alex Cho sure was smart for going out on a limb at the time and pointing that out.
You can read my Forbes article if you want to that goes through blow by blow of what the top makers brought out, but what I'll talk about is some of the universal trends, and some of those that would probably be obvious to you. These are hybrid workflows, okay? And that's whether you're buying a consumer device to do this, or an enterprise to do this, every one of these companies upped their game for cameras and audio. For the lids of notebooks, it used to be about how thin you could get it, but the problem with thin is you can't put a very good camera. In fact, you top out at about 720P resolution, which is awful, and right now, you're probably shooting in 4K or 1080. I'm 4K but focusing in, which dithers it down, and we're streaming at 1080, so those old notebook cameras were just junk. That is a big trend.
And the other thing is audio. I'm in my living room trying to work and I also have my kids at home because they don't have in school, and I'm trying to manage them at the same time, and it's really, really tough. So, we got really good at channeling audio and taking some features from companies like Poly, where some of these makers, you can actually stand up and be on a conference call and it'll track you. Sound familiar, Daniel, to what Poly does? Or Cisco? And another feature that they've put in their audio driver and their microphone driver is crumpling up a bag of potato chips, or a dog barking, or somebody knocking on the door, they are using real machine learning, not fake AI, to parse out those audio signals. Pretty cool. It's exactly what you would have thought.
I'll end with this. Dell and HP hit really hard on technologies that are good for the environment. Not that you can eat the notebook yet, but I know Dell has been a pioneer. They even made some packaging out of mushrooms, which I always thought was fascinating, but Dell came out with a concept of a PC that was about as green as I've ever heard. It's not for sale. It was more of a tech demo. But the one cool part, and I've been harping on this for multiple podcasts, Daniel, is this thing is modular. Meaning you can take it a part. You can take out the keyboard. You can easily replace the display. There are different modules that extends the overall life of the notebook and I've always kind of mocked, and Daniel, we did a video I think even for Lenovo where it was like the environmental irony that people don't make more technologies… We're always asking people to buy new stuff every three to four years as opposed to making them modular and people can upgrade and add features that they don't like.
So, pretty long winded there, but there's a lot of stuff going on in the PC market. If you want the details from all the three big vendors, check out my Forbes article.
Daniel Newman: Yeah, and we'll spin back at the end about some of the actual market sizing and some of the new insights that have come out, because there's more continued strength in PCs which will probably force me down the rabbit hole later of talking a little bit about what's actually going on in the overall tech market because there's some really fascinating stuff in both the equities and the industry side that we're going to need to look at this year, Pat. But heading into CES, I think you kind of nailed it. We've got this hybrid remote work story. We're going in and out. Vacillations of return to work, not return to work, and this hybrid story, it's kind of gotten overplayed.
I mean, look. Everybody's talking about it, whether you're a mobile device maker, you're a collaboration technology, you're making PCs and notebooks, desktops, chips, cloud, it's all, "People are going to be working everywhere." Yes, we know. People are going to be working everywhere. And by the way, this was already happening before COVID was happening. Having said that, I think there is a bit of a race to making these devices lighter weight, longer lasting battery, which we'll talk more about when we actually get to the chip part of the CES 2022, because this stuff all ties together. More power efficient, more environmentally friendly, and so we're starting to see some of that progress take place, and of course we're seeing advancements in the PC to make sure the PC stays uber competitive with our friends in Cupertino which have made a lot of progress with their new M1.
So, not much to add there, Pat, but what I will say is that there is still some technology to be desired. There's still going to be some advancements to be made. And the notebook is essential, but it can get even better for being able to accommodate the kind of work that people are going to want to be able to do in the future.
Patrick Moorhead: Daniel, good breakdown, good adder. I did suck a lot of oxygen out of that room. But hey, let's move to the next CES topic, which are automotive technologies. It is just amazing. I look 10 years ago, and at CES, and the biggest automotive technology was an add-in stereo or a video system to keep your kids zombies as you're going on the big trip. But it's become a very different CES, Dan.
Daniel Newman: Well, let's be frank, and you can still be Pat, right? But the fact that CES was probably attended, what, about a third of its normal attendants, maybe even a little bit less than that, gave us a ton of time to put attention on a few things, and if you really looked at what was making headlines, the automotive advancements, and innovations, and announcements, and partnerships definitely were show stealers. You know, a couple years back, Pat, as we headed into Mobile World, I said a similar thing about Mobile World. It was becoming a bit more and more of an automotive show. But mobility and vehicles are somewhat synonymous, right? So, in the way we travel, whether that's through a fully autonomous vehicle that gets us from point to point as passengers, or what I would say the global love affair with vehicles, across the globe people love cars, and we, Pat, are no exception to loving cars, makes that a hot topic and a headline grabber every single time.
I wrote a piece in Forbes and basically the header on this piece, Pat, was that the collision of tech and automotive were on display. And again, to your point, I still remember going to Best Buy and walking in the back corner of the store and looking at the cool stereos. Remember the ones that would come out of the dash and they would actually have a little screen on them, and they were super cool? It's like Pioneer would make them, companies like Alpine. I don't even know if they're around anymore. But now, what we're really seeing is the chip makers are becoming the future drivers of automobiles. The BOM on a vehicle in 2030 is going to be something around 20% semiconductors. We are legitimately moving into an era where semiconductors will be the single most important component in a vehicle.
What happened at CES? Well, Mobileye. I'll do just a really quick run through. Mobileye's new EyeQ Ultra, first autonomous vehicle on chip that was built specifically for L4, so Mobileye is moving quick, and Mobileye is kind of a black box approach. So, what they're doing is partnering with companies that can take the Mobileye system, and they can take the system on chip, put it in, and it is fully contained and available. And by the way, the EyeQ, the initial system, I believe they've shipped over 100 million units to date, and so, as we've heard about the Mobileye spinoff from Intel, I believe that's going to be a massive value creator this year potentially for investors and shareholders. It's something I feel is very interesting to watch.
Qualcomm had their new vision system called the Snapdragon Ride vision system. Scalable, modular, computer vision, built on system on chip technology. It's designed for implementation in multiple camera systems, ADAS, autonomous driving. And then, of course, what's really interesting about Qualcomm is they're really taking a modular approach to the entire digital chassis of a vehicle. So, you've got the ADAS system, telematics system, telematics, you've got the entertainment and infotainment, but I like the Qualcomm modular approach is definitely leading to a whole bunch of wins. Recently BMW, GM, Volvo, Renault, doing extremely well right now. This is a part of the business that I think is starting to finally be baked into the company's valuation.
And you can't leave out NVIDIA. Now, NVIDIA's business run on automotive has been someone stagnant. It has not been growing nearly as much in the last few years. But their DRIVE Hyperion platform is still out there. They were able to announce a bevy of tier one suppliers. EV makers, trucking companies. Their new latest generation platform, 12 surrounding cameras, 12 ultrasonics, nine radar, three interior sensing cameras, and a front-facing lidar. So, they are using all the stacks to try to be able to create, and where they're doing really well, Pat, is they're doing really well on the EV makers, especially over in Asia. But they announced Polestar, NIO, Xpeng, and a number of others that are going to be building on their platform. They also announced a full autonomous trucking partnership and they're incorporating their Avatar, the Omniverse Avatar technology, to tie together speech, AI, computer vision, and NLP.
And Pat, we couldn't probably talk about the automotive without the most impressive demo, and I'll let you talk more about it, because you drove some hundreds of thousands of views on Twitter, but that's our friends, customer, at Luminar, who was able to demonstrate some very, in difficult situations, using lidar to be able to do ADAS at a level that, well, we saw Tesla certainly could not handle as it was running over the demonstration, the test dummy, over and over again, while the lidar technology was able to help avoid. So, those were some of the demonstrations, but yes, automotive, big time, no oxygen left for you because that's what you get for doing that to me.
Patrick Moorhead: Man. This is a tough one. I don't even have any toys to bring into view, either. So, yeah, I'm going to talk about a demo that Luminar did, and for those of you who aren't aware of Luminar, they're a full stack provider of lidar solutions. And full stack all the way. Semiconductors up to the enclosure, to the software that makes it run. They have big deals with Volvo so far and a couple other folks. What I want to point out is there's a big argument in the industry of do we need lidar or not, right? So, there's three sensors. There's lidar, there's radar, and then there's vision. Elon Musk has gone on record basically calling it a fool's errand and folks that love Tesla, the Tesla longs, they jump on the bandwagon and they reflect this.
But the other thing I'll throw out there, I think Elon Musk is brilliant, but he's three years behind his commitment to do a coast-to-coast full automated trip. The company is late with its full self-driving software. Go back and look at the claims that were made five or six years ago and the reality is this stuff's hard. Lidar used to be, if you see a self-driving car, it used to be that sensor on the very top of the car that looks like an old police siren. It's giant. And by the way, those used to cost $5,000 to $10,000 apiece. And I would even say that lidar at $5,000 to $10,000 apiece, aside from maybe a robo taxi, is a fool's errand. But this company, Luminar, has a full module that costs about $1,000 and it's small. It actually looks like an air intake as opposed to this giant, gaudy siren that needs to be a foot above the top of the car. So, the tech has changed. There's been a 10X cost reduction and the improvements have been…
So, to make a long story longer, Luminar had I would say it was absolutely the best demo at CES, which had real, live cars in a parking lot. Daniel, you and I attended, and my son Pico did, where they had a Tesla, they had a Luminar-enabled Lexus, and a couple other ADAS cars. And then they had a fake child run across the road. It was dark. And they had a demo where the child was occluded by a car up until the very end, and you can see the video in our show notes. Net net, the Tesla, which I was driving, just blew right over and I ran over the fake kid. It was jarring. I have to admit. You had a nervous laugh, but it did not stop. Tesla's ADAS system did not stop for the child. The Lexus that was enabled with the Luminar system stopped on a dime. It was abrupt, but the child was saved.
And that really got me thinking, Daniel, why isn't lidar more popular? And I know $1,000 is a lot when the average gross margin on an average car is $5,000, but don't use averages when you're talking about EVs, because EVs are a lot more expensive. And I think more automakers should make that an example.
Daniel Newman: Yeah. I don't think there's any circle back here, buddy. I think having sat in the back seat, you're right. The word jarring is appropriate. And I think the opportunity to incorporate lidar at scale is going to be a way to provide safety. I can't quite understand when around $1,000 a vehicle you could save lives. The only thing I could say is somehow the National Traffic Safety Board, or I think it's the NTSB, or whomever it is that does this stuff hasn't been able to quite determine mathematically the lives impacted. But what I saw was accidents that can be prevented. Technology can prevent accidents. We should put the focus on that like we've put the focus on other health safety over the last couple years. This is real and accidents are a killer of people young and old.
So, I know we don't have any more time on this one, but yeah, I could talk about this forever.
Patrick Moorhead: Yeah. And a shout out to Ian Cutress for putting the comment out there. Mobileye is driving down the cost, as well. So is ON Semiconductor, so there's a lot of companies out there in addition to Luminar trying to drive that down, but hopefully with three or four vendors driving it down, the cost can get below a $1,000 cost, and it can become… But I'm thinking it should at least be an option. I'm sold on it. That doesn't mean I don't like vision, I don't like radar, but I like technologies that can see far, see in the dark, and have increased intelligence over having a complex vision system.
So, let's move to the next topic here, which are I know we just talked about a few chips, but these are kind of the chips aside from automotive, particularly from AMD and Intel, and some GPUs from NVIDIA, and also a shout out to Synaptics, as well. First off, AMD. Sorry, let's actually start with Intel here with a special goodbye to the industry's friend, GB. Actually, we're going to talk about that, so let's move on here.
Intel released its 12th gen notebook parts originally earlier in the year. Actually, at the end of last year they brought out their desktop 12th gen, and I think the highlight of their 12th gen is its big little architecture. And I know that's an ARM trademark, but I like the idea because it explains it. Essentially, you have performance cores and you have efficiency cores. P cores and E cores. Very hard to manage those between them, particularly in the operating system, which is why Intel worked pretty closely with Microsoft on it. There were a couple fits and starts which actually, Daniel, was about a CPU ID for games as opposed to not running well, it just wouldn't load, but they got through that. They made some enhancements. And I think at least for ARM architecture and Intel, this whole notion of big little is a big deal here.
So, Intel came out with some pretty beefy notebook processors. They have a P Series. Sorry, they have an H Series, they have an HK Series, and they have two other series, and in fact we had Chris from Intel on to go through it. U Series is for ultramobile. P Series kind of sits in between the legacy H Series and the U Series. Anyways, if you're not confused now… No, actually go in and read the article. Here's my net net in comparison to AMD, which I'll talk about. I think Intel did move the needle on this in terms of potentially gaining a little bit of ground on AMD. AMD brought out their 6000 Series, and again, I haven't benchmarked any of these, but when I do some back of the envelope, I feel like even if I consider what AMD brought out, there will be room for Intel to move up a little bit.
I'll put the asterisk that Intel has 80% markets share, but it appears as if they're way behind, but not in notebooks. It's actually a much more even type of competition between the two companies. Intel also brought out discreet graphics for notebooks and we're expecting those to come out in the first quarter. They leverage all the special features that come with the graphics like ray tracing, Xe, super sampling, and Deep Link. The one question on Deep Link I have, AMD had this technology a while back that kind of leveraged integrated GPU and discrete GPU, used both the GPUs. AMD actually got rid of that feature because it required two kind of symmetrical GPUs. Otherwise, you really weren't getting much of a boost at all. So, I'm really looking into that really hard.
AMD brought out… Not only did they bring out the 6000 Series mobile, which is six nanometer based on a Zen 3+ core. The graphics also is RDNA 2 and all the fun features that go along with that, like FSR. We will see. On the GPU side, AMD brought out an inexpensive card, the 6500 XT, that is a couple hundred dollars that I can't even imagine though them shipping stuff like that in volume, but I have to give them the benefit of the doubt.
Last but not least, NVIDIA brought out a GeForce RTX 3080 Ti or Ti, regardless of which camp that you're in, featuring MAX Q, with 16 gigs of RAM. I think this had a lot to do with keeping AMD at bay.
Daniel Newman: I'm just going to take a breath. That was so much. You know, Pat, you kind of had it. Your article is great, and so we'll make sure that we put this into the show notes so that people can read it, because you really broke everything down. You broke down the automotive stuff. You broke down the PC stuff, the discrete graphics stuff, and you hit it across the board. We're starting to see a turn in the supply side. It's going to be interesting to watch if that sustains, but we're starting to see that get into better shape, and we're continuing to see innovation.
I said this when we talked about notebooks, and I'll talk specifically about this. In the end, all this technology is really the underpinnings of things that people want to be able to accomplish. So, you got things like commercial and evo, where there was a number of announcements where they're trying to make a series of PCs that are really ideal from a security and an operational standpoint for that mobile workforce, and you've got the gaming community here, Pat. You need more power. We're seeing mobile notebooks now that are becoming increasingly capable of handling cloud gaming and next generation gaming, because just like mobile gaming, we're seeing that there are certainly the people that sit there at their desk and can game all day, and you're seeing the people that want to be on the train, and some of them now with 5G technology, always connected devices, are going to want to be able to game on a bigger format device while being mobile.
And having all that to say in the next year, Pat, I think you're still going to see what's going to be interesting to consumers and businesses is going to be lighter, thinner, more powerful, but less power consuming PCs that last longer. One of the things that immediately caught my eye with AMDs announcement was the potential 24-hour battery life. Now, of course that was under very, very friendly circumstances. No WiFi. Who uses a device that way? Nobody. But can we get to the point with these new architectures where these devices can truly last? And Pat, I pull new dead laptops out of my bag when I travel way too often.
Patrick Moorhead: Hot bag. Yep.
Daniel Newman: I don't even know how it was on, let alone dead, but I get there, I'm like, "Gosh. I'm plugging it in again." And this, by the way, is all variants and varieties, because we have them all. Having put that into perspective, as I see it, it's the outcome that still matters. But as geeks, we always do love all these little specs and advancements. New packaging, new process. This year, hopefully as we get to the last topic in a few minutes, we'll talk about why PCs are still hot and why all these chips are going to continue to drive the demand into the future, Pat. But I think we got to keep moving.
Patrick Moorhead: Yeah. Thanks for the comments, Ian, by the way. On discrete graphics desktop, I was told Q1 as well. I think it's interesting if it was wiped from the website. And it's funny, Ian, on Ti or Ti, in the briefing Intel's GM said Ti, and I had my son, Pico, listen to that too. He was like, "Ti? Huh? What is that?"
Let's move into the next topic here and we have a beginning of the year shuffle at Intel. Dan, you want to go through that?
Daniel Newman: I'll start us off and I think we can talk about it. You sort of alluded to it. I think we were all pretty surprised. The chief on the client business, GB as he's best known, but Gregory Bryant, they announced somewhat unexpectedly. We saw him at CES. We'd spoken to him just at length on a call not too long before that. And we heard, "Well, here's a shuffle." Here it comes. Some changes. We don't know if we call it a reorg or a shuffle exactly. There's some exciting news. There's some news that I think everybody's got a couple question marks around. But I think there's some great leadership. We now have two female leaders leading the two biggest business units of Intel, the client business, Michelle Holthaus, who had long been a sales chief for the organization, is now going to be stepping into GB's role, and that's to go side by side with Sandra Rivera, who handles on the data center side and the server side.
And so, that was big. We don't know yet or at least publicly yet where GB is going to land, but the rumor is it's going to be a big role somewhere, and so we're all rooting for you, GB. Just so you know. You've done a great job there and it's been a very challenging number of years, and you've done a good job of leading that organization.
In positive news, or positive opportunity for some change that could be very good, CFO George Davis, great guy in my experience, my handful of interactions with him, but Micron Tech's Dave Zinsner is coming over to take the CFO role, so that's another big move, Pat. He comes in as the EVP and the chief financial officer. This one, Pat, I guess I would say anytime you get shakeups in leadership like this, there's always PR, and there's always publicity, and what I say when I say PR and publicity is there's always going to be a little bit of there's going to be people who spin it as good and there's going to be people who spin it as bad. And actually, my take on this is there's a great leader exiting in GB, don't know George Davis as well, but what I will say is that the work that Michelle has done and what I've seen so far has been good, so I want to give her a chance and say she has the opportunity to be very successful in this role.
And of course it's going to be challenging, but under Pat Gelsinger, he seems to be providing continuity. He's got a consistent vision. It seems to be his story and his narrative to market has been very consistent. And now I think we need to give a couple of quarters if I'm being frank to kind of see how this shakeup changes, if it has any impact on progress, timelines, as we just talked about pushed timelines, things disappearing off of proposed launch dates. Because I've been saying for many quarters now that Intel's biggest thorn in its side is going to be being able to meet its commitments to the market, and Pat's been very… His whole say do story has been very consistent, and so under these new leaders, whatever they're saying, and under GB I think they were pretty good about this, but that's going to be the next thing going forward, is what they're telling us has been convincing, but it hasn't been convincing enough to the market yet because everybody wants to see execution.
Patrick Moorhead: You typically don't put on stage of one of your biggest events a year a week before an executive leaves. While I believe that this was in planning for a long time, I doubt they would have put GB up on that big stage if everybody had known. That's just the way big companies operate. And you know, I think GB is an absolute rockstar. I believe that he's leaving for a president or CEO role at a public company, which is why he can't say where he's going. I'm sure he had to tell Intel whether it was a direct competitor. If it was direct competitor, they would have walked him, so I don't believe it's a direct competitor, and I don't think it's in the supply chain, either. So, we're going to have to see here.
I've talked to Michelle a couple times. I've talked to some people off the record that have worked for her or currently work for her. They have some really good things to say about her. Before I knew Michelle was coming in, I had thought Pat was maybe wanting to put a more technical crew in there, but appointing Michelle to that role, that doesn't say that. Her background is not necessarily high technology and engineering. So, I'm still optimistic about how the company's doing. GB is leaving on a high point. His unit's share is going up. His revenue share is going down. Every wafer that AMD is putting in the oven, and they can't get enough, is going to higher priced silicon. One of the benefits that Intel does have as being an IDM is being that they have essentially lower costs if you can actually make the chips, so I think that the PC market will gain unit share.
So, anyways, I think we've probably chatted about this one about as… Gotten all the-
Daniel Newman: It could almost be you and me in that picture with the masks and you can't quite see the features.
Patrick Moorhead: Exactly.
Daniel Newman: GB is a little bit more handsome and thinner, but overall that kind of… That image, we could actually just blur it a little bit and just say that was us.
Patrick Moorhead: Yeah, so man, it's a bunch of chips. Let's move to our last… Oh, gosh. It's not even the last topic.
Daniel Newman: Yeah. We got two more, but the last one should be somewhat quick.
Patrick Moorhead: Yeah. Definitely. So, another month, another big article of a designer, a very experienced designer leaving Apple. This isn't the first one. In fact, I can go all the way back to Gerard Williams leaving Apple three years ago. He left for Nuvia. Qualcomm bought Nuvia. Apple sued Gerard. So, it's pretty ugly, and I worked in and around the chip industry for over 30 years. This type of moving rockstar from company to company is a real thing, but when it becomes a trend, so you have Gerard leaving, you have in this case Mike Filippo, who I actually knew when I worked at AMD, and he went to ARM, and he went to Apple. He worked at Intel. Once you see multiple lines connecting, there might be something going on. And Intel even had an announcement that a chief architect was moving back to Intel from Apple.
There is no doubt that the M1, M1 Pro and M1 Max is an impressive chip in terms of performance per watt, but I'm wondering. What is it about the culture that is driving people away? Or is this just getting money whipped? Money whipping engineers or something like this? Or does Apple have a toxic culture in semiconductors?
Daniel Newman: Yeah. It's an interesting question, Pat, because you've got two forces at play. You've got new opportunities, right? People that have the chance to maybe step out and become a big player elsewhere, maybe get more visibility. You know more and more of these big tech players are all going to start their own silicon design and they're going to be expanding an offering and get a little lost inside of Apple. That's a possibility. Of course, other possibilities are you're getting absolutely the toxicity that can be known in these companies. Look, you can't deny the success that Apple's having with its M architecture. Just can't.
You and I I think both kind of want to be bearish on it for a lot of reasons, but at the same time they've done pretty well, and the machines are working pretty well. But Apple's not the kind of company where many people ever get to emerge and become visible, and so there are some interesting places like a Microsoft to land right now, where you know there's going to be some pretty big investment made and there's a chance to really rise. The next Panos of the world and others that have really risen up and become heavily visible for being part of driving the future.
Having said that, Pat, listen. I think we both know people at Apple and everybody I've ever talked to will talk about what a great company it is, but will concurrently tell you what a tough place it is to be. So, there's movement in industries. All things aside, Pat, the only thing that we can really count on as being constant is change, so I look at these changes and I say, "Best of luck. Hope where you go next you're going to be really successful and drive some important and meaningful innovation." But yeah, there might be some challenges at Apple, but right now there's nothing in the product to indicate this is going to be a problem for them yet.
Patrick Moorhead: Yeah. And by the way, what I put on the screen here is Mike Filippo's LinkedIn, and you can see the companies he's worked for and the environments even. I, again, like I said, I met Mike at AMD, but I got a lot more time with him when he was the lead CPU architect at ARM. By the way, Ian makes another good comment is they're looking for their next challenge, right? In a way, that was kind of Gerard's thing when he left, so the architecture for the M1, the M1 Pro, and the M1 Max was done, and I won't speak for him, but potentially that was his time to exit the company. When I pull these people aside though, they tell me about a culture that's hard to get their heads around and feel comfortable with.
But undoubtedly a successful machine. I've never seen a machine that's had so much success without having a giant mistake. I guess when you're a $3 trillion company you can do that. You can have multiple competing teams. By the way, like Intel used to have, right? Working on literally the same market space and then it was very kind of Darwinian. The best design and the best team won. There was a major coup years ago at Intel when the team in Israel had the Core architecture, and the team in Santa Clara had what was called the NetBurst architecture, and Core architecture won, NetBurst got discontinued, and a lot of those folks ended up leaving the company.
But hey, let's go to our last topic here, and this is PC market still on fire. 2021 was good. 2022 looks positive, as well.
Daniel Newman: The media loves tragedy, Pat. You have a tweet that basically looked back to 2011. Bloomberg. Was it MIT? Sorry. MIT Technology Review. The personal computer is dead. I don't know, Pat. I feel like a broken record. I can't tell you how many times on this show I have basically said the death of the PC has been greatly overstated.
Patrick Moorhead: I bring this out every year and I'm going to annoy you for putting this up here, but I have to. It'd be nice if I shared the slide first.
Daniel Newman: Yeah. Would you do that? So, look. The market right now and in general, tragedy porn and negative headlines are just heavily embraced by our world. I don't know why we're so cynical as a society, but we are. This is absolutely wrong. It's as wrong as the idea right now that a half a point of interest rate increase is going to stop Microsoft from growing in the next several quarters. It's almost idiotic.
But of course, it does manipulate things in the right direction, so sentiment's important. Anyways, I won't do a market diatribe right now, but here's what's happening, Pat. Last year we heard endless things. Semiconductor shortage, semiconductor shortage, chip shortage. We increased our ability to produce chips by 20% despite all the shutdowns, COVID, the ships at the ports. 20% more chips were produced last year than the year before, so we were able to increase production.
But what we haven't been able to fully appreciate is just how much demand is actually out there for devices. So, we saw in '21, Pat, and this is Canalys data. In the 4th quarter, 341 million shipments of PCs. That's up from 290 in 2020 and 249 in 2019. Pat, you've got a massive uptick. We've seen almost 100 million increased shipment units in the course of two years. You're seeing strength in this space. You're seeing Lenovo rise to be the number one vendor in the 4th quarter. And Apple falling to four, by the way. But you got Lenovo, HP, you got Dell, Apple, and Acer, and I don't know, man. It's almost like beating a dead horse, but I don't know how many times we have to tell the market that the demand for PCs hasn't slowed.
Patrick Moorhead: Yeah. No, no. Here's what I understand. 10 years ago, PCs were boring. They were thick and chunky and got three hours of battery life. And the iPad looked like the most amazing thing on the planet. It had an app store. It was thin. It got 10 hours of battery life actually using the thing. Even more on video. And iPads were increasing and PCs were declining, so I think people said, "Hey, the PC is dead," like MIT Technology Review said. What they didn't quite think about is what the reaction of the PC industry was, and that was to essentially take the positive attributes of an iPad, which is 10 hours of battery life, touchscreen with an app store, and make it thin, and then everybody jumped on it.
It was very easy for me to see what happened. In fact, even Apple went on an apology tour. Tim Cook went on his apology tour four years ago and essentially apologized for what a terrible job that they had done with their Macs, and they were doubling down on the investment. And I think we're seeing the fruits of that investment today with the new M1 processor, the new designs for those, and I think we're going to see some pretty cool stuff in the future out there. And then COVID hit, right? And we realized, hey, I can't do all this stuff on an iPad. I need either a notebook PC or I need a Chromebook. And here we are.
And the question is next how long will that growth go? So, I think that we will have a good year in 2022. First of all, people couldn't get the notebooks, couldn't get the PCs they needed in 2021, so you saw that demand pushed. I also believe as we go back to work people will reassess the technology that they actually need at work. Consumer is more of a wild card, right? Because consumer market will follow GNP and I'm not expecting any stimulus checks anymore for people who still actually have a job and were able to double dip. So, I think that's going to weigh on consumers, so it's going to be this big in commercial but offset by some declines in consumer.
Daniel Newman: Yeah. And just a quick frisbee, Pat. I think what you're going to see is as work continues to not return to office, the demand for that higher end PC for work, but of course those work crossover consumer pieces are more and more common. More and more employees are going to need them. And then, of course, education. You're going to see the lower priced, lightweight, Chromebook-style stuff still sell in volume because if students are learning, they're learning on those kinds of devices. That's all it comes down to. I got a house full of them, I can tell you that.
So, hey, man. We didn't do the Six Five, dude. Didn't even come close. It was like the Six Twenty. I don't know. It felt like-
Patrick Moorhead: 30 minutes, I think if Six Five is 30 minutes for the back and forth, and 10 minutes, so yeah, we're like six or seven minutes over. But hey, we really appreciate everybody tuning in and we know at least one person tuned in, and that's Ian Cutress, so we appreciate that.
Daniel Newman: Come on, man. We know people tuned in.
Patrick Moorhead: I know. We'll get like 20,000 views, but I appreciate your questions, Ian. Keep bringing up. Show up at this time every Friday morning unless we don't feel like it, but hey, for all those tuning in, we appreciate you and we appreciate all the feedback you give us. If you like what you heard, hit that subscribe button. If you didn't like it, @DanielNewmanUV for complaints. So, with that, we will see you next Friday. Have a great weekend and a great next week.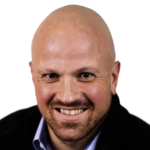 Daniel Newman is the Chief Analyst of Futurum Research and the CEO of The Futurum Group. Living his life at the intersection of people and technology, Daniel works with the world's largest technology brands exploring Digital Transformation and how it is influencing the enterprise. Read Full Bio