Breaking Down Marvell's Acquisition of Innovium – The Six Five Insiders Edition
Breaking Down Marvell's Acquisition of Innovium – The Six Five Insiders Edition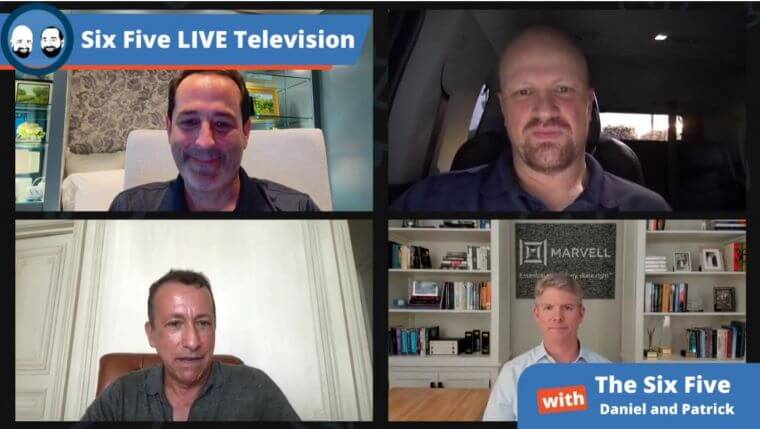 On this episode of The Six Five – Insiders Edition Patrick Moorhead and I are joined by Chris Koopmans, COO of Marvell and Nariman Yousefi, EVP Automotive, Coherent DSP and Switch Group at Marvell.
Our conversation covered the breaking news that Marvell has acquired Innovium, what this means for the future of the industry as well as Marvell. It was an awesome conversation and one you should definitely check out.
Breaking Down Marvell's Acquisition of Innovium
Our conversation with Chris and Nariman also revolved around the following:
An overview of Innovium and how it will boost Marvell's business
The types of devices that the chips Innovium makes goes into
How this acquisition will impact Marvell's customers
If you'd like to learn more about this acquisition and how it will propel Marvell forward be sure check out their website and listen to the full episode below. While you're at it, don't forget to subscribe to The Six Five Webcast so you never miss an episode.
Watch our interview with Chris and Nariman here:
Listen on your favorite streaming platform here:
Disclaimer: The Six Five Insiders Webcast is for information and entertainment purposes only. Over the course of this webcast, we may talk about companies that are publicly traded and we may even reference that fact and their equity share price, but please do not take anything that we say as a recommendation about what you should do with your investment dollars. We are not investment advisors and we do not ask that you treat us as such.
Transcript:
Patrick Moorhead: Hi, this is Pat Moorhead with Moor Insights and Strategy, and as you can probably tell, this is a very special Six Five Podcast here. Daniel, where are you broadcasting from?
Daniel Newman: I'm broadcasting from north Austin, but sometimes the big moments pop up and we just have to do this where we do this. I think you're in your living room. I'm in my backseat of my car. I can get enough room propped up on some boxes to make it look like I'm in a good setup, but we do look good. And that's the beauty of a high tech, connected world with fast speeds. That's what we need, those data centers that are switching fast, Pat. And by the way, I think we're doing this because there was some pretty big news that is breaking and we want to be part of sharing it.
Patrick Moorhead: Let's bring in our special guests right now from Marvell. How are you, gentlemen? Let's do this, how about if we have you introduce yourself. Chris, maybe you go first.
Chris Koopmans: Sure, yeah. Great to be on with you again, Pat and Dan. Good to see you. So yeah, my name is Chris Koopmans and I'm the Chief Operations Officer at Marvell, and I run marketing and operations at Marvell.
Nariman Yousefi: Hi guys, it's great to be here. My name is Nariman Yousefi, I'm the Executive Vice President responsible for the Switching, Coherent DSP and Automotive Division at Marvell.
Patrick Moorhead: So, who wants to be the first to break the big news here?
Chris Koopmans: I'll do it. So this morning we announced that Marvell is acquiring Innovium. Innovium is a venture-backed company in the switching business, and Marvell, of course, is already in the switching business, but we're focused primarily on the feature-rich segment and Innovium has really been very successful at gaining share in the cloud or the hyperscale data center market. So we're really excited about this acquisition, it compliments what Marvell is doing perfectly and really broadens and rounds out our portfolio of offerings for our hyperscale data center customer.
Daniel Newman: Yeah, this is a big move for the company. It seems like several months now, and I can't remember the day, but I remember I wasn't home for this one either. The Inphi news broke, you guys were getting into bigger and bigger spaces, $10 billion deals. This one's closer to a billion, but still a really big deal, takes you guys into a space in the market that everyone was asking about after the Inphi deal, after you really expanded the optics play. Nariman, why is this such a big deal? I mean, the name's not a household name, but for what you're doing, at least Pat and I both said as soon as we heard it, "This is big news."
Nariman Yousefi: Yeah, I mean to your point, there was a lot of emphasis the company has done towards supplying what the customers in cloud need. And frankly, that is the segment of the market that's growing the fastest. So in terms of the addressability of the market, in terms of what the cloud players need, they need very fast connectivity, high-speed switching. And the big deal is that even though at Inphi products, where I come from, we focus a lot on the optical and the physical layer. You still need switching technology to connect everything together.
Now with the combination of both assets together, we can provide very competitive solutions. We can innovate, and we can innovate in terms of what the customers need, not just today, but also in the future. And the combination of the two will enable us to provide solutions that are scalable, lower power, and also meet the requirements, because a lot of these players also want multiple sources. Right now there's one particular company, Broadcom, has a pretty strong foothold in the market, and frankly, our customers want to have choices. They want to have bigger, stronger players that can execute and innovate and invest into what they need. So, that's a very big deal for us.
Patrick Moorhead: Yeah. I mean, listen, I've been in semiconductors for a long time, I've been covering even longer, and anytime you have a market that has less than three players, it's a huge issue. And right now it's really, I guess two, maybe a three horse race. Probably a two horse race between Innovium and Broadcom, and customers don't like that. They really don't.
Nariman Yousefi: Yeah, I think to that point, I mean also getting these new chips out is expensive and scale matters. So our combination of the deep infrastructure of Marvell, the know-how and the investing capacity, plus the innovative features, what Innovium brings in terms of having an optimized solution for data center, is a great combination. We put them together, now we can really invest and make those combination of the assets better. This company, Innovium, comes from the very rich set of IPs, great team, and we really like what they've done and how they've been able to, as a startup company, penetrate some key accounts and have some very sizable revenue. We really like what they have offered.
Patrick Moorhead: Can one of you talk about specifically what type of devices in these hyperscalers do these chips go into, very specifically?
Nariman Yousefi: Yeah, this goes into these switching platforms that are either packaged into 1RU boxes or in chassies, and they're typically used in the top of the rack where they connect different servers together and also cover the infrastructure on the backend of the data center. As the packets get aggregated up to the next layer, there's a top of the rack and then there's a spine and there's leaf and there's DCI level switches, and all the collections within all the switches are with optical elements. And so Innovium brings the switching, a lot of the assets that we have, Inphi brings the physical layers of the combination, it's very strong.
Patrick Moorhead: Okay, so just to be clear, this could be in ToR, top of rack switch, the spine switch, and the core router switch.
Nariman Yousefi: Yeah, in the core router, probably not as much in terms of this technology, because it's more of a highly scalable flat networks that typically use these products, but that's where the volume is. So that gets complimented with another Marvell technology, called Falcon class of products that could also be complimented when it's being used in the core router switches.
Patrick Moorhead: It's funny now that I think about this, when you did the Inphi, I should have seen this one coming, but I didn't. And like I tell Daniel, "Hey, I don't get it right every time." Sometimes I let this one skate by, but I should have seen this one coming.
Chris Koopmans: It's definitely a good expansion of what we're doing today, and I think it makes a lot of sense, particularly with Inphi. Marvell now has the broadest portfolio of silicon solutions for hyperscale data centers, to really help them design their next generation architecture. When they're trying to build these networks out, it's more than just one piece. They all have to work together, and so it's hard when you have to buy point things from here and from there and from the other, and then they have to architect the whole thing. If they have a partner who can help them put it all together, it's very helpful.
Daniel Newman: Yeah, so I was going to kind of wrap this up because I know we got your time, I'm sure you've got lots of media, press interviews. Everybody's going to want to know what this move means, and so we were lucky to get early access and we're excited with the opportunity to share with our community. But you guys have made a lot of big moves. I kind of started this conversation around that. The market was sort of clamoring for you to get into switch, into this space. You've made this move, you've now expanded your TAM greatly.
You're going to go to bat and compete with Tomahawk and Broadcom that has a large market share, and it's an opportunity, but this overall, what is this saying about Marvell? How is this going to propel the company? Do you think simplifying the buying process is going to be the win? Do you think it's because people like working with Marvell? I mean, what, in the end, does this deal really mean? How is this going to propel the company forward? How quickly do you think markets are going to start to see this acquisition make an impact, whether that's in the quarterly numbers or just in the new customer wins?
Nariman Yousefi: In general, I think it's two-fold. One is the cloud market right now, the volumes are large, and what's at stake in terms of making sure that there is continuity of supply and be able to support the growth for the cloud, the infrastructure, is a paramount. So having companies like Marvell, with their scale, that can have the customers back and be able to supply the technologies from a procurement perspective is huge these days, especially with the chip shortages and all of that. But also even more importantly, it's about how you solve problems innovatively, efficiently.
And to do that, you need to have intellectual property. You have to have teams that can do it. You have to have scale and investment capacity to do it, and that's where the data center operators look for us to not only supply them what they currently have, but also supply to them what's there to become. And I think you're going to see us be very aggressive in investments in a lot of great ideas right now, that are cooking right now, and together I think we can give some really innovative solutions to the customers.
Daniel Newman: Yeah. Nariman and Chris, thank you both. I mean, look, this is great news. Some days I wake up and I say, "How would I spend a billion dollars today?" And you guys figured it out for me today. So this is really the types of parts and pieces that are going to continue to make the company more and more complete, whether it's been the DPU and the Actian products and continuing to differentiate and get out ahead, the move to Inphi, the move here into switching. We had Matt Murphy at our Six Five summit and had a chance to talk to him and others on your team. Continue to be impressed with the story and how it evolves, and I really hope that the market, hope all you out there are paying attention, because Marvell is clearly a company that sees where it's going in the future and is making some really significant moves to get there. So thank you both so much for taking some time here to join us on the Six Five Interview Series.
Nariman Yousefi: Yes.
Chris Koopmans: Thank you, guys.
Patrick Moorhead: Thanks again.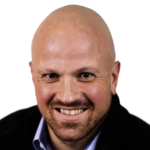 Daniel Newman is the Principal Analyst of Futurum Research and the CEO of Broadsuite Media Group. Living his life at the intersection of people and technology, Daniel works with the world's largest technology brands exploring Digital Transformation and how it is influencing the enterprise. Read Full Bio