SAS Global Forum 2019 Event Recap—Innovation to Improve Decision-Making
Fred McClimans
/ May 9, 2019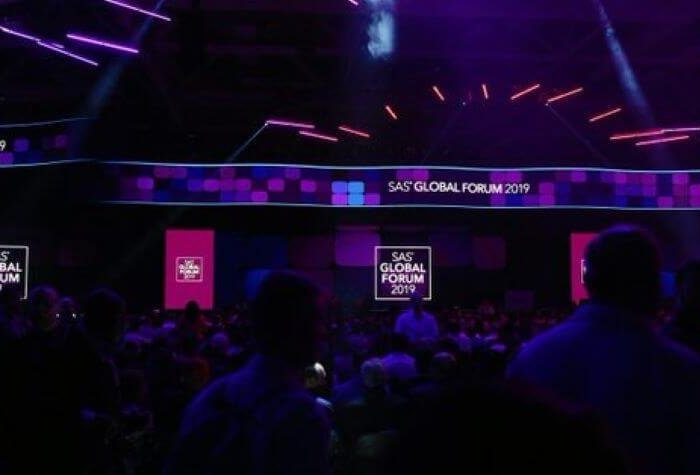 SAS Global Forum 2019 Event Recap
I attended the SAS Global Forum 2019 event in Dallas this past week. Below is a press release announcing the latest SAS Platform release features, which are billed as innovation to help improve decision-making.
The Latest SAS Platform Release Features Innovation to Help Improve Decision-Making
SAS, the leader in advanced analytics, is enhancing its automated, simple, and powerful analytics platform to help digital disruptors and emerging leaders blaze a trail forward. The updated SAS® Platform delivers additional innovation in Artificial Intelligence (AI), specifically in the areas of machine learning, computer vision, natural language processing (NLP) and other technologies that underpin AI. Read the full press release here.
What Does a $1Bn Investment in Artificial Intelligence Yield as an ROI?
What does a $1 billion investment in artificial intelligence yield as an ROI? Quite a lot. At the SAS Global Forum event in Dallas, SAS put on what seemed at times to be a clinic in how to leverage AI to address real world problems with an eye toward simplicity and ease of use.
Observations from the SAS Global Forum 2019
The following are a few observations from my time at the SAS Global Forum event, speaking with both SAS executives and their clients.
First off, the firm has managed to inject its AI technologies widely throughout its product portfolio. From some really impressive computer vision to NLP and predictive analytics, it's clear that the company has focused not on proof-of-concept initiatives but rather on enabling enterprises to address real-world problems. And while the focus of the event was clearly AI, the firm is still underselling itself.
Second, there were two common themes that flowed through many of the products and offerings: Risk management and data visualization. As we generate, and analyze for insights, an increasing volume of data, presenting insights in a format that is easy to digest and understand is paramount. And that's exactly what SAS has done.
This also speaks to the former theme, by minimizing the risks associated with assessing data-driven insights. The core risk theme was focused on leveraging machine learning and predictive analytics to inform through suggestions that enhance user data. This utilized an approach that seemed a lot like error correction. For example: Analyzing historical data and patterns, as well as historical user accuracy to suggest adjustments to planning and forecasting entries. Simple, but a nice touch.
What's Next?
The SAS Global Forum 2019 event provided much to think about, but SAS does have a way to go. The core engines are in place, even if the engines are highly vertical at this point.
Moving forward, I'd like to see more application of these tools into different verticals. For example, some of the machine learning and analytics tools for medical application could be transformed to other industries, such as banking, insurance, and investment sectors.
Futurum Research provides industry research and analysis. These columns are for educational purposes only and should not be considered in any way investment advice. 
Check out some of my recent articles:
AWS Blockchain-as-a-Service: Blockchain Without the Overhead
Nutanix Delivers Karbon Kubernetes For the Enterprise

Fred is an experienced analyst and advisor, bringing over 30 years of experience in the digital and technology markets. Most recently, Fred launched the equity research team at Samadhi Partners and provides marketing strategy through the Wasabi Rabbit digital agency. He previously served as an EVP and Research Vice President at HfS Research, launching its Digital Trust practice and coverage of emerging "trust-enabling" technologies. Fred previously founded analyst firms Current Analysis, a global tech-sector competitive intelligence and market advisory (acquired by PDM), Decisys, an analytical consultancy (acquired by the Burton Group/Gartner), and the Aurelian Group. Fred's analyst and consulting experience also includes Gartner and E&Y, with technology experience at Newbridge Networks' Advanced Technology Group (now Alcatel) and DTECH LABS (now part of Cubic Corporation).

Fred studied engineering and music at Syracuse University. A frequent author and speaker, Fred has served as a guest lecturer at the George Mason University School of Business (Porter: Information Systems and Operations Management), keynoted the Colombian Associación Nacional De Empressarios Sourcing Summit, served as an executive committee member of the Intellifest International Conference on Reasoning (AI) Technologies, and has spoken at #SxSW on trust in the digital economy. His analysis and commentary has appeared through venues such as Cheddar TV, Adotas, CNN, Social Media Today, Seeking Alpha, Talk Markets, and Network World (IDG).

Latest posts by Fred McClimans (see all)