Zoomtopia 2022: Zoom Platform Updates Focus on Keeping Users in the Ecosystem, and the Company Continues Record of Driving Innovation Based on Customer Feedback
Zoomtopia 2022: Zoom Platform Updates Focus on Keeping Users in the Ecosystem, and the Company Continues Record of Driving Innovation Based on Customer Feedback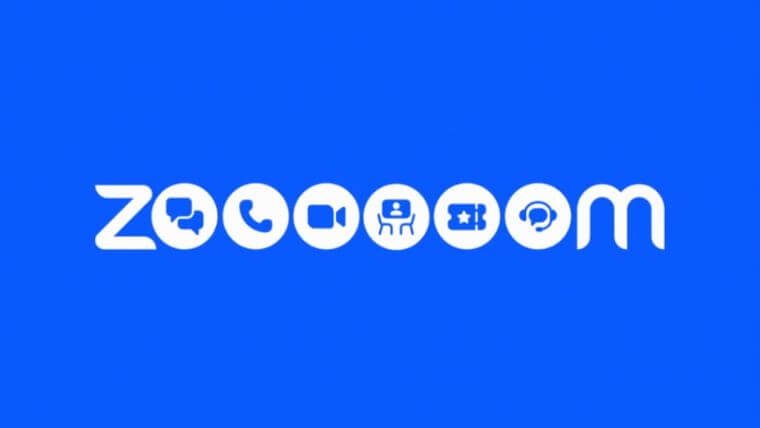 Zoom really is all about delivering happiness — and in the course of doing that, thriving.
The News: At last week's Zoomtopia 2022 event, the team at Zoom announced a number of platform updates largely focused on expanding beyond its roots as a videoconferencing solution. This includes calendar and email integration, the launch of Zmail, team chat, events, contact center, and beyond — hoping for industry recognition that Zoom as a platform is better than Zoom for just videoconferencing, and continuing to showcase how customer feedback drives innovation for the organization.
Zoomtopia 2022: Zoom Platform Updates Focus on Keeping Users in the Ecosystem, and the Company Continues Record of Driving Innovation Based on Customer Feedback
Analyst Take: Zoom's annual Zoomtopia event was well done in every way. That said, I will admit upfront that being more than a little pragmatic and certainly a skeptic, I often have a hard time taking founder Eric S. Yuan's vision of "Zoom is all about happiness" —which is a common theme in both conversations with him and his keynotes — seriously. When so many things are at stake in running and growing a successful business, sometimes happiness seems, well, a bit trite. So that happiness messaging largely hasn't worked with me, that is, until Zoomtopia last week. Inner skeptic aside, I'll admit that Eric got me this year, and his message of happiness not only once again came through loud and clear, this time, it resonated in myriad ways. Let's talk about why. For starters, it's about likeability and trust.
The Happiness Thing is Real
I realized that for Yuan, happiness isn't his schtick, it's a foundational part of the company he has built. When I looked at this more closely, I realized that I hadn't been paying enough attention. From the earliest days, Yuan has been clear about his dedication to happiness. In interviews, articles, on the Zoom website, in keynotes, and even in the Company's S-1 filing, creating a culture of happiness, for customers and employees, is central to Yuan's vision for Zoom's success. You can see for yourself in this excerpt from Zoom's S-1 filing filed in March of 2019:

Yuan's theme of happiness is as central to him as an individual as it is to the company he's created. When asked to share what I enjoyed most about this year's event, I immediately thought of Yuan's opening keynote, where he took a walk down memory lane. He shared photos of himself as a teen (awkward), talked about his family, told the story of meeting and falling for his wife, and made fun of himself in an endearing way.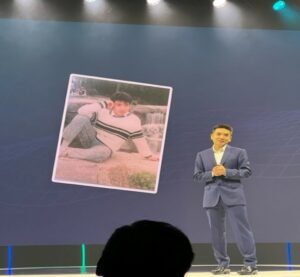 Throughout the event, whether in a small group media/analyst session answering questions, or back on the stage having a fireside chat with HP's CEO Enrique Lores about their company's journey with Zoom, or closing the show with an amazing conversation with Timbaland, Yuan was passionate, humble, gracious, and always the curious engineer fascinated by the challenge of solving problems and making things better for people.
The thing about happiness though, and this is where Yuan really gets it right, is that happiness is contagious. When employees are happy, it shows. When an organization is rooted in happiness, it shows. When customers work with an organization rooted in happiness, they feel it — and they want more of it. When employees and customers work together to solve challenges or create solutions, happiness abounds. And from all that happiness, comes two very important things for business success: customer trust and customer loyalty. And that? I believe that's the secret to Zoom's success. That, and an interface that requires no instruction manual, it's as easy to use as even my 85-year-old mother-in-law needs it to be.
Zoom's Commitment to Customer Feedback Drives Innovation
The customer stories shared during Zoomtopia 2022 were, as customer stories always go, compelling. But looking beyond the fact that you put people on stage who are going to say good things about your company, and the loyalty these customers have to Yuan and his team at Zoom is remarkable.
During one small group chat, a customer said with awe that they had barely mentioned some kind of functionality that would be nice to have, and before they had time to even think about it again, the Zoom team had it developed. Yuan and team have made it very clear that asking for, listening to, and responding to customer feedback is the key to their customer success and retention, and that was evident in every customer story shared during the course of the Zoomtopia 2022 event.
In Yuan's chat at the end of the day with Timbaland, the artist and entrepreneur was candid about the many ways Zoom changed his life. It allowed him to make money in ways he'd previously not thought of, and it allowed him to help support his community along the way. HP's Enrique Lores made similar comments that I touch on in the story below. All in all, the event showcased many powerful customer testimonials and an affirmation that Zoom's continual focus on customer needs and customer feedback drive innovation in ways that most people don't yet know about.
Zoom's Shift from Meetings and Webconferencing to a Full Service Platform is Underway
As we remarked during our most recent Zoom earnings coverage, there remains some misperceptions about Zoom in the market and the company's shift from a meetings and web conferencing tool to a robust platform is still underway. Zoom's offering has evolved to be a full suite of UC solutions for customers, including Chat, Phone, Email integrations, launch of a new offering called Zmail, interactive white boards, AI-powered SalesIQ, Contact Center, and Events. I won't go into all the announcements made at Zoomtopia, but will touch on a couple of areas.
A quick look at some of the announcements made at Zoomtopia include:
Zoom Events – One of the primary things that I believe is important to Zoom is its events capabilities — it's the lowest hanging fruit and makes the most sense given the fact that Zoom has quickly become one of the most trusted videoconferencing and collaboration platforms out there. I've now been to two Zoom events where the Zoom team used the event functionality to bring a hybrid audience together and, honestly, I'm not sure when I've seen this done more impressively. Virtual attendees are showcased on the screen and have the ability to give chat and leave feedback by way of emojis throughout presentations, which goes a long way toward making an event a true hybrid experience. See the shot below showing virtual event attendees listening to Yuan's discussion with HP CEO Enrique Lores. Equally as relevant, in this post I shared on LinkedIn, I captured Lores' comments about what was able to help HP do during the global pandemic, which is about as good as it gets when it comes to customer feedback.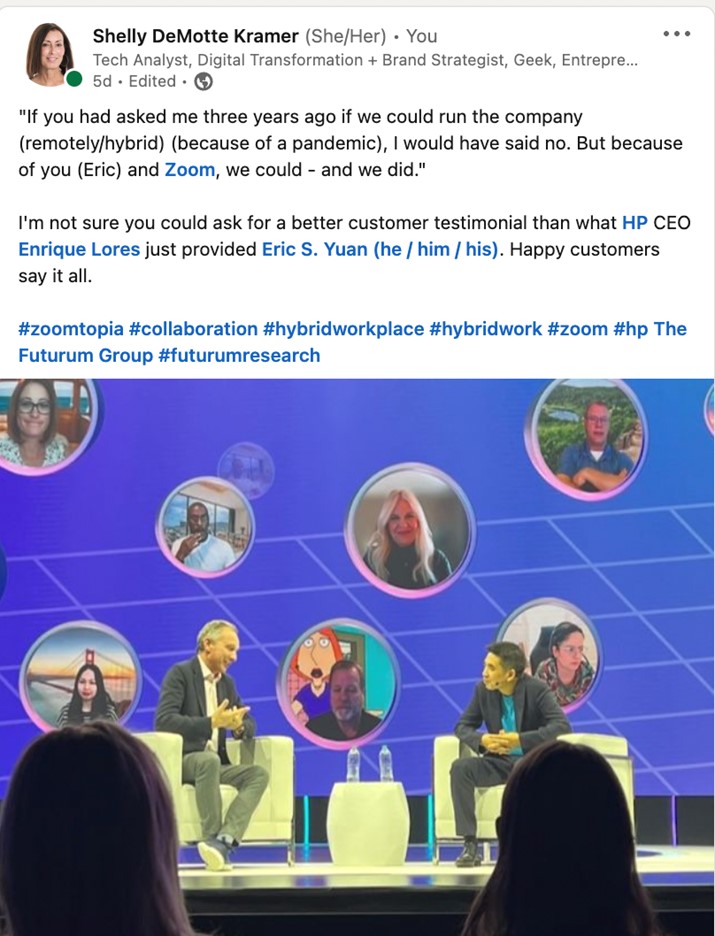 Zoom Team Chat — Zoom One's (announced this past June as an evolution of the Zoom Platform Experience) chat allows users to collaborate by way of chat, whiteboard, phone and more, and is designed for users to essentially live in throughout the day as they work and collaborate.
Zoom Mail and Calendar – Zoom Mail and Calendar are Zoom's newest productivity tools, currently in beta, and are designed to help users minimize the need to jump from platform to platform in order to get work done by providing the ability to access their email accounts from third party email services directly in the Zoom desktop app. Users can easily check email while in the Zoom platform, calendar meetings, etc. without having to bounce around. As an aside, my colleague here at The Futurum Group, Sean Spradling, senior analyst at Wainhouse Research, wrote a terrific article on the add of Zoom Calendaring and Email to the platform that's definitely worth making time to read.
Zoom Mail — Zoom also announced Zoom Mail, also in beta, which is intended for smaller businesses who perhaps don't have email hosting and provides this service while also doubling down on privacy and security by offering end-to-end encryption of email communications, expiring emails with access-restricted links for external recipients
Zoom Spots — Zoom Spots are video-enabled "spots" designed to be collaboration spaces where team members can stay connected and collaborate throughout the day.
Zoom Channel Partner Success – The team at Zoom did a great job of showcasing its channel partner program and the progress Zoom partners have made, reporting that the channel is contributing 30% to global non-online bookings, representing a 50% increase in a twelve-month period, and more than 32% to Zoom Phone. Zoom continues to expand its global partner program, offering enhanced training/knowledge enhancement opportunities for partners by way of its Zoom Up Partner Program.
Zoom Phone – It seems as though phones are on the radar of pretty much every collab vendor, as all are releasing or partnering to provide phones to customers. Part of the success Zoom is having with Zoom Phone is attributable to its amazing partner ecosystem and it seems on track for solid growth.
Zoom Real Time Language Translation – In the features that were a hit with me, Zoom's real time language capabilities are beyond impressive. This will go a long way toward making both events and meetings/collaboration more equitable and more enjoyable and effective for all parties. Here's a look at the languages supported today and what's coming down the pike.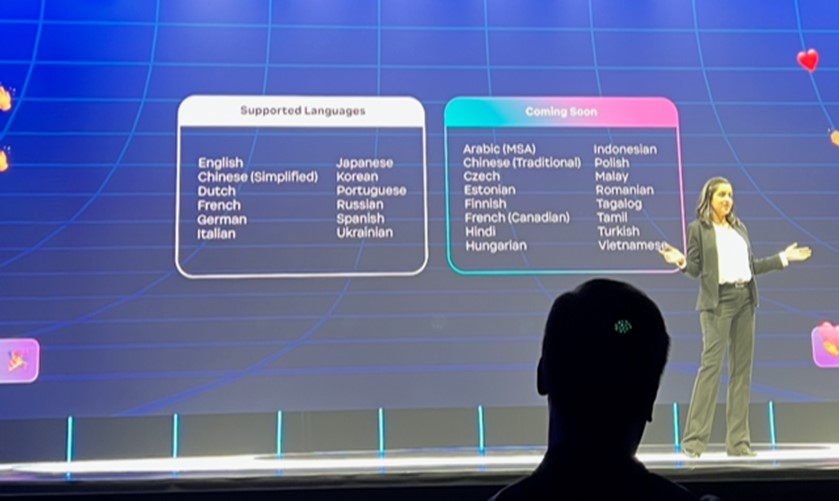 Zoom's Focus on Giving Back
I think that for all stakeholders it's important to see where organizations focus their efforts from a public service and giving back to communities and organizations around the world standpoint. Yuan shared that Zoom and Zoom employees have provided $16.5+ million of funding and in-kind product donations and his opening keynote and shared a short video showcasing the organizations Zoom is working with and supporting across the world. There's enough here that I'll try and write a separate article about it but, suffice it to say that Zoom's efforts here are impressive.
Wrapping Up: Zoom is the Jennifer Garner of Collaboration Platforms
As I was thinking about writing this article, I had an epiphany: Zoom is the Jennifer Garner of videoconferencing and collaboration platforms. Work with me here. For starters, everybody loves Jennifer — she's truly the girl next door. Smart, sweet, funny, down to Earth, engaging, endearing — she's an everywoman who can't help but earn your immediate trust and loyalty. You might even say that Jen delivers happiness. And that? That's what Eric S. Yuan and team at Zoom have accomplished.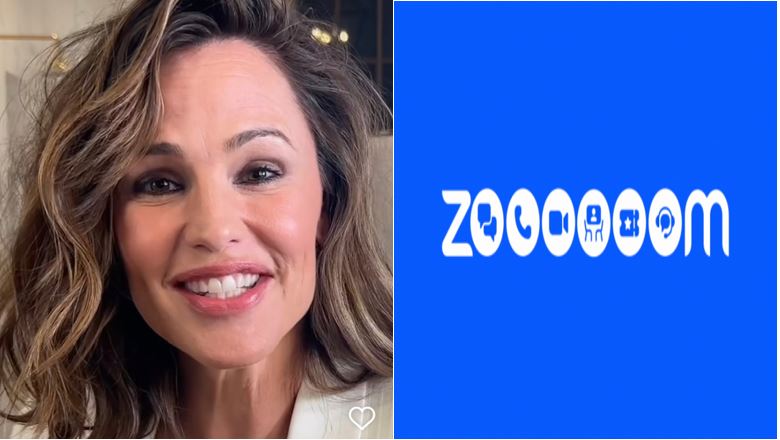 See? They both look happy. And both are pretty good at delivering happiness, too.
For Yuan, Zoom isn't a simply a business: it's a life mission, and a burning passion. He's the epitome of a servant leader, driven to listen, learn, question, excel, create, challenge, and celebrate. It's impossible not to root for him and the team at Zoom — they are an amazing bunch. In fact, Eric said it best in this post, that I also managed to capture and share on LinkedIn (which is clearly how I remember things):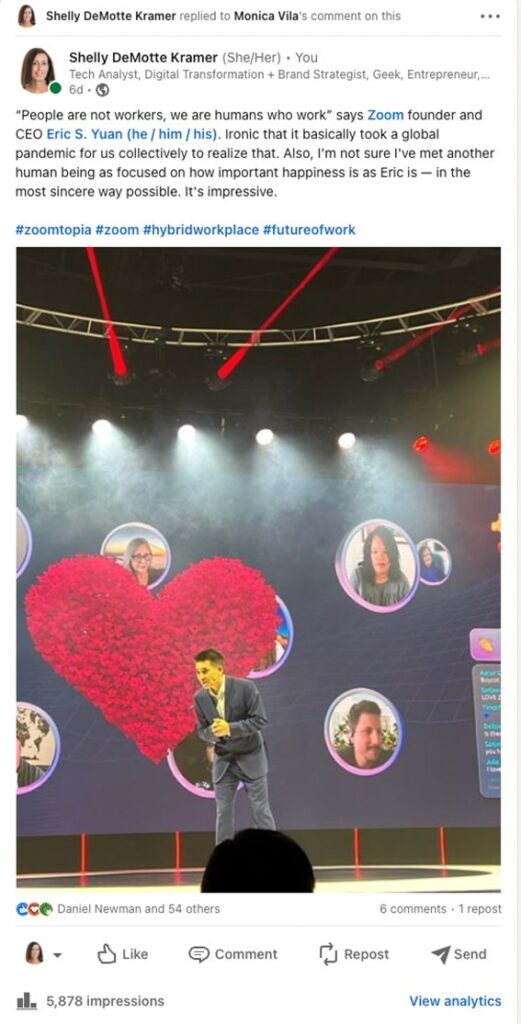 People are not workers, we are humans who work. And that is what Yuan and his team at Zoom are doing, all day every day: thinking about how to make work more efficient, more inclusive, more collaborative, more beneficial for customers, and happier — for everyone.
But Zoom Has Work to Do
All the warm fuzzies aside, there is clearly some work ahead for Yuan, new President Greg Tomb, and CMO Janine Pelosi. In far too many instances, the mass market still thinks of Zoom primarily as a videoconferencing platform, albeit a beloved one. Zoom has made significant inroads in the enterprise market, but there is still much work ahead, both with enterprise opportunities and in the gigantic SMB market.
Zoom needs to focus more than ever before on marketing and comms messages and activities that clearly articulate that Zoom is much more than a videoconferencing tool, and entice users to consider the power of its Events offering, explore the benefits of its SalesIQ offering that helps mentor and develop sales teams, check out its Contact Center capabilities and how other organizations are effectively using them, explore the power of Zoom Phone, and why considering integrating Calendar and Email, and perhaps using Zoom's new Zmail might be just the thing to help enhance productivity and minimize platform hopping. And those things? Those are a big sell. We have collectively become accustomed to a disjointed tech stack and various applications that do many of these things. Changing that behavior is a big challenge for Zoom, and one thing we know to be true: for humans, change is almost always a hard sell.
Zoom isn't alone on its quest to be a platform that is everything to every business and every user. Cisco is focused on that with its WebexSuite and Microsoft is likewise pitching that same message as it relates to Microsoft Teams — and all are working hard on building customer bases, especially in Collab suite offerings, Contact Center, and Events areas. What Zoom does have going for it is its brand affinity and its reputation for ease of use across the board, but moving forward, that's not enough. Clever, strategic marketing and comms campaigns are what Zoom needs to power through. I'm looking forward to seeing what Yuan, Tomb, Pelosi and team deliver on that front.
Disclosure: Futurum Research is a research and advisory firm that engages or has engaged in research, analysis, and advisory services with many technology companies, including those mentioned in this article. The author does not hold any equity positions with any company mentioned in this article.
Analysis and opinions expressed herein are specific to the analyst individually and data and other information that might have been provided for validation, not those of Futurum Research as a whole.
Related insights from Futurum Research:
Zoom Earnings Hit $1.09B in Q2, Up 8% YoY from Q2 2021
Latest Enhancements to Zoom IQ for Sales Gives Sales Teams the Intelligence They Need to Close Deals
Google Expands the Reach of Google Meet Through Zoom Interoperability and the Addition of Device Partnerships with Poly and Logitech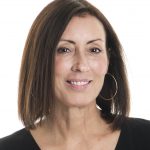 Shelly Kramer is a Principal Analyst and Founding Partner at Futurum Research. A serial entrepreneur with a technology centric focus, she has worked alongside some of the world's largest brands to embrace disruption and spur innovation, understand and address the realities of the connected customer, and help navigate the process of digital transformation. She brings 20 years' experience as a brand strategist to her work at Futurum, and has deep experience helping global companies with marketing challenges, GTM strategies, messaging development, and driving strategy and digital transformation for B2B brands across multiple verticals. Shelly's coverage areas include Collaboration/CX/SaaS, platforms, ESG, and Cybersecurity, as well as topics and trends related to the Future of Work, the transformation of the workplace and how people and technology are driving that transformation. A transplanted New Yorker, she has learned to love life in the Midwest, and has firsthand experience that some of the most innovative minds and most successful companies in the world also happen to live in "flyover country."