Zoom Huddles: A Modern Communication Experience for the Hybrid Workplace
Zoom Huddles: A Modern Communication Experience for the Hybrid Workplace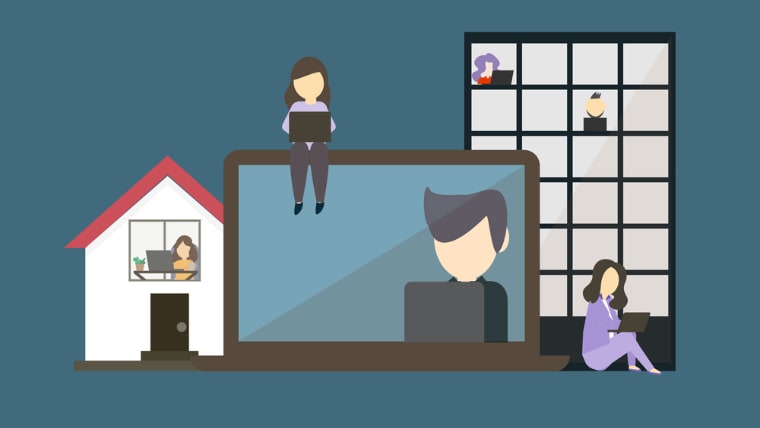 The News: Zoom Huddles has been released in beta as part of Zoom's ongoing innovation in the communication market. Hybrid and remote work have stretched the social fabric of organizations as employees have fewer opportunities to communicate freely with one another and develop the human connections that collaboration rests on. Huddles, billed as a "virtual working space" provides an extremely low friction way to have conversations with co-workers to foster employee engagement, and that engagement leads to productivity. A full rundown of the product and how to use it can be found here.
Zoom Huddles: A Modern Communication Experience for the Hybrid Workplace
Analyst Take: Zoom's beta release of Zoom Huddles, creating an easy way for coworkers to engage and collaborate makes sense. One of the many lessons we're learning in the post-Covid era is that employee engagement is a critical element in the health of an organization. Engagement pays dividends measured in employee recruitment and retention, individual and team productivity, and creativity and innovation. This lesson has been learned the hard way.
Increased Use of Video Meetings is Correlated with Increased Feelings of Social Isolation, and Zoom is Trying to Solve That
As employees all went home in March of 2020, they sought connection with one another, and the most commonly used tool for this connection was video meeting services. The video meetings industry, and Zoom in particular, experienced an explosion of usage and sales. Still, feelings of disconnectedness from an organization and your coworkers are not diminished as video meeting usage increases. In fact, quite the opposite is true. In repeated surveys, respondents have indicated a correlation between more regular video meeting use and increased feelings of isolation.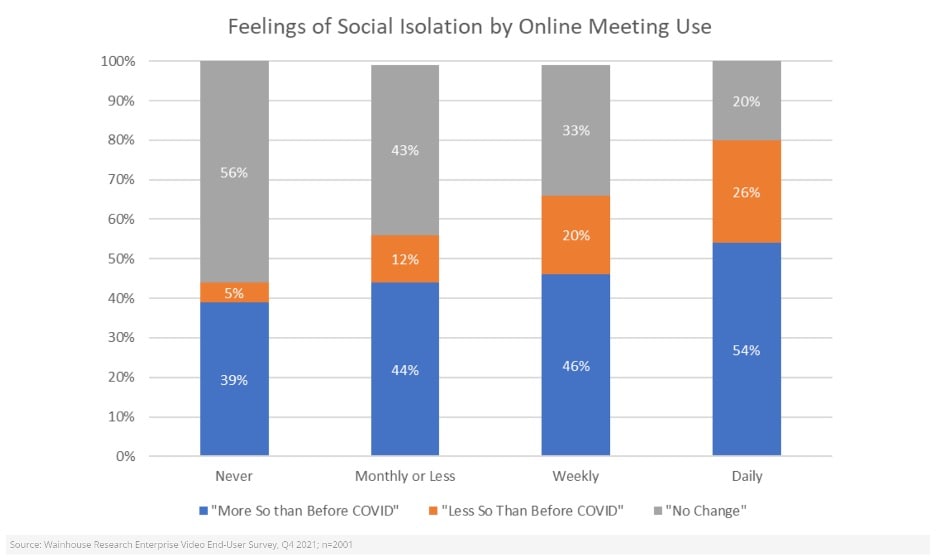 To be clear, the data indicates a correlation, not causation, but the simple fact that there is a correlation should be setting off alarm bells for Product teams working to roll back the tide of commoditization in the meeting and broader communications market.
Zoom Huddles is Zoom's first effort at solving this problem by providing users a way to casually connect during the workday. An organization can create a series of Huddles that meet their particular needs (departmental, team-based, topic-based, whatever). Zoom Huddles serve as a persistent organizing structure for ephemeral "conversations."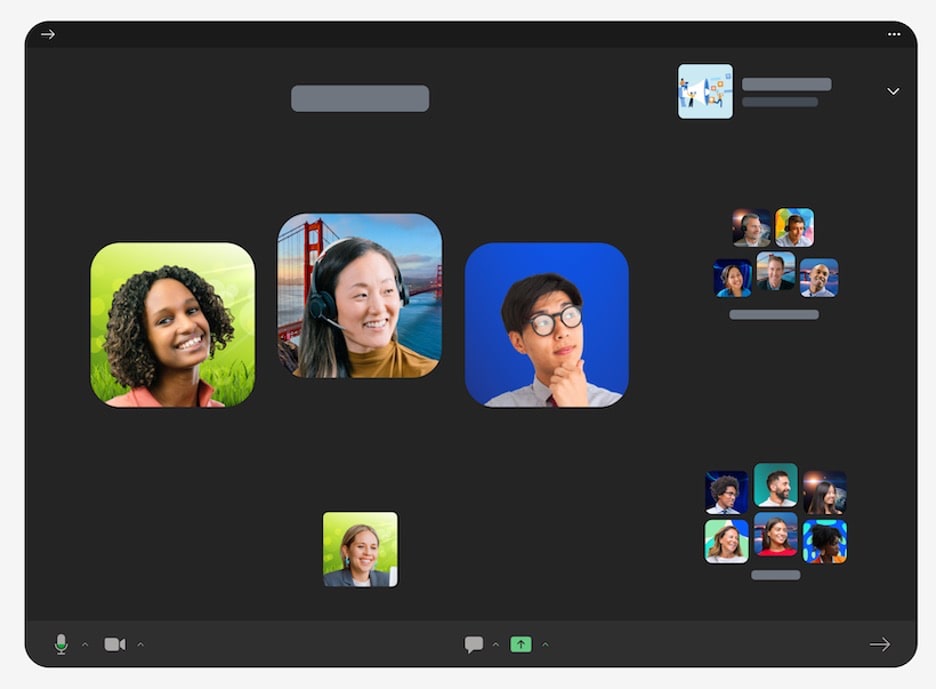 When a user enters a Zoom Huddle, they are placed in the lobby and, from there, may enter an existing conversation or start a new one. Conversations provide a place for two or more users to see and speak to one another. At this point, no other tools have been added to the conversations, but we're still in beta, and decisions are still being made inside the fast-moving Zoom about the balance between a tools-rich meeting and a light and fast conversation.
Lean Experience Keeps the Focus on the People
The experience of Zoom Huddles is intentionally lean, which brings focus to the humans involved rather than on environmental aspects of the product. Many competitors in the social collaboration space have taken a slightly different approach by creating 2D representations of an office, and users drag their avatars around in that space to have conversations with one another or enter private meeting spaces. This skeuomorphic model, used by Gather, Teamflow, Roam, and others, gives users a sense of place and flow, and energy, but it does absorb some of the user's attention and effort. These are early days in the attempt to bridge the social gaps we've created in organizations, and which model will win out remains to be seen.
From my perspective, the Zoom Huddles product is a great first iteration that warrants some enhancements. Beyond the typical beta stage clunkiness in places, I'd like to see the following enhancements:
Provide more flexibility. Right now, Zoom Huddles are persistent, and Conversations are ephemeral. This will result in a lot of Huddles and leads things right back to the same old "we have too many threads!" problem that messaging designers have been struggling with for years. Give me more flexibility to set things up in a way that works for my company.
How Zoom Huddles get rationalized into the rest of the Zoom suite is going to be interesting. Phone and Messaging have video calls now, and that experience has a tremendous amount of overlap with a huddle. Zoom Huddles need to get integrated with Zoom presence, and getting into a Huddle needs to be more part of the standard flow than it currently is but the implementation of all of that hinges on what people want to use Zoom Huddles for.
Henry Ford famously once quipped that if he'd asked the customer what they wanted, it would have been "a faster horse." Zoom Huddles are intended to help people have rich, deeply connected conversations without the weight of a planned, agenda-driven, hierarchical, time-bound meeting. Users may need a little help understanding why that's important and when to use it.

If we're on the Nth reply in an email thread, prompt the user to start a huddle conversation to save everyone time and draw the topic to a close.
If I haven't had any communication with a person I normally communicate with regularly, prompt the user to start a huddle conversation just to catch up
If several users are blasting chats back and forth in a messaging thread, prompt them to "take it offline" and sort it out.
Allow me to set an alert on a contact that lets me grab a 5-minute conversation with them when they have time.
Zoom Huddles Are Part of the Next Wave of Innovation in Communications
The most exciting thing about Zoom Huddles is that it represents an entirely new communication experience from one of the leading players in the market.
Covid caused a massive increase in the adoption of cloud communications. Vendors have been riding that wave for more than three years, focused on scaling platforms and iterative enhancements (faster, clearer, simpler, more integrated, etc.), repackaging their solutions into giant bundles, and occasionally releasing new filters or avatars. The user has benefited during this period without a doubt, but entirely new needs have surfaced as work styles have changed, and new goat avatars aren't helping with that.
Now that the vendors have turned their products into platforms made of composable micro-services — and because Microsoft has taken such a dominant position as the generalist in the space — vendors need to, and can, experiment with new communication experiences. Zoom Huddles is one of those. It shows that an engineering team with a lot of platform capabilities to choose from can rapidly conceive of a product, assemble it from the legos their platform provides, and see what users think. And that means that communications are in an incredibly exciting moment. What comes next is almost impossible to predict, but we can expect a proliferation in the experiences available to organizations searching for better ways to communicate and engage their employees.
Disclosure: The Futurum Group is a research and advisory firm that engages or has engaged in research, analysis, and advisory services with many technology companies, including those mentioned in this article. The author does not hold any equity positions with any company mentioned in this article.
Analysis and opinions expressed herein are specific to the analyst individually and data and other information that might have been provided for validation, not those of The Futurum Group as a whole.
Other insights from The Futurum Group:
Zoom Acquires Workvivo in a Move to Bolster Employee Experience
Futurum Live! From the Show Floor at Enterprise Connect 2023 with Zoom's Gary Sorrentino
Zoom Announces Expansion of Zoom IQ, a Smart Companion, at Enterprise Connect 2023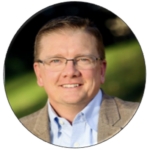 Sean Spradling is a Senior Analyst with Wainhouse — a Futurum Group company. His area of expertise is digital workplace communications technologies and services.